As an Amazon Associate, I earn from qualifying purchases. There is no extra cost to you. Thank you if you use our links; we appreciate it! Learn More.
The article is a detailed TecTecTec Vpro500 Golf Rangefinder review for folks out there who wants to buy a good quality rangefinder in the budget. Recently this golf rangefinder has been created lots of buzz in the golfer community, and we wanted to make everyone understand its various specs along with their pros and cons.
Now, you have decided to buy the best golf rangefinder because you want to play lots of golf games and needed to something to accurately pinpoint the distance for your shots. But the problem is there may be lots of cheap golf rangefinder, but none of them would provide you with all the necessary features that you needed.
Then you heard there is an alternative to this cheap-but-not-so-good problem and one model is just rocking it. You might say the whole scenario is based on presumptions that there is no good cheap golf rangefinder in the market. It is precisely what we have tried to explore here on this Tectectec Vpro500 review.
We are going to talk in detail about what makes this product so great, the price, the pros, and cons and also the FAQs as well.
Why Should you Consider it?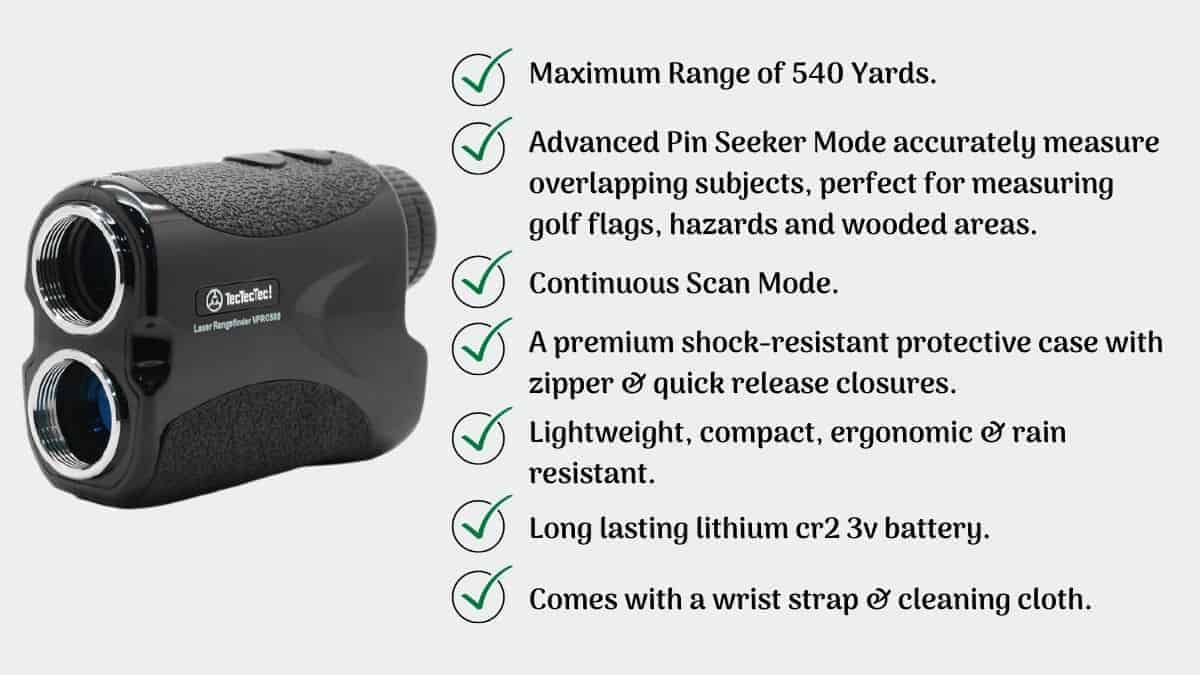 First Impression
The very first impression about this golf rangefinder you are going to get is that it has a very sleek body and comes in with an all-black body. It is tiny and compact which is going to nicely fit in your hand although the looks aren't always the sole indicator of overall performance and features because it doesn't have any difference than other golf rangefinders available in the market at a glance.
That is why it is important to talk about all the different features and more. We addressed all the necessary features and their performance down below.
Key Features
Tiny, light-weight, and sleek design.
Water-resistant body.
Accuracy +/- 1 yard.
Pro Scan Mode for separating different targets.
6x magnification.
It has a very clear lenses display with multilayered optics.
The data on display is very easy to read.
30-day money-back guaranty and a 2-year guarantee.
Comes with a free CR2 battery.
It is legal in the tournaments which local hosts allow distance measuring devices.
Tectectec Vpro500 Golf Rangefinder Review
Range and Accuracy
Range and Accuracy are among the most important features of a rangefinder as it can make or break the popularity of any rangefinder. Tectectec vpro500 golf rangefinder is not going to disappoint you in this regard. It can measure up to 540 yards with a continuous scan mode.
Although that is not the highest range out there you are a casual player then don't need more than that. It is perfect if you are not going to be measuring distances anything besides golf, like hunting. It reads the distance instantly as you're targeting the rangefinder onto a flag.
Another important thing was the actual accuracy like how accurate is in locking the target and all. Because if it does not lock on the target, nobody is going to be benefitted from the rangefinder. The vpro500 golf rangefinder is not always the most accurate one but it is reasonably close,  +/- 1 meter.
Another advantage it has is that eliminates obstacles in your path of view. So people who want a rangefinder with good accuracy will love it.
To sum it up:
Accurate to +/- 1 meter
Eliminates obstacles
Up to 540 yards range
View and Vision
Tectectec uses premium quality multilayer optics, and I found it's pretty easy to read the yardage in the display. Lots of rangefinders have to be to hold on a specific position for three, five even more seconds a correct reading. But this rangefinder does that instantly.
Also, a big bonus is that if you want to use meters for yardage, It has that option as well. The downside is that you may have a bit of trouble with this device if you do have shaky hands as it is sometimes hard to get a read.
Uses good quality multilayer optics.
Easy to read.
Measure in meters and yards.
Need a steady hand.
Portability and Durability
Let's talk about portability and durability.
Is it portable so much portable as people are saying and how durable is it?
It is really important because often you are just throwing these devices in your bag and doesn't bother much. Depending on you, you need to use it a few times in a year or a week. There is no point in having a device that's going to fall apart after a single-use. But this rangefinder is made with excellent materials and likely to serve you for a long time.
It has the usual dimension of 4.09×2.83×1.61 inches, but most importantly it weighs only 6.52 oz.
Compact and lightweight.
Come with a good carrying bag.
Heard it can sometimes fog a bit.
Just take good care of it, and you will be fine.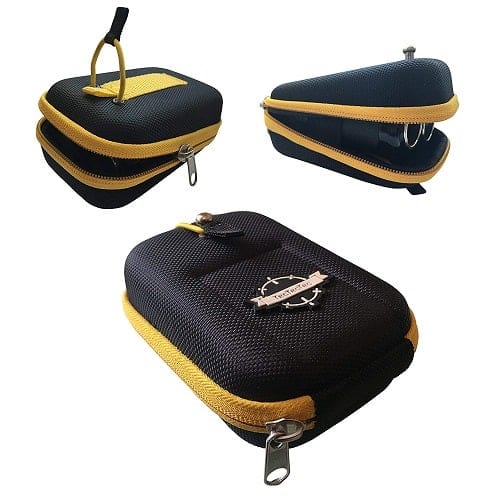 Money-Back Guaranty
Yeah, you guessed it right, this one is risk-free. It does come with a 30 days money-back guarantee which is very cool. Also, there is a 2 years warranty if anything goes wrong. You can ship it back to the manufacturer and get replaced or get something fixed. It also has free shipping case you want to send it back
30 days money-back guarantee
Two years warranty
Free shipping
Free returns
Magnification
The TecTecTec VPRO500 rangefinder comes with a 6x magnification. Its multilayered optics combined such strong magnification can make it easy to view the target when taking shots. But note that you may experience difficulty perusing the target in a low amount of light.
Durability
A TecTecTec VPRO500S Slope Golf Rangefinder is rain and weather resistant. Also, it is made dust-free as well. The designers have put a cleaning cloth with the package to clean up the dirt clogged inside after a series of golf games. So whether it gets drenched with a massive of water or get soaked into the mud, you can continue using it without any thoughts.
Are Tec Tec Tec Vpro500 Any Good?
Every product comes with some benefits and disadvantages as well. Let's know about them.
PROS
Compact design for greater portability.
Yardage is long enough.
Great display for clear reading of the measurements.
Comes with carrying bag for.
Two years warranty going to cover all the hazards.
The picture looks clear even from a long distance.
Exact reading, plus or minus only 1 yard.
Slope technology for adjusting the inclines and declines.
Sturdy, dependable and Rain Proof.
CONS
Need steady hands to operate.
Fog can cover up inside.
Not allowed in professional tournaments.
My Personal Experience with Tectectec! Vpro500 Laser Rangefinder
I was satisfied with the performance of this device especially as I brought it hoping for better performance without spending too much. The 540 yards distance is plenty for casual golfers like me, and I think it is going to be enough for other casual golfers as well. Another thing I liked most about this is the readings were pretty instant. You don't have to wait at all to l see what your range finder to actually locked into.
Is Tectectec Vpro500 Worth Your Money?
It is one of the best models out there within the price range, and no other model can beat it for the price. There are far more features and advantages which go beyond the price. If you are an average weekend golfer, this range finder would be great for you. This is why it took the no. 1 place in our best golf rangefinder under 200 reviews.
Let's Watch a video…
About the Company
TecTecTec VPRO500 is committed to providing golfers and adventure lovers with quality devices well within the price range. The tectectec was founded on this motto of going beyond the price, and they have an excellent customer care service.
FAQs
Is it user-friendly?
The TecTecTec VPRO500 is pretty straightforward to use with a very clear display to read the measurements.
What battery is used in TecTecTec rangefinder?
Tectectec rangefinders batteries are CR2-3V.
What is the magnification?
6X
Does it have any scan mode?
Yes. It is called a pro scan mode.
Final Verdict
Picking a good golf range finder is pretty necessary as it is going to greatly help you to increase your confidence in yourself with each shot you are taking. Even though rangefinder isn't allowed in a professional tournament. All the golfers from amateur or pro are using this device.
TecTecTec VPRO500 is the talk of the town now, and we found out it is an excellent golf rangefinder. We hope that this detailed tectectec vpro500 golf rangefinder review has helped you to gather all the necessary information you need for making a purchase.
Read More
Amazon and the Amazon logo are trademarks of Amazon.com, Inc, or its affiliates.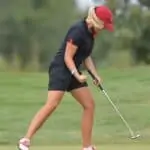 Daisy is the Founder and Editor in Chief of Golfs Hub. She is associated with Golf for more than 20 years. She got the inspiration from her father. She is a very private person & doesn't like to be photographed. She's worked in nearly every job in the golf industry from club fitting to instruction to writing and speaking. Now she is enjoying her retirement from day job... but not from Golf! Daisy lives in southeasternmost part of New York state with her family.