As an Amazon Associate, I earn from qualifying purchases. There is no extra cost to you. Thank you if you use our links; we appreciate it! Learn More.
Before we start on, let me ask over you a question. Do you believe that the balls you play with effects your game at all? If you don't believe it, then you must start to from now. No, golf clubs aren't the only equipment that plays their roles in the games. Golf balls do too.
You might feel better one day playing with an old, rough and a rock-solid ball whereas feel irritated playing with a brand new ProV1 the next day. There are lots of factors that have an effect on this. Well, great golfers feel the difference too, so it's not your headache alone.
In this article, we are going to know the difference between TP5 and TP5x.
What are TP5 and TP5x?

TaylorMade- you must have heard the name. Despite being popularly known for the golf clubs they produced, they also have some best golf balls too. As soon as the TaylorMade TP5 and TP5x Golf balls were launched, they made a blunder in the market.
They've been in hype since. These balls have been manufactured with high technology so that you get the maximum amount of satisfaction playing with them.
Both TP5 and TP5x have some unique features that make them stand out from others. However, there are some vital differences too that obverse them from each other.
Key Features of Taylormade TP5 vs TP5x Golf Balls
Preview
Title
TaylorMade TP5 Golf Balls (One Dozen), White, Large
TaylorMade TP5x Golf Balls (One Dozen), White
Preview
Title
TaylorMade TP5 Golf Balls (One Dozen), White, Large
Preview
Title
TaylorMade TP5x Golf Balls (One Dozen), White
Here, we have summarized some of the key features of both TaylorMade TP5 Golf Balls.
TP5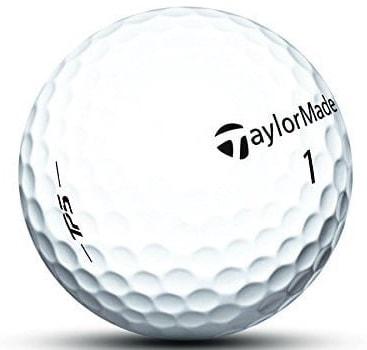 Five layers of construction
Great ball flight
Good amount of spin
Travels good distance
Dual-spin cover
Tri-fast core
Lower drag
Urethane cover
Softer feel
Control around the greens
High-flex Material (HFM)
Speed-layer System
TP5x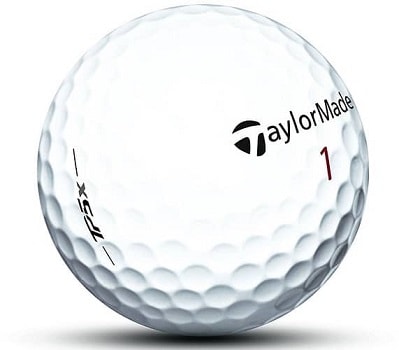 Five layers of construction
Great ball flight
More spin
Longer distance
Dual-spin cover
Tri-fast core
High wedge spin
Urethane cover
Soft feel
More Greenside spin
High-flex Material (HFM)
Speed-layer System
What is the Difference Between TP5 and TP5x Golf Balls?
Construction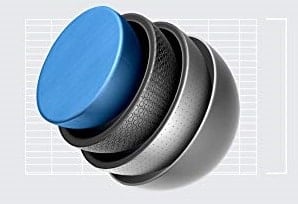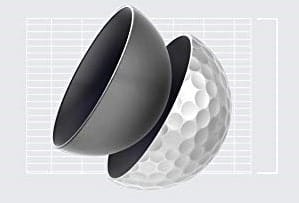 TaylorMade TP5 vs TP5x comparison in terms of construction is not huge. Both TP5 and TP5x have five layers that make the ball really stand out. The soft nature of the Urethane covers allows the golf club to have a better grip on the golf ball. The interior layers provide a higher ball flight, greater precision and cover longer distances.
The TP5 Golf Balls have a soft Urethane cover which allows more spin but the TP5x Golf Balls have a little harder Urethane cover that makes the golf ball cover more distance with higher speed, higher trajectory, and less spin.
The TaylorMade TP5x Golf balls have a larger and low compression inner core which is surrounded by an outer core and a mantle layer. This gives a higher launch to the ball and a straighter and more efficient trajectory to its max height.
Cast Urethane cover thickness of the TP5 golf ball is 0.040" whereas the TP5x has a cast Urethane cover thickness of 0.020". TP5x covers greater distance with more height than the TP5. The Dual-Spin cover makes sure you get the maximum feel and control in the greenside. The soft urethane cover along with a semi-rigid inner cover is what it consists of.
TheTri-Fast Core allows more speed and distance reducing the spin. The 3-layer core feature lets maximum energy transfer ensuring high speed on full shots. TaylorMade TP5 and TP5x have a soft most inner core, followed by two relatively harder ones. This allows more compression in the core generating more speed.
kirkland golf balls review 3 piece vs 4 piece
Distance
TaylorMade TP5 and TP5x difference in distance is pretty noticeable. The harder urethane cover of the TP5x golf ball gives it more distance compared to the TP5 which has a slightly softer urethane cover. Even though TP5 vs TP5x swing speed does not come at the argument, the interior layers play a major role in it. Thus, the TP5x covers more distance than the TP5.
Read More: How Does Weather affect Golf Balls Distance & Flight?
Spin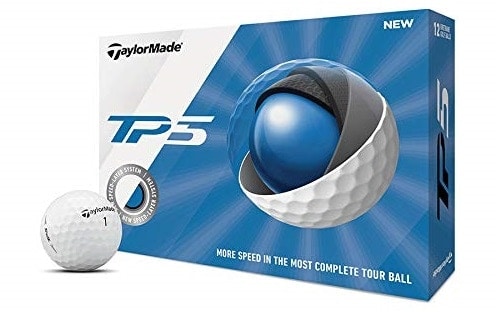 As mentioned above, both TP5 and TP5x have the Dual-Spin cover that provides optimum spin to the golf ball. Upon impact, the hard-inner cover pushes the soft outer urethane cover causing tremendous interaction between them. This results in maximum spin and bolt shots.
However, there is still a TaylorMade TP5 vs TP5x difference here. The TP5 and TP5x both have a high amount of wedge spin. But when it comes to iron spin, TP5 has a mid-iron spin and TP5x stands in the mid-range.
Feel
Feel is unarguably an important aspect in this field. The most skilled or professional golfers get to know the quality of the golf ball as soon as they feel it in their palms.
As these TaylorMade golf balls consist of the outer layer made up of Urethane, they tend to have a soft feeling. The softness of the Urethane layer makes the ball feel soft natured. However, the TP5 has a softer feel than the TP5x as the TP5x has a greater trajectory compared to the TP5. You can feel this TP5 vs TP5x difference if you are a pro.
Putting, Chipping and Sand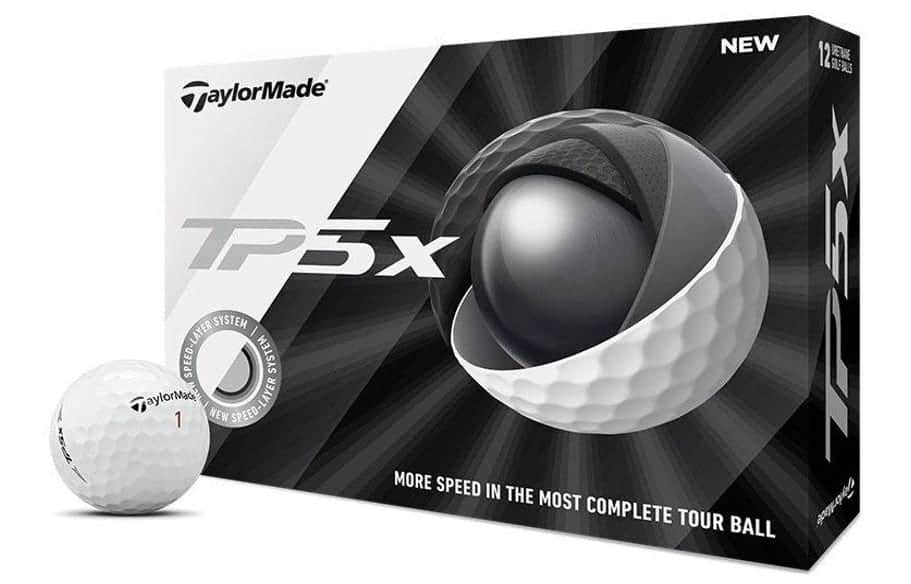 While putting, there was almost no difference between the TaylorMade TP5 and TP5x at all. They both have a soft feel, so a very soft sound is produced upon hitting. No loud or rocky sound. Thus, in this aspect, there is no real difference.
On chipping, there is very less TaylorMade TP5 vs TP5x difference. Both having a soft core felt pretty same. The TP5x covered bit more distance though it is pretty easy to cover the distance using these TaylorMade golf balls.
Subtle difference was spotted upon hitting the TaylorMade golf balls out in the sands. Unlike other premium golf balls, these TaylorMade golf balls performed quite better. When landing, both TP5 and TP5x rolled a bit further instead of making a quick stop. As a result, they cover a better distance and reach closer to the flagstick.
Long Game
These TaylorMade Golf balls perform pretty well in long games. According to the statistics, the TP5 has a 'mid' Iron spin whereas the TP5x has a 'low' iron spin. TP5 is marked as 'longer', on the other hand, TP5x is labeled as 'longest'. Both had a strong trajectory, maintaining the high speed and relatively lower spin. Nonetheless, they didn't perform any less than any other tour-level golf ball.
Read: How to hit long irons better?
Short Game
When playing on the short pitch, the TP5 had a pretty good amount of spin and can be compared to any tour-level golf ball. The wedge spin is high as expected. However, the TP5x had an even higher spin level than the TP5. Both had a great amount of spin.
Cost
Such high quality and latest technology balls are bound to come with a hefty price tag. However, the TaylorMade TP5 and TP5x golf balls cost very similar. Both of them cost around $45 on Amazon. Of course, the price is worth the product, you must have known that reading our TP5 vs TP5x review.
Read: Best Winter Golf Balls
Durability
These TaylorMade golf balls are pretty durable balls as supposed in the premium balls sector. As they contain a Urethane made outer layer, the outer part is soft. This feature helps to dodge the trees, cart paths, and lakeshore boulders but also get damaged due to the soft nature.
Comparison with Others
Various manufacturers produce different types of golf balls. Many golfers may find peace with playing an above-average ball instead of a gold class golf ball, and vice versa. However, compared to many balls, including the ProV1, the TP5 and TP5x golf balls perform better in terms of distance in sands and have a greater spin in the greens. Moreover, TaylorMade is the only manufacturer to produce 5-layer golf balls.
Target Audience
Whom did TaylorMade make these wonderous golf balls for? They don't really have any specific audience. As premium best golf balls sellers, they are supposed to fulfill all the demands of customers and produce balls that everybody can play with without flaws. Thus, even average players, and also professionals play with the TP5 and TP5x golf balls.
Got some queries about golf ball dimples?
Should I Play Tp5 Or Tp5x?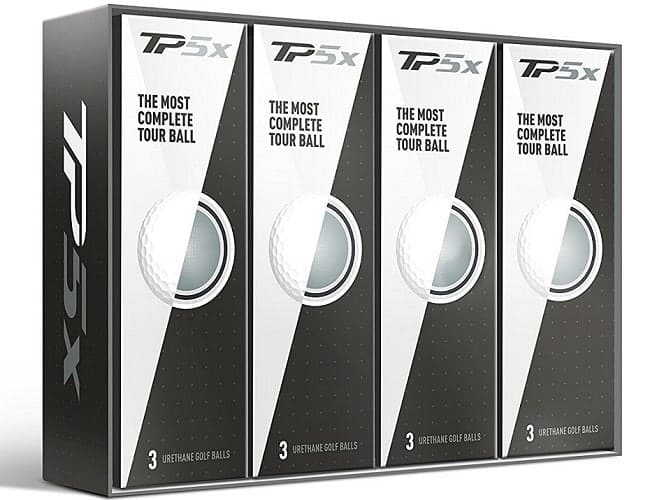 TP5x has a tighter core as it has higher compression and also springs less when hit. Thus, players with faster swing speed tend to enjoy more playing with the TaylorMade TP5x golf ball as they are bound to perform better. Whereas, players who do not have fast swing speed, do not enjoy playing with the TP5x that much. Thus, it is recommended for average golf players to play with the TP5 golf ball instead of the TP5x golf ball.
Another aspect of this part is that the ball selection is actually player dependent. It depends on what kind of player you are, how you like the ball to feel, to chip, put, what kind of spin you play, and also what kind of swing speed you have.
FAQs
Which ball is longer TP5 or TP5x?
The answer is TP5. TP5 balls are longer and faster than TP5x. But for greenside spin, TP5x is the best.
Which TP5 ball is right for me?
For an average player, TP5 is the best choice. But if you want more spin then TP5x is for you.
Who uses TaylorMade TP5x?
Dustin Johnson, the no-1 ranked golfer play with TP5x. But Jon Rahm & Rory McIlroy use TP5.
Final Verdict…
When talking about which one is better, the TP5 or the TP5x, you must be able to decide it on your own now after reading the difference between TP5 and TP5x 2021. Both have great, soft feel, have good spin and also cover a great distance. Among so many options to choose from, who would deny a five-layer golf ball? These TaylorMade golf balls are really living up to expectations. Do not forget to test them on your own!
Read More
Amazon and the Amazon logo are trademarks of Amazon.com, Inc, or its affiliates.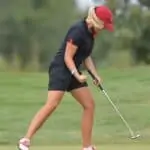 Daisy is the Founder and Editor in Chief of Golfs Hub. She is associated with Golf for more than 20 years. She got the inspiration from her father. She is a very private person & doesn't like to be photographed. She's worked in nearly every job in the golf industry from club fitting to instruction to writing and speaking. Now she is enjoying her retirement from day job... but not from Golf! Daisy lives in southeasternmost part of New York state with her family.