As an Amazon Associate, I earn from qualifying purchases. There is no extra cost to you. Thank you if you use our links; we appreciate it! Learn More.
So you are telling us you don't know much about golf ball dimples although you own the best golf balls money can buy? We know how to help an uninformed friend with an in-depth article.
Now, golf balls are pretty important when it comes to deciding on how you are playing.
They are often underrated, but their dimple count can take your game quite far, literally. If you don't understand dimples, you've probably been calling them something else. Golf ball dimples can take names, you know. Craters, indentations. Is it familiar now? Anyway, plenty is happening in these dimples besides taking a hunt on the smooth surface. We'll tell you slowly and steadily!
What are Golf Ball Dimples and How did We Get Them?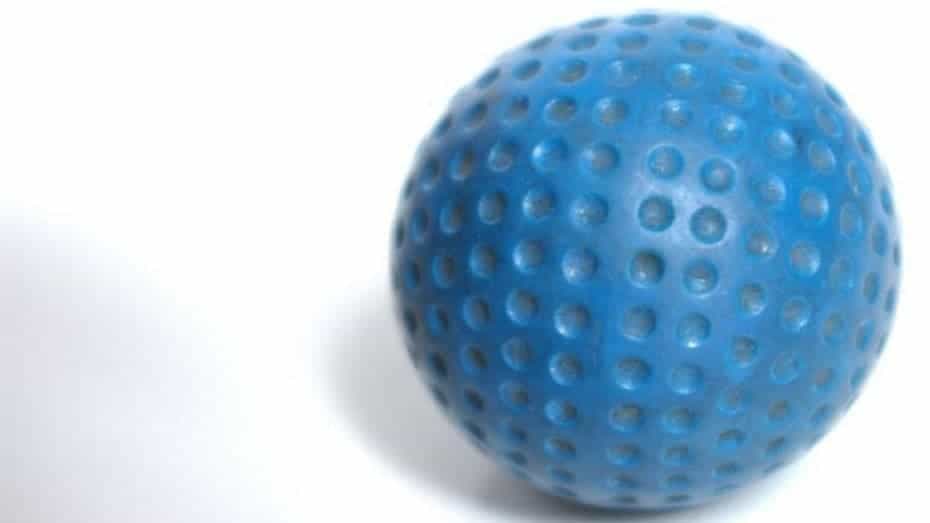 The golf ball looked very different from what we see today. They previously had goose-feather stuffing and a leather outer cover from what we know. They had a pretty cute name, "featheries"! With time, the gum of the Sapodilla tree was used to make a sphere-like shape, called "Gutta-perchas" then.
The earliest belief was that the smoother and more perfected the sphere, the farther it will travel. But the distances covered by the Gutta-perchas were much lesser than the Featheries. This then gave rise to the idea that scratched and rough surfaces make the balls travel farther than smooth ones, and by 1930, we had the dimpled golf balls.
Read More: Best Winter Golf Balls
Why do Golf Balls have Dimples?
What happens when your club hits the golf ball? Scientists have been thinking and trying to find answers to it. And from what research says about decoding a ball's launch conditions, the tiny fraction of a second till which the impact of hit lasts on the ball is enough to determine its complete flight trajectory. That is to say, the ball's launch angle, spin rate, velocity, etc. all depend on this little impact. Aerodynamics and gravity have full control of its trajectory, as we will decipher shortly after.
The main reason why golf balls have dimples is for this aerodynamics optimization. A dimpled one travels twice as far as the smoothed one, and this is precisely why manufacturers get the golf balls dimpled. Also, the more the surface wears out, the more nicks and cuts, the more the distances.
How Do Dimples Affect Golf Ball Flight And Aerodynamics?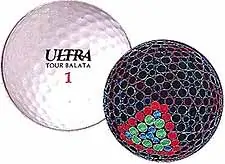 Why golf balls have dimples that can be explained by fluid mechanics and aerodynamics?
So, how do the many dimples on a golf ball affect the flight path of the ball? For this, let us first do some basic stuff like holding out your arm, pulling it to your chest, and then holding it out again. What you felt, the swoosh, was the air resistance. The resistive force has two components, lift and drag. Drag acts opposite to your hand's motion, while lift acts perpendicular to it. Keep moving your hand in and out, and your drag and lift vary with it.
When an object such as a golf ball moves through the air, it leaves behind a turbulent wake region and has a high-pressure front region. For the agitated air in the wake region, the pressure is low there. Air flows near the front and separated from the object at its back due to such conditions. If there are dimples on a golf ball, they create a thin and turbulent air boundary around the ball surface. For this, the air follows the surface of the ball a little farther around the back, thereby reducing the wake. The size of the aftermath has a direct relationship with the drag it faces. With a decreased wake now, the drag faced by the dimpled ball is much less; in fact, half of what is faced by smooth gold balls.
Read More: How Does Weather affect Golf Balls Distance and Flight?
The opposite happens when you study the spinning action on golf balls: the bottom region has more air pressure than the upper region of the ball. This results in an upward force in the ball. The golf balls lift (which is upward) comes half from this spin and the other half from the dimples in it. So without the dimples, there's just half lift.
Also, based on the aeromechanics principles, the simple pattern trend on the balls, more prominent dimples, lesser counts, and shallower depths allow the ball to travel faster and better.
Read More: Best Practice Golf Balls
How Many Dimples Does A Golf Balls Have?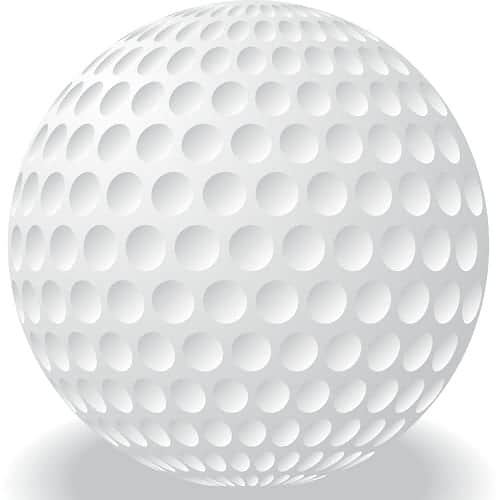 The golf ball dimples' number varies between 300 to 500. Optimally, the range is kept between 300 to 450. Above 450, the drag may be too much and below 330, unwantedly little. You can also optimize your number of dimples. There is no standard of dimple numbers a golf ball can have, so there are no magic numbers. Manufacturers pick numbers and keep them asymmetrical to stop the ball from wobbling. Here is some information regarding the dimple numbers on top golf ball manufacturers:
How Many Dimples Are On A Regulation Golf Ball? (Pga Regulation Golf Ball)
336 is the most common number that we found the PGA Regulation Golf Balls to contain.
How Many Dimples On A Callaway Golf Ball?
Callaway has its dimples all gathered on 332. Starting from the Callaway HEX to the Warbird, Superhot, Supersoft, Solaire and Pink, Speed Regime, and Chrome, all have 332 with other a moderated 332 HEX AND 332 HEX Aerodynamics.
Read More: Callaway supersoft golf balls Review
How Many Dimples On A Titleist Pro V1 Golf Ball?
The NXT Tour by Titleist has the least number of golf dimples, which is 302. The ProVx1 has 328 dimples, and the ProV1 has352. There is 332 on Velocity, 376 on 2020 TruFeel, and TruSoft. The highest number of dimples was on the DT Solo, which is 392.
How Many Dimples On A Taylormade Golf Ball?
The Taylormade TP5 and Lethal have the least number of dimples, 322. Other than that, there are 342 dimples on Aeroburner and Kalea, etc. The RocketBallz and Project (a) had the most number of dimples, 360.
How Many Dimples On A Nike Golf Ball?
The least that we have seen on Nike was 314 on the Power Distance and RZN/RZN X. Other than this, there is 336 on the One Vapor Speed, 344 on RZN Tour and Speed, 360 on RZN Black and Platinum, etc. to name a few from the categories. The maximum number of dimples was 432 on Nike Power Distance Long.
How Many Dimples On A Wilson Golf Ball?
The Wilson Staff Duo ad DX2 ranges have the least number of dimples, 302. The maximum amount is on the FG Tour, which is 362.
How Many Dimples Does A Bridgestone Golf Ball Have?
The least number of dimples on a Bridgestone golf ball is 300, all part of the TOUR range. However, TOUR also has dimples amounting to 338. The maximum number we saw was on the Percept Powerdrive, which has 372 dimples. The Laddie also has the same.
How Many Dimples On A Srixon Golf Ball?
On Srixon, the least number of dimples were on the Q Star and Z-Star, which is 324. The Trispeed Tour also has the same amount of simples. The Revamped Q-Star has 338. The highest number was 344, on the other models of Q-Star and Z-Star.
Golf Ball Dimples Chart
| | |
| --- | --- |
| | |
| | |
| Callaway HEX Black Tour, HEX Chrome & Chrome+, Diablo, Hot & Hot Pro, Supersoft Magna, Superhot 70, ERC Soft, Warbird, HEX Soft, Supersoft, Chrome Soft X, Strata Tour Advanced, Solaire, HEX Solaire, HEX Warbird, Speed Regime 1,2,3 | |
| Maxfli Revolution Low Compression & Maxfli Revolution Spin, Vice Tour Golf Ball | |
| Maxfli U/2 & U/3 Model Golf Ball | |
| Maxfli U/4, Volvik Vivid Golf Ball | |
| Nike One Vapor Speed, Vice Pro Soft Golf Ball, Vice Pro Plus Golf Ball | |
| Nike RZN Black & Platinum | |
| | |
| Nike RZN Speed ball & Tour Ball | |
| Pinnacle Rush, soft, Bing & Golf Golf Ball | |
| | |
| Snell MTB-X, TaylorMade RocketBallz & Project (a) | |
| | |
| Srixon Z-Star Spin Skin & XV | |
| | |
| TaylorMade Noodle Long and Soft | |
| Titleist AVX, Titleist ProV1 | |
| | |
| Titleist NXT Tour, Wilson Staff Fifty Elite, Wilson Staff Zip, Wilson Staff Duo Soft Spin, Wilson Staff Duo Spin, Wilson staff dx3 spin & soft | |
| | |
| | |
| Wilson Staff Duo Professional, Wilson Staff FG Tour Urethane, Wilson staff duo urethane, Wilson staff dx3 urethane | |
About Golf Balls Without Dimples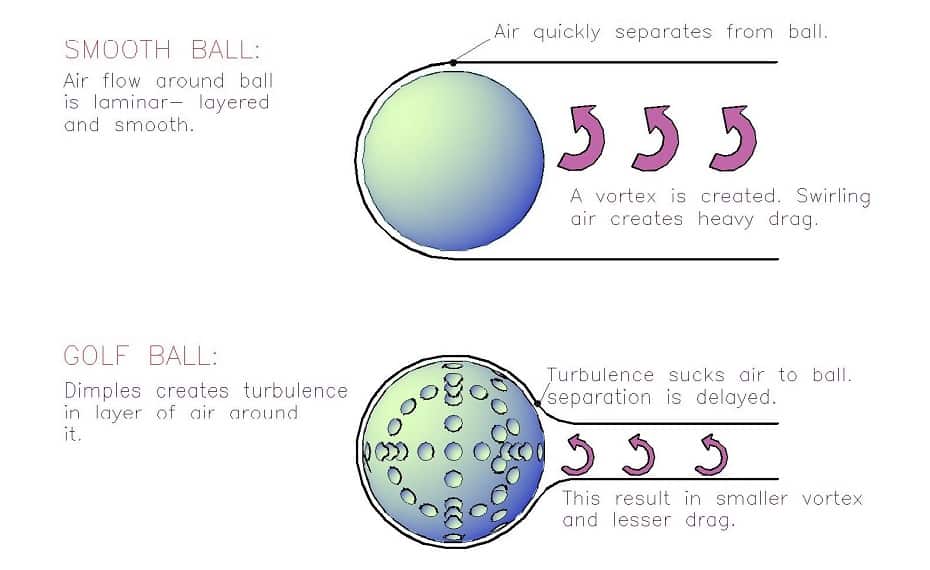 You have learned how many dimples on a golf ball can be there, but did you consider what about without them? From the past, we have learned that it was in existence, and from science, we know that it has a lesser drag and covers less distance. How is it so bad?
Dimples help the ball fly by lifting it. Without this lift, you don't see the golf ball, but something in the shape of a golf ball acting like a half-inflated balloon, which is subject to all resistance and force everyone has to offer.
Golf Ball Dimple Patterns
Golf ball manufacturers have been creating all kinds of dimples on the balls. The dimples could be large or small, deep or shallow. The same ball can have variation in its dimples. They can be circular, oval, teardrop, or even hexagon-like in shape.
But dimples need to be in distribution, even if asymmetric. Having dimples on one side and not on the other, or more on one side than on the other will make it practically impossible to be hit straight.
Conclusion…
Now you're the end of this vast article on golf ball dimples. You shouldn't have much left to know about its importance, range, and usability now that we have all this. And naturally, we said before, you can always customize things to find out what works best for you.
We hope you now agree that these seemingly useless craters are now worthy of most of your attention!
Amazon and the Amazon logo are trademarks of Amazon.com, Inc, or its affiliates.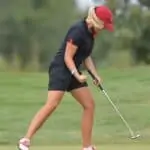 Daisy is the Founder and Editor in Chief of Golfs Hub. She is associated with Golf for more than 20 years. She got the inspiration from her father. She is a very private person & doesn't like to be photographed. She's worked in nearly every job in the golf industry from club fitting to instruction to writing and speaking. Now she is enjoying her retirement from day job... but not from Golf! Daisy lives in southeasternmost part of New York state with her family.