As an Amazon Associate, I earn from qualifying purchases. There is no extra cost to you. Thank you if you use our links; we appreciate it! Learn More.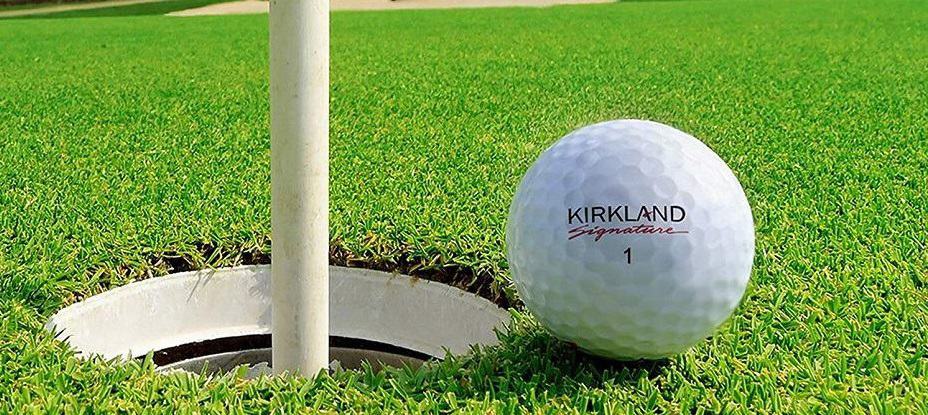 No other ball has gained this much hype lately as much as the Kirkland Signature Four Piece Urethane Cover Golf Ball has. As Costco announced the release of the Kirkland Golf Ball, both avid and amateur golfers went crazy to get their hands on it! Want to know why? That's what we're going to reveal today in this Kirkland Signature golf balls review article.
But a word of caution: If you are a mid or high handicapper, then it's better not to choose this ball.
Why Choose Kirkland 4 Piece Golf Balls?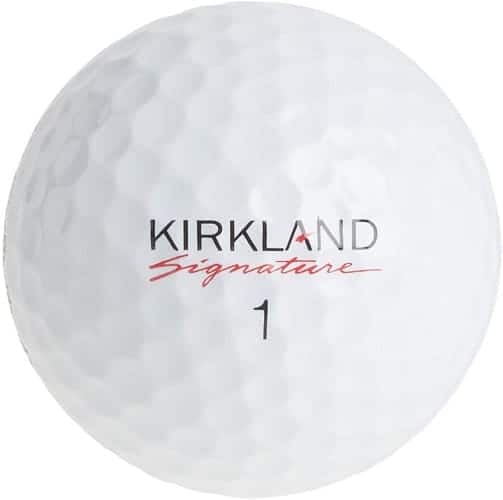 The Kirkland 4-piece Golf Ball, manufactured by Costco was sold out on its very first release. They managed to sell out on their second release too in spite of having an expanded stock. That explains how much packed with they are. Do you want more reasons? We have more.
The 4-Piece Kirkland Signature Golf Balls Review
Key Features
Here we have listed the key features of the Kirkland Signature 4-piece golf balls very briefly.
Distance
Spin
Budget Friendly
Value for Money
Energy Transfer
Sound and Feel
Performance
Structure
Service and more
Cost
Premium balls costing from $150 – $200 per dozen seemed pretty costly to man, especially the amateurs. Many had to compromise quality for the cost. Thus, Costco decided to come up with this miracle. They informed the audience before releasing the Kirkland Golf Ball that it is going to be both high-quality stuff as well as relatively cheaper. Surprisingly it costs around $70 a dozen only! Compare on your own now.
Value for Money
Do not be fooled by the price of the Kirkland Golf Ball 2021. Costco has a value for money, for which they cut any unnecessary charges. Who wouldn't buy such Best Golf Balls at this price? It is almost a no-brainer. Thus, even losing some of these might not feel as cost-effective as losing the high-end premium golf balls.
Four Pieces of Merit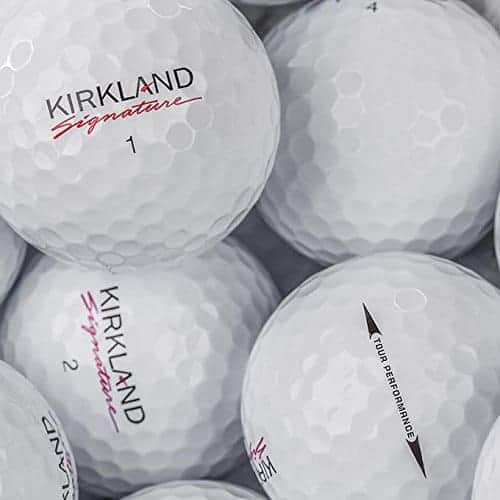 The shell of the Golf Ball is composed of Urethane. It is used as a shell in almost all types of high-end premium balls. It offers a very softer feel compared to any other cover substance or blend. However, a backdrop of this is that Urethane covers are more prone to damage because of their soft and delicate nature. A rough and scratched up surfaced golf ball results in compromising the flight of the golf ball and its response to the swing of the golf. Due to over-exposure to the sun, the Urethane might also turn yellow in color, hence get discolored.
The exterior of the Kirkland Signature comes with a 360 dimpled design that immensely increases the spin rate as well as the ball trajectory, also allowing to create a penetrating ball flight. Let's dig deeper into the materials:
The Core
Kirkland Signature Golf ball has a soft and large core. This feature assists amateurs or players with a slow swing speed to boost the velocity of the ball as it moves away from the golf club. The soft aspect of the core ensures maximum compression while the large core prevents energy from the clubhead having any impact on the golf ball from getting lost.
The Mantle
A common problem that many golfers face is that they feel rock-like feel upon hitting the ball. The Kirkland Golf Ball has you covered there. Its mantle increases the soft feel of the ball at impact while reducing the driver spin. It prevents the golf ball from taking a straight flight up in the air due to back-spin.
The Outer Core
The Outer Core of the Kirkland Signature consists of rubber. It affects the feel and the spin of that golf ball. The thick rubber core is designed to provide the utterly desired playability and feel without sacrificing distance.
Sold at such a low price, who would avoid buying a dozen of this miraculous golf balls?
Read: Best Winter Golf Balls
Distance
The large core of the Kirkland Golf Ball provides amateurs with slow swing speed with maximum distance. It doesn't at all creates any effect on the control. The structure of this model unlocks the hard stages for the beginners without taking away the crisps for the pros. I bet you can't deny getting a dozen for yourself.
Spin
Typical high-end golf balls usually compromise spin when opting for greater distance and vice versa. However, the Kirkland Signature Golf Ball by Costco focused on the structure of the golf ball in such a way that it gets professional spin without compromising a bit a distance and also does not make the control any harder.
Performance
Costco's Kirkland Ball might not be as impressive as the premium golf balls such as the Titleist Pro V1, but it performs a lot better than the ones that cost similar to the Kirkland Golf Ball. The distance is pretty decent, better than all those other cheap golf balls but a bit worse than the high-end premium golf balls. However, the ball is consistent with its yardage.
Feel and Sound
Avid, or experienced golfers, can tell you the difference between a good quality and a bad quality golf ball by just taking it in the hands. As soon as I took it in my hands, I could feel the soft-rubbery texture that only comes from the premium golf balls. Cheap range balls never feel so delicate upon touch as much as this Kirkland Signature Golf Ball felt. The golf ball also tends to feel similar as the premium golf balls off the putter.
After the superb feel, sounds also come to the argument. The sound produced after hitting the Kirkland Golf Ball with the face of the golf club is more of a subtle soft sound. It does not cause any rock-like or clicky sound, instead, it makes a more natural sound when stroked.
Read More: How Does Weather affect Golf Balls Distance & Flight?
Great Service
After reading all this, you should have zero doubt on the service that the Kirkland Signature Golf Ball provides. The golf ball is made with a technology that secures that the ball gives a great service until it expires. The large core, the mantle, and the rubbery outer core increase the good experience the user spends with the golf ball. Be sure to give it a try!
Durability
Topping in all aspects, the Kirkland Golf Ball only has this one backdrop. As the shell is the made up of Urethane, this already gives one disadvantage to the golf ball. The smoothness of the Urethane shell is very likely to be damaged quite easily. You can experience scratches and other problems on the surface of the ball in a short span of time while playing with it.
On average, this golf ball can only last up to a round of play but however performs great while being played with. You can still play with a damaged golf ball, but you won't get the smooth feel anymore and won't be satisfied by the service.
See also: Difference between TP5 and TP5x
Costco's Audience
Costco designed the Kirkland Signature Golf Ball with all good intentions. So, they put maximum technologies in it for the pros but however, it might be a cause of worry for the beginners. This golf ball was designed to be a premium ball at a lower price that can advantage the professionals. So, if you are among the disadvantaged players, you can, of course, give it a go but you'll require practice to master it.
Comparing with others
The Kirkland Golf Ball is unarguably way better than any cheap golf balls similar to its rate. So, let's not get into it as it's basically a no-brainer.
However, compared with a premium high-end golf ball, like the Titleist Pro V1 golf balls, it performs quite up to expectations. The iron shots battle almost equals among both, though in case of driver shots, it seems that the Kirkland have a low spin. There was a very negligible difference in terms of the wedge shots, as stated, only highly skilled players can spot the difference among them.
Availability
Another con for us, but a pro for Costco is that these golf balls are not very available. The Kirkland Signature sells like thunder, so many golfers return with a sad face and an empty hand from the shops.
As they are relatively very low in price and give such immense quality in return, nobody can refuse to buy a couple of dozens. If you spot them available in stock, grab some extra, in case you don't get it the next time you need it!
Are Kirkland 4-piece Golf Balls Good?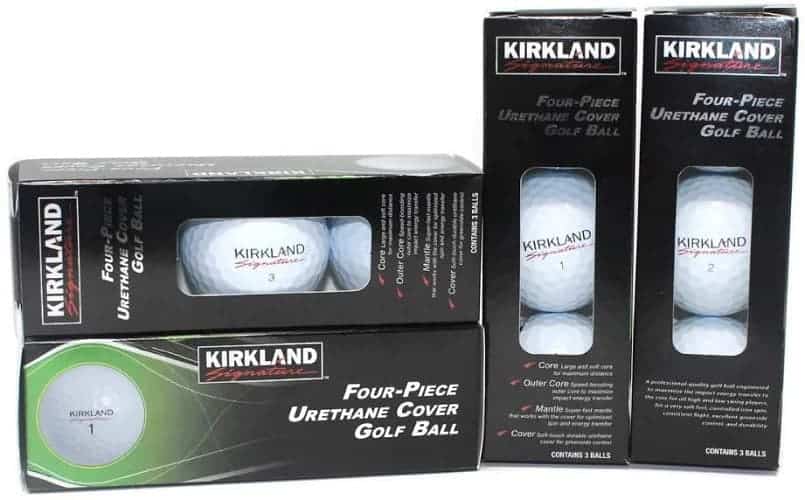 Here is a brief list of the Pros and Cons of the magical Kirkland Signature Golf Ball that we arranged for you so that you can analyze it at more ease:
PROS
Great Performance
Decent Distance
Good Spin
Value for money
Good Sensation on the green
Energy Transfer
CONS
Minor lacks in Performance
Less Durable compared to premium balls
Discoloration of the Urethane
Not for mid-high handicapped golfers
FAQs
1. Are Kirkland Signature golf balls good?
Yes, they are very good. If you need more spin off the tee, then this ball should be your first choice. It is also very durable. The ball is built to provide a lot of spin on every shot.
2. Who makes the Kirkland Signature golf ball?
Costco.
3. What is the compression of kirkland golf balls?
96.8
Alternative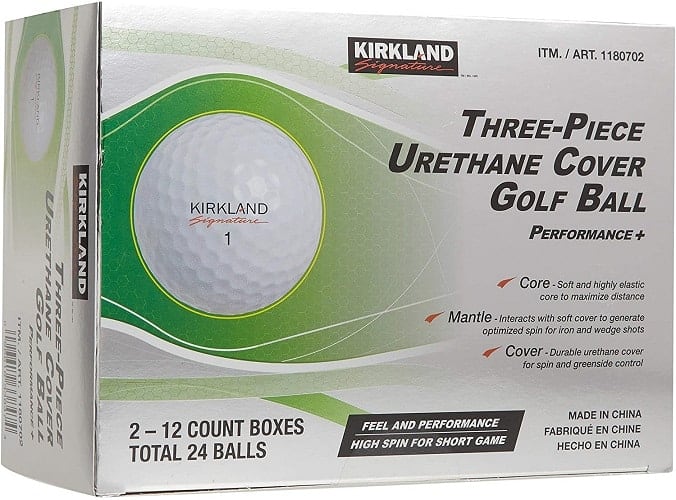 For alternative option you can get the 3-piece Kirkland signature golf balls. As you can understand from the previous line, it is a 3-pice golf ball. It has no outer core like the 4-piece one. That's why it is slightly lighter than the 4-piece golf ball. This extra layer increases the driving distance in golf. If it is not important to you then, you can get this 3-piece golf ball.
Read: kirkland signature golf balls 3 piece vs 4 piece
Final Verdict…
Undoubtedly the Kirkland Signature Golf Balls cost very cheap according to the features it provides, it is a win-win in every aspect. It is always a wise decision to get them whenever they're available as they sell out really fast for its immense popularity. This golf ball gets so much love for precisely the reason we've discussed above in the review of the Kirkland Signature 4 piece golf balls. So, you must give it a try!
Read More
Amazon and the Amazon logo are trademarks of Amazon.com, Inc, or its affiliates.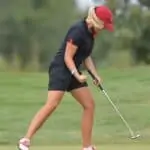 Daisy is the Founder and Editor in Chief of Golfs Hub. She is associated with Golf for more than 20 years. She got the inspiration from her father. She is a very private person & doesn't like to be photographed. She's worked in nearly every job in the golf industry from club fitting to instruction to writing and speaking. Now she is enjoying her retirement from day job... but not from Golf! Daisy lives in southeasternmost part of New York state with her family.