As an Amazon Associate, I earn from qualifying purchases. There is no extra cost to you. Thank you if you use our links; we appreciate it! Learn More.
You love to play golf, don't you? The green pitch, the open ground, and also the sweet breeze of a golf course entice you. But your very busy work schedule, not finding a golf course nearby, and also the weather condition, all these might not be in your favor. But that can't hamper your spirit or fascination for golf.
However, if such happenings are bothering you, then you are in the right place. Because today we will be talking about some drills and practices which can be done at your home. These will help you to live with the game and also will make sure that you get a better game in your hand for the next season.
So, let's find out some best ways to practice golf at home.
Why Is Practicing Golf At Home Important?
Golf is an outdoor game all the way. But getting a proper place for practicing the game is quite a hardship. But that doesn't mean that you get rusts on your playing hand due to this restriction. You can maintain your sharpness for the game through some exercises and drills.
Practicing golf at home will not only keep you in touch with the game but also it will ensure your overall development in this game. Plus, these are not very much difficult to attain. So, without any delay let's sort out how to practice golf at home.
Some Handy Equipment For Indoor Golf Practice Facility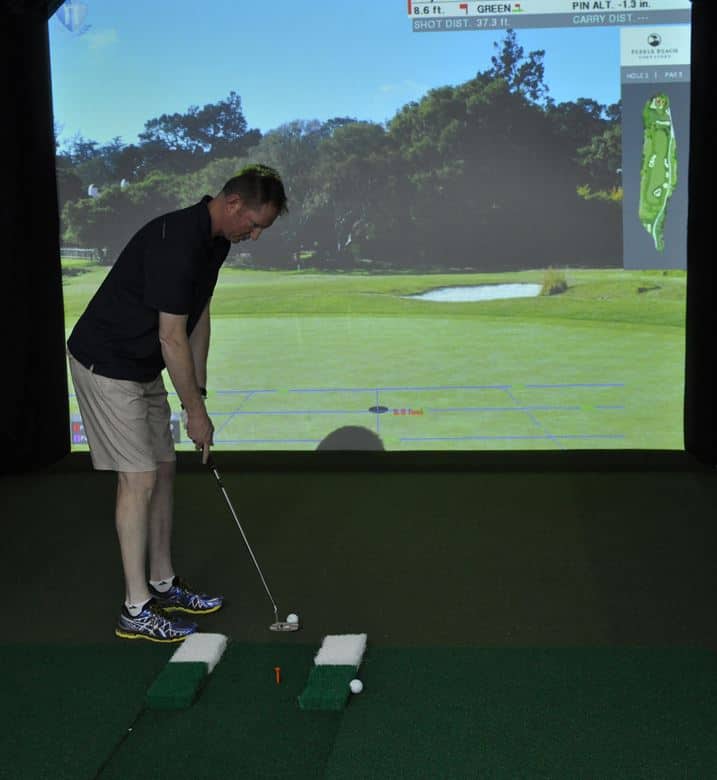 The question always remains is how to practice golf inside? Well, to do that, either you can spend a lot to make a standard practice set up or like getting a few handy practice equipment and carry on. Here is a list of such equipment to do best golf practice at home:
Read More: Return To Golf After Lockdown
1. Golf Net
Golf nets are used for increasing shot and putting accuracy. It also helps to keep your golf skill in shape all around the year. There are various sizes available so, whatever size you choose, make sure you place it securely on a certain surface where it can standstill. Otherwise, it will move along with every hit on it.
2. Golf Mat
A right size of golf mat can really take your skills to the next level. You can place the mat anywhere on the floor and practice small chippings on it.
3. Full-Length Mirror
Having a full-length mirror in the practice arena will help you to correct your body movement, posture, and body swings. It will help to analyze your physic and set up and you will know exactly where you have to correct your movement.
4. Chipping Net
Chipping nets will help you to pick up a specific chipping target. Also, it will help you to set you a perfect target about where you are going to chip the ball.
5. Putting Surface
You can create your own putting surface on any clear and flat ground. You can also use masking tape to create a straight pathway and of a certain length where you can practice your putting and the direction of the tape will guide the movement of your golf ball.
Besides these you can use swing training aids too.
Best Ways To Practice Golf At Home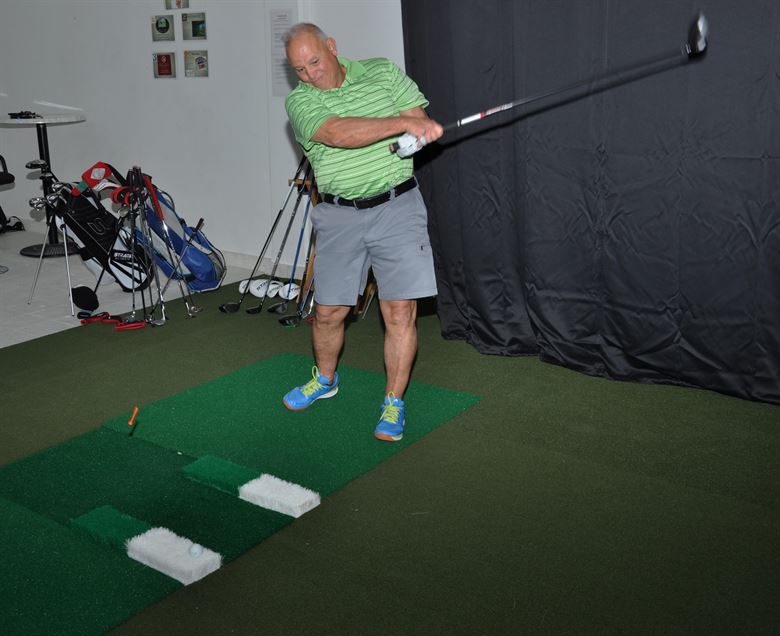 To master the golf skills, having the necessary equipment is not enough. Besides the equipment, you will also need some drills to ensure perfect Indoor Golf Practice At Home. Let's see some such drills:
1. Posture And Takeaway Mastering
Get in front of your full-length mirror first and try to get the ideal posture in the right position. You can observe some perfect posture ideas or images and try to imitate them. Once you get the right posture, now you can start your imaginary takeaways. While doing the takeaways, make sure you don't do any unnecessary swinging with your body. Just stick to the basics and follow up with the mirror.
You can't take full-length shots in your home, but you can certainly put and chip your ball. Just make a putting surface and grab a chipping net and start doing so. After all, you can master your finishing shots of the game sitting in your home.
3. Watching Golf Matches
Observing the professionals closely and trying to follow their techniques can really boost up your knowledge regarding this game. So, watching golf on television can also increase your skill and knowledge about the game.
Key Reminders For The Best Golf Practice At Home
While practicing golf at-home, you should keep a few things in mind:
Make a certain space available for practicing.
If you have a open place outside your house you better practice there rather than practicing at indoor
Follow up the drills regularly and accordingly.
When you practice at home try to master your postures mostly.
The more you practice, the better the outcome will be.
Frequently Asked Questions
1. What Is The Best Golf Club To Practice With?
– Giving an exact answer to this question is a tough call because it entirely depends on your playing style and preference. But for indoor practicing, putter and different wedges will be very handy as you probably cannot take long-range shots sitting in your home.
2. How Can I Practice Golf Without A Range?
– Well, without a driving range, you cannot practice your A-game. But you can definitely master some skill without going to a range. Like, you can correct your posture, standing position, club holding techniques and proper body swinging techniques. Also, you can practice a lot of putting and chipping.
The Bottom Line…
No matter whatever outdoor game you like, there are always options for mastering that game sitting in your house. Golf is no different from that. Here, we proposed the best ways to practice golf at home. These exercises and drills will not only sharpen up your golf skill but also will answer all your questions regarding how to practice golf indoors.
Also, it will ensure that you are always in touch with your favorite game. Our target is to help you to quench your desire and thirst for this game. So, what are you waiting for? Just grab your clubs and golf balls and start practicing inside your house, following the above-mentioned techniques.
See also:
Amazon and the Amazon logo are trademarks of Amazon.com, Inc, or its affiliates.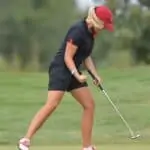 Daisy is the Founder and Editor in Chief of Golfs Hub. She is associated with Golf for more than 20 years. She got the inspiration from her father. She is a very private person & doesn't like to be photographed. She's worked in nearly every job in the golf industry from club fitting to instruction to writing and speaking. Now she is enjoying her retirement from day job... but not from Golf! Daisy lives in southeasternmost part of New York state with her family.