If you're one of those people who love watching the top PGA tour competitors, then you definitely admire the amazing swings they deliver. You'll see players like Rory McIlroy and Dustin Johnson won the fellow PGA Tour professionals. I don't need to tell you how amazing they are.
Are you dreaming that you'll get this admiration someday as a golf player? Are you up for doing what it takes and learning what it takes to be the best golfer? Well, one of the most important things you'll need to deal in golfing game is the proper stance for golf.
Remember, if you have a stance full of flaws, then the swings you'll use in your game will also have flaws in it. To make sure you get a hold of proper golf posture and stance, I'll guide you to a tour. In this tour, you'll learn how to make a proper golf stance for each club.
5 Simple Steps for a Proper Golf Stance for Different Clubs
Think Like an Athlete
When you're going to learn about the correct golf posture and golf stance alignment, always start by simply asking yourself:
'What sports have I played before golfing?'
Know this is very important. Why? From other sports you've played, you'll be able to relate particular elements to golf. Since golf as well is such an athletic sport, you'll always need to set yourself up in a proper athletic position. Amateur golfers often hold a static position, and thus, their bodies do not move athletically.
Often, newbies keep their knees significantly bent. This actually shifts the weight of their body to their heels. By doing such, the spine remains fully upright and the hands will almost touch the body. If someone holds such a position, then it becomes impossible for him to make quite an athletic motion holding the club.
Read: Cleveland Launcher Hb Irons Review
Imagine, a goalkeeper in the soccer game. With a little bend in the knees, he always stands very upright. His weight remains balanced on the apples of his feet. And you have never seen a goalkeeper to hunch his back, bend his knees significantly or have his whole weight in the heels and you never will. There's a simple reason behind this.
The goalie always tends to hold on to a proper athletic position. This helps him move the body right or left within less than a second. We often forget that golf swing is athletic too, and it doesn't have much of a difference. In order to move for backswing or downswing, a dynamic position we must be in.
So how will you keep yourself in an athletic position? Well, first, bend your knees slightly so that it allows your upper torso to lean forward from your hips. It's like if you draw a beeline from the rear of your right shoulder, you'll see the line touching the front of your knee as it also expands to the apples of your feet.
This will make sure your body is in a dominant position so that you can swing your club with power and control.
Read also: Callaway Strata review
Use the 3-Steps Posture Drill for Guideline
Want things to be simple and easy? The 3-steps posture drill may come in handy in this case. Stand with your feet spaced at the width of your shoulders. Then try to extend your arms along with the club out before you as you stand straight perfectly.
You should bear in your mind that in the first stage your knees should not bend, and you should keep your arms and the club in such a way so that they make a straight line. The straight line formed, should be parallel with the ground below.
Now, slightly bend down your knees while dropping your arms down. Keep doing this until your arms rest on the chest.
Keeping this position, you'll notice that your knees only bent a couple of inches and the club remains in a position where it is parallel with the ground. Do you want a better visual allusion? Imagine you're sitting on a stool with high bars. Your knees only need to bend slightly a bit before your bottom touches the chair.
Let's take the last and most essential step now. Try to bend forward slowly from your waistline and do this until your clubhead contacts the ground below. Once your clubhead touches the ground, you'll know that you're positioned in the perfect setup.
You'll surely feel your full body weight on the apples of your feet as your hands are located precisely under your chin, once you've done the drill perfectly. You'll feel your spine is tilted a bit forward yet relaxed. Now, you're in the perfect and dynamic position for making a powerful swing.
Extreme Training
Once you have made your advancement on the setup, you'll only have to fine-tune your stance right now. Try to specifically focus on the angle of your spine. It will help you to locate the pivotal position for you. You'll find three kinds of postures at setup: The C Posture, The S Posture, TheNeutral Posture.
Golfers who deal with the C Posture usually have an arched back and leveled hip at address while on the other hand, the ones with the S Posture have an extravagant tilt with the hips as they arch their backs. Golfers that holds their position between S and C Posture, or in other words, Neutral Posture keep their backs straight as their hips are tilted.
Initially, most players find it hard to find an accurate neutral posture. If you want to find out what 'neutral' feels like, then you should drill the extremes. Take your golf club and stance as you hunch the back in a way similar to a cat's. This will let you focus so that you can round your shoulders while you can bring your chin near your chest. This brings you to an end of one spectrum.
Now stand tall arching your back. Arch it to the extent possible so that you can find the opposite end of the spectrum. Make sure that your chin is nowhere near your chest while feeling lots of tilts in your hips. Your other spectrum has just ended with this.
You should practice both the terms of this spectrum as it will play a very important role in your game. By practicing this, you'll be able to reach the central point and locate the posture perfect for you to make a balance between the two. This exercise is an efficient way to aid yourself in finding a neutral posture if you're struggling with your own posture.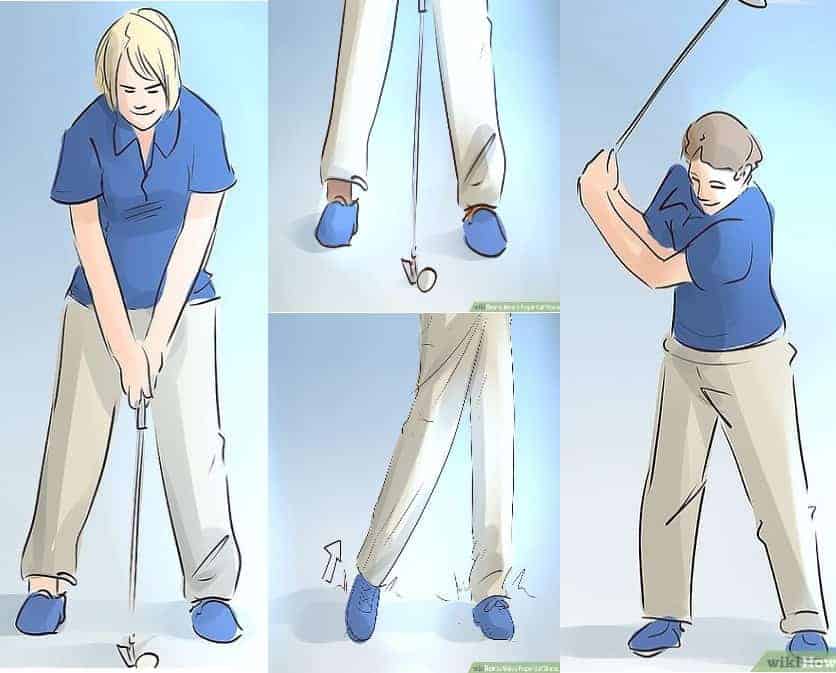 Analyze What is Convenient for You
Being comfortable with your game is a must. For this, you'll have to find a position that brings convenience to you. This will come in handy, especially when you're suffering from some physical ailment.
There are many golfers who suffer a lot from the lack of mobility of their hip which can appear from previous injuries, the natural loss of resilience or just due to the natural aging process of their body. So that you can be comfortable with your position, I'll recommend the C posture rather S posture.
With the C posture, you'll find your hips slightly to be more level, which will allow your hips to rotate easily with more comfort. Remember, every swing has its own uniqueness, and similarly, every posture has its own uniqueness depending on the way your body responds to it.
Read: How to Clean Golf Club Grips, Shafts, Heads & Rust at Home
Never Stop Practicing
Just knowing about the proper stance for golf won't do you any good, if you don't practice it on a daily basis. You won't see your changes overnight. You can check your ability up on a monthly or weekly basis.
Try to know your position and master it very well. Often, golfers mix their positions up and end up being in the wrong posture. Make sure it doesn't happen, and you can only make sure of it once you master your skills. I've seen many golfers have learned about the proper stance for golf, however, with the lack of their practice, they reached their initial level of problems.
FAQs
Does a wider stance help in golf?
Yes, a wider stance helps in golf as it provides a wider and stable base. It provides the highest stability to a golfer. This helps to turn the upper body in a better way for the golfer which helps to make a good rotation.
What happens if your golf stance is too narrow?
If your golf stance is too narrow you are more likely to hit the ball on the left. Also, the narrower the stance the easier the rotation. But staying balanced and centered gets difficult in this case.
Final Words…
Once you know how to make a proper stance for golf driver, you can make the best swings in your game. Knowing how to swing is a must but knowing your stance comes before you're getting to know your swings. Without the proper stance, getting your game right is impossible.
In this article, I tried to cover what you need to make your stance right. With patience, determination, and practice, you'll reach the pro level of golfing you have always dreamed of.
---
Read More: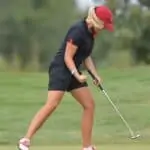 Daisy is the Founder and Editor in Chief of Golfs Hub. She is associated with Golf for more than 20 years. She got the inspiration from her father. She is a very private person & doesn't like to be photographed. She's worked in nearly every job in the golf industry from club fitting to instruction to writing and speaking. Now she is enjoying her retirement from day job... but not from Golf! Daisy lives in southeasternmost part of New York state with her family.