As an Amazon Associate, I earn from qualifying purchases. There is no extra cost to you. Thank you if you use our links; we appreciate it! Learn More.
There are multiple ways you can clean your golf clubs. If you're ready to spend money for the cleaning of your favorite golf clubs, there are shops for you, both online and offline, where you can avail the necessary golf club cleaning products. The kits are good enough to efficiently do the cleaning job for you.
Or maybe the idea of spending money on golf cleaning kits sounds too silly to you, and you're confident to do it on your own. If you happen to believe you can, there are ways. By simply gathering up a few household items, it becomes a handy DIY process without costing you money.
If you're searching for an easy method of how to clean a golf club at home, you can follow our step-by-step guide that will explore you through the simplest of the golf club cleaning process. It's essential for the process to be periodical, so it prevents the guck build-up, rusting, or possible damages, and therefore, upholds the effectiveness of your golf clubs.
In this article, you'll also get to know how to clean golf club shafts and how to polish golf clubs.
So, let's get started!
How to Clean Golf Club Heads & Shafts?
Step-1: Gathering the Materials
If you're worried thinking about how much cleaning materials you'll need, let me assure you, it's not that much. Follow the list below to gather them all up.
Plastic bucket (1 will do)
Dishwashing detergent (should not be so harsh)
Toothbrush, or some other brush with plastic bristles.
A towel for the drying process.
Trust me, that's it! You can cut one bucket from the list if you're willing to do it in your kitchen or bathroom sink. But we recommend using a bucket for the washing and another to store the already done ones especially if the iron heads have grimy dirt. You wouldn't want to send the dirt through your inner plumbing.
Read: Strong grip vs weak grip golf
Step-2: Foaming it Up
Pour some of the dishwashing detergents into the bucket, and add some warm water followed by. It'll create suds.
The water should be lukewarm rather than boiling. It's because most of the irons come with plastic ferrules on the joint of the shaft and the clubhead. The glued ferrules can easily come off coming in contact with boiling hot water.
You don't need water more than the amount necessary to cover the iron heads.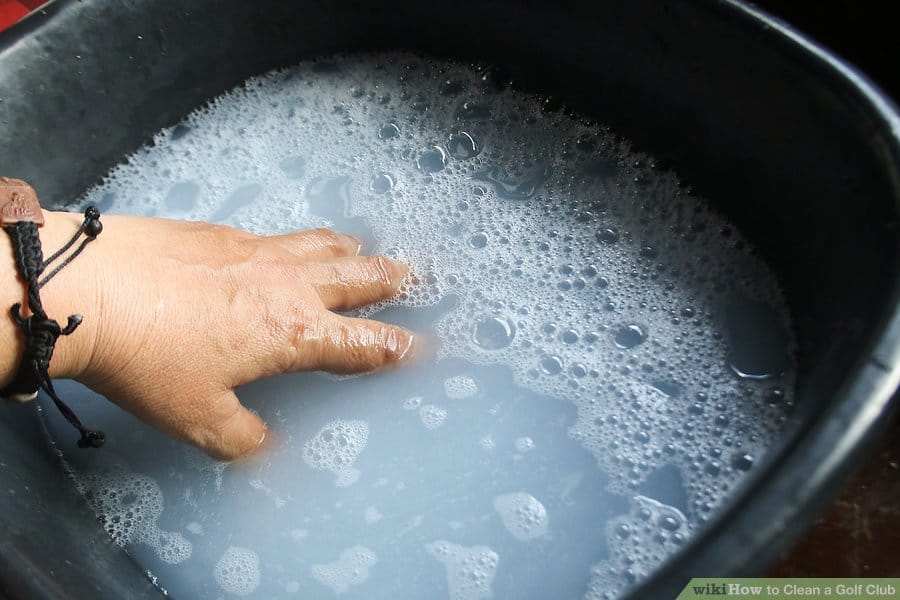 Step-3: Placing the Irons into the Bucket
Now place the bucket full of suds near a garden hose, or you can work inside a deep enough sink. A bathtub does the job as well.
Set the bucket and place the irons into it. Submerge your clubheads in. Make sure the ferrules of the clubs are above the waterline.
Rest the irons in the lukewarm water and soak them well. You don't have to wait more than two minutes. This way, the dirt of the clubface loosens out form the grooves. The suds should begin working on the potential oil and chemicals that might have built up during a playing session.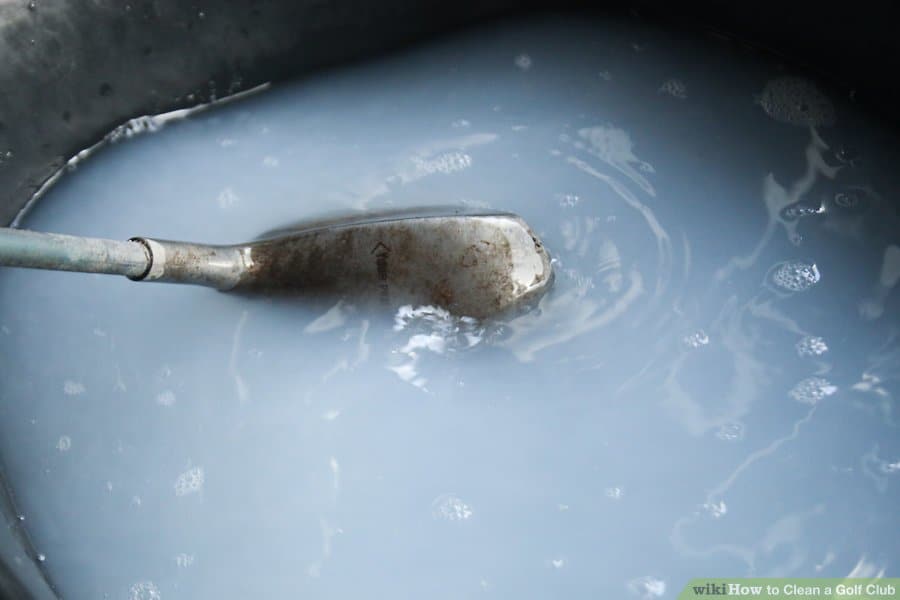 Step-4: Cleaning Out the Grooves
After you've waited a couple of minutes to soak them well, go for each club in turns, and using the old toothbrush/brush with plastic bristles, clean the grooves out on the clubface.
This step holds the prime importance of the whole process. You must remove all the dirt and scraps from the groove. The caked-on scraps and dirt-filled grooves won't produce the intended performance. They cause losing grip on the golf ball, making it do fun stuff.
Move on to dragging the brush across the iron sole and the backside of the clubhead followed by. Remove the grass, dirt, and other grimy stuff.
Using a soft-bristled toothbrush, the process becomes much easier. Sometimes the dirt is allowed to build up without any cleaning only to harden over time. If this is your case, you might have to lengthen the soaking time and use a hard-bristled brush instead. We discourage using a wire-bristled brush when cleaning the clubs, for it may cause permanent scratches on the club surfaces.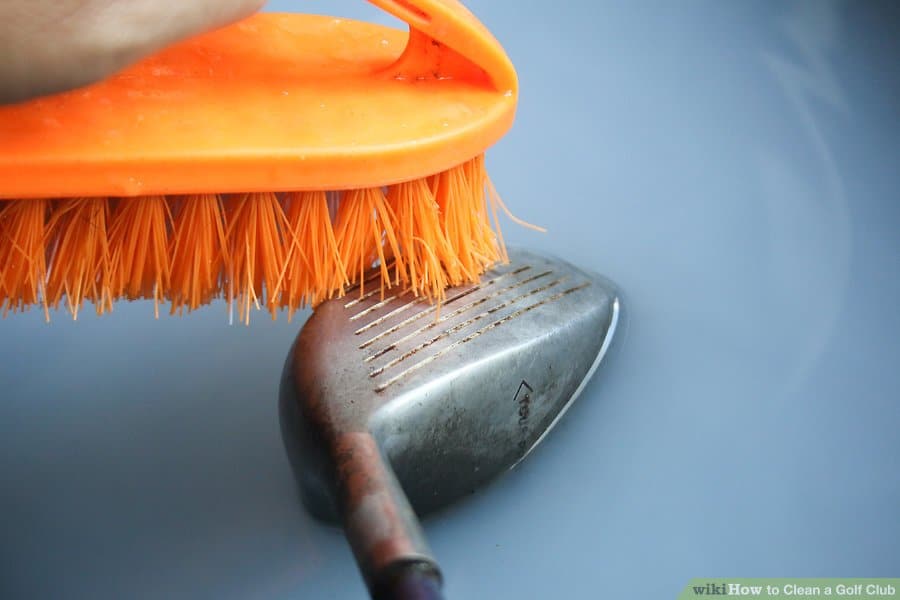 Read: Best Golf Iron Sets
Step-5: Rinsing off the Clubheads
Now, using the garden hose (for outdoors) or the tap (for indoors) rinse off the clubheads. After you've washed away the suds, have another look if there are any remains of the dirt. Make sure you've removed them all from the grooves. And you must be extra careful to avoid splashing water up the shafts.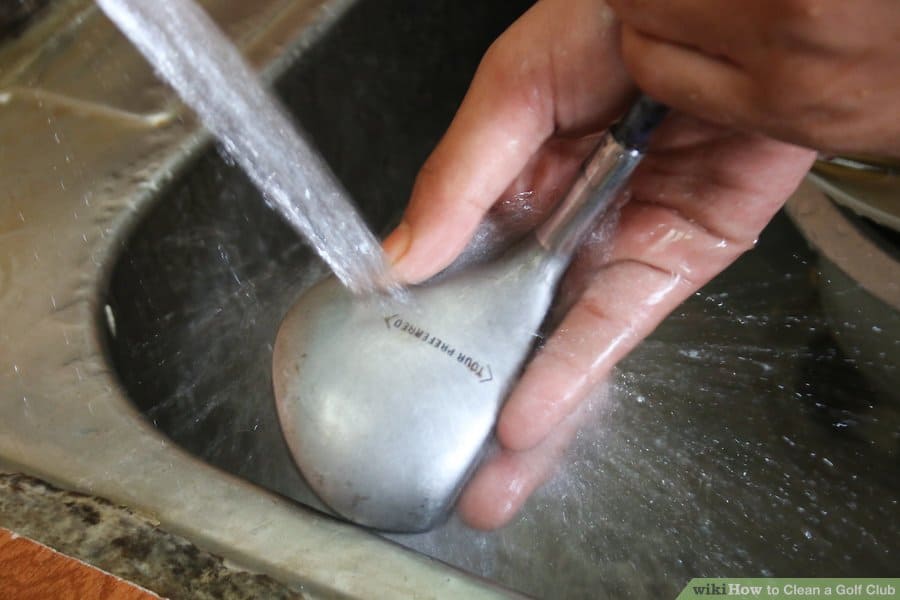 Step-6: Drying the Shafts and Clubheads
Use an old towel for drying off the clubheads. Don't forget to drag it up the shafts too. This way you can remove any remnants of loose scraps from the shafts ensuring they don't go rest in your bag wet.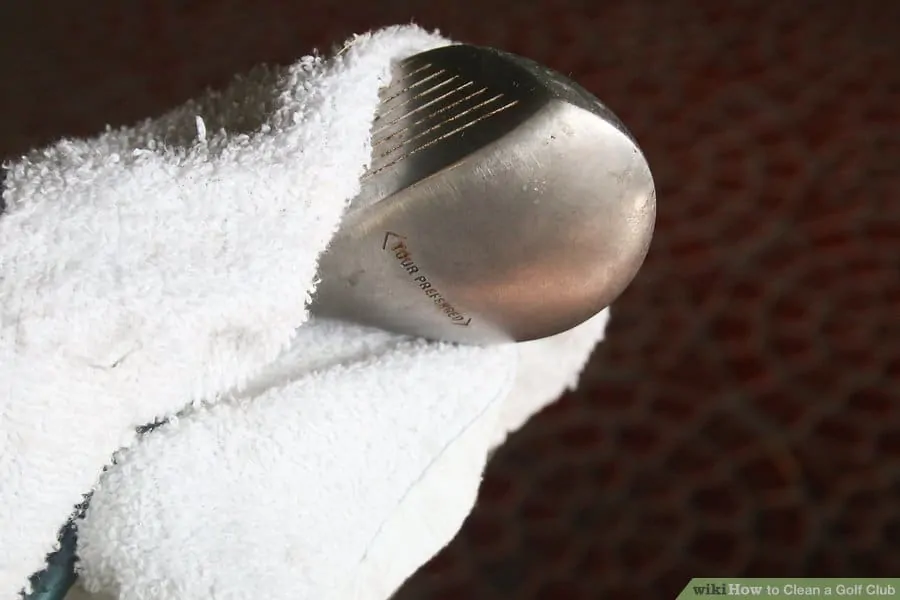 Read: Fitting yourself for golf clubs
How to Clean Golf Club Grips?
You should never forget cleaning the golf club grips when cleaning the golf clubs. Sweating causes a reduction in traction offered over time. To gain back the proper traction and rejuvenate your old grips, it's always best to go for a quick clean.
Wiping the golf grips down with a moist piece of cloth, and then dry them off with an old towel is the easiest way to do so. The grimy dirt will go away without wasting too much of your time. You can follow the steps below if you feel a thorough cleaning is necessary.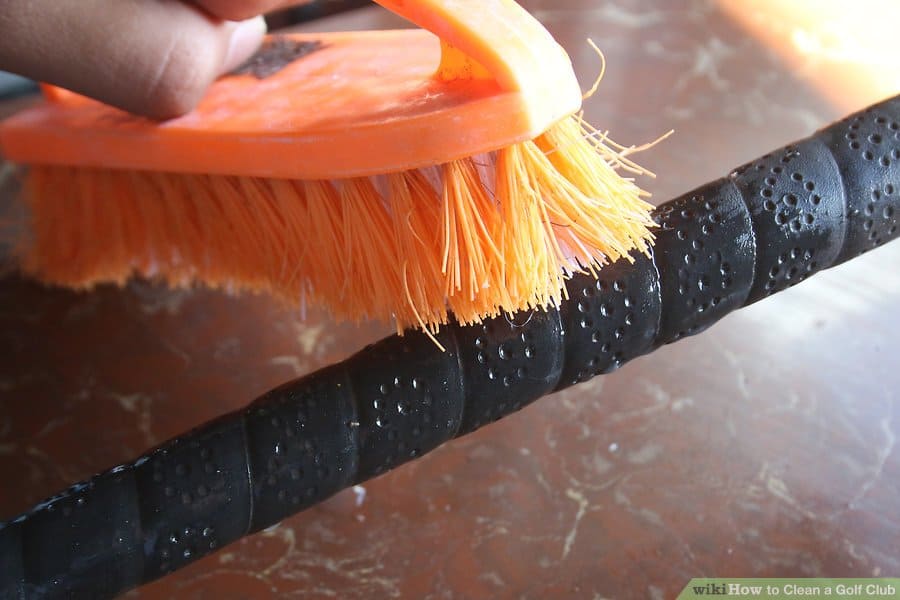 Step-1
Pour a bucket with lukewarm water and then add a few drops of dishwashing liquid. Stir it up to make a generous amount of suds.
Step-2
Collect some of the suds using a wet cloth and rub them onto the grip.
Read: Benefits of oversize golf grips
Step-3
After you've scrubbed the grip, place in under a flow of warm water and rinse it off. Do not use boiling hot water, it can loosen up the glue underneath.
Step-4
Dry off each grip using a towel after you've rinsed them off. You're all done.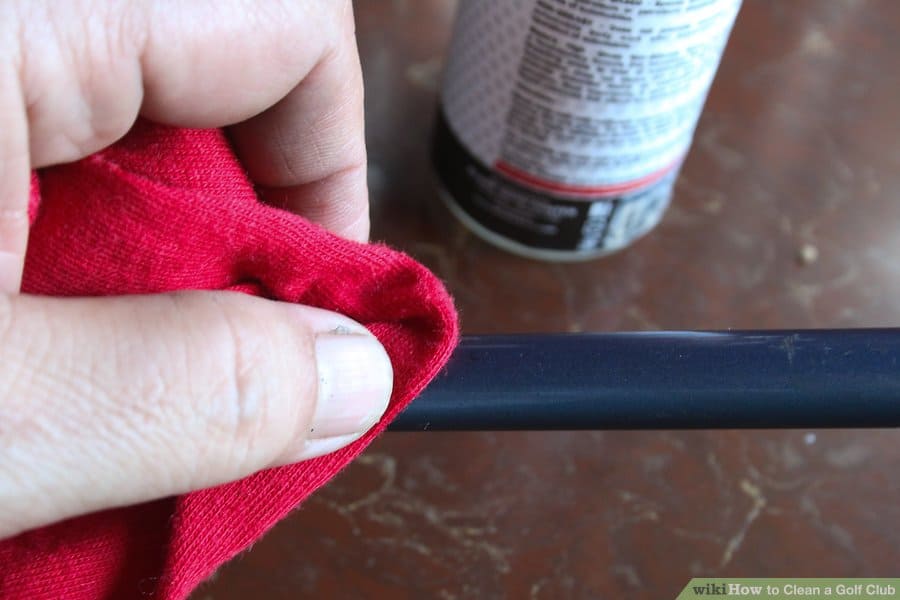 How to Clean Golf Clubs Rust?
If you've decided to pull out your old golf clubs again after quite a few years, you should not be surprised to see the build-up of rusts on them. Although stainless steel and graphite don't rust, the mild carbon steel made clubs are the most vulnerable. Well, if you happen to experience so, don't give up on your favorite golf clubs just yet. You can remove all the rust and restore their good condition easily.
Read: Best golf Halloween costumes
Step-1
Start your preparation for the restoration with wiping the clubs with a damp cloth. Since it's always possible for mud to stick in the clubhead grooves, we recommend you to go through the cleaning process we've shown in the earlier segment of this article. A thorough cleaning makes it possible for you to give the proper shine you'll love.
Step-2
Start with a ball of steel wool while removing the rust. Remember not to apply too much force. The steel wool wires provide adequate friction necessary to scrub the rust away. Begin with the clubhead, and then work the weight up the shaft. Don't forget to completely dry off your clubs before rubbing the steel wool.
Step-3
To restore the shine your clubs used to have when they were new, you need to apply a metal polish. Use a soft cotton cloth and begin applying the metal polish on each of the clubs. You can follow the instruction provided by the manufacturer of the metal polish.
Most of them instruct to apply it using a towel for wiping the polish and wait one minute before the polish firmly sets. After the polish is firmly set, you should use a different towel to wipe off the club.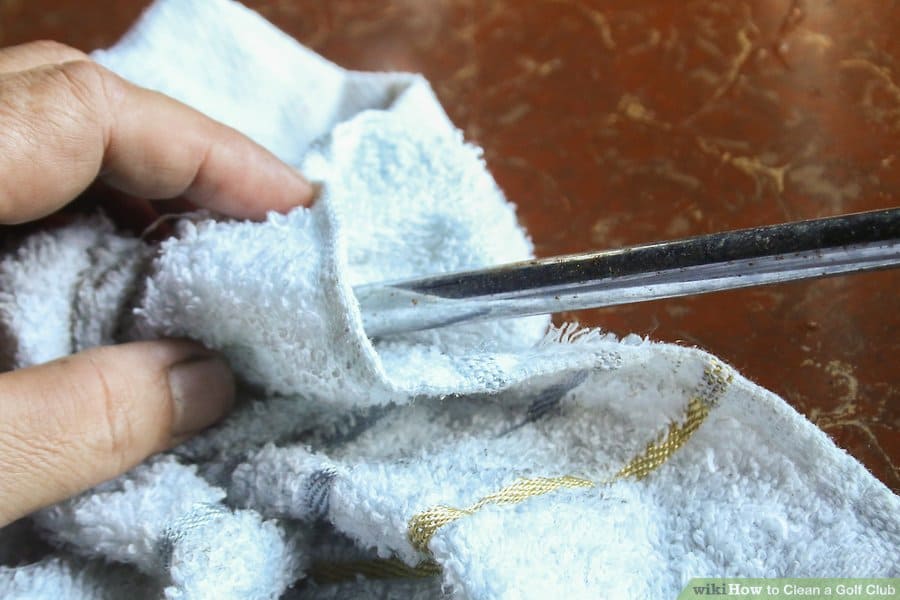 FAQs
What brush should I use to scrub my forged iron?
A soft nylon brush is the best fit for a forged iron.
Should I soak my driver, hybrid, fairway, and putter in water too?
Rather than soaking, it's recommended to dip them in and out and rub them off with a cloth.
Is it safe to use rust remover on my clubs?
As long as the rust remover suggests so, it's safe to use. It's not recommended otherwise.
Can you use WD40 on golf clubs?
Yes, you can use WD40 on golf clubs to clean it. You have to spray it on the club's head and simply wipe it off with a piece of cloth. WD40 is a multipurpose use product so you can use it to clean golf clubs , wedges, bags, etc.
Do I need to clean my golf clubs?
Yes, golf clubs need to get cleaned as it keeps the club in good condition for a long timeframe. Moreover, clean clubs help to perform better and help to make the club look good too. Not cleaning the clubs can easily affect the wedges and irons of the club with rust.
Read:
Wrapping Up…
Golf clubs, regardless of the types, hardly require too much maintenance. Cleaning it with a cloth after every playing session is enough to keep up the good condition and retain its look. Nevertheless, you must clean it at least once a month if not too frequently. As you've learned now how to clean a golf club, you'll know the dos and don'ts.
See also:
Amazon and the Amazon logo are trademarks of Amazon.com, Inc, or its affiliates.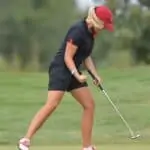 Daisy is the Founder and Editor in Chief of Golfs Hub. She is associated with Golf for more than 20 years. She got the inspiration from her father. She is a very private person & doesn't like to be photographed. She's worked in nearly every job in the golf industry from club fitting to instruction to writing and speaking. Now she is enjoying her retirement from day job... but not from Golf! Daisy lives in southeasternmost part of New York state with her family.