As an Amazon Associate, I earn from qualifying purchases. There is no extra cost to you. Thank you if you use our links; we appreciate it! Learn More.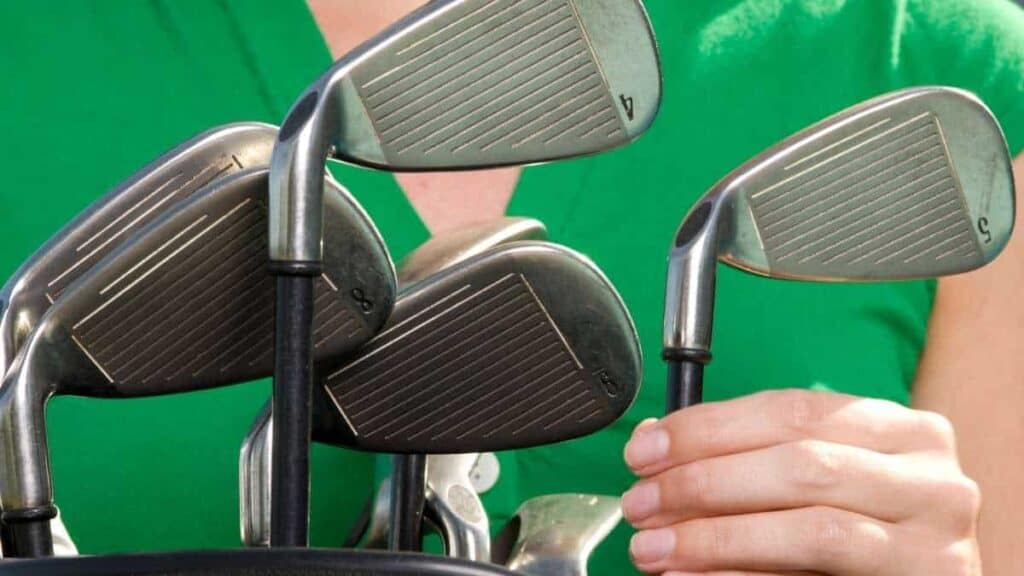 In the game of golf, the size of your golf clubs always matters. You can go beyond your level for the fullest enjoyment with a proper-size club while, on the contrary, a size mismatch can only lead you to an utter exasperation. So, it's essential to get fitted for your clubs to make the most out of your skills and hone it further.
Keep reading to find out how to fit golf clubs according to your stature, style, and posture, along with several other indispensable factors and recommendations.
How to Measure Golf Clubs?
The principle of golf club measurement involves your height and the gap between the ground and the placement of your hands. You need to measure your height before determining the right angle for your clubs to find the proper match of your club size. So, the more accurate the measurements, the better.
Step-1: Measure your Height
Get the proper measurement of your height, starting from the pate of your head and down to the base of your feet. You won't need to hold on to your stance; just be steady and stand straight.
Step-2: Measure the Gap between the Floor and Your Wrists
Keep standing straight while your arms sway relaxingly at your sides. Get a buddy or a store assistant for measuring the length between your wrist-top and the floor. The starting point should be where the top of the club is supposed to be.
Here's a chart that'll give you some idea about the presumably accurate size range.
| | | |
| --- | --- | --- |
| | Distance Between Wrist to Floor | |
| | | |
| | | |
| | | |
| | | |
| | | |
| | | |
| | | |
| | | |
| | | |
| | | |
| | | |
Step-3: Swing out a Standard-Size Club
The above two basic steps will be enough to provide you with the particular angle information as well as the required adjustments that would need to be made. However, examining your swinging of a standard-size club will help the size-fitters to use the measurements correctly and determine the suitable size as per your playing style.
Also, both men's and women's clubs have different standard sizes. It's another reason why it's beneficial to swing them out since you must fit the driver, wedge, putter, and the rest of the types.
Step-4: Sort out the Handicaps
If you have a handicap, you should sort it out with the pro shop beforehand. You could provide them with the description of your playing skills if you happen to be unaware of having any. It helps them find a more accurate match of a club for you that can considerably upgrade your game.
Here's one more thing you should know- custom-fit clubs significantly uplift the gameplay of any golfer with a handicap by enabling them to train the necessary swing maneuvers effectively.
How to Find the Right Flex and Grip?
After you've successfully determined the right latitude and angle of the clubs, now comes the part where you'll need to figure out the type of flex and grip that would work best with your specific style of play. For doing this, the custom fitters in the stores will want you to swing while they watch. However, you may as well give them some necessary information and figure it out yourself.
Step-1: Determine Your Swing Speed
Most highly-facilitated pro shops use an electronic launch monitor along with radar to help determine the swing speed. So it'll indeed be tough to execute at home.
Generally, most beginner-level golfers swing at a speed somewhere between the speed range of 80-85 miles per hour (128-137 km/hr).
Usually, golfers with faster swings seem to prefer woods with stiffer shafts and irons with iron shafts. Those with slower swings, on the other hand, are likelier to go with flex shafts for their woods and graphite shafts for the irons.
Step-2: Track the Average Distance of the Drives You Hit
Keeping track of your average drive distance can help you figure out your match for a set of a properly flexed drivers. Follow the golf club fitting chart below for quick golf clubs fitting guidelines.
Step-3: Figure out the Right Flex for the Irons
The ideal flex of your irons will depend on the club that you use to hit a 137 meter (150 yards) shot. In short, you need to determine the club you'd choose while lining up for a 150-yard shot. You may take guidance from the below chart.
Step-4: Fit the Clubs While Wearing Gloves
Golf gloves work with the grips to provide you with the most comfortable and secure contact with the clubs possible.
Typically, the larger your glove, the larger should your grip be. The grip size varies from standard women's size to men's oversized. Any wrong pick of grip can give you unwanted friction to disrupt your perfect swing.
Read: The Benefits of Attending a Golf School
You can utilize the pinch test to determine the right fit for your glove. The tips of your finger should only have a pinch of material while there shouldn't be anything in your palm. You can use the following chart to determine the size of correctly fitting gloves and figure out the right grip.
How to Choose the Right Clubs?
The first measure you can take while choosing the right club for yourself is to consult a pro. Your pro shouldn't necessarily be a professional golf player. He/She can be the trainer in your nearest golf shop who teaches various lessons and such.
A pro can help you learn a lot about your own shots and the necessities thereby. In contrast, it'll be tricky for a non-pro to aid you with the right techniques or proper fits according to the shot variations. You may follow the below steps to get the selection process underway.
Step-1: Try Out Different Clubs
This is pretty obvious, isn't it? Trying out a few clubs and establishing your playing style is always the best idea before purchasing a set, especially when you're opting for the custom clubs.
When trying out, try to focus on springing up a consistent swing by keeping the scores below a hundred on an eighteen-hole course. Don't forget to ask the shop employees or your golf buddies to let you try out a variety of clubs. You can expect yourself to like the ones that align well with your height and your swing speed.
Step-2: Get the "Loft-Matching" Clubs
The loft of specific golf clubs relates to the way your shots tend to dart away. It's another reason why you'll need some expertise to be correctly fitted.
If you find yourself continually hitting above your preferred height, you should go for clubs with lesser loft. On the other hand, you'll be better to go after a club with a higher loft if you keep hitting lower than your preferred range.
Step-3: Consider the Hybrids
Some golf experts seem to prefer hybrids or long irons to fill the void between a 5-iron and the woods, and you could too. Once you start hitting the course and get used to the range, you'll get to know what suits you best.
Step-4: Pick the One that Feels Harmonious with Your Style
To tell the truth, there's no ideal size of a perfect golf club. The custom numbers, too, become insignificant when you get comfortable playing with a club. So, if you are to invest in a pricey, elegant set of clubs, you must ensure that you enjoy swinging them as you play.
You should try out shorter clubs in a variety of circumstances across various distances to determine what goes along favorably with your style. Almost every shop now offers a small putting area to let you test out the clubs. So, make the best use of this privilege by focusing on what really makes you comfortable while putting the ball into the hole.
Frequently Asked Questions (FAQs)
What length of golf clubs do I need?
Follow the golf club measuring guide that we've discussed above to find your match.
Is it worth getting custom fit golf clubs?
It absolutely is, so long as you feel comfortable with your clubs all the time, and they help you achieve your swings the way you most prefer. And this is very likely. The benefits of golf club fitting will prove to be evident all the more if you haven't done it before.
How much does it cost to get fitted for golf clubs?
If you want your full bag fitted, the cost will vary within 250 and 600 USD. Fitting yourself for golf clubs individually may cost around 4o to 100 for each.
What size golf clubs do I need for my height?
Follow the chart above that suggests the golf club length as per your height and the distance between your wrist and the floor.
Are golf clubs one size fits all?
Absolutely not. As a beginner, many would consider the standard size to be the universal fit for everyone. But it's far from reality since the wrong size can badly impact your playing style, distance, tempo, and all.
Final Say…
The proper size of your golf club is elemental for your game, and you simply can't hit the course without measuring yours. Now that you know how to fit golf clubs, it's your turn to set the myths aside and get fitted from your nearest pro shop. After all, you shouldn't wait to break your own records to keep excelling with each game.
Read More
Amazon and the Amazon logo are trademarks of Amazon.com, Inc, or its affiliates.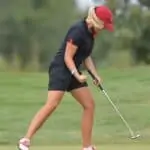 Daisy is the Founder and Editor in Chief of Golfs Hub. She is associated with Golf for more than 20 years. She got the inspiration from her father. She is a very private person & doesn't like to be photographed. She's worked in nearly every job in the golf industry from club fitting to instruction to writing and speaking. Now she is enjoying her retirement from day job... but not from Golf! Daisy lives in southeasternmost part of New York state with her family.