As an Amazon Associate, I earn from qualifying purchases. There is no extra cost to you. Thank you if you use our links; we appreciate it! Learn More.
BioMatch is a revolutionary method of matching Golf clubs within a set and to a Golfer of a Particular build. It is introduced to replace the traditional Swingweight method of matching golf clubs.
Gravity pulls you down whether you believe in physics or not. Physics and BioMatch apply to golf in the same manner. Some decades ago, the golf community eventually seemed to give up on finding a scientific method of matching golf clubs. The Holy Grail of Golf was forgotten, and golfers were stuck with the arbitrary Swingweight method.
Swingweight was introduced in the 1920s as a simple-to-understand approximation to MOI (moment of inertia) matching. A device was created for making Swingweight measurements called a Swingweight Scale to enable club makers to build golf clubs to a specific Swingweight. Over the years, various versions of the Swingweight scale have been developed. However, the scale used today is the original version invented by Robert Adams.
Suppose a golf club set with the identical grips and same shafts clipped incrementally are matched by Swingweight using only the club head to make adjustments. In that case, the clubs' MOI will be nearly matched. The actual intent of the inventor of the Swingweight scale was this.
As soon as the method of Swingweight was announced, it had some reliability as all the shafts in the club set were made from wood. Today, shafts have purposeful variation in stiffness and mass along their length. One also tends to mix and match a variety of shafts within a single set. Therefore, Swingweight is even less relevant for matching golf clubs today.
Matching by MOI is not relevant anyway as the scale measures the MOI around the butt end of the club rather than around the axis which the club is swung. Further, the MOI method does not consider the overall weight of the club.
Another obvious flaw in the Swingweight system is that it does not consider the golfer's properties. It is an easy way for golf club manufacturers to match golf clubs to produce standard clubs that will supposedly fit any golfer. It is not possible to create an off-the-shelf set of clubs that fits or matches every golfer.
Swingweight is an uninformed method without any origin in science. Most club fitters and club manufacturers are still trusting on this outdated system.
Swingweight has served its purpose, and its replacement by a rational system is long overdue.
BioMatch is founded on basic Newtonian physics, the principle of conservation of energy, and biomechanics. It is a system that can be implemented for any golfer and their existing golf clubs. Once implemented, the golfer's game will improve automatically and effortlessly as the need for the subconscious mind to remember 13 different swings is eliminated.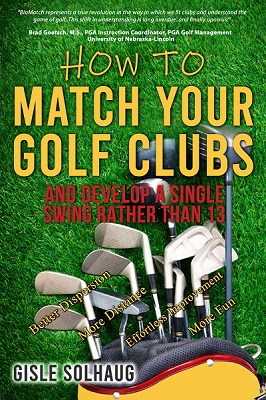 To help spread the word on BioMatch, Gisle wrote a book on matching golf clubs. How to Match Your Golf Clubs and Develop a Single Swing Rather than 13 published on Amazon in digital and print versions. It is also available on Audible.
The book is intended for every golfer who likes tinkering with their golf clubs and anyone who wants to improve their score and enjoyment of the game. Spending a lot of time looking for your ball in the rough is no fun. The book is an essential read for any club fitter or golf club manufacturer.
In addition to BioMatch, the book looks at some of the myths in golf and debunks them. Want to hit your drives further? The book explains in detail how applying a bit of physics can add distance to your driver. The method is easy to use for any golfer.
BioMatch matches your golf clubs so that you can use the same swing for all your clubs. This is achieved by optimizing the overall weight of each club. The total weight of the club affects the position of your hands at impact. Adding weight to a club will slow down the hands in the downswing slightly. As the club is given more time to release, the clubhead will be more closed at impact, making the ball move left. The weight of each club can thereby be optimized for a consistent ball flight through the set of clubs, thereby improve dispersion.
One of the inputs to the algorithm is the Moment of Inertia around the center of the Grip (MOIG). The MOIG of a club affects how fast it releases, as indicated in the photo. Suppose you do not have access to an instrument for measuring MOIG. In that case, the online BioMatch algorithm will estimate it for you.
The longer clubs need to be lighter than the shorter clubs as the hands shall be further forward at impact. The online BioMatch algorithm makes a computer model of your body swinging each of your clubs, thereby determining your clubs' optimum weight. These optimum club weights will put your hands in the correct position at impact. The optimum weight is achieved by inserting a patented weight in the grip end of each club, as specified in the BioMatch report.
After the installation, the golfer should forget about the alteration and let the game improve effortlessly. The mind now must only concern itself with one swing template. One consistent swing will groove higher accuracy in both distance and direction. The wrists will no longer need to steer the club, the club will thereby release effortlessly, causing slightly more distance. As the same swing is applied to all the clubs, many users report hitting the sweet spot more consistently. BioMatch makes golf easier to play and more fun for all.
A typical 20 handicapper can expect to take five shots off their game effortlessly within a few games. There will be fewer errant shots, and the ball will generally end up closer to the hole on approach shots. The ball will tend to do what you intended for it to do more often. For golfers playing for money, this is a no-brainer.
Gisle's US Patent for the BioMatch Algorithm was published in May 2015. Another three utility patents were granted for various methods of adding weight to golf clubs.
The BioMatch method is available online at www.rational-golf.com and through a worldwide network of club fitters. These BioMatch Fitting Centers are helping golfers of all abilities to improve their game effortlessly. You can find the nearest BioMatch Fitting Center on the Rational Golf website.
Club Fitters can contact Gisle to sign up as BioMatch Fitting Centers at [email protected]
Amazon and the Amazon logo are trademarks of Amazon.com, Inc, or its affiliates.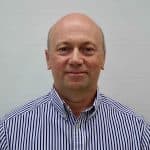 Gisle Solhaug is originally from Norway but currently lives in Texas. His education is in Physics and Engineering. He holds a B.Sc. Degree in Engineering as well as an MBA in International Business.
Gisle only started to play golf at the age of 35 while living in Singapore. He has been kicking himself ever since for not picking up the game earlier while studying in Scotland.
While being fitted for a new set of clubs, his inquisitive mind understood that there was something fundamentally wrong with the way golf clubs are customized. Gisle started to investigate and study the physics of golf as a hobby. His daytime job was running marine projects, typically taking up 12 hours of the day, six days a week. Eventually, he developed and patented his BioMatch method and set up Rational Golf LLC to market BioMatch through a growing network of BioMatch Fitting Centers.