As an Amazon Associate, I earn from qualifying purchases. There is no extra cost to you. Thank you if you use our links; we appreciate it! Learn More.
In countries like Scotland, Australia, and England, golf is a very popular game. Those countries are also cricket-playing nations. Have you ever noticed that cricket players hold their bats in a quite specific or special way? You obviously have. Just like cricket, golf is also played by using a club (bat) and a ball. Did you ever ask yourself, how to hold a golf club correctly? No? Well, it's time you learned quite a few golf club holding techniques if you want to play like a pro.
Naturally, when we hold a golf club, we can feel that all the actions are happening between our two wrists and ten fingers. But if your shots are wrong for a reason, it should be the way you hold your club, because holding a golf club is not as easy or casual as it seems. There are a few techniques that you have to learn before just going in and start smashing golf balls all over the course.
You could argue saying, "why can't I hold my golf club the way I want? I might invent a new style." Well, if you're a professional player with your own golf club holding style, you wouldn't be on this page in the first place, right?
So, without arguing, just go through the easy steps written below, I promise you'll be holding your golf clubs like a player at Tournaments of Champions or WGC Match Play.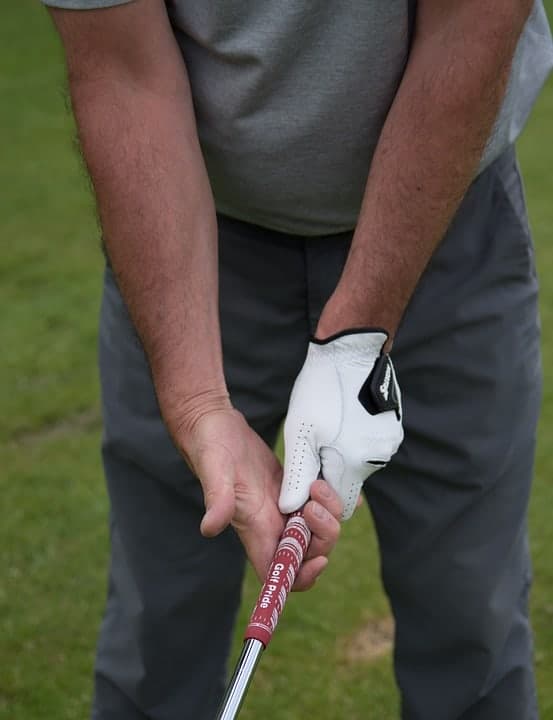 What is the Necessity of Learning How to Hold a Golf Club Properly?
You can ask if I'm playing to spend my time, why do I need to learn any of these techniques? All I can do is go to a golf course and swing the damn club and make the people there go nuts. But, there's always a but. Even when you're relaxing and spending your time, it's always nice to make yourself feel you're good at something, right?
Since you want to know how to hold golf club correctly, you should learn why it is important to learn gold club holding techniques.
1. The Accuracy of a Shot
For military personnel, it is more than necessary to hold a gun properly to hit the enemy he is aiming for. Well, with a golf club, we are no military personnel. But to make a hole perfectly, it is necessary to take the shot perfectly. Which mean you have to have the proper accuracy. The most important factor in hitting a ball is that you have to keep it squared to the ball.
According to research, it is found that up to 83% of the starting and 80% lateral error is caused due to not keeping the club squared with the ball. And if you're grip isn't proper, which means you're not holding the club properly, will result in total failure of the shot itself. So, the accuracy of a shot depends on your golf club holding techniques.
Read: Cleveland Launcher Hb Irons Review
2. For Perfect Timing
To make your shot perfect, what you need next is a perfect timing according to your surroundings. To ensure the perfect timing of a perfect shot, you have to keep your grip proper enough so that the golf club hits the ball at the perfect spot also, at the perfect time.
3. Not to Manipulate the Force
Every golf ball requires a specific amount of force to go to a hole or near a hole. If your gripping is wrong, the result of the shot you took will not be satisfactory rather you might shoot the ball to oblivion.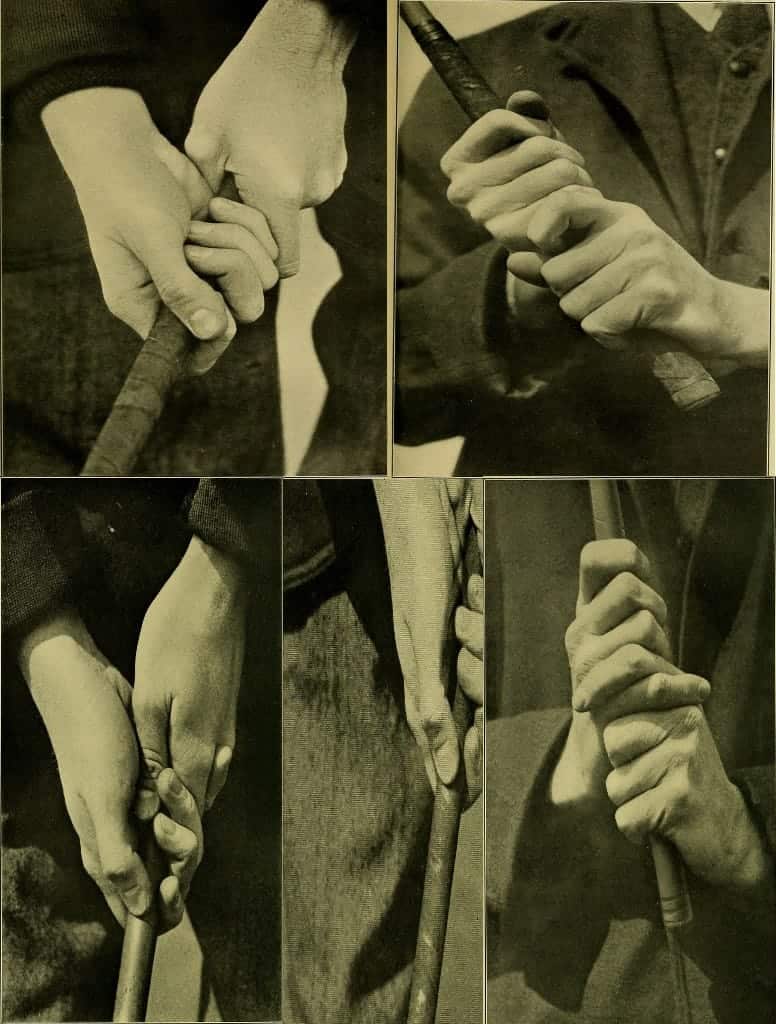 What are the Important Parts of Holding a Golf Club Correctly?
There are three necessary things to keep in mind to learn the best way of holding your club.
Holding Action – How You will Hold Your Club
Grip Style – What type of Grip is Suitable for Your Hands
Grip Strength – How Much Strength to Put While Holding the Club
Read also: Callaway Strata Review : For beginner to experienced
Holding Action – How You will Hold Your Club
Always remember, it's not always about how well you execute a shot, the perfect hold is always important to confirm that your shot is the way exactly you want it to be. There are several types of holding actions. But the ideal holding action is described below step by step-
Put your dominant hand on the club's handle. If you're right handed then your dominant hand is right, and if you're left-handed it's the opposite. Do not hold the club with your palm, hold it with your fingers. This is not where you'll hold the club but it'll give you a better grip when you hold onto the club properly.
Put the club on your other hand and try to grab the handle with your palm or fingers but make sure that your palms are faced to your body. Not to the other side.
Try to secure your off hand first. Cover the handle with your non-dominant hands last three fingers and keep your thumb flat across the club. You will surely see the knuckles of your index and middle finger. Do keep a gap between the index and the middle finger.
Now put your smallest finger of your dominant hand between the gap of the index and middle finger and grab the club. If the club is pointing 12 your thumbs direction should be between 10 to 11 o'clock.
Read: How to Clean Golf Club Grips, Shafts, Heads & Rust at Home
Grip Style – What type of Golf Club Grip is Suitable for Your Hands
There are basically three types of grips to hold your golf club.
Vardon Overlap Grip
Interlocking Grip
10 finger or Baseball Grip
1. Vardon Overlap Grip
This grip sounds easy but maneuvering it is hard. You have to put the smallest finger of your dominant hand between the gap of your non-dominant hand's index and middle finger. This is the most traditional grip and most commonly used by professionals and regulars. This grip is suitable for people with large hands.
Maneuvering it becomes harder if your hands are small. You could try this grip if you have a regular-sized hand, but still not recommended. Many professional players with large hands use this grip style.

2. Interlocking Grip
The name of the grip speaks for its procedure. You have to join your dominant hand's smallest finger with the non-dominant hand's index and create a lock between them. This grip is for those who have medium-sized hands. Usually, weaker players use this. The legendary golf player Tiger Woods used this grip. Some people might find this grip uncomfortable to control.
3. 10 Finger or Baseball Grip
This grip is quite easy. All you have to do is close the gap between both of your hands and your fingers and grab the club like a baseball bat. Players with small hands are recommended to use the grip. But you should remember, it is suitable for longer shots but is not as accurate as the other grips. But if you can ensure the squaring of the ball with the club, you're golden!

Grip Strength – How Much Strength to Put While Holding the Club
You can either have a weak hold or a strong and firm hold. Or you can mix it up while taking shots. For most people, mixing up is quite hard because most of them are trying to maneuver one type of gripping to use.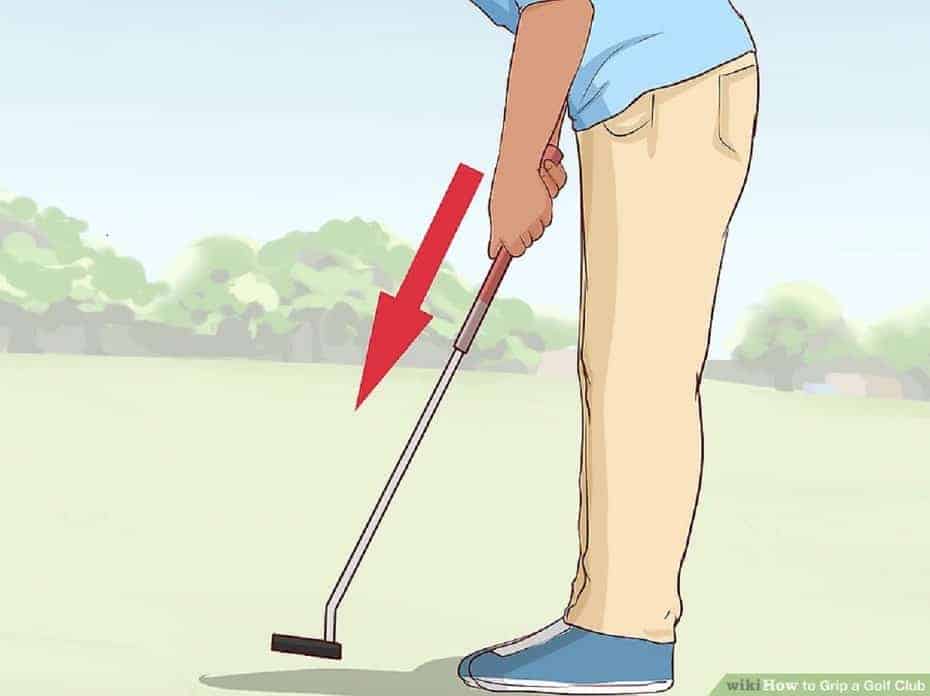 1. Mixing it up With Strong and Weak Grips
Keeping a weak grip makes your hand more rotated towards the target while a strong grip does the opposite. If the knuckle of your forefinger is visible on the dominant hand, the grip is weak and vice-versa.
A weak grip protects you from hook and adds an extra backspin to the shot. But taking the shot properly is quite hard, it may cause your shot to slice the ball.
on the other hand, a stronger grip is very comfortable to maneuver but can make you prone to hooking.
Read: Fitting yourself for golf clubs
2. Weakening the grip for a Shorter Game
If the hole is not very far, the loose and weak grip gives you more precision for the shot. You could see that there's a gap in between your index and thumb. The gap should point at your left chin if you're right-handed and right chin if you're left-handed. the gap can have a shape of a "V".
Also, if you're putting the ball in the hole, angle your wrists downwards. Keep the movement between the wrists minimized. This will ensure that you put the ball in the hole in one shot if you choose the correct grip according to your hand size in the first place.
Read: Amazon Prime Day Deals
Final Words
So, this is how you hold a golf club. Now one thing you need to remember is that the accuracy depends on how well the shot was taken. The grip action and the grip style, will improvise and improve your accuracy and help you to take a shot properly. But if you're doing anything wrong, be sure to search again how do you hold a golf club and find proper answers to it. If you follow and maintain all that is mentioned above, you will surely take shots better than before.
Let's Watch a video:
See also:
Amazon and the Amazon logo are trademarks of Amazon.com, Inc, or its affiliates.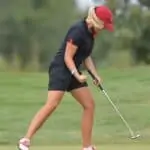 Daisy is the Founder and Editor in Chief of Golfs Hub. She is associated with Golf for more than 20 years. She got the inspiration from her father. She is a very private person & doesn't like to be photographed. She's worked in nearly every job in the golf industry from club fitting to instruction to writing and speaking. Now she is enjoying her retirement from day job... but not from Golf! Daisy lives in southeasternmost part of New York state with her family.