As an Amazon Associate, I earn from qualifying purchases. There is no extra cost to you. Thank you if you use our links; we appreciate it! Learn More.

Many golfers often think of putting a spin on the ball as a magic trick reserved for professionals. After all, having the ball stop quickly on its landing and then rolling it back on the way toward the target with enough spin isn't any average golfer's gimmick.
However, that doesn't necessarily have to be always the case.
Even though imparting backspin to your chip shots can be downright challenging, it's not as complicated as to be out of reach of an average weekend player. As long as you commit to practicing some specific techniques, you should be able to learn how to put backspin on a golf ball effectively.
And we're here to help you with just that. Read on to find out our step-by-step guide showing how to get backspin on a golf ball.
The 3 Decisive Factors Affecting Golf Ball Backspin
The first thing you must understand is how golf balls get their spin. To put it into words, the amount of backspin depends on a straightforward equation that combines three vital factors:
Clubhead speed
Spin loft
Friction
You'll achieve more spin by increasing the coefficients of these three. Yet, things aren't as simple as they might sound. It's natural for amateurs to find these three elements more than daunting. But have no worries, we'll explain each of the three factors so that you can comprehend them easily.
Club Head Speed
The clubhead speed is how fast it travels when striking the ball. The general rule is the faster the clubhead, the higher the ball's spin rate.
A chip shot with low speed will never produce a backspin. So, when you've got your wedge in hand, you must try to hit the ball faster.
Longer wedge shots present the best chances of generating backspin. Compared to a chip shot, these shots have a relatively faster clubhead speed, and the loft makes it easier to create spin.
Spin Loft
Secondly, we must consider the spin loft. When your club hits the ball, it creates a dynamic loft and an attack angle. The angle between them is referred to as a spin loft.
In golf, dynamic loft signifies how much loft is on the clubface at impact, whereas the attack angle is determined by the path the clubhead travels when it hits the ball. So, if you hit the ball lower, you can generate more backspin. Hence, you may reduce the spin loft in the tee box to achieve more distance, but a backspin will require a wedge and a downward attack angle.
Is it a good idea to make the clubface open for producing backspin shots then?
In a sense, yes. An open clubface usually helps generate more backspin. However, when your clubface is open too much, the spin loft is likelier to get higher. Consequently, there won't be any friction, which is another crucial factor for better backspin.
Read: How do you golf with a baseball swing?
Friction
As friction increases between the ball and the club, it generates more spin. Higher friction also helps the ball launch lower – hence the name "low spinner."
Creating friction is an automated process that occurs when you hit the ball. However, the friction rate will decrease if anything gets in the way between the ball and the clubhead. If you can meet the following conditions, your chances of creating a backspin increase:
Wedges need to have fresh grooves. So, it's a good idea to change them routinely.
The spin rate of premium golf balls is usually higher. Spending a little more on improving your game will make a big difference.
Long grasses can dramatically reduce friction. Therefore, flat surfaces having shorter grass are ideal.
Ensuring dryness is particularly crucial. Having a dry ball, clubface, and green is extremely important. Rainy days badly hurt backspin.
Wind can play a substantial part in it as well. In most cases, hitting the ball into the wind will increase its spin. However, you must also remember that the higher your ball flies, the likelier it is to travel sideways, which isn't desirable at all.
A clubface with sand on it has a higher frictional coefficient. That's why you often hit shots that spin more after you've practiced in the bunker.
10 Steps to Get Backspin on a Golf Ball
Now that you've caught on to the fundamentals of how to spin a golf ball, it's time to put it all to work. The ten steps we've outlined below will get you started.
Step-1: Choose the Right Ball
Your choice of the golf ball will decide the amount of spin you'll produce on the putting green. Golf balls with a two-piece construction have a larger core and are more resilient, maximizing distance and minimizing movement and spin.
Comparatively, multi-layer golf balls have a thinner cover and a smaller core, allowing for a better spin around the green.
Also, the harder the golf ball is, the less time it will spend on putting green when it lands. Professional golfers use softer balls to get more spin on the green with better control.
Step-2: Pick a Higher-Lofted Club
As we've said earlier, you have a better chance of spinning back your golf ball on the putting green when the ball has a higher trajectory. So in terms of spin, you will be far better off hitting a 9-iron or a wedge than a 5-iron.
The ball travels more distance in the air with a lower ball flight when you use a lower lofted iron versus a wedge. For this reason, five irons have less spin loft, and therefore, less backspin.
Step-3: Clean up Your Crevices
Believe it or not, your spin rates can escalate much quicker with a clean golf club's fresh grooves than a dirtier one with lots of debris. So yes, you see, the professionals and their caddies are cleaning their golf balls and clubs all the time for a reason. Grass and dirt interfere with your golf club and ball, causing control to be lost and no backspin to be achieved.
Step-4: Place the Ball Near Your Back Foot
When hitting a backspin golf shot, you'll want to position the ball close to your back foot. The reason you do this is to make direct contact with the golf ball when delivering the downward blow. Depending on the ball position, you can adjust how much spin your clubs produce.
As you might have seen, pros frequently use wedges to spin off the ball, and when they do this, they position the ball closer to their stance center.
Step-5: Adjust Your Weight
For achieving a better spin, you'll be delivering a downward blow. And your weight can play a significant role in facilitating this action. Hence, you'll want to place a little more weight on your front foot than on your back foot. In general, 3:2 is the ideal ratio.
Step-6: Let Your Hands Hang Neutrally
You should be holding your hands in a neutral position during the address, and they should be slightly forward upon impact. It'll keep the wrists from moving out of alignment. At address, you must resist the urge to push the hands ahead.
Step-7: Set Your Angle
A steep attack angle is vital for making your ball spin. You can achieve it by hinging your fingers a bit earlier. Just keep an eye on your backswing, ensuring it comes down steeply.
Step-8: Hit the Ball First, the Turf Second
When hitting a backspin, you'll want to compress your shot, hitting the ball first before taking a divot. High-handicappers and amateurs tend to pick their balls up from the ground clean. But having a backspin is difficult in such cases because you're scooping the ball and not compressing it. So, strike the ball first, and don't fret about moving the earth a little.
Step-9: Speed up Your Swing
This is where amateur golfers fail the most; they decelerate their swing speed while hitting high on the clubface. But to put a spin on a golf ball, you'll need to do quite the opposite for more clubhead speed and spin loft- strike it at a higher swing speed, ensuring the hit's low on your clubface.
Step-10: Don't Let Your Guard Down
Hold your grip firm during the entire shot. Weaker grips cause the clubface to open up at impact, reducing spin. A higher spin rate on a golf ball will bring you more backspin and put you in a better position for chip shots, bump and runs, lob wedges, and sand shots.
Frequently Asked Questions
What causes spin on a golf ball?
Clubhead speed, spin loft, and friction are the three decisive factors behind backspin golf balls.
How do you put spin on a golf ball?
Understand the three key elements and put them into work in the steps we've discussed above to practice backspin.
How do pro golfers spin the ball so much?
They do it with ease by compressing the ball into the ground and delivering a high swinging speed for the descending blow. Additionally, they are using the finest golf clubs available on the market and the best quality golf balls that are softer and more suitable for backspin.
Is golf ball spin good or bad?
It depends on the spin type and the club you're using. A driver, for instance, needs good backspin to get the ball airborne. But the ball will balloon up if you spin it excessively, leading it to fall short of your desired distance. Conversely, sidespin is rarely a good idea since it mostly results in a slice or hook.
What is the best wedge for backspin?
You can check out Callaway's Mack Daddy 4 and Cleveland Golf's CBX 2, two of the hottest wedges in the market that can power up an excellent kick-start to your golf backspin journey.
Conclusion
Utilizing all the factors we've discussed on how to put backspin on a golf ball, you can produce more friction between your clubface and the ball, hence more spin. However, some aspects are in your control while others are not (e.g., grass and wind condition).
You can succeed if you focus on the ones you can manage and improve your strike rate incrementally. And you can learn to master it by using drills like weighted club drills, impact bag drills, and tee drills in your custom practice regimen.
Lastly, don't worry about spinning like the pros while you're still learning. Your goal is simply to have the ball stop within a reasonable range of where it landed. And with that in mind, the task should seem a lot less daunting!
Amazon and the Amazon logo are trademarks of Amazon.com, Inc, or its affiliates.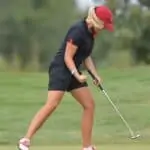 Daisy is the Founder and Editor in Chief of Golfs Hub. She is associated with Golf for more than 20 years. She got the inspiration from her father. She is a very private person & doesn't like to be photographed. She's worked in nearly every job in the golf industry from club fitting to instruction to writing and speaking. Now she is enjoying her retirement from day job... but not from Golf! Daisy lives in southeasternmost part of New York state with her family.