As an Amazon Associate, I earn from qualifying purchases. There is no extra cost to you. Thank you if you use our links; we appreciate it! Learn More.
If you play golf, you have most likely stumbled upon this situation that you have had a hard day at the ground. You need to travel to golf courses by car, motorbike or bus. Just think that you simply have less than 5 minutes to warm up, and then it is directly on with the golf course center. Your first round is not good at all. Later You are a little stretched and tense. Finally, you do not occupy yourself anywhere near your top level. All you can do is to complain to yourself about the reality that you have not had appropriate golf stretches. 
What can you do about these circumstances? Stretches for golf is able to have a range of benefits for golfers when it is done properly. No matter whether you are a beginner or and professionally expert golfer. In this article, we are going to discuss 10 best stretching exercises for golfers.
Let's begin!
Oh! I forgot. I have a beautiful infographic to share with everyone regarding golf stretches. Here it is-

Share this Image On Your Site
Golf Stretches to Improve Flexibility & Better Swing
Here we have discussed about the following golf stretches to improve flexibility & better swing:
Shoulder stretches
Hip Raise
Standing forward bend
Standing Quad Stretch
Best Hip Flexor and Poses Stretch
Reverse Fly's with a band
Leg Pull
Spinal Twist Stretch
Pelvic Lifts Stretch
Groin Back Stretch
Here are some resources for Stretching for Golfers:
Shoulder Stretches for Golf
After passing almost 10 years of golf carriers, I have hardly ever had to the chance to golf stretches for 30 minutes. The shoulder is the most used body part when you are playing golf. So while you start stretching just open up your shoulder and get better sort of movement in your shoulder joint.
Firstly, grip the golf club facing you with one hand holding both ends of the golf club. Then simply lift the golf club further and up above the head with straight elbows. After that just gradually stretch the shoulders. Move your hands reverse as far as you can until you consider stress transversely the front of the shoulders. Try to hold for more or less than 20 seconds and let loose. Repeat these shoulder stretches for golf 2-3 times more.
Keep in mind not to go away from your limits. Just try to boost your sorts of motion gradually.
Most Effective Stretching for Golfers: Hip Raise
Keep in mind that do not pocketknife or a twist at the waist. Hip Raise exercise gets some balance to know how to perform appropriately. There is stress located on your behind arm, so do not do this exercise if this support is too stiff.
Move gradually up to the mark and don't bang the hips on the ground. Initially just lie on the left side on the ground. Then cross your upper right leg opposite to the lower leg and toe on the ground for better hold. Next hold up the upper body by the left arm and palm on the ground, hips on the ground, and your upper body at a position. Then try to put the right hand on to the hip without bending at your waist and lift the hips up underneath yourself with the arms and feet. Finally gradually lower the hips to the ground and repeat with the right side as well.
Read: Best golf Halloween costumes
Standing Forward Bend : Best Stretching Excercise for Beginners
In an ultimate sports world, players would have no less than 30 minutes to be able to stretch appropriately. Standing forward bend is an enormous stretch for any athlete, but golfers must believe this stretch as the best golf warm-up stretches.
After having shoulder stretching for 2-3 minutes you need to begin by standing up in a straight line with the shoulders calm and reverse. Then try to contact the arms at the back and interlock the fingers. Then raise the shoulders up to the ears. Then lift your hands ahead of your backside. After that gradually bend over at your waist and keeping your backside even, not curved. Try to go on bending further and raise the hand over the head as far ahead as easy. At a complete stretch, you will surely experience tension in the hamstrings and in the shoulders as well. Just keep on holding for more or less 20 seconds and let loose normally. Repeat these standing forward bend stretching before playing golf 2-3 times more.
Read: Cleveland Launcher Hb Irons Review
Standing Quad Stretch for Golfers
Far more familiar for the golfer is only having more or less 5 minutes of golf stretching before the game. This is obviously not enough, but it is the certain fact that most of us face. The quads are an assembly of muscles besides the face of the thigh. There are lots of special ways to stretch the quadriceps, but at this point, there is an easy way for you to do while you are standing.
Firstly, you have to stand on your right leg, then curve the knee to get your heel to the buttock. After that get to the ankle with hand. Then try to stand up instantly and you will feel a minor pull beside the face of the thigh and hip as well. Just hold the stretch properly for more or less 30 seconds and then release normally. Then go over the left leg. Look out carefully not to hurt the knee, remember the aim for you is not to contact the heel to your buttock, except rather to golf stretches the thigh.
Read: How to Clean Golf Club Grips, Shafts, Heads & Rust at Home
Best Hip Flexor and Poses Stretch
One solution for perfect golf stretch is obviously to try to get to a course before an extended warm-up. But this is not constantly going to be achievable. The hip flexors are an assembly of muscles to get the legs up headed for your trunk.
All you need to begin in a forward lunge pose and try to drop the back knee to the ground. Then raise your both arms and hands up above the head and stare up. Try to push the hips onward and down to the ground and just experience this golf stretch through your chest, hip, thigh and groin. Just hold the stretch properly for more or less 30 seconds and then release normally. Then go over the left leg.
Read: Sun Mountain Clubglider Meridian Travel Bag
Must Need Reverse Fly's with a Band
You should admit that sometimes you are simply going to have 5 minutes to warm-up before play. Reverse fly's with a band is an easy stretch for golfers can do during the game and before shots. Remember, do not yank the band and try to make a slow movement.
Initially stand straight, and aim to feel a little wider than the shoulder-width. Then hold a stretchy band end in both hand and arms extended out in a cross pose. The stretchy band stretched behind the back keep trying the arms to remain straight, pull the arms forward ahead of you. Then letting the stretchy band set off across the back and shoulders as well. Finally slowly come back to the starting position.
Handy Golf Stretch to Improve Flexibility: Leg Pull
Before sense overly unenthusiastic about stretching, you require to switch the focus to how you can put together the most of these 5 minutes to prepare for the match. Leg pull in is handy golf stretching.
Firstly you need to keep the back straight and move your both legs in and out in slow motion. Then lie on the back on the ground with legs extended, Then put your hands under buttocks and palms down as well. Then try to bends your knees and pull the legs towards the torso. Finally slowly come back to the starting position.
Read: Correct golf posture
Popular Stretch: Spinal Twist Stretch
Spinal twist stretch is also important golf stretching. At first, sit down upright on the ground with the legs extended facing you. Then place the right leg above your left leg. With the right foot on the ground outside your left knee. After that put the left elbow on the outer of the right knee, and expand the right arm at your back with the palm on the ground for support. Then gradually twist the upper body to your right as booking over the right shoulder with light pressure from the left elbow. Just hold the stretch properly for more or less 30 seconds and then release normally.
Remember, do not rebound or pull into the stretch. Just try to make slow balanced engagements. A gentle putting feeling is quite usual. Discontinue if there is any sort of pain and keep away from locking joints while stretching.
Read: Amazon Prime Deals
Pelvic Lifts Stretch
Remember, do not curve the backside and lift only until the back is straight. Begin again the stating pose in a slow and controlled method. Firstly you need to lie on the ground on the back, knees bent and feet slightly apart as well. Then expand the arms above the head and palms up. Next, gradually lift the pelvis up to the ceiling and lift yourself until the backside is straight and grip the buttocks jointly. Finally, gradually lower yourself to the starting pose.
Read More: Best Exercises for senior golfers
Groin Back Stretch is Must
The groin backstretch is the most needed stretch for golfers. At first, sit straight on the ground with the underneath of the feet as one and knees pointed outer with the hands above your feet. Softly pull the heels in the direction of your groin and turn forward with the forehead to the toes. Just keep holding for 15 seconds and then let go.
Remember not to bounce or jerk into the groin backstretch and make slow stable movements. Moreover, a soft pulling feeling is quite normal but discontinue immediately if there is any sort of pain. Try to avoid locking joints while you are stretching.
I'm practical. It is simply so much you can acquire stretch up in 5 minutes. Although you do the entire of what I recommend, you are almost certainly not going to experience completely warmed up.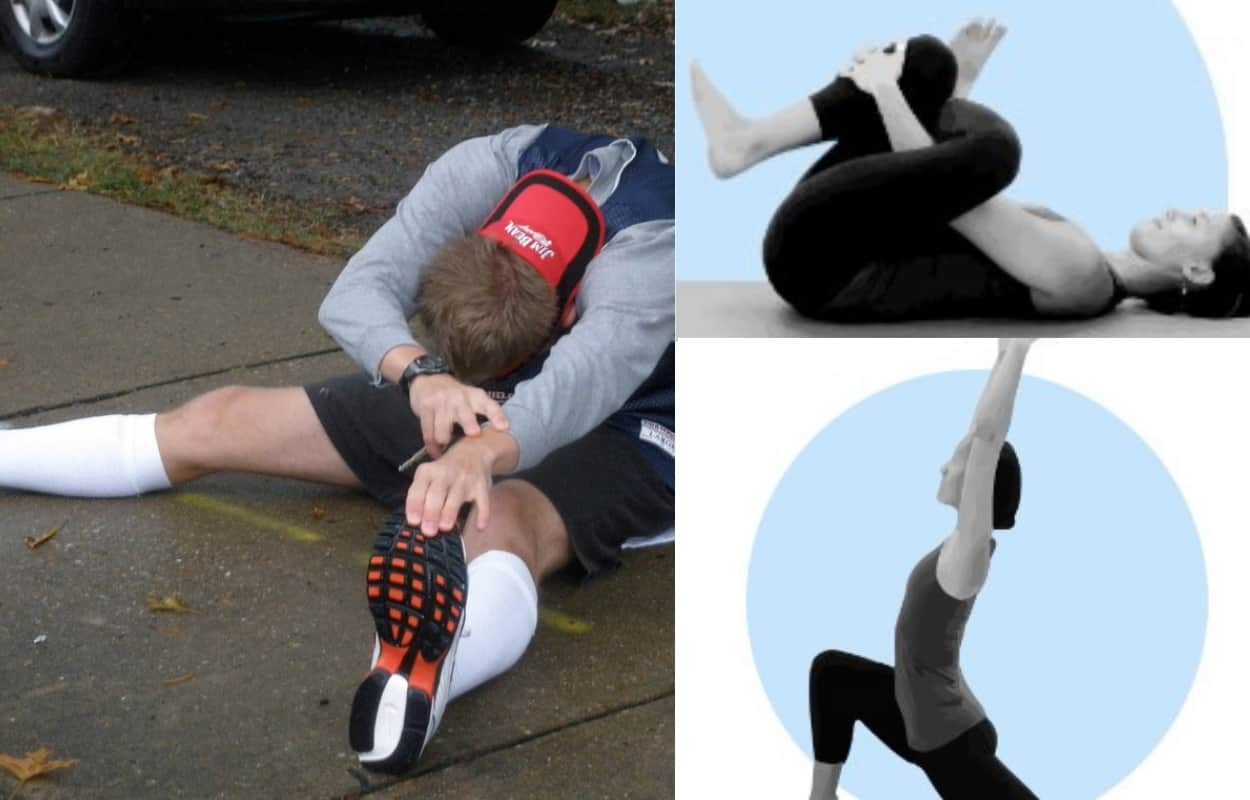 Final Words…
There are some more points to share about best stretching exercises for golfers. We love to see your comment in the comment box under this article if you have a few questions, comments or any significant tips that I miss. Don't forget to check out our researched article on  Top 12 Golf Injuries here.
Feel free to share this awesome infographic on 10 best stretching exercises for golfers with your friends.
Have a nice day!
Adios!
Amazon and the Amazon logo are trademarks of Amazon.com, Inc, or its affiliates.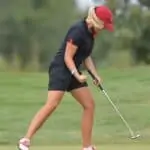 Daisy is the Founder and Editor in Chief of Golfs Hub. She is associated with Golf for more than 20 years. She got the inspiration from her father. She is a very private person & doesn't like to be photographed. She's worked in nearly every job in the golf industry from club fitting to instruction to writing and speaking. Now she is enjoying her retirement from day job... but not from Golf! Daisy lives in southeasternmost part of New York state with her family.