As an Amazon Associate, I earn from qualifying purchases. There is no extra cost to you. Thank you if you use our links; we appreciate it! Learn More.
Many of us golfers tend to hybrids over irons. Whether you belong to that consort or you direly need upgraded forgiveness, Cleveland might have brought in this line of Launcher HB iron just for you.
Let's dive into the insights about this exclusive line of Cleveland Golf Launcher HB Irons. Through this article, I hope you can decide over whether it fits your bill or not.
Before starting Cleveland Launcher HB Irons Review I would like to ensure you that, If you don't like the sound of it, you can choose many more from our Best Golf Iron Sets 2021 Post.
Cleveland HB Launcher Irons: What are they?
Cleveland has been producing excellent new irons and woods for quite a few years now. The brand has long been admired for manufacturing both the product categories. This new line of Launcher HB irons is their latest attempt to uplift the recreational golfing with better conjunction of performance, as well as simplicity focusing on higher launches, more accurate shots, and superior forgiveness.
Read: Are Mallet putters more forgiving?
If you happen to prefer hybrids to irons, or you really need to go a level up with forgiveness, I must say, the Launcher HB package is just for you. As per the engineers, this iron/hybrid set can deliver forgiveness like hybrid and better trajectory in an irons' set.
This particular set of Cleveland HB Launcher Irons encompasses the full circle of Cleveland's brilliant re-entry to the irons and woods market anew. The pictures of this new line must show the combination of the brand new eye-catching Cleveland golf clubs.
Cleveland Launcher HB Irons Review
Top-Featured Traits at a Glance
A brand new line of hybrid irons to upgrade your stability to a sublime level stepping up your game.
Comes with a stretched out long head to provide superior forgiveness and constancy, therefore, levels up your shot performance.
Designed and constructed to produce slow to medium swing speed. It's the best match for those demanding an elevation in their shots.
Cleveland Launcher HB Irons Specs
The Looks & Impressions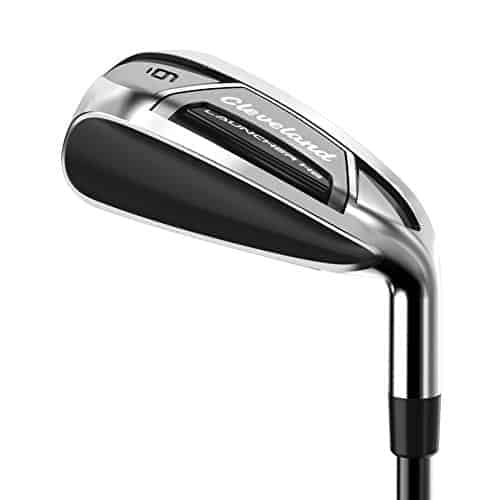 The classy look of this new range of golf clubs may attract most of its customers, but to be honest, it may as well be the cause of a hurdle for a few golfers.
When you set up for the first time to hit the ball as an amateur, you might find some doubts over getting used to these golf clubs. Don't be afraid, it's only your reflexive response to that image mismatched to the reality since you're probably not used to an important fact.
The fact is, the picture confuses you only because we call it a 6 iron instead of a brilliant 6 hybrid. Yes, the face view makes it look more like an iron where the profile view is totally different from the CBX, its kinsfolk. However, that's where the similarities with a regular iron end.
The top-line gets thicker from address, where for the Hibore crown, there's no missing of the curve or the black finish until you switch to the 9 iron. The sole branding having clean lines breaks up the otherwise larger surface. I liked its finishes and colors they look stunning all together. But unlike the rest of this Launcher HB package, it misses the blue accent.
Technologies Implemented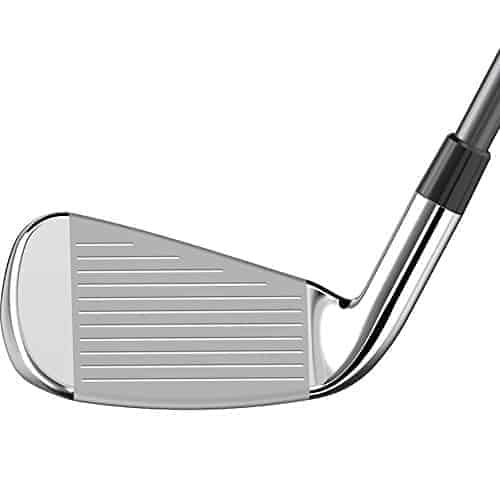 Hollow Construction:
The makers have kept the hollow clubheads fully enclosed. It helps provide you with better stability than a regular cavity-backed. The construction helps keep the weight within the clubhead's perimeter which creates a stable head with higher MOI. It results in a constant speed of the ball. Also, consistent distances on both the heel and toe strikes, add up to the accuracy.
HiBore Crown:
The crown is HiBore scooped to help shift the CG deeper and lower than that in a regular iron. It further increases the launch and forgiveness to make this HB irons a more easily playable option.
Thinner yet High-Strength Face:
For an added flex at impacts, it comes with a highly strong HT1170 faceplate. The ultra-thin faceplate helps free up the mass from the face that increases the perimeter weight. It also enables to flex better at impact to produce higher speeds of the ball and improved distances.
Miyazaki C. Kua Shafts:
The set of golf clubs come with Miyazaki C. Kua Shafts. The Japanese-made shafts weigh only 50 gm. These upgraded and lightweight shafts promote easier swings and faster clubhead speed.
Progressive Shaping:
The hybrid-like shaped long irons help you launch shots in the air with lower swing speed and much-improved forgiveness. The short irons, on the other hand, are more like irons that promote better control.
The Overall Temperament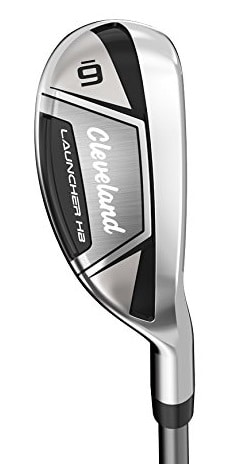 Like most cavity-backed irons these days, these Cleveland HB irons possess a grave-sounding whacky impact. With the hollow bodies, this might be surprising for a few. But the designers were well aware to make sure these clubs don't sound like hybrids. After all, they're not meant to tune like acoustics having their chamber filled with added ribs.
For the design, I must admit, I expected a bit more feedback to my hands where a few might miss that euphonious sound. But, I felt a solid, stable strike every time I hit the ball. And the lightweight head and shaft seemed pretty well balanced through my attempted swings.
Feeling It on The Ground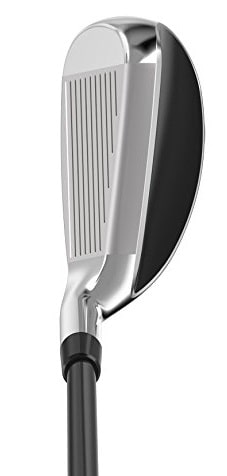 At this point, I would like to share my personal experience I had with this set of Launcher HB Irons.
I found irons unbelievably easy to flounce as I addressed the ball despite they looked kind of weird in the first place. They are exceptionally fun to handle as well. I almost felt myself relaxing, which I would hardly feel in general while attempting to crunch down a stiff iron shot.
However, the clubs felt like it's all about making the ball easily run through the air. From multiple points of view, I didn't quite see the distance covered I would have expected from a 6-iron. In general, I would expect to cover 160 yards to the least when I have a Titleist AP1 or maybe a Ping G400.
Have a look at my results down below…
The Launcher HB irons seemed to be flying a bit higher with likewise spin, which might be the reason why it fell a bit short from a hundred and sixty yards.
But again, as I have said before, it might just be the exact demand of some golfers. Say, when you are in a golf course in the presence of a noticeable amount of water, it isn't going to work if you launch a 6-iron a couple of feet above the ground without any spin. So this irons could be to your rescue when you need a carrying ahead of the green.
The Verdict: Are Cleveland Launcher irons any good?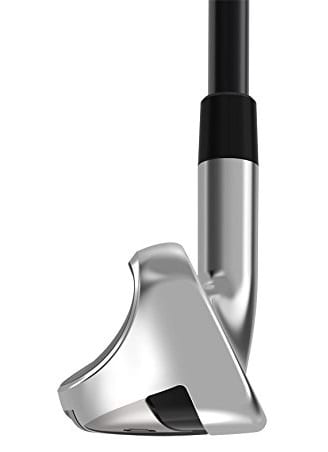 Having the clubs tested made me recall the Moor Allerton. It's the twenty-seventh hole to be more specific. You must force a shot to carry a minimum of 130 yards to transgress the water hazards and deceitful bunkers lying on the coast of steep slopes.
Having lost counts of times and seeing players losing – ladies and seniors especially, I was unable to make the ball fly high enough to reach the greens. Sometimes they would hit fairway woods to make the expected distance, but it would fly so flat only to embed straight down the bank, or maybe the bunker, the worst-case scenario.
Read: Callaway Mack Daddy 4 wedges review
They are the players I think would benefit most from these Launcher HB irons. Cleveland has targeted players within the mid-to-high handicap ranges requiring easy to flounce, hybrid-like irons.
So, if you happen to be the one struggling to make the ball fly up in the air, my suggestion would be to give these irons an immediate try. They're the Best Golf Irons for the flight of the ball you require. You can expect it to give you much more delight when you engage in the game.
Cleveland Launcher Hb Irons Price
The variation of sets also differs in terms of price. You can avail men's steel set at around 700 dollars for 5-PW (single at around 125$) where the graphite set would cost around (5-PW) 800$ (single at around 150$). Women's graphite set is also available. They cost almost the same as the men's graphite set.
Final Word…
The Cleveland Golf Launcher HB iron set could precisely top the list of what medium to slow swinging golfers prefer.
Where the growing urge of such a line of golf clubs had been on the air for so long, Cleveland has met that demand through this Launcher HB Irons with a promise to deliver the maximum satisfaction.
Read More
Amazon and the Amazon logo are trademarks of Amazon.com, Inc, or its affiliates.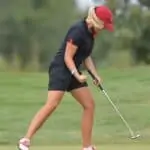 Daisy is the Founder and Editor in Chief of Golfs Hub. She is associated with Golf for more than 20 years. She got the inspiration from her father. She is a very private person & doesn't like to be photographed. She's worked in nearly every job in the golf industry from club fitting to instruction to writing and speaking. Now she is enjoying her retirement from day job... but not from Golf! Daisy lives in southeasternmost part of New York state with her family.