As an Amazon Associate, I earn from qualifying purchases. There is no extra cost to you. Thank you if you use our links; we appreciate it! Learn More.
A water hazard is inevitable for every golfer at some point. Those picturesque views of lakes or oceanfronts that entice you to go out and play can also undermine your chances of achieving a good score.
While you'll probably just go on and pull a ball out of your bag and drop it where it seems to have gone, this isn't always the best approach.
You have a real chance to better your score if you know what water hazard in golf is and the rules associated with it. Golfers are less aware of all the options available to them after hitting a hazard, and knowing them all can make a big difference.
So, through this quick guide, we'll provide an overview of water hazards – the types, how they differ, and what you can do to prepare for them intelligently.
What Is a Water Hazard in Golf?
Water hazard in golf means areas that commonly contain water or areas that would likely hold water. The most common water hazards are ponds and small lakes, although a usually wet drainage ditch could also be a hazard, even when it's dry on a given day.
Whenever someone hits the ball into a water hazard, their score on the hole increases by one stroke, defining the Water hazard penalty in golf.
Read: List of Penalty Strokes in Golf
Types of Water Hazards
In golf courses, water hazards exist in two forms.
Regular water hazards – marked with yellow stakes
Lateral water hazards – marked with red stakes
A lateral water hazard is one, which is positioned or shaped in such a way that it's impossible or difficult to drop the ball according to the rules and at the same time maintain fair play.
For instance, when a water hazard is parallel with the playline, but there are trees or bushes on its far side, with barely any playable lies, it may count as a lateral water hazard. Anything else will be counted as a regular water hazard.
What Is the Difference Between Red and Yellow Water Hazards in Golf?
The difference between yellow and red stakes becomes evident only when you understand the '26 rule', which covers both regular and lateral water hazard golf rules. The following section explains it all.
Water Hazard in Golf Rules
Golf rule 26 begins by stating that you can play a ball from within either type of water hazard as per Rule 13 (Putting Green).
Regarding playing red and yellow water hazards, 26.1 explains and clarifies the difference. It goes like this:
26-1. When you hit the golf ball in a regular water hazard, you will take a one-stroke penalty after doing any of the following:
Drop as near as possible to the previously played shot's position.
Keep the spot directly between the hole and the drop spot where the ball last crossed the water hazard when dropping behind it. You can step back as far as you like on this line.
When dropping into a lateral hazard, you must take a one-shot penalty before doing any of the following:
Drop within two club-length (no closer to the hole) of where the ball last crossed the hazard's margin.
Drop to a point across the hazard at the same distance as the hole where the ball last crossed that margin.
You'll follow the rule 27-1 (Stroke and Distance) when unsure whether the ball went into a water hazard (such as when a ball went out of bounds).
You can retrieve and clean your original ball if you find it in the hazard or use a different ball.
26-2. When you hit from one water hazard to another (or the one it's already in), you can drop and proceed with the stroke-and-distance rule (drop to the nearest you can to the last spot, plus one stroke). After taking the drop, you do not have to play directly from the spot. In this case, you can do any of the following.
As described in Rule 26-1, a one-stroke penalty will apply.
Return to the tee or the point through the green where you initially hit the hazard, and take a one-stroke penalty.
If you hit 'from' a water hazard and the ball is lost, out of bounds, or unplayable, you do one of the following after taking a one-stroke penalty.
Make a second shot from the hazard, near the point where you took the first shot.
Add another penalty and continue following Rule 26.
Add another penalty, then return and play from the spot through the green from where you initially hit the hazard.
Penalties for failing to comply with Rule 26: Match – Loss of hole. Stroke – Two strokes.
How Do You Play a Water Hazard in Golf?
Based on the rules we discussed above, the following guide will help you sort out the available options to avoid any confusion while improving your chances of successfully finishing the hole.
Playing Yellow-Skated Water Hazard
When the ball hits the water (assuming that you won't play the ball), the first thing to do is take the one-shot penalty. From there, you have three choices:
Option 1:
Drop the ball closest to where you played your last shot. There is an option of re-teeing if you are on the tee box.
Option 2:
Drop the ball as far back as you like between the spot where it crossed the water hazard and the pin as you want. Keep in mind that you have to pay attention to where your shot crossed the hazard, not where it landed.
Option 3:
Drop off at the specified area. When the golf course you're playing at doesn't have a specific zone for this, you'll have to choose either Option 1 or 2.
Playing Red-Skated Water Hazard
As you've noted already, lateral hazards have a different rule for dropping. You must add the same one-shot penalty to your score, but you are only left with one option.
As in yellow-staked hazards, you'll need to locate the exact spot where the ball sank. However, you can't drop further back than that spot. Instead, you'll have to drop by two club-lengths, but in no way nearer the hole.
It's also worth noting that lateral hazards are typically parallel to the hole, meaning you can also choose to locate the ball's crossing point so that you can drop the ball across to the other side of the hazard.
Again, you can only use this strategy if the location is far enough away from the hole. Many players don't realize this option exists, so in many cases, crossing the water hazard can prove to be advantageous for your game.
There is always the option of rolling up your pants and walking into the water to hit the ball in either of these scenarios. Here is a simple rule you can follow: don't try to hit the ball if less than half of it is visible.
FAQs
How many strokes is a water hazard?
One stroke. You will be penalized one stroke for each option when you cannot play the ball from its current position.
What is the penalty for going in the water in golf?
One stroke. You will know how to do this if you follow the rule-26 we discussed above.
What is the difference between a water hazard and a lateral hazard?
Differences between the two differ largely in how the one-stroke penalty is applied, as is evident from our discussion.
How do you score a water hazard in golf?
Review the play options we shared once more to know how you can be in the best position to score a water hazard.
What is the water hazard rule in golf?
In the USGA golf rulebook, rule-26 is called the water hazard rule.
What is a lateral water hazard?
A lateral water hazard is one, which is positioned or shaped in such a way that it's impossible or difficult to drop the ball according to the rules and at the same time maintain fair play.
What is the rule for a lateral water hazard?
The second part of rule 26.1 concerns lateral water hazards.
What happens if you hit a golf ball into a water hazard?
When you hit your ball into a water hazard, you either roll up your pants and hit it out of the hazard or comply with the related water hazard golf rule.
Final Thoughts…
Hopefully, this quick guide has cleared up a lot of the confusion surrounding red and yellow water hazards.
Of course, knowing exactly what kind of water hazard you're looking at is only half the battle! But even then, knowing how all of this relates to your playing ability will help you know when you should risk it and keep going and when you should know when to play it safe and back away.
Experiment with these rules in a few different ways, and get used to identifying various water hazards. And who knows? Maybe one day, you'll even be able to take on water hazards like Nicklaus once did—except for the part about sinking into the pond!
Amazon and the Amazon logo are trademarks of Amazon.com, Inc, or its affiliates.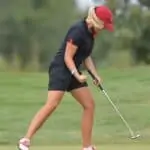 Daisy is the Founder and Editor in Chief of Golfs Hub. She is associated with Golf for more than 20 years. She got the inspiration from her father. She is a very private person & doesn't like to be photographed. She's worked in nearly every job in the golf industry from club fitting to instruction to writing and speaking. Now she is enjoying her retirement from day job... but not from Golf! Daisy lives in southeasternmost part of New York state with her family.