As an Amazon Associate, I earn from qualifying purchases. There is no extra cost to you. Thank you if you use our links; we appreciate it! Learn More.

Injuries during travel are annoying. But when you are traveling, if you have to suffer from some injuries for carrying your travel bag… It can crush your whole spirit. It will ruin the entire travel experience for you if golfing around with your pals are your sole intention.
When you look around to buy a better one, many will lure you into purchasing many different travel bags and cover… but let me tell you, Sun Mountain Clubglider Meridian Travel Bag is tried and tested.
It will make your life easier and let you get through the long walks of airport securities like a piece of cake!
First Impression: Sun Mountain Clubglider Meridian Travel Bag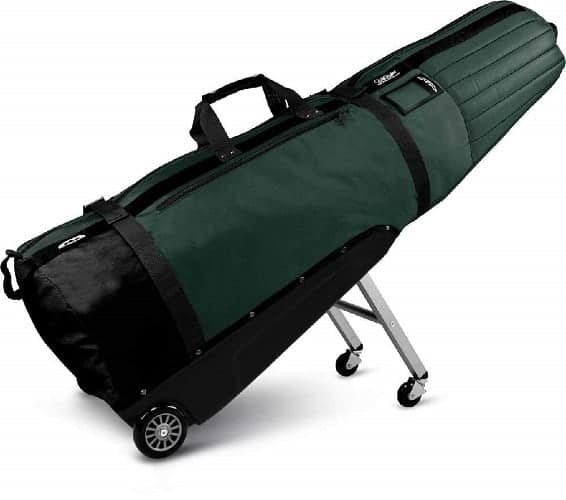 Upon receiving the bag, the first thing you will certainly notice is its ingrained leg which is paired with the pivoting caster wheels. There is a user manual that will come with it.
But honestly, you do not need anything other than the bag itself. The design itself speaks volumes about this Sun Mountain Clubglider Meridian Travel Cover. The whole concept of the leg and wheels made a huge practical difference to this bag with other golf bags. It made carrying the travel bag a whole lot more comfortable for you. Being able to move so easily will spare your entire body from getting stressed.
After using this bag, you will confront yourself about using other travel bags for sure…. Because I did!
Sun Mountain Clubglider Meridian Review
In this Sun Mountain Clubglider Meridian Review, we will be uncovering the best features of this amazing bag for golfers and how does it enable them to travel around with relative ease.
The leg and wheels spare your muscles
I'm not trying to whine about most of the other golf travel bags and also the hard shell plastic-made bags I have been personally using all those years. Although they have provided adequate space and protection, all my gears needed, one thing they have always lacked. And that is protecting me, the person who will be traveling with it.
Often, you will find yourself to be bending yourself to pick the bag. It puts severe pressure on your lower back. But with this Sun Mountain Golf Travel Bag, it will lay there as you put it. So you don't need to bend yourself at all. Also, you don't need to be dragging it all the way. With the wheels, you can quickly roil it and maneuver it as you want to. It is a big boon for older adults as it can trigger their back pain.
Ample Storage
It might seem like lacking a bit when it comes to the storage, but to be fair, you shouldn't be worrying about it too much. Unless you are packing all the household items in it, all your golf clubs and other gears will have ample space for them.
You will have additional space in the two pockets that come with it. So if you have something else left to put inside, you can put it there as those pockets are quite large.
Easy to use and store
There isn't that much left to talk about its ease of use as I have already told you several times how easy it is to roll around the airports and other places. But other than that, the leg rests that come with it are quite easy to extend and retract. You can do this with one single motion, so you don't even have to look twice before putting it in the ground.
Also, you can put it into the trunks of your car as well. Due to the foam padding, the items you have put there will be quite safe and secured.
Attractive Look
Did you know, this is actually one of the most popular golf travel bags solely to its design and all the attractive colors it comes with? You might see lots of other manufacturers will be implementing its concept of leg rest and rotating wheels in the upcoming days. But needless to say, very few will be able to match or surpass the elegant look this bag brings.
Pros & Cons Of Sun Mountain Club Glider Meridian Travel Bag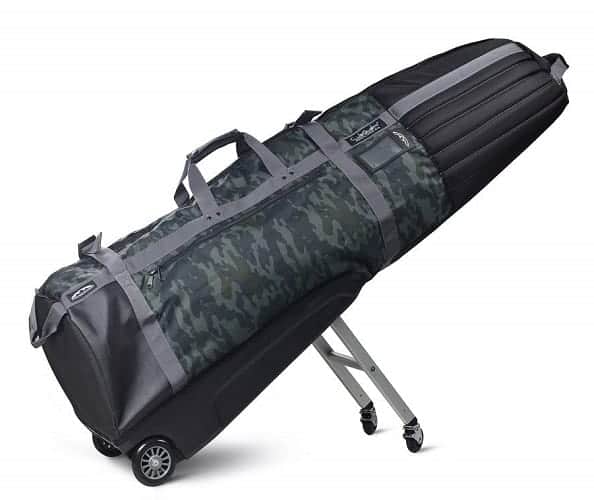 Pros
Perfect for traveling at a distance.
Fits in even smaller spaces easily.
It is made with nylon, and it is quite durable.
It is just 11 pounds, far less than any other golf covers.
The wheels are going to take off the load of weight from your shoulder and back.
One of the Best Golf Travel Bags due to its maneuvering capability.
Cons
You have to be cautious of the wheels running over your ankles to avoid getting hurt.
Check out the c-130 cart bag from Sun Mountain
Does Sun Mountain Meridian worth your money?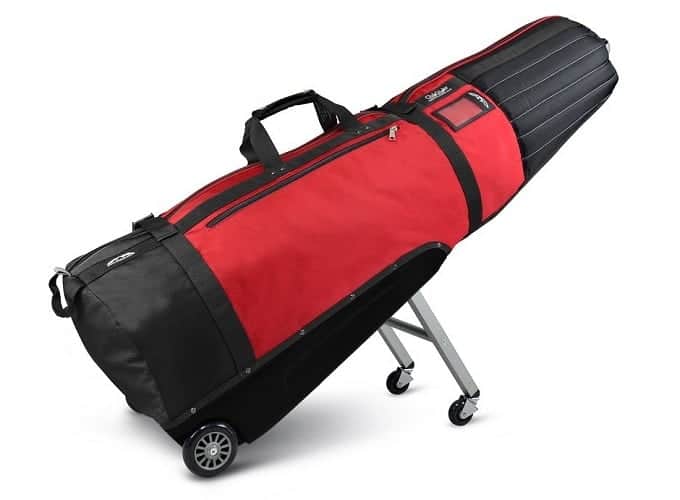 In one word, absolutely! Not just because it looks fancy, or comes with handy leg rest. But it has undoubtedly shown that golf travel bags don't necessarily have to be clumsy! You won't regret buying it for a single moment when you dear friend Georgie and his wife will be asking where did you get it!
Yes, it is that much gorgeous that people do get out of their way to ask and learn more about this unique item. So based on the performance, ease of use and moving and affordability, it is something that worth your bucks!
How to travel with golf Pushcart?
Sun Mountain Clubglider Meridian Vs Tour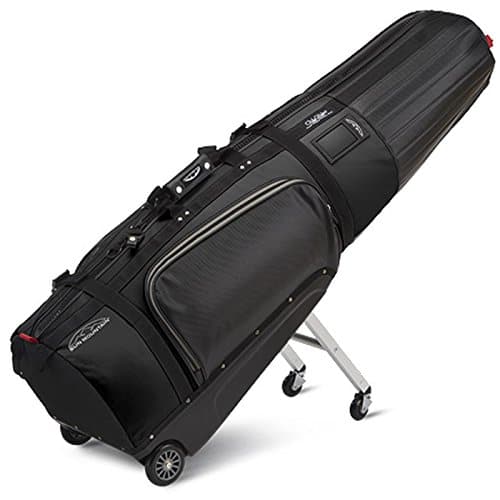 We found some minor differences between these bags.
The first one is the Meridian is more lightweight than the sun mountain 2018 clubglider tour series golf travel cover bag.
Meridian has square edges and the tour series is more rounded in shape.
Tour Series is a couple inches shorter than the Meridian.
Meridian is made of 1200 polyester fabric, while the tour series uses Vinyl fabric. That's why the tour series is more water proof & weather-resistant than the meridian.
The Meridian has two internal straps on the tour series has one.
The tour series' color options are limited than the meridian.
The tour series comes with a TSA approved lock, while the meridian does not.
Sun Mountain Clubglider Meridian Vs Journey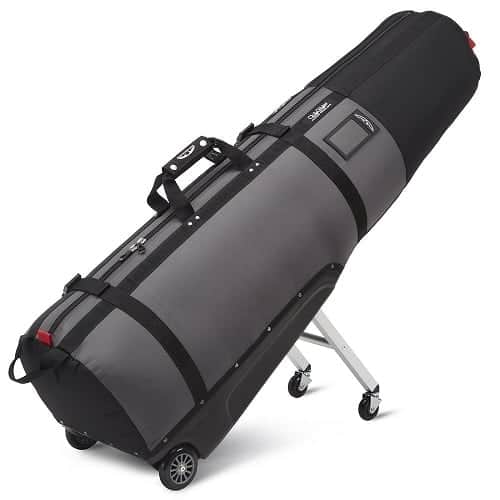 The sun mountain clubglider journey travel bag is the modernized version of the sun mountain clubglider meridian wheeled travel cover.
It has two pockets that has only interior access, but on Meridian you can get exterior access too.
It is 12.8 pounds. The Meridian is slightly heavier than the Journey.
It is somewhat less pricy than the meridian.
For guarding the club, the meridian has more secure areas than the Journey.
FAQs
Is it waterproof?
Yes, the material this sun mountain club glider Meridian golf travel cover is made with enables it to protect your equipment from the water.
Is it good for elderly peoples?
It is a perfect travel companion even for people well over 60 years.
Can you check-in the Sun Mountain Meridian Golf Bag with other luggage?
Yes, you can let it check-in as usual, like other luggage as it is very sturdy and safe.
Similar Item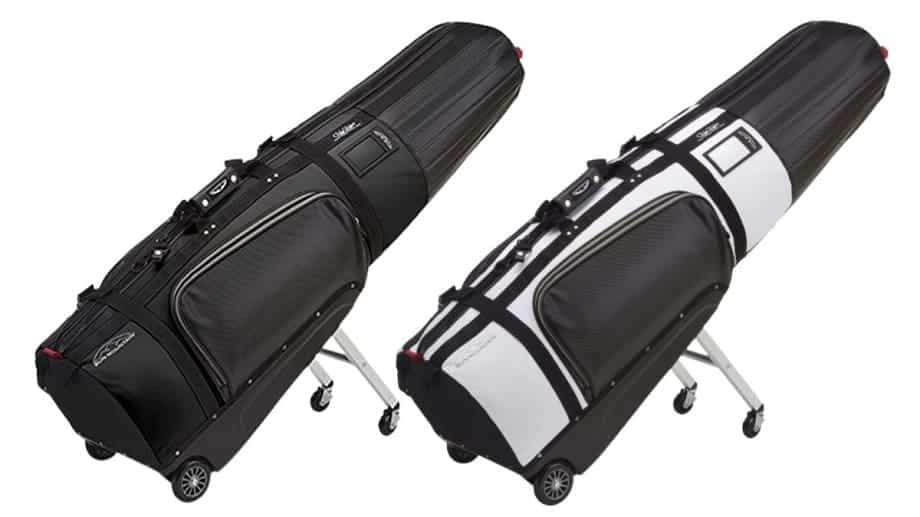 Sun Mountain Clubglider Tour Series Travel Bag is a similar bag like this Clubgider Meridian travel bag. This bag is fabricated with Vinyl. You can keep a single cart bag or stand bag inside this, like the meridian bag. It has also an original leg mechanism which is the best feature of this bag.
This bag comes with a TSA approved lock. Inside this bag have cinch straps which will secure your golf bag. This bag has Pivoting caster wheels.
Alternative Product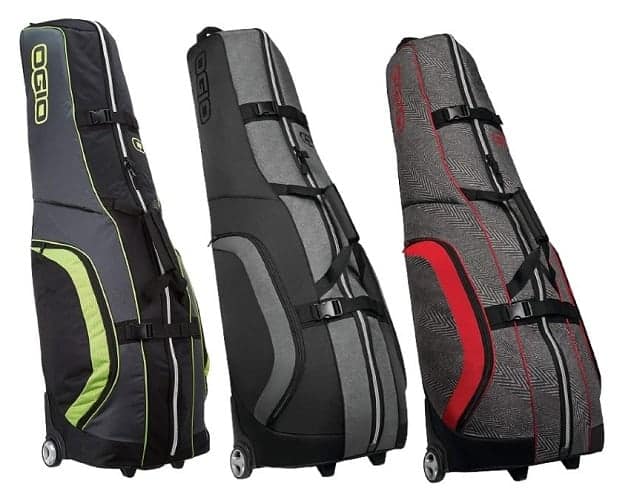 I don't think you need an alternative option for this item. Nevertheless, I am suggesting one.
Ogio Mutant Travel Bag is a very good alternative for this bag. It is a monstrous golf bag that can swallow your tour bag or stand bag easily. Its top compartment is fully padded. It has 2 large external pockets & has external compression straps. It has a strengthened base with protective bars.
Actually, Very Soon, I will provide a detailed review of this fantastic bag to you too.
Final Verdict…
How many times you have decided to make a trip with your clubs and other golf equipment and by the time have reached your destination, you have already strained your hands or destroyed one or two of your shoulder fiber?
And how much time did it take you to realize that maybe your golf travel bag causing more hard than good to you?
So if you want to make a smarter purchase and make sure your money didn't just go into purchasing something that doesn't ease your life, get the Sun Mountain Club Glider Meridian Travel Bag.
Read More
Amazon and the Amazon logo are trademarks of Amazon.com, Inc, or its affiliates.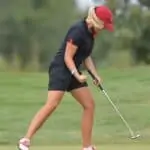 Daisy is the Founder and Editor in Chief of Golfs Hub. She is associated with Golf for more than 20 years. She got the inspiration from her father. She is a very private person & doesn't like to be photographed. She's worked in nearly every job in the golf industry from club fitting to instruction to writing and speaking. Now she is enjoying her retirement from day job... but not from Golf! Daisy lives in southeasternmost part of New York state with her family.