As an Amazon Associate, I earn from qualifying purchases. There is no extra cost to you. Thank you if you use our links; we appreciate it! Learn More.
So, as the sunny summer day goes on, you decide to hit the golf course on a weekend day. Or maybe you decide to spend a couple of days in the course to get a proper taste of a golf trip.
Then, how should you plan your trip?
And what are the things to carry to make the best use of this trip?
If such questions are moving around your head, then you are in the right place. Because here, we are going to provide you a perfect Golf trip packing checklist along with reasons why you must create a Golf trip checklist and follow that accordingly.
Planning And Research What To Pack For A Golf Trip
Before you start packing any Golf trip essentials, you must gather some major information regarding the whole trip. Your research will ultimately determine the type of packing list for golf trip.
For instance:
1. Set The Trip Duration
You have to pack your bags according to the time you are going to spend on the course. So first determine is it going to be a whole day trip or a couple of days trip.
2. Analyze The Weather Forecast Of The Course Area
This will help you to pack appropriate and suitable clothing for the whole trip by ensuring maximum comfort.
3. Travel Medium
This will determine the size and number of bags that you will be able to carry throughout the trip. Because if you are traveling on the road, then there is no weight restriction for your baggage. But if you travel through flights, then there are some obvious weight restrictions. But generally, it is suggested to have the minimalist mindset while packing and conducting the tour to make the most use of it.
4. The Number Of People Touring Along With You
This is also very important to determine. Because if it's a group of a couple of your friends or colleagues, then you can share some handy kinds of stuff in share rather than carrying separately. And if the trip is a solo trip then you have to carry all on your own. So, knowing the number of entities in that trip is a must.
Read: How to fly with Golf Clubs?
Making The Golf Trip Packing List
So, you are done with your initial researches about the trip and now it is the time to start packing. That means what to pack for a golf trip or what to bring on a golf trip.
Here is the list of the most essential things to include in your checklist:
1. A Good Quality Golf Travel Cover
This is the biggest luggage you are carrying throughout the trip. It will protect your precious golf clubs and other necessary golfing equipment. A best rated travel bag for golf will accommodate other essentials as well. So it is wise and suggested that you always get a sturdy, strong and protective golf bag. It will cost you a bit more though. But it will be worth every penny undoubtedly.
2. Golfing Tools And Accessories
After getting the bag, pack all the tools and accessories for golfing. It will be easier and better for you if you make a separate Golf equipment list. And that list must include – 14 golf clubs according to your choice and preference (you can take some spare if you want), balls and tees, driver tool kits, coins or markers, ball retrievers and golf gloves. Lots of things… so if you have a separate list for these instruments, it will be easier for you to pack.
If you are a first timer & worried about carrying all these things in the course without a pushcart, let me tell you that, most of the club has their own club car facilities that can help you carry your equipment to the course. And in the course you can hire a caddie if it is really impossible for you to carry your golf bag around the course.
Read: Packing for a golf camp
3. Clothing Section
Better to take one or two versatile sweaters for a multiple-day trip. Because such sweaters can be worn on the course, in the dinner and also in the cold nights, so surely bringing this will reduce to pressure on your list of clothing. After that include a shirt that is full of colors. That very shirt will give you a proper vacation mood.
Take a couple of comfortable pants which can be both used in the course and outings. A pair of trousers or shorts for sleep time, some backup clothes and your clothing section is almost done.
Don't forget to take at least 2-3 extra pairs of socks. You will be out in the course for a long time. So, without the extra socks, it will be really difficult for you to continue day after day. Also, socks can give an extra layer of protection for your club heads.
Read Our Tips for Traveling as a Golfer
4. Accessories
This section includes a foldable, light weighted and small-sized umbrella, a solid pair of shades, at least one cap or hat and a small shoulder carrying bag. Also, don't forget to include your daily toiletries.
5. Finally, Some Hard Cash As Safety Money
This will be kept somewhere else in your packing bag, not in your wallet. It may come handy if you unconsciously lose your wallet or something.
What not to pack?
After all these, you must have a question back in your mind, what not to pack in a golf bag? Well, in simple words the answer will be expensive electronics, like Bluetooth speakers, GPS trackers or rangefinders etc. Though rangefinders are handy golf equipment they are expensive, so you shouldn't be taking the risk of losing it.
Also, you should not carry pharmaceutical products or logo golf balls in your golf bag. If very urgent, then you can definitely take them in your all-time carrying bag.
Frequently Asked Questions
1. Can I pack clothes in my golf bag?
Yes, surely you can toss a couple of clothes in your golf bag, but if there are quite a few clothes, then you have to pick another carrying bag. But it's best to be economic on a golf trip.
2. Do airlines charge extra for golf bag?
Most of the airlines don't. Given that you do not exceed their allowed luggage weight for an individual. However, some airlines charge for carrying a golf bag, but the rate is stated in those cases.
3. How do you pack a golf bag for travel?
We have discussed it elaborately up above. The easiest way is to by making a checklist of the items to be carried and pack according to that.
4. What golf travel bags do pros use?
There is no certain parameter of that. Golf bags are chosen by professionals by considering the bag's durability, inside padding and protection giving capacity.
5. Can you lock golf bag when flying?
Yes, you can. But the airline's authority can cut your lock for inspection. But if you use TSA approved combination locks, then the security will be able to open the lock for inspection without breaking it.
Check out some TSA approved luggage locks here.
How to Pack Like a pro?
Unless you take a golf vacation regularly, it can be difficult to figure out the just-right mix of things to pack. And one of the worst things about taking a trip is to pack, arrive, and then remember the clothing item or accessory that would have made things the best (but that you left at home). That's why if you take a little time and are prepared, you can travel to that golf trip worry free (and focus more on your swing and scores than the pair of socks you might have forgotten).
For starters, you have to plan. Where are you going, what are conditions like not just on the day you get there, but on all the days that you'll be there? What activities are you planning and how might conditions change for those events? All those things matter, as does much else. This graphic helps you understand what to consider.
The Bottom Line…
Proper planning is a prerequisite for any type of successful action. A golf trip is no different from that. That is why, we talked about what to carry in a golf trip and what not to. Alongside this, we provided a complete Golf trip packing list guideline. You can follow this guideline without any hesitation.
And if you want to edit the list, then consider the factors before adding or reducing anything from the list. So, this is it, make the best use of your golf trip, starting with a packing checklist.
Amazon and the Amazon logo are trademarks of Amazon.com, Inc, or its affiliates.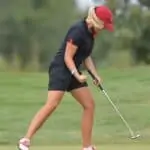 Daisy is the Founder and Editor in Chief of Golfs Hub. She is associated with Golf for more than 20 years. She got the inspiration from her father. She is a very private person & doesn't like to be photographed. She's worked in nearly every job in the golf industry from club fitting to instruction to writing and speaking. Now she is enjoying her retirement from day job... but not from Golf! Daisy lives in southeasternmost part of New York state with her family.