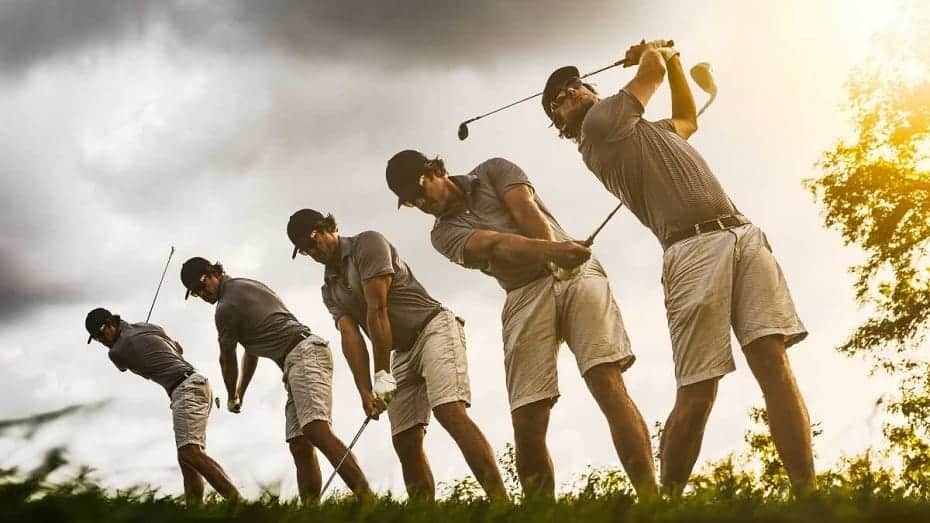 Golf, a gentleman's game they say. It's not only fun but also a premium game. Not everyone can be a good golfer. But, the ones that become, is honored for the rest of his life.
Playing golf is fun but it's not easy. You have to equate a lot of things if you want to be a good golfer. One of the most important factors in playing golf is to know the best Golf Swing Techniques. The better your swing, the better player you are. If you're a newbie and you want to know the best & simple golf swing tips, then you're in the right place.
We'll let you know the 12 most common & basic golf swing tips for beginners that you can use in your daily game.
12 Best Golf Swing Tips for Beginners
Here is the Best golf swing tips for beginners infographic for you.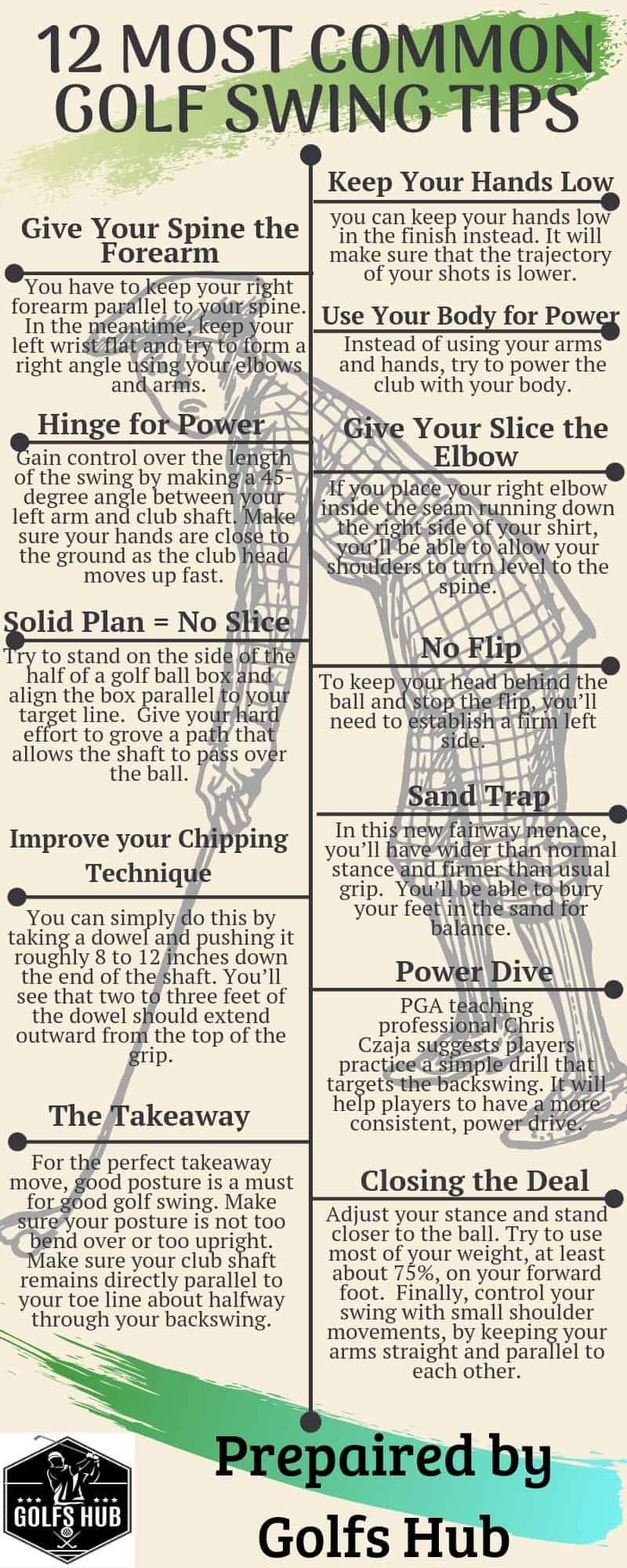 Keep Your Hands Low
Do not try to limit the height of the follow-through as it may reduce the heights of your shots. To have lower ball fights, you've to keep your hands low. If you move the ball back in your stance or choose a stronger club, it is going to let you achieve the same thing when you try to swing easy. But you'll eventually see that these are less reliable and more difficult to execute.
What can you do then? Well, you can keep your hands low in the finish instead. It will make sure that the trajectory of your shots is lower.
Give Your Spine the Forearm
Want to have a guaranteed solid ball-striking and increased accuracy? To make sure this happens, you got to be on-plane at the top of the swing. You have to keep your right forearm parallel to your spine.
In the meantime, keep your left wrist flat and try to form a right angle using your elbows and arms. Once you can do these things perfectly, you will be able to rotate your shoulders into the backswing perfectly.
Use Your Body for Power
If you're a good golfer, you must know that the power you use for golfing, comes from your body. So why don't you use your body in such a way so that you can have mind-blowing swings? Instead of using your arms and hands, try to power the club with your body.
Read: How to Hold a Golf Club Properly
To do this, you have to put the club behind the ball at address while your body stays in a dead-stop position. Try to drag the ball into the air without taking a backswing. You may have a hard time doing it at first if you always used to use your hands to control the club.
However, you'll be able to grab the game in no time once you start moving the club with the help of your body. By doing such, you'll be able to get the ball in the air more consistently. You'll soon find that, on the downswing, you're being able to turn fully through the ball.
Hinge for Power
If you can make the wrist hinge in the backswing perfectly, you'll have noticeably better ball-striking. How would you do this?
Gain control over the length of the swing by making a 45-degree angle between your left arm and club shaft. Make sure your hands are close to the ground as the club head moves up fast. Remember, your aim is to get your left thumb point at the right shoulder as soon as possible.
When your left arm is parallel to the ground while the club shaft is perpendicular to it, you'll know you have achieved the proper wrist hinge.
Read: The Best Golf Swing Trainers
Give Your Slice the Elbow
Do you face a hard time with slicing? You've always wanted to develop a power-rich draw? You'll end up having bad results if you let your right elbow fly. It can raise the right shoulder skyward and can ruin your game.
If you want long-term success, you have to eliminate this faulty shoulder tilt along with the right-elbow position at the top. If you place your right elbow inside the seam running down the right side of your shirt, you'll be able to allow your shoulders to turn level to the spine.
Thus, it will be easier for you to drop the club inside in case of the downswing. This will let you have maximum power and improved control.
Read: Amazon Prime Day
Solid Plan = No Slice
Even if you have a square clubface to the target at impact, an open face at the point of contact can cause a slice as well as a faulty swing path.
The swing paths of slicers usually come too much outside in (hookers, vice versa). As a golfer, you'll need a path that comes just slightly from the inside, right? Well, if that's the case, then try the Box Drill. Try to stand on the side of the half of a golf ball box and align the box parallel to your target line. Give your hard effort to grove a path that allows the shaft to pass over the ball. Set up the box on the same line when it comes to slicers.
However, place it just forward of the golf ball and make sure you don't hit the box.
Read: How to Fix a Golf Slice
No Flip
If your body gets too far in front of the golf ball, you'll feel the 'flippiness' (the dreaded early release). You'll see your club will drastically lag, usually with an open face if you face this 'flippiness' issue.
Your instinct you move your hands so that you can close the face at impact. Even for the pro players, the level of timing becomes difficult to execute on a consistent basis.
Basically what happens is, the club head strikes with an open or a closed face as soon as it races in front of the shaft. It does this on an ascending arc.
Have you played baseball? You'll hit the ball to the right field if you get too far in front, right? This is also the case for golf as well. To keep your head behind the ball and stop the flip, you'll need to establish a firm left side.
Increase golf swing speed and know the swing distance killers.
Chipping
Want to improve your Chipping Technique? You can simply do this by taking a dowel and pushing it roughly 8 to 12 inches down the end of the shaft. You'll see that two to three feet of the dowel should extend outward from the top of the grip.
Read: Best Golf Chipping Tips
All you need to do is now to practice your chipping motion. Keep your left wrist rigid while making sure that the clubface passes through the impact zone. Unfortunately, your left wrist may break down. In such a situation, you'll feel the protruding portion of the dowel hit against your left side.
The dowel will not only guard you against wrist breakdown but also help you to gain the proper-hands forward position at an address which you'll need for clean contact.
Sand Trap
In this new fairway menace, you'll have wider than normal stance and firmer than usual grip. You'll be able to bury your feet in the sand for balance. Furthermore, you'll make sure that the ball is at the head of your stance. Rather than trying to hit the ball itself, whack the sand under the ball.
If you're lucky enough, this will send a plume of sand as well as the ball, up into the air and over the bunker's edge.
Read: How to hit a Flop Shot with a sand wedge
Power Dive
Want to really smash a ball off the tee? For most players, unfortunately, they cannot make magnificent, powerful drives arrive at random. PGA teaching professional Chris Czaja suggests players practice a simple drill that targets the backswing. It will help players to have a more consistent, power drive. He says that, instead of swinging the club over the shoulder, many players swing the club behind the body.
Read: Best Golf Drills
To make sure this tendency is rectified, you need to place your leading arm behind the elbow of your trailing arm. Now, you need to swing your club back until the arm pivots at a 90-degree angle. Once you reach that position, pause and add the leading arm before following through the swing.
If everything goes right, begin to add distance to your drive.
Read: Easy Tips for Learning Golf Drills
The Takeaway
For the perfect takeaway move, good posture is a must for good golf swing. Make sure your posture is not too bend over or too upright. Make sure your club shaft remains directly parallel to your toe line about halfway through your backswing. Make sure the toe of the club head is pointing up to the sky. Once you are done with everything, you are ready to hit the ball.
Closing the Deal
Firstly, adjust your grip and keep in mind that you no longer need the interlocking grip you use to drive. Instead, so that you can better sense the conditions of your swing, try to place the thumb and index fingers on the shaft of your club.
Adjust your stance and stand closer to the ball. Try to use most of your weight, at least about 75%, on your forward foot. Finally, control your swing with small shoulder movements, by keeping your arms straight and parallel to each other.
Wrapping Up…
Though there are many more techniques, these are the best and the most common beginer golf swing tips. If you want to be a pro golfer, we believe that these easy golf swing tips are pretty much enough for you. Practice a lot and try to mix variation within these swings. Soon, you'll know how it feels to be a pro-golfer.
See also: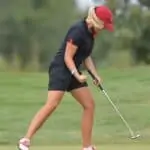 Daisy is the Founder and Editor in Chief of Golfs Hub. She is associated with Golf for more than 20 years. She got the inspiration from her father. She is a very private person & doesn't like to be photographed. She's worked in nearly every job in the golf industry from club fitting to instruction to writing and speaking. Now she is enjoying her retirement from day job... but not from Golf! Daisy lives in southeasternmost part of New York state with her family.