Shanking is part and parcel of playing golf. Regardless of professional and amateur, every golfer is concerned about golf shank. But it's not that serious a matter at all since it happens all along.
As a golfer, you certainly hit a shank and think yourself why shank happens; what's the golf shank causes?
Sometimes a shank lets your concentration go over the ball away and waste your valuable time. Thereby it seems a little bit distracting. With the continuous occurrence of golf the shank, most players feel uneasy to keeping on their playing.
Moreover, without having an appropriate sense of this, most of the golfers become forced to give up playing golf forever. In this perspective, you must be sensible of the prime causes of the shank and fervently try the fixing ways as well.
Luckily you've landed in the right place where you're going to get the ultimate solution. Yes, we are going to discuss how to stop the shanks in golf.
Let's dive on the context.
What is a Golf Shank?
When you fail to strike a ball with the club face, is called shank. Instead, the ball is struck with the rounded part of the club. And it means you're not hitting the ball legally as it not contacting with the flat surface.
Since there is something wrong, the ball will not fly off the right position. Instead, it will go on the opposite side. Of course, it is a severe interruption at playing golf with no comfort.
But how long would you suffer in this case?
You have to get rid of golf shank the right and effective way.
What are the ways? To know more please continue…
What Causes a Golf Shank?
Before diving into the solutions, we should know about the causes.
There are several reasons for occurring golf shank puzzle.
Maximum times it happens with the less-experienced or amateur golfer. Not to be surprised, an inexperienced and a professional sometimes may fail to hit the ball in the right way. He may hit the ball with the rounded hose instead of the clubface.
Besides, it happens when the swing path comes back and as a result, the balls go not go to the predetermined distance.
Even when the swing path gets out of the golfer body, the shank can happen.
There is also a possibility to happen shank while the golfer can't rotate the arm correctly over the balls.
Read also: Callaway Strata Review: For beginner to experienced
However, as a golfer, you must be aware that this is not unnatural and there is way out.
How to Stop the Shanks in Golf
The common causes and several fixing methods are given below so that you can have an immediate solution to pursue the golf cure for shank.
1# Poor wrist rotation
If you're unable to rotate wrist on golf drills swiftly, then it must lead suffer from shank. You couldn't swing the ball ever unless being able to rotate the wrist fast. The ball won't be hitting correctly with the broad face of the club because of poor wrist rotation effect. And the rounded hosel will make contact with the ball whatever causing golf shank.
In this case, you have to follow some rules to fix this problem. They are:
You have to swing a weighted club or multiple clubs at once. The weight will help you get the natural rotation of your wrists.
To make your wrists eligible to have a swift rotate, you can tie a towel to the end of your clubs. It will make your wrist ease rotate.
A tennis racket is ideal for the golf swing's wrist motion so that you can hit the balls with a tennis racket. So you can take a tennis racket while swinging balls.
Read: Fitting yourself for golf clubs
2# Overactive lower body
Overactive lower body problem usually occurs when a player hit a shot from hundred yards. If you are used to passing knees and hips towards the target on the downswing, then the swing path will be forced outside the target line. That means the ball will never fly off to the intended distance. You will never hit the balls with the wide open clubface.
And that seems a nasty shank! By any means, it needs to fix. But how do you fix it?
To fix this type of shank, you have to abide by the following golf shank drills:
By any means, you have control your lower body and should reduce lower body movement. Unless you do this, you never can figure out the golf cure for shank.
You have to include some great drills for making swings with your feet. It will help you to manage to rotate your whole body. And your body won't slide anyhow.
A bucket is much capable of reducing lower body movement. Hence you can squish a range bucket between your thighs while you're swing. It will significantly keep your lower body stable even on the swing time.
To reduce your lower body's moving ability, you can drop your trailing leg back closing your stance. It will assist you to hit the ball from the right position. And there will never happen any shank while golfing.
Read: Best golf Halloween costumes
3# Out to in-swing path
Your lower body is constant but shanking is happening; that means you're likely out to in swing path. It's essential to make your position into the swing path to get an ideal hitting opportunity. But you will call in trouble whenever start attacking the balls outside the target line. Call in mind that coming over the top on downswing causes coming out to in swing path.
In this situation, you couldn't ever hit the ball with the club face to intended distance. It needn't say that it because of an adverse impact while playing golf.
And without doubt, it's the prime golf shank cause. You have to be highly interested in fixing this problem. How do you fix this type of golf shank? What're the tactics?
You will be amazed that the problem can be solved solely following one rule. That is:
To get your swing path in order, you have to take the best drill. You surprisingly could swing back on the right path with the 45-degree ball drill.
Read: Amazon Prime Day Deals
Finally…
Golf shank is an ordinary matter in golf. It happens to all irrespective of veteran golfers and amateur golf enthusiasts. There are some common reasons for happening this problem has already been said. But there are the effective fixing ways too.
The causes of shank along with its solving techniques have been described above in depth. It needs regular practice to get rid of golf shanking concern. To be a good golfer, it's mandatory to implement these rules. The more you practice, the lesser shank to suffer.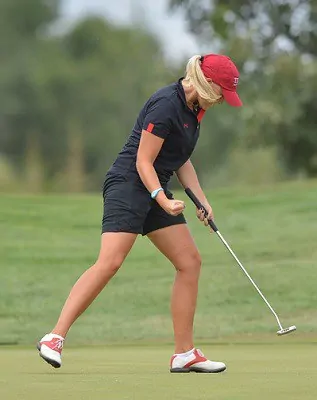 Daisy is the Founder and Editor in Chief of Golfs Hub. She is associated with Golf for more than 20 years. She got the inspiration from her father. She is a very private person & doesn't like to be photographed. She's worked in nearly every job in the golf industry from club fitting to instruction to writing and speaking. Now she is enjoying her retirement from day job… but not from Golf! Daisy lives in southeasternmost part of New York state with her family.