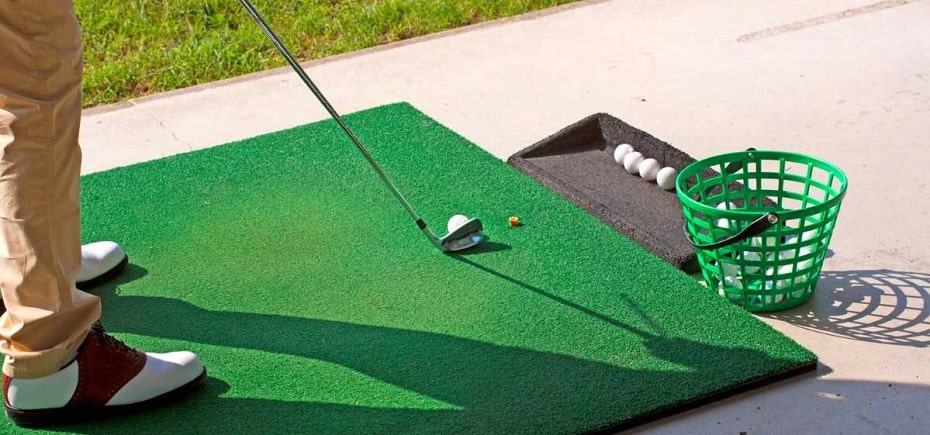 How do you know about the best golf drills of all time? Which drills came out successful for all? Don't rush to seek help from a pro and believe that you'll learn after a few days from him like magic! Believe it or not, there is no shortcut in learning what's the best golf drills for beginners at all.
I've always placed Golf Balance drills between two categories, mechanical and game-improvement. Mechanical drills help solve the swing problem. Game-development drills are the skills needed to shoot low scores.
In this article, we'll try to cover the best golf drills to practice, which are surefire tips. If you stick to these tips, you'll be good to go.
What are golf drills?
Golf drills are practice exercises that are designed to help golfers improve specific aspects of their game. They can focus on various skills, such as swinging, putting, chipping, and bunker play, and can be done on the driving range, practice green, or even on the course itself.
There are many different golf drills that can be used to improve various aspects of your game. Some common drills include:
Alignment drills: These drills help you develop proper alignment and aim.
Swing path drills: These drills help you improve the path of your swing and achieve a more consistent shot shape.
Impact drills: These drills help you improve your impact position and ball striking.
Short game drills: These drills focus on improving your chipping, pitching, and putting skills.
Bunker play drills: These drills help you improve your technique for playing shots from the sand.
Golf drills can be an effective way to practice and improve your game, but it's important to start with basic drills and gradually progress to more advanced ones as you improve. It's also a good idea to work with a golf coach or instructor to make sure you're performing the drills correctly and getting the most out of your practice.
Why are golf drills necessary?
Golf drills are necessary because they provide a structured way for golfers to practice and improve specific aspects of their game. Golf is a sport that requires a high level of skill and precision, and drills can help golfers develop the muscle memory and technical proficiency needed to hit consistent, accurate shots.
By focusing on specific skills or techniques, drills allow golfers to zero in on areas of their game that need improvement and work on them in a focused, efficient manner. This can help golfers identify and correct flaws in their swing or short game, and ultimately lead to lower scores and improved performance on the course.
Additionally, golf drills can be tailored to fit the needs of individual golfers, so they can be a useful tool for players of all skill levels. Whether you're a beginner looking to develop basic skills or an advanced player looking to fine-tune your game, there are likely drills that can help you improve.
15 Best Golf Drills to Do at Home
Here is an infographic for you: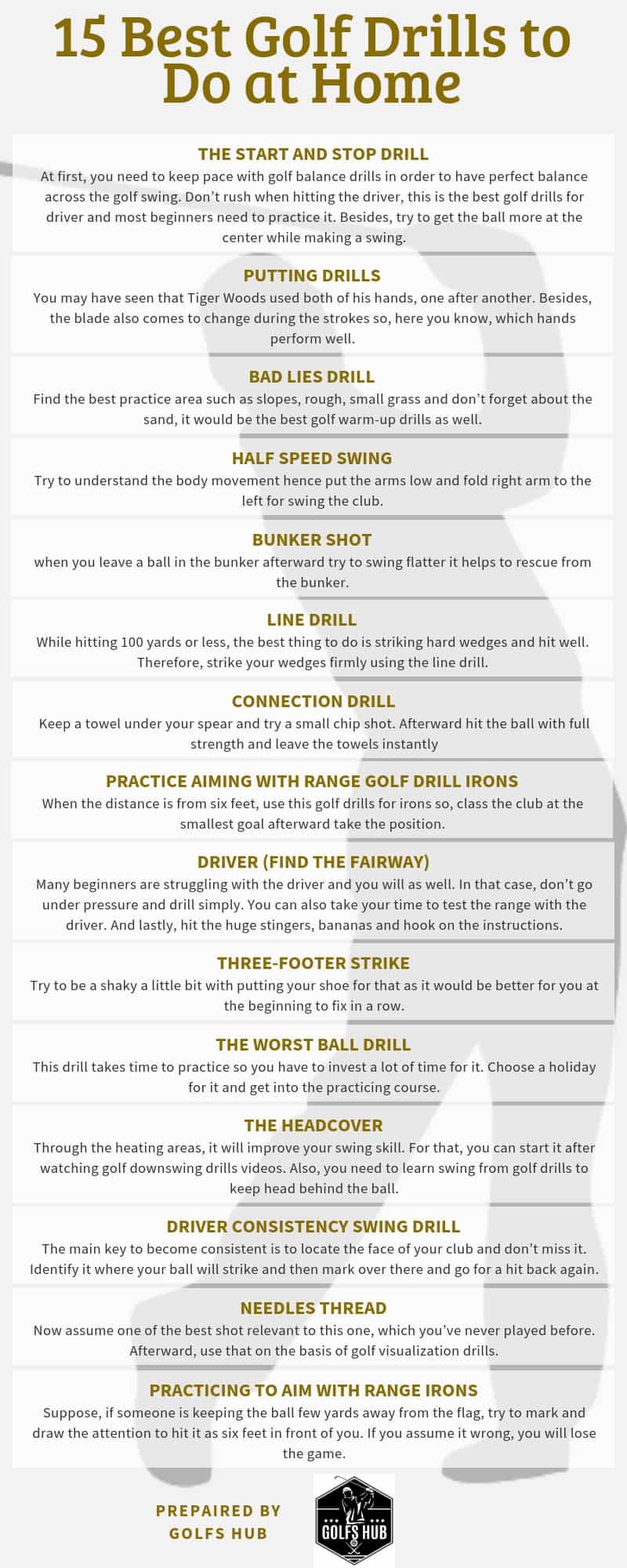 The Start and Stop Drill
At first, you need to keep pace with golf balance drills in order to have perfect balance across the golf swing. Don't rush when hitting the driver, this is the best golf drills for driver and most beginners need to practice it. Besides, try to get the ball more at the center while making a swing.
Now, let us tell you about the best golf drills for weight transfer. In order to weight transfer correctly, try to be confident with your weight and push it forward. You can also try this at home as it is the best golf drills at home as well.
Putting Drills
Many golfers took the fact seriously that their one hand controls the putting stroke, it's ok. But we're here to train you so that you can use both of your hands.
Did you see the Tiger Woods drill? If you did, you saw how he hit the putts at different lengths. You may have seen that he used both of his hands, one after another. Besides, the blade also comes to change during the strokes so, here you know, which hands perform well.
See more Putting Drills to do at home here.
Read: Best golf Halloween costumes
Bad Lies Drill
Now, you need to know about the best golf short game drills. If you want to learn it properly, you need to access the proper practice place. By guessing you can kill different shots from several bad lies you can find.
In that case, find the best practice area such as slopes, rough, small grass and don't forget about the sand, it would be the best golf warm-up drills as well.
Half Speed Swing
There are some techniques called golf posture drills, where your body movement does matter. One of it is half speed swing. Try to understand the body movement hence put the arms low and fold right arm to the left for swing the club.
Read More: Best Exercises for senior golfers
Bunker Shot
Many players are lacking in low point control and that's happened to them while playing bunker shots. In this situation, you need to deal with sans, so don't forget that. when you leave a ball in the bunker afterward try to swing flatter it helps to rescue from the bunker.
Line Drill
If you know about golf a little, you must agree on the difficulty of hitting 100 yards or less of it. In that case, the best thing to do is striking hard wedges and hit well. Therefore, strike your wedges firmly using the line drill.
Read: Fitting yourself for golf clubs
Connection Drill
You can't avoid practicing the wedge shot. Accomplish it in every way is hard for a beginner to follow the pro golfer, as they use the strength of large muscles.
Keep a towel under your spear and try a small chip shot. Afterward hit the ball with full strength and leave the towels instantly, this works better. This one is considered to be the best golf drills to do at home.
Practice Aiming with Range Golf Drill Irons
The pro golfer always tries to find the best way to target the distance. When the distance is from six feet, use this golf drills for irons so, class the club at the smallest goal afterward take the position. Practice as much as you can and make it a part of your routine.
Driver (Find the Fairway)
Many beginners are struggling with the driver and you will as well. In that case, don't go under pressure and drill simply. You can also take your time to test the range with the driver. And lastly, hit the huge stingers, bananas and hook on the instructions.
See some indoor chipping drills here.
This one is the best indoor golf drills but it is not an easy one to accomplish. You have to practice a lot in order to perform a three-footer stroke drill. Try to be a shaky a little bit with putting your shoe for that as it would be better for you at the beginning to fix in a row.
The Worst Ball Drill
This drill takes time to practice so you have to invest a lot of time for it. Choose a holiday for it and get into the practicing course.
Read: Proper golf posture and stance
The Headcover
For amateur players, headcover drill is the popular one. Through the heating areas, it will improve your swing skill. For that, you can start it after watching golf downswing drills videos. Also, you need to learn swing from golf drills to keep head behind the ball.
Driver Consistency Swing Drill
Have you tried a bunch of balls and your swing speed is not more than 100mph? Then we assume you're amateur in golf.
The main key to become consistent is to locate the face of your club and don't miss it. Identify it where your ball will strike and then mark over there and go for a hit back again.
Needles Thread
This one is golf alignment drills because you need to target the distance aligns with your body in order to flight the ball. Now assume one of the best shot relevant to this one, which you've never played before. Afterward, use that on the basis of golf visualization drills.
Read: Amazon Prime Day Deals
Practicing to Aim with Range Irons
Many pro golfers use this drill to test with a driving range and look for the best way to locate the distance. Here assumption works great! Suppose, if someone is keeping the ball few yards away from the flag, try to mark and draw the attention to hit it as six feet in front of you. If you assume it wrong, you will lose the game.
Let's watch a video…
Finally…
There are so many things to use in golf courses to help improve your skills in the week after week. There are many easy ways to learn golf drills. You can also improve your mind as well as the physical improvements using the 15 best golf drills listed above.
See also: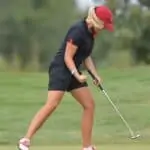 Daisy is the Founder and Editor in Chief of Golfs Hub. She is associated with Golf for more than 20 years. She got the inspiration from her father. She is a very private person & doesn't like to be photographed. She's worked in nearly every job in the golf industry from club fitting to instruction to writing and speaking. Now she is enjoying her retirement from day job... but not from Golf! Daisy lives in southeasternmost part of New York state with her family.