As an Amazon Associate, I earn from qualifying purchases. There is no extra cost to you. Thank you if you use our links; we appreciate it! Learn More.
Assume that you have some major deficiency of short games in golf. You are trying a lot but you cannot progress properly. Then where is the actual problem? The main problem is your practicing pattern. Only swinging the club and hitting the ball efficiently again and again won't cut the cake for you. You will need some effective drills which have to be done regularly.
Following that, we have chosen golf chipping drills today. We will be showing 10 very efficient methods of indoor chipping drills, which will take your game to the next level.
Why Golf Chipping Drills At Home Are Important?
Golf drills can upgrade your playing style and skill in a manner that is way better than any other thing. Drills not only develop the playing approach but also enhance your physical and mental approach towards the game. Professional tips, tricks and hacks are cool but these will be effective for you, only when you have good control over the game. And to get good control over the game, there is no alternative to undergoing some drills regularly.
Read: The top quality chippers for you
And today we chose short chipping drills because chipping is the segment where the majority of amateur golfers struggle the most. And to save you from there we will be discussing the 10 most effective indoor chipping practice drills. Through these drills, you will surely be able to overcome the fear of chipping and ready for getting a better score the next season.
Here is an Infographic of the drills: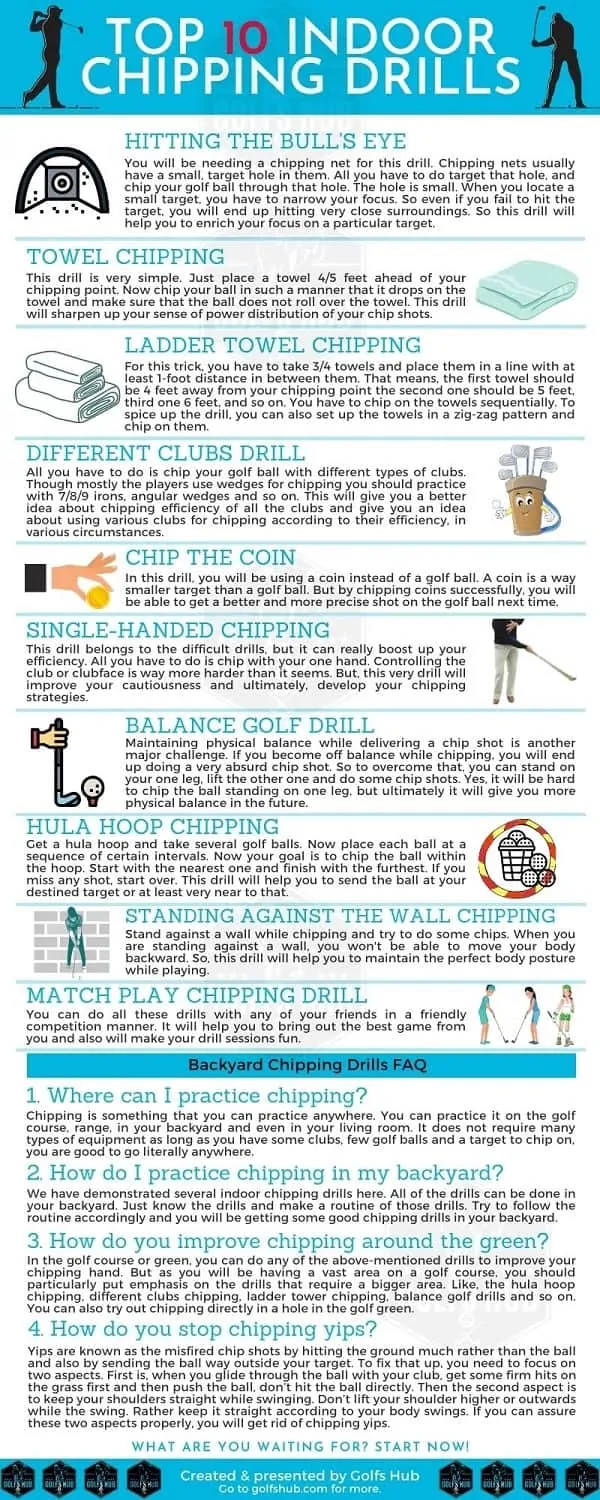 10 Most Effective Indoor Chipping Drills
Golf chipping drills are very effective and efficient. The best part is, you can attend these drills in your home or backyard. So let's find out some in-house & backyard chipping drills.
#1. Hitting The Bull's Eye
You will be needing a chipping net for this drill. Chipping nets usually have a small, target hole in them. All you have to do target that hole, and chip your golf ball through that hole. The hole is small. When you locate a small target, you have to narrow your focus. So even if you fail to hit the target, you will end up hitting very close surroundings. So this drill will help you to enrich your focus on a particular target.
#2. Towel Chipping
This drill is very simple. Just place a towel 4/5 feet ahead of your chipping point. Now chip your ball in such a manner that it drops on the towel and make sure that the ball does not roll over the towel. This drill will sharpen up your sense of power distribution of your chip shots.
Read: How to stop chunking and blading chips?
#3. Ladder Towel Chipping
This is basically an upgraded version of the towel chipping drill. For this trick, you have to take 3/4 towels and place them in a line with at least 1-foot distance in between them. That means, the first towel should be 4 feet away from your chipping point the second one should be 5 feet, third one 6 feet, and so on. You have to chip on the towels sequentially. To spice up the drill, you can also set up the towels in a zig-zag pattern and chip on them.
#4. Different Clubs Drill
Well, this is also a very simple drill. All you have to do is chip your golf ball with different types of clubs. Though mostly the players use wedges for chipping you should practice with 7/8/9 irons, angular wedges and so on. This will give you a better idea about chipping efficiency of all the clubs and give you an idea about using various clubs for chipping according to their efficiency, in various circumstances
#5. Chip The Coin
Usually in chipping drills, you have to chip the golf ball. But in this drill, you will be using a coin instead of a golf ball. A coin is a way smaller target than a golf ball. But by chipping coins successfully, you will be able to get a better and more precise shot on the golf ball next time.
#6. Single-Handed Chipping
Controlling the clubface is the main key factor for developing the short game. So if you are really passionate about improving your short game, one-handed chipping will be a great drill for you. This drill belongs to the difficult drills, but it can really boost up your efficiency. All you have to do is chip with your one hand. Controlling the club or clubface is way more harder than it seems. But, this very drill will improve your cautiousness and ultimately, develop your chipping strategies.
#7. Balance Golf Drill
Maintaining physical balance while delivering a chip shot is another major challenge. If you become off balance while chipping, you will end up doing a very absurd chip shot. So to overcome that, you can stand on your one leg, lift the other one and do some chip shots. Yes, it will be hard to chip the ball standing on one leg, but ultimately it will give you more physical balance in the future.
#8. Hula Hoop Chipping
Get a hula hoop and take several golf balls. Now place each ball at a sequence of certain intervals. Now your goal is to chip the ball within the hoop. Start with the nearest one and finish with the furthest. If you miss any shot, start over. This drill will help you to send the ball at your destined target or at least very near to that.
#9. Standing Against The Wall Chipping
Stand against a wall while chipping and try to do some chips. When you are standing against a wall, you won't be able to move your body backward. So, this drill will help you to maintain the perfect body posture while playing.
#10. Match Play Chipping Drill
If you can set up a competitive drill session, then that would be a cherry on top edition to your regular drill routine. Because a competitive mindset is another major aspect of the game. So, you can do all these drills with any of your friends in a friendly competition manner. It will help you to bring out the best game from you and also will make your drill sessions fun.
These are some of the best chipping drills for golf. By following all these drills properly, you will be ensuring better games in your hands, day by day.
Backyard Chipping Drills FAQ
1. Where can I practice chipping?
– Chipping is something that you can practice anywhere. You can practice it on the golf course, range, in your backyard and even in your living room. It does not require many types of equipment as long as you have some clubs, few golf balls and a target to chip on, you are good to go literally anywhere.
2. How do I practice chipping in my backyard?
– We have demonstrated several indoor chipping drills here. All of the drills can be done in your backyard. Just know the drills and make a routine of those drills. Try to follow the routine accordingly and you will be getting some good chipping drills in your backyard.
3. How do you improve chipping around the green?
– In the golf course or green, you can do any of the above-mentioned drills to improve your chipping hand. But as you will be having a vast area on a golf course, you should particularly put emphasis on the drills that require a bigger area. Like, the hula hoop chipping, different clubs chipping, ladder tower chipping, balance golf drills and so on. You can also try out chipping directly in a hole in the golf green.
4. How do you stop chipping yips?
– Yips are known as the misfired chip shots by hitting the ground much rather than the ball and also by sending the ball way outside your target. To fix that up, you need to focus on two aspects. First is, when you glide through the ball with your club, get some firm hits on the grass first and then push the ball, don't hit the ball directly. Then the second aspect is to keep your shoulders straight while swinging. Don't lift your shoulder higher or outwards while the swing. Rather keep it straight according to your body swings. If you can assure these two aspects properly, you will get rid of chipping yips.
The Bottom Line…
Practice makes a man perfect and drills make a game perfect. If you want to do better in any game, you must go through some certain drills for that. Golf is no different from that. So if you want to do better in golf you must follow some specialized drills, especially for the short game.
Here we have picked chipping for golf and demonstrated some basic, advanced and most importantly some very effective golf chipping drills at home. All these drills will be very much helpful for you, only if you follow them cordially and accordingly.
Also, there are options for doing the drills with your friends as well. So without further ado, start your journey of improving the short game with the help of these indoor chipping drills.
See Also:
Amazon and the Amazon logo are trademarks of Amazon.com, Inc, or its affiliates.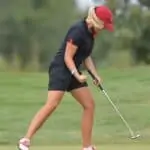 Daisy is the Founder and Editor in Chief of Golfs Hub. She is associated with Golf for more than 20 years. She got the inspiration from her father. She is a very private person & doesn't like to be photographed. She's worked in nearly every job in the golf industry from club fitting to instruction to writing and speaking. Now she is enjoying her retirement from day job... but not from Golf! Daisy lives in southeasternmost part of New York state with her family.