Golf blading chips are arguably the most frustrating events golfers of any skill level can ever experience.
You miss the green on the approach shot and now have to up-and-down to save par. Trying to hit the chip close to escape with a par, you step up, but the result is less than what you hoped for; that's because you've bladed and chunked.
Even Tiger Woods has struggled with chunked chips in the past year, hence, not to mention how badly it can plague anyone's game. Just one shot can ruin an otherwise good round.
Fortunately, it isn't impossible to eliminate this trouble from your game. And in this article, we'll show you how to make this a reality.
So, keep reading to learn how to stop blading chip shots once and for all.
What Is Blading a Shot?
In golf, blading the ball is the term used for a high strike on the ball. It usually happens when the golf club's leading edge strikes the golf ball at or above its equator. It results in an exceptionally low lofted shot having a great deal of topspin. Consequently, it hinders your ball control and leads to poor outcomes around the greens.
What Causes a Bladed Chip Shot?
Why do you keep blading your chip shots at all? What's causing you to contact the hosel rather than the sweet spot constantly?
Chances are, you're repeating one of the following two mistakes.
Take a look at your hands the next time you set them up before a chip shot. Do they seem to be stretching toward the target too far?
Whenever you push your hands forward too far, the club is sure to follow. Essentially, you're rotating the clubface right (right-handed players), exposing your heel as you swing down. Then your golf ball is bound to bounce off that heel, forcing you to shoot to your right.
Often, golfers shank wedges by dragging their clubhead inside during the backswing. In other words, they try to rotate the clubhead at the same level as their bodies instead of swinging straight through and back.
The problem? By dragging the golf club inside, you make the clubhead rotate, revealing the heel once again. Consequently, there's a slim chance of getting a solid contact on the ball. That's why making solid wedge shots with the club heel is pretty challenging.
Read: factors to consider for the best chippers for you
How to Stop Chunking and Blading Chips?
Now that you know the flaws are making you blading chip shots, it's time you fixed it. To accomplish that, follow these three steps.
Step-1: Be Aware Of Your Setup
Knowing your setup is the first step to eliminating chunking and blading. You should have the ball near the inside of your back foot at the back of your stance. Furthermore, it's vital to hold a narrow stance. As a general rule, the shorter the strike, the narrower the stance should be.
When addressing the ball, your hands should stay slightly forward, and you should put most of your weight on your front foot. More vertical stances make chunks less likely to occur. As you become more consistent with your setup, you will achieve more consistent chips.
Read: How to cure chipping yips?
Step-2: Aim in Front of the Ball
A golfer who chunks a chip usually tries to pick at the ball, but only to end up hitting it from behind.
To avoid hitting behind the ball, aim at a spot in front. It may appear awkward at first, but once you get accustomed to it, you'll stop chunking your shots and hit more consistent chips. It is beneficial for iron shots too.
Step-3: Stop Hitting Down So Much
The rule to hit down on the ball is what every golfer hears over and over again. However, being good at chipping and pitching does not necessarily require hitting the ball hard. Many golfers get into trouble because they have no idea what they're doing or overdo it. During a chip or pitch, good golfers will feel their golf club bottom thump or scrape the ground.
Good players rarely take divots or dig the club into the ground during shorter shots. However, many middle handicappers dig their clubs in their efforts to "hit down" on the ball. And there's hardly much room for error when it occurs, but the contact should be nearly perfect.
Ideally, you should feel the club bottom thumping the ground. Avoiding divots should be the goal here. Upon doing this and starting to feel the ground, you will have a much higher margin for error. Even when you hit a bit behind the ball, you can still hit a good shot by keeping your club from digging.
On a Final Note…
Last but not least, when you step up to the ball for hitting a chip shot (or any shot), you must have positive thoughts. Negative thoughts can derail your chances of making a successful shot. If you think about chunking a shot as you shoot it, you will probably chunk it.
Instead of fixing your focus on not blading your chips, fix it on hitting a successful one. You need to visualize the ball's landing and where your want it to end up. Breathe profoundly and execute.
Good luck and have fun golfing!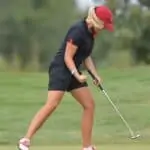 Daisy is the Founder and Editor in Chief of Golfs Hub. She is associated with Golf for more than 20 years. She got the inspiration from her father. She is a very private person & doesn't like to be photographed. She's worked in nearly every job in the golf industry from club fitting to instruction to writing and speaking. Now she is enjoying her retirement from day job... but not from Golf! Daisy lives in southeasternmost part of New York state with her family.