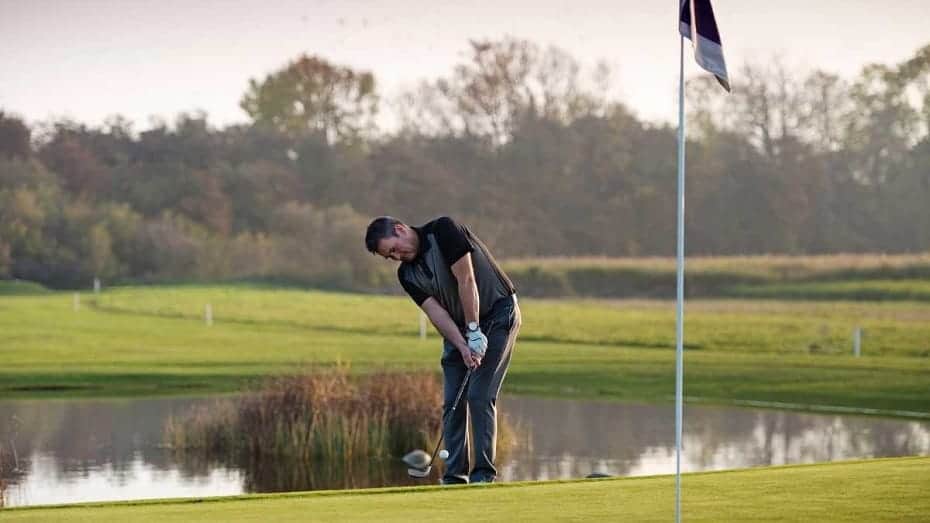 When it comes to pitching in golf, most rookies make one common mistake- they consider the shot part of their long game instead of the short game.
Golfers who have the most difficulty pitching – the bumbling 30-80 yard shots – frequently treat pitches as mini versions of their regular swings. You develop something of a weight shift with this – which may be great for long game plays, but it becomes problematic when you're pitching since it relies on distance control and finesse.
So, the key is to view pitching as an expansion of chipping instead of a watered-down version of the long game.
If that sounds interesting, read ahead to find all the basics about how to hit a pitch shot in golf and how you can blend it into your game in five easy steps.
What Exactly are Pitch Shots in Golf?
Put simply, pitch shots are the longer version of chip shots and are shorter than a full iron shot. These shots usually travel through the air instead of the green.
For instance, when you're away from the green by 30 yards, you'll need a pitch shot since the ball will travel 30 yards before rolling 3-5 yards more at landing.
The chip shot, in contrast, occurs closer to the green, when the ball flies only a little before rolling almost all the way out to the hole.
It makes sense, right?
A good rule of thumb is to consider a pitch shot as a wedge shot between thirty and seventy yards from the hole.
Characteristics of a Pitching Wedge
Pitching wedges, named for how frequently they are used to hit pitch shots, are irons with clubface lofts around 43° to 49°. They're typically the wedge with the lowest loft, somewhere between a gap wedge and a 9-iron. Generally, they have shaft lengths ranging from 34 to 38 inches and bounce between 2° and 3°.
Having a bounce so low rarely allows the wedge to slide under the ball, and that's why they're not used for some balls. For example- a bunker shot, where the ball's sitting on the rough or soft lies.
In contrast to a sand wedge, which typically has a higher bounce, a pitching wedge tends to dig into the ground like most other irons. It's perfect for tight lies on the fringe or fairway. A full-swing can produce a high-arcing shot of around 75-125 yards that lands softly. Additionally, a pitching wedge also allows you to chip or punch out of a deep rough.
In our opinion, one of the best pitching & chipping wedges for you is the Square Strike Wedge.
How to Hit a Pitch Shot In Golf with a Pitching Wedge in Five Steps?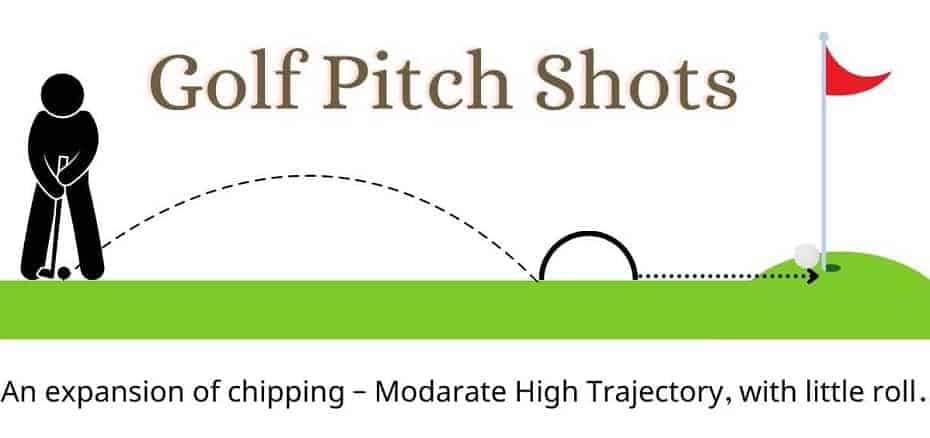 Golf pitch shots are ideal for taking down 15 to 60 yards with the desired precision as these wedges are tailored for lofting the ball. Follow this step-by-step guide for hitting perfect pitching wedges.
Step-1: Ensure Proper Grip
For a successful golf pitching, you must have the proper grip before anything else. The aim is to have both hands and all the fingers in the right place.
First, place your left thumb straight on the handle before overlapping it with the right hand. Remember to put your right thumb right across from the club.
Next, make sure that your right hand's pinky is placed neatly in between your left index and middle finger. After following all these steps as directed, you should have an excellent grip that will allow you to make all of the successful shots.
Step-2: Concentrate on Your Stance
Once you have fixed up your grip, it should be evident that you must concentrate on your stance. It's vital for generating the necessary power.
Start by having your feet close together. Then position the clubhead against the ball before you swing. It helps set the proper alignment, increasing your chances of striking the ball more crisply.
Once you've had the clubface aligned, stand with your feet shoulder-width apart. Keep your right toe pointed toward the target line. You should keep your hips and feet slightly open towards the target while shooting. When you are ready to take the shot, tilt your hips slightly and square your shoulders.
Step-3: The Backswing and the Downswing
In this entire process, the backswing is the most crucial part. Therefore, you need to take the utmost care when doing it. When you do the backswing, your first goal is to fix your front arm.
If you want to do it successfully, you need to focus your eyes and head on the ball. Position yourself correctly with your clubhead, as you would do with an opened door. During the downswing, the clubhead will become similar to a closed-door, so it is relatively flat when hitting the ball.
As a rough summary, your body must turn away from the target in the backswing, and in the downswing, it must turn toward it. Timing is crucial in every phase of the process.
Step-4: The Hit
Getting a good height on the pitch involves striking an inch or two laterally behind the ball. In any case, you'll want to avoid digging in too hard, so you don't hit any further than the ball.
Step-5: Follow Through
Never consider the downswing as the end of this process. It's, instead, the follow-through process that actually ends it. Unless you follow through, your shot is likely to be incomplete.
Following through is about making both of your hands high above your head and, most importantly, lining up both your clubhead and spine equally.
Final Words…
A pitching wedge is undeniably an invaluable weapon in a passionate golfer's arsenal. Our demonstration of hitting higher golf pitch shots will hopefully help you set your game aright.
You're more likely to save parts nearly 80-100% of the time when you're feeling it.  Getting good at short games does not require incredible speed, strength, or technique. Instead, it requires some feel and rehearsals, coupled with a degree of confidence in getting over the ball.  The key to becoming an expert in all three is practice, competition, and repetition.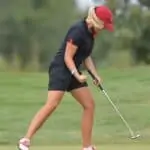 Daisy is the Founder and Editor in Chief of Golfs Hub. She is associated with Golf for more than 20 years. She got the inspiration from her father. She is a very private person & doesn't like to be photographed. She's worked in nearly every job in the golf industry from club fitting to instruction to writing and speaking. Now she is enjoying her retirement from day job... but not from Golf! Daisy lives in southeasternmost part of New York state with her family.