As an Amazon Associate, I earn from qualifying purchases. There is no extra cost to you. Thank you if you use our links; we appreciate it! Learn More.
Welcome to the world of golf travel, where lush fairways beckon from distant lands and unforgettable adventures await. For all the passionate golfers out there, few experience the joy of hitting the links in new and exciting destinations. Whether you're a seasoned globetrotting golfer or setting out on your very first golfing adventure, proper preparation is the key to unlocking the full potential of your journey.
In this comprehensive guide, we'll take you on a captivating journey filled with invaluable travel tips tailored specifically for golfers like you. From selecting the perfect golf-friendly destination to mastering the art of packing your golf clubs for transit, we've got you covered. So, fasten your seatbelts and get ready to explore the world of golf travel like never before!
Join us as we delve into the intricacies of choosing the right golf courses, navigating transportation with your beloved clubs, immersing yourself in local golf cultures, and capturing unforgettable moments along the way. Get ready to tee off on an adventure of a lifetime, armed with our expert advice to ensure your golf travel experience is nothing short of extraordinary.
So, let's dust off those irons, pack our bags, and hit the road together, as we unveil our top travel tips for golfers on the road. The fairways await, and the journey begins now!
Golf is one of the world's most popular sports, and many of its enthusiasts travel across the globe to compete in competitions, play at various golf courses, watch competitions, and more. But this can create more logistical challenges than you may think at first; after all, golf gear isn't always what you'd call portable!
With that being said, there are plenty of ways for golfing enthusiasts to make traveling with their golf gear as smooth and streamlined of a process as possible. In this article, we'll be covering our top tips for golfers on the road, no matter where it may lead them.
Background: The Golf and Travel Landscape
As mentioned above, golfers are, overall, a well-travelled bunch. It's certainly not unheard of for us to visit different cities or even states to participate in tournaments or play at different golf clubs. People will be coming from across the country and even the world to watch the 2023 US Open, too.
It's not hard to understand why golf and travel are so inexorably linked, either. Golf courses and clubs are commonly found in some spectacular locations. What's more, golf is a social sport; many of us meet people and make deep connections through golf that last a lifetime.
So, traveling around to different golf courses can end up being a terrific way of keeping in touch with friends we make through golf who live abroad. Some of us may also travel for work, and golf can be a fantastic way to network with new business connections while in different countries. On top of that, it's simply a great form of exercise and makes for a wonderful way to relax and take your mind off things.
A major part of the appeal of traveling as a golfer is combining one's hobby with visiting different cities or countries. It certainly helps that golf courses are commonly found in some incredible locales; you'll notice that they're often home to some fantastic restaurants, too. Failing that, you can usually find excellent places to eat and drink in the vicinity.
Because of this, combining traveling to top golf destinations with elite culinary experiences can make for a fantastic way to treat yourself. What better way could there be to de-stress and unwind than killing two birds with one stone like that?
Why proper preparation is essential for golfers on the road?
Proper preparation is essential for golfers on the road for a multitude of reasons. Traveling to new destinations for golfing adventures can be incredibly exciting, but without adequate planning, it can also lead to unnecessary challenges and missed opportunities. Here's why taking the time to prepare is crucial for a golfer's journey:
Optimizing Golfing Experiences: Golf travel is all about enjoying the sport in beautiful and unique settings. Proper preparation allows golfers to research and select the best courses that align with their skill level and preferences. Knowing which courses to play ensures that each round becomes a memorable and enjoyable experience.
Securing Tee Times: Many popular golf courses have high demand, and securing tee times can be competitive, especially during peak seasons. By planning ahead, golfers can book tee times well in advance, guaranteeing their spot on the course and avoiding disappointments due to fully booked schedules.
Packing the Right Gear: Golfers depend on their equipment to perform at their best on the course. Proper preparation involves creating a checklist of essential golfing gear, ensuring that nothing important is left behind. This helps golfers avoid the frustration of missing clubs or accessories during their travels.
Managing Travel Logistics: Golf travel often involves multiple destinations, accommodations, and transportation options. Adequate preparation enables golfers to plan their itinerary, make necessary reservations, and arrange transportation smoothly, eliminating last-minute rushes and uncertainties.
Adapting to Different Conditions: Different golf courses may present unique challenges based on the terrain, weather, and course layout. Preparing in advance allows golfers to understand these factors and adjust their game accordingly, leading to better performance and enjoyment.
Coping with Unexpected Situations: While traveling, unexpected situations can arise, such as flight delays, lost luggage, or unforeseen weather conditions. Proper preparation involves having contingency plans and being mentally ready to handle such occurrences, reducing stress and allowing for quicker solutions.
Respecting Local Golf Cultures: Golfing in a new country or region means encountering different golfing etiquettes and customs. Proper preparation involves researching and respecting these local golfing traditions, promoting cultural awareness and ensuring a harmonious golfing experience.
Making the Most of Leisure Time: Golf travel often includes leisure time between rounds. With careful planning, golfers can explore and enjoy the attractions and activities available in the destination, making their trip a well-rounded and fulfilling experience.
Our Top Travel Tips for Golfers on the Road
Flying with Golf Clubs
It's the age-old question; 'how exactly do I fly with golf clubs?' While bringing your golf clubs with you on the plane is generally not quite as straightforward as, well, traveling without them, it's not as big of a deal as you might think.
One thing you'll want to make sure to do is have a proper travel bag to transport your golf clubs in. These are usually well padded and protect your clubs from getting scuffed or damaged in transport.
A good travel bag for your golf clubs will generally also be comfortable to carry and transport; this is a big help if you'll be needing to walk long distances with it, for example.
You'll also want to keep in mind that some airlines will allow you to bring your golf clubs into the cabin with you as carry-on luggage, while others won't. Make sure to check any relevant rules or policies that the airline you'll be booking with may have before you confirm your reservation. That way, there won't be any surprises or hidden fees for you when you turn up at the airport.
Transporting Golf Clothes
One of the important things about golf clothes (other than golf shoes, of course) is that they're generally lightweight and easy to transport. Still, if you're planning on stepping straight off the plane and onto the green, then you'll want to do what you can to keep them as free of creases as possible.
Look into investing in a bag or other form of luggage that is large enough that it'll allow you to keep your clothes neatly folded within. A hard-shelled suitcase is a great option for this; its exterior will hold its form even when other bags or items are on top of it, so your clothes won't get crushed by accident.
Things to Keep in Mind When Choosing Accommodation
There are plenty of criteria to keep in mind when trying to find the perfect hotel room. With that being said, as a golfer, your priorities may be slightly different to someone else's; say, a family going on vacation.
For one thing, you'll likely want to make sure that your hotel or apartment is within proximity to the golf course or courses that you're planning to visit; unless, of course, you won't be making playing as much golf as possible your main priority while you're on holiday.
Depending on the destination you're visiting, you may find that the golf course itself has accommodation (or, rather, that your accommodation has its own golf course). This can be an incredibly convenient way of getting as much time on the green in as possible during your stay.
With, not everybody wants to live and breathe golf, even while they're on vacation. Do keep this in mind when considering where you want to stay during your trip; are you a hardcore golf fanatic, or do you think you'll benefit more from having some balance in terms of what you get up to each day while you're away?
Beyond that, you'll want to look at the amenities on offer at the accommodation of your choosing. Is there, for instance, a restaurant, gym, or spa? Is this something that matters to you? Naturally, there are no real right or wrong answers here. You may even prefer accommodation that is more spartan; staying somewhere cheaper will, of course, mean that you can put more of your vacation budget into other things.
If you're planning on traveling with a considerable amount of golf gear, then you'll likely want to look at booking a bigger room (or perhaps your own self-serviced apartment) so that you have more space. Staying somewhere that offers guests the option to do their laundry is also often a wise choice; you don't want to have to wear the same two golf shirts for a week's running!
Choosing the Right Destinations
When it comes to embarking on a golfing adventure, choosing the right destination can elevate your experience from ordinary to extraordinary. Researching golf-friendly destinations, considering various factors, and exploring the best golfing hotspots around the world are all essential steps to ensure an unforgettable golf travel journey. So, let's delve into the art of selecting the perfect golf destination with enthusiasm and precision.
Researching Golf-Friendly Destinations
Before packing your clubs and hitting the airport, conducting thorough research on potential golf-friendly destinations sets the stage for an exceptional trip. The Internet becomes your ally, as you explore travel blogs, golf forums, and specialized websites, seeking insights from avid golfers who have already ventured to these locations.
You'll discover hidden gems and well-known golfing havens, each offering a unique blend of challenges and natural beauty. Pay attention to reviews from fellow golf enthusiasts, as they often reveal crucial details about course conditions, hospitality, and overall golfing experience.
Factors to Consider when Selecting a Golf Travel Location
Selecting the ideal golf travel location requires careful evaluation of multiple factors. Consider your skill level and that of your fellow golfers, as some courses cater to beginners, while others offer championship-level challenges. It include looking into the number of courses available within a particular area, providing options for diverse playing experiences.
Climate plays a vital role too, as it directly affects your tee-off plans. While some golfers thrive in sunny and warm weather, others might prefer cooler temperatures. Researching the seasonal patterns in your chosen destination helps you schedule your trip during the most pleasant golfing months.
Accessibility is another crucial aspect to ponder. Selecting a location with convenient flight connections and hassle-free transportation to the courses ensures that your travel time is minimized, leaving more room for swinging clubs and enjoying the scenery.
Top Golf Destinations Around the World
Now, let's embark on a virtual tour of some of the world's top golf destinations that have left avid golfers awestruck and coming back for more:
St. Andrews, Scotland: The iconic birthplace of golf, St. Andrews boasts legendary courses like the Old Course, providing a historic and challenging experience amidst stunning coastal views.
Pebble Beach, California, USA: This West Coast gem offers picturesque cliffs, oceanfront fairways, and the world-famous Pebble Beach Golf Links, a must-play course for any golf enthusiast.
Cape Town, South Africa: Golfing against the backdrop of Table Mountain and the Atlantic Ocean is a dream come true for golfers seeking a blend of natural wonders and thrilling courses.
Bali, Indonesia: Beyond its sandy beaches, Bali is home to remarkable golf courses like the New Kuta Golf and Bali National Golf Club, set amidst lush landscapes and cultural richness.
Dubai, United Arab Emirates: A symbol of opulence, Dubai's golf courses, such as the Emirates Golf Club, offer a surreal experience with modern design and luxurious amenities.
Queenstown, New Zealand: This scenic paradise houses golf courses like Jack's Point and Millbrook, where players can immerse themselves in New Zealand's breathtaking beauty.
Swing at the Equator, Uganda: The only golf course to straddle the equator, this unique destination offers a remarkable golfing experience in a truly one-of-a-kind setting.
Remember, choosing the right golfing destination is the first stroke towards an exceptional golf travel journey. By meticulously researching, considering essential factors, and exploring the world's top golfing havens, you'll pave the way for unforgettable memories and a hole-in-one travel experience!
Packing for a Golf Trip
Embarking on a golf trip is a thrilling experience that demands proper preparation and thoughtful packing. As you gear up for an extraordinary journey on the greens, creating a comprehensive checklist, deciding on the right golf clubs and equipment, and organizing must-have items in your travel bag are all crucial steps to ensure a smooth and enjoyable golfing adventure. Let's dive into the art of packing for a golf trip with cheerfulness and expertise!
Creating a Checklist for Golf Travel Essentials
Before you zip up your travel bag, it's essential to create a checklist of golf travel essentials that will guarantee a stress-free golfing experience. Start with the basics: golf apparel, including comfortable shirts, pants, and a wide-brimmed hat to shield you from the sun's rays. Don't forget to pack a lightweight, waterproof jacket, as weather conditions can be unpredictable on the course.
Next on the list are your golf shoes. Invest in a sturdy and comfortable pair that offers excellent traction, providing stability during swings and walks on uneven terrain. For optimal performance, carry an extra set of soft spikes in case the ones on your shoes wear out.
To keep yourself hydrated and energized throughout your game, bring a water bottle and some healthy snacks. Nuts, energy bars, and fruits are great choices to maintain your focus and energy levels on the fairways.
Golf Clubs and Equipment: What to Bring and What to Leave Behind
When it comes to packing your golf clubs and equipment, a balance between necessity and practicality is key. Start by considering the length of your trip and the golf courses you'll be playing. Bringing a full set of clubs might be ideal for longer vacations, but for shorter trips, consider a half set or a versatile combination of clubs to reduce weight and bulk.
While you might be tempted to bring all your golfing gadgets, limit yourself to the essentials. A golf rangefinder can prove invaluable for measuring distances accurately, while a divot repair tool and a ball marker are indispensable for maintaining the course's pristine condition and keeping track of your ball.
If you're traveling by air, protect your clubs with a durable and padded travel bag. Some golfers also prefer using a club glove for added cushioning during transit. Remember to attach a luggage tag to your golf bag with your contact information, making it easier to retrieve in case of misplacement.
Must-Have Items for the Golfer's Travel Bag
A well-organized golfer's travel bag ensures easy access to essential items during your rounds. Keep your golf tees, balls, and ball markers in separate compartments for convenience. Pack a small umbrella in case of unexpected showers, and don't forget to include some sunscreen to protect your skin from prolonged sun exposure.
To keep yourself comfortable and prepared on the course, carry a towel to wipe away dirt and moisture, and a glove or two for a better grip during swings. Include a first-aid kit with basic essentials like adhesive bandages, antiseptic wipes, and pain relievers to address minor injuries and discomforts.
Lastly, remember to pack your golf scorecard and a pencil, allowing you to keep track of your scores and cherish the memories of each round.
Tips for packing golf clubs securely for travel:
Your golf clubs are the heart and soul of your game, so it's crucial to pack them safely. First and foremost, invest in a high-quality golf travel case. Look for a hard-shell case with secure locks to protect your clubs from any potential mishaps during transit. Before packing, clean your clubs thoroughly and remove any loose dirt or debris. To safeguard the clubheads, consider using headcovers or padded socks for extra protection. Position the clubs in the bag carefully, making sure they are snug but not overly tight.
Recommendations for choosing suitable travel golf bags:
Golf travel bags come in various styles, and selecting the right one depends on your preferences and travel needs. Consider a soft-sided bag if you're looking for a lightweight option that provides flexibility for storage. However, for ultimate protection, a hard-shell golf travel case is unbeatable. Some bags even come with extra compartments for accessories and clothing, ensuring you have everything you need in one organized package.
What clothing and accessories golfers should pack for various weather conditions:
When packing your golf attire, consider the climate of your destination. For warm weather, opt for breathable and moisture-wicking fabrics that keep you cool and comfortable. Polo shirts, lightweight shorts, and a wide-brimmed hat for sun protection are must-haves. On the other hand, for cooler climates, pack layers such as long-sleeve shirts, vests, and a windproof jacket to stay warm without sacrificing mobility.
Any special items like golf shoes, gloves, hats, etc:
Don't forget your golf-specific accessories! Golf shoes with proper grip and support are essential for maintaining stability during your swings. Pack extra golf gloves to ensure you have a dry pair for every round. Sunscreen and sunglasses are vital for sun protection, and a visor or cap will shield your eyes from the glare. Additionally, bring a towel to wipe your equipment and a reusable water bottle to stay hydrated on the course.
Travel-Friendly Golf Gadgets and Gear
Embrace the advancements in golf technology to enhance your gameplay while traveling. Consider investing in a rangefinder to accurately measure distances to the flag or hazards. A swing analyzer can provide valuable insights into your swing mechanics, helping you make adjustments on the go. These compact and user-friendly gadgets can significantly impact your performance on unfamiliar courses.
When it comes to portable gear, think convenience and efficiency. Collapsible ball retrievers are excellent space-savers, helping you retrieve your balls from water hazards without the bulk. A lightweight and foldable golf push cart can be a game-changer, providing ease of movement on the course. For a quick practice session in your hotel room, consider a portable putting mat to keep your stroke sharp.
Booking Golf Tee Times and Packages
As an avid golfer with a passion for exploring new courses, securing tee times at top golf destinations is an essential aspect of planning your golfing adventure. Understanding how to book tee times effectively, the advantages of opting for golf packages, and being aware of common booking pitfalls can make all the difference in ensuring a seamless and enjoyable golf travel experience.
How to Secure Tee Times at Top Golf Courses?
Booking tee times at renowned golf courses requires careful planning and timely action. Traveling as golfers begin with researching the golf courses you wish to play and understanding their booking policies. Many popular courses offer tee times that fill up quickly, especially during peak seasons, so it's crucial to book well in advance.
One effective strategy is to call the golf course directly. Speaking to the staff allows you to inquire about available tee times and any special offers or packages they might have. Additionally, some courses have online booking systems that offer convenience and instant confirmation.
Flexibility in your tee time preferences can also be advantageous. Consider playing during off-peak hours or on weekdays when the course is less crowded, increasing your chances of securing a preferred tee time.
The Benefits of Booking Golf Packages for Travel
Booking golf packages for your travel comes with a myriad of benefits that elevate your golfing journey to a whole new level. Golf packages typically combine accommodation, tee times, and sometimes even other perks like golf lessons or spa treatments.
One of the significant advantages of golf packages is the cost-saving potential. Bundling accommodation and tee times often results in discounted rates, allowing you to get more value for your money. Furthermore, packages eliminate the hassle of separately booking various components of your trip, saving you time and effort.
Golf packages can also grant access to exclusive courses and events. Some packages include rounds at prestigious courses that might otherwise be challenging to secure tee times for, providing you with extraordinary golfing opportunities.
Additionally, booking a golf package offers peace of mind and a stress-free experience. By entrusting the planning to professionals who specialize in golf travel, you can focus solely on enjoying your rounds and making the most of your time on the greens.
Avoiding Common Booking Pitfalls
While planning your golf trip, it's essential to be aware of common booking pitfalls that can hinder your golfing adventure. One common mistake is procrastination. Waiting too long to book tee times or packages may result in limited availability and missed opportunities to play at desired courses.
Another pitfall is overlooking the fine print of the booking terms. Ensure you understand cancellation policies, refund procedures, and any additional fees that might apply to your reservation. Being well-informed helps you navigate potential challenges and adjust your plans accordingly.
Lastly, beware of unauthorized third-party booking agents. Booking through reputable and official channels, such as the golf course's website or authorized travel agencies, ensures that you receive accurate information and reliable customer service.
Golf-Friendly Accommodation
From hotels and resorts with golf amenities to the rise of golf-centric accommodations, the options are diverse and cater to the needs of golf enthusiasts.
Selecting Hotels and Resorts with Golf Amenities
When planning your golfing getaway, consider staying at hotels and resorts that offer golf amenities as part of their package. Many golf-friendly accommodations are strategically located near renowned golf courses, providing easy access to the greens and saving valuable travel time.
Golf amenities may include complimentary shuttle services to nearby golf courses, making it hassle-free to reach your tee times promptly. Some accommodations also offer exclusive deals on golf packages, bundling accommodation and tee times at nearby courses, which can result in significant cost savings.
Furthermore, these golf-friendly hotels and resorts often have specialized services to cater to golfers' needs. From secure storage for golf clubs to dedicated concierge assistance for booking tee times and arranging golf-related activities, they aim to elevate your golfing experience to new heights.
The Rise of Golf-Centric Accommodations
In recent years, there has been a notable rise in golf-centric accommodations, designed explicitly with golf enthusiasts in mind. These establishments go above and beyond in catering to golfers' preferences, creating a haven where golf is not just a sport but a way of life.
Golf-centric accommodations are often set within or near expansive golf courses, offering breathtaking views of the greens and fairways from the comfort of your room. Many feature private balconies or patios where you can soak in the serene ambiance of the golf course.
At these accommodations, golf is not merely an activity but a central theme integrated into the overall experience. Decorative elements celebrate the sport, and common areas are adorned with golf memorabilia and art, further immersing guests in the golfing culture.
Special Considerations for Luxury Golf Resorts
For golfers seeking the pinnacle of indulgence during their golf travel, luxury golf resorts are a compelling choice. These exclusive retreats cater to discerning travelers, providing world-class amenities and services that extend beyond the golf course.
In addition to top-tier golf courses, luxury golf resorts offer a plethora of recreational activities, including spa treatments, fine dining experiences, and exclusive access to leisure facilities. The surrounding landscapes are often meticulously landscaped, creating an idyllic atmosphere for relaxation and enjoyment.
Personalized service is a hallmark of luxury golf resorts, with attentive staff catering to guests' every need, including customized golf itineraries and concierge assistance for off-course excursions.
Furthermore, these resorts may offer special golf packages that include complimentary golf lessons with professionals, allowing guests to refine their skills and elevate their game.
As golfers set their sights on new and exciting golf destinations, navigating transportation becomes a critical aspect of planning a seamless golf travel experience. Understanding the pros and cons of flying versus driving to golf destinations, learning how to travel with golf clubs safely and hassle-free, and exploring alternative transportation options can make all the difference in ensuring your golfing journey is nothing short of extraordinary. Let's dive into the art of transportation for golf travel with enthusiasm and expertise.
The Pros and Cons of Flying vs. Driving to Golf Destinations
When it comes to reaching your desired golfing destination, you may find yourself weighing the pros and cons of flying versus driving. Flying offers speed and efficiency, allowing you to cover vast distances in a fraction of the time. It is particularly advantageous when traveling long distances to international golf courses or across states to renowned golf resorts.
Moreover, flying enables you to explore far-flung golf destinations that may not be easily accessible by road. With numerous airlines offering golf club transportation services, you can trust that your precious golf clubs will arrive at your destination safely.
However, flying also has its drawbacks. Checking in golf bags can incur additional fees, and strict baggage restrictions may limit the number of clubs and equipment you can bring. Moreover, the risk of baggage mishandling and potential damage to your golf clubs during transit can be a concern for some golfers.
On the other hand, driving offers a sense of freedom and flexibility. You can pack all your golf equipment without worrying about baggage limits, and you can explore multiple golf courses within the vicinity of your driving route. Additionally, road trips can be an enjoyable part of the golf travel experience, providing opportunities to discover hidden gems along the way.
However, driving may be time-consuming, especially for long distances. Additionally, it may not be practical for international golf travel, and some golfers may prefer to avoid the physical strain of driving for extended periods.
Traveling with Golf Clubs: Tips for Safe and Hassle-Free Transit
For golfers opting to fly to their golfing destination, ensuring safe and hassle-free transit for their golf clubs is of utmost importance. Golf Travelling includes using a quality travel bag specifically designed for golf clubs. Padded travel bags with reinforced handles and sturdy wheels offer optimal protection and ease of transport.
Before heading to the airport, it's essential to securely pack your golf clubs to minimize any movement within the bag during transit. Wrapping the clubheads with protective covers and inserting socks or towels between the clubs can prevent scratches and damage.
Furthermore, weigh your golf bag in advance to ensure it meets the airline's baggage weight restrictions. Being aware of any additional fees for checking in golf bags allows you to budget accordingly.
To safeguard your golf clubs from potential loss, label your travel bag with your contact information and consider adding a GPS tracking device for added peace of mind.
The option of shipping golf clubs separately
Shipping your golf clubs separately can offer a convenient alternative to carrying them on flights. Several companies specialize in golf club shipping services, allowing you to send your clubs directly to your destination in advance. This option can be especially beneficial if you have multiple layovers or connecting flights, reducing the hassle of lugging your clubs through busy airports.
Advantages and disadvantages of shipping versus carrying clubs
Both carrying your golf clubs on flights and shipping them separately have their pros and cons. Carrying clubs on flights provides the advantage of having them with you at all times, eliminating any worries about potential delays or misplacements. On the other hand, shipping clubs can save you from additional baggage fees and potential damage during airline handling. However, it may require careful planning to ensure your clubs arrive on time at your destination.
Exploring Alternative Transportation Options for Golfers
While flying and driving are the most common transportation choices for golf travel, there are alternative options worth exploring. For shorter distances, train travel can be a comfortable and scenic way to reach golf destinations, offering ample space for golf clubs and equipment.
For golfers looking to immerse themselves in a unique golfing experience, consider cruise ship travel to golf destinations. Many cruise lines offer golf-themed excursions, taking you to picturesque courses in various ports of call.
Additionally, some golf resorts and golf-centric accommodations provide shuttle services to nearby golf courses, eliminating the need for separate transportation arrangements.
Golfing enthusiasts know that the joy of teeing off at new courses comes with the challenge of navigating airport and transportation logistics. As you embark on your golfing adventure, it's essential to plan your transportation from the airport to the golf courses with ease. Moreover, ensuring the safe transportation of your valuable golf gear to the hotel and the course is of utmost importance.
Getting to Golf Courses from Airports
Options for transportation from the airport to golf courses
When you land at your destination, several transportation options are available to take you to the golf courses. Consider booking a taxi or hiring a private car service for a convenient and direct journey. Many golf resorts offer airport shuttle services, which can be a hassle-free choice. Additionally, some airports have rental car facilities, allowing you to drive to your golf courses at your own pace.
Public transportation, rental cars, or rideshare services
If you prefer a budget-friendly option, public transportation might be worth considering. Some cities have efficient public transit systems that connect airports to nearby golf courses. However, keep in mind that it may involve multiple transfers and longer travel times. Renting a car can provide you with flexibility and convenience, especially if you plan to explore multiple golf courses during your trip. Alternatively, rideshare services like Uber or Lyft offer door-to-door transportation, providing a stress-free journey.
Transporting Golf Gear to the Hotel and Course
Tips for handling golf equipment during airport transfers and hotel stays
Safeguarding your golf gear during airport transfers and hotel stays is crucial to maintaining the integrity of your clubs. When checking in at the airport, inform the airline staff that your luggage contains golf clubs to ensure they handle it with care. Consider wrapping a towel or a clothing item around your clubheads for extra cushioning. At the hotel, store your golf bag in a cool and dry area, away from direct sunlight or extreme temperatures.
Ensuring safe transportation of gear to the golf course
As you head to the golf course, ensure the safe transportation of your gear by securing your golf bag properly. Use the bag's built-in straps or add extra straps if necessary to prevent your clubs from shifting during travel. If you're using public transportation or a rideshare service, be mindful of where you place your golf bag to avoid any potential damage. Once at the course, handle your gear with care and respect the facilities by following any specific guidelines for bag storage.
Ensuring Smooth Airport Experiences
Packing Golf Clubs for Air Travel
Packing your beloved golf clubs for air travel requires care and attention to detail. You need to use a high-quality golf travel bag designed to protect your clubs during transit. Sturdy, padded travel bags with reinforced handles and smooth-rolling wheels offer optimal durability and ease of handling.
Before placing your golf clubs in the travel bag, ensure they are clean and dry to prevent any potential damage. Consider adding extra protection to the clubheads, either by wrapping them with soft cloth or using headcovers, to prevent scratches and dings during the journey.
To utilize the space in your golf travel bag efficiently, consider inserting soft items, such as towels or clothing, between the clubs to minimize movement. This prevents any potential rattling or friction between the clubs that could cause wear or damage.
Lastly, check the weight of your golf travel bag to comply with airline baggage restrictions. Being mindful of additional fees for checking in golf clubs allows you to budget accordingly.
Airport security can be a concern for golfers carrying sports equipment like golf clubs. To ensure a smooth and efficient passage through security checkpoints, communication is key. Inform security personnel that you are traveling with golf clubs and request guidance on how to proceed.
Golf clubs are generally allowed as checked baggage, but it's essential to adhere to security guidelines. Security officers may inspect your golf travel bag manually or use x-ray screening to examine the contents.
To minimize potential delays, keep your golf bag organized and easily accessible. Ensure there are no prohibited items or liquids in your bag, as they may raise security concerns.
For added convenience, some airports provide designated areas for sports equipment screening. Be on the lookout for signs indicating golf bag inspection points to streamline the process.
Overcoming Potential Airport Travel Challenges
Despite careful preparation, unexpected challenges may arise during airport travel. Weather conditions, flight delays, and baggage mishandling are some common hurdles that golfers may encounter.
To overcome these challenges, it's essential to stay informed. Keep track of flight updates and any potential changes to your travel itinerary. Having a contingency plan in place, such as pre-booking an alternative flight or arranging for transportation to a nearby golf course in case of delays, can be beneficial.
In the event of baggage mishandling or loss, promptly report the issue to the airline's customer service. Make sure to have identification tags with your contact information on your golf travel bag to aid in its recovery.
Maintaining a positive attitude and being adaptable can go a long way in overcoming travel challenges. Remember that hiccups are part of the journey, and with a cheerful outlook, you can still make the most of your golf travel experience.
Planning Itinerary for Golf Travel
To make the most of your golfing journey, thoughtful planning of your itinerary is essential. Balancing golfing time with leisure activities, creating a flexible schedule for unpredictable weather, and organizing group golf trips with finesse can lead to an unforgettable and well-rounded golf travel experience.
Balancing Golfing Time with Leisure Activities
While golf is the primary focus of your travel, incorporating leisure activities into your itinerary ensures a well-rounded and enjoyable experience. Consider exploring the local attractions, cultural hotspots, and natural wonders of the destination you're visiting. From sightseeing tours and museum visits to culinary experiences and beach relaxation, these activities provide an opportunity to immerse yourself in the essence of the location beyond the golf course.
You need to research the destination's offerings in advance to identify leisure activities that align with your interests. Balancing golfing time with leisure allows you to create cherished memories and form a deeper connection with the destination.
Creating a Flexible Schedule for Unpredictable Weather
Mother Nature may occasionally present unexpected weather conditions during your golf travel. Preparing for such situations by creating a flexible schedule is a smart approach.
When planning your golf rounds, consider the optimal time of day for playing. Early morning tee times may offer cooler temperatures and less crowded courses, while late afternoon rounds can provide breathtaking sunset views. This flexibility enables you to adapt your schedule according to weather forecasts.
Additionally, have a backup plan for indoor or covered golfing options in case of inclement weather. Some destinations offer indoor golf simulators, driving ranges, or golf academies that allow you to practice and improve your skills despite the weather.
Tips for Organizing Group Golf Trips
Group golf trips can be incredibly enjoyable, fostering camaraderie and shared experiences among golfing buddies. To ensure a smooth and memorable group golf travel, efficient organization is key.
Start by appointing a group leader responsible for coordinating the trip details, including accommodation bookings, tee time reservations, and transportation arrangements. Effective communication among group members is essential to keep everyone informed about the trip itinerary and any changes that may arise.
When selecting golf courses, consider the skill levels and preferences of all group members. Opt for courses that offer varying levels of difficulty to accommodate everyone's playing abilities.
To add an element of friendly competition, organize a group tournament or friendly matches during the trip. It can be a fun way to keep the group engaged and motivated throughout the golf travel.
Read: Packing for a golf camp
Staying Healthy and Fit on the Road
Maintaining your health and fitness is essential for enjoying an extraordinary golf travel experience. Whether you're exploring new courses or revisiting favorite greens, incorporating fitness routines, prioritizing proper hydration and nutrition, and preventing common golf-related injuries are key aspects of staying healthy and fit on the road. Let's delve into the art of taking care of your well-being during golf travel with enthusiasm and expertise.
Incorporating Fitness Routines During Golf Travel
Golf travel offers an excellent opportunity to explore new surroundings and stay active. You need to incorporate fitness routines into your itinerary. Take advantage of the hotel or resort's fitness facilities to engage in cardiovascular exercises, strength training, and flexibility exercises.
Before hitting the golf course, perform a warm-up routine to prepare your body for the physical demands of golfing. Simple stretches and light exercises can enhance your flexibility and prevent injuries during your rounds.
Additionally, consider exploring the local area by walking or biking. Whether it's a leisurely stroll on the beach or a scenic bike ride, these activities contribute to your overall fitness while allowing you to experience the destination from a unique perspective.
The Importance of Proper Hydration and Nutrition for Golfers
Proper hydration and nutrition play a vital role in optimizing your performance on the golf course and ensuring overall well-being during your travels. Staying hydrated is crucial, especially when playing in warm or humid climates. Carry a refillable water bottle and drink regularly throughout your rounds to maintain optimal hydration levels.
When it comes to nutrition, opt for nutrient-rich meals that provide sustained energy. Prioritize a balanced diet that includes a variety of fruits, vegetables, lean proteins, and whole grains. Avoid heavy, greasy meals that can leave you feeling sluggish on the course.
Pack healthy snacks in your golf bag to keep your energy levels up between rounds. Nuts, trail mix, and energy bars are convenient options for quick nourishment during your golf travel.
Preventing Common Golf-Related Injuries While Traveling
To ensure an injury-free golf travel experience, it's essential to take preventive measures against common golf-related injuries. One of the most common areas of concern for golfers is the back. To protect your back, practice proper posture during your swings and avoid overexertion.
Golfers are also prone to shoulder injuries due to the repetitive motion of swinging. Engaging in shoulder-strengthening exercises and incorporating shoulder stretches into your fitness routine can help prevent these injuries.
Furthermore, the wrists and elbows are susceptible to strains and overuse injuries. Wearing proper wrist and elbow supports, using correct swing mechanics, and allowing adequate rest between rounds can help reduce the risk of these injuries.
Remember to listen to your body and pace yourself during your golf travel. Avoid excessive practice or play if you feel fatigued or experience discomfort. Taking breaks and engaging in light stretching can help prevent strain and improve your overall golf performance.
Golf Stretches and Exercises
Essential stretches and exercises to prepare for golfing
Before hitting the fairways, it's essential to warm up your muscles and joints with targeted stretches and exercises. Dynamic stretches, such as arm circles and leg swings, can help increase blood flow and improve flexibility. Focus on exercises that engage your core, such as planks and rotational exercises, to enhance your golf swing's stability and power. Additionally, incorporate hip-opening stretches and shoulder mobility exercises to improve your range of motion.
Tips for preventing injuries during travel and play
Golfing trips often involve long flights and extended periods of play, which can put strain on your body. To prevent injuries, take breaks during travel to stretch and move around, reducing stiffness. During play, listen to your body and avoid overexertion. If you feel any discomfort or pain, rest and seek proper medical attention if needed. Pay attention to your posture and ensure proper body mechanics during your swing to reduce the risk of repetitive strain injuries.
Healthy Eating Habits for Golfers
Nutrition tips for golfers on the road
Proper nutrition plays a vital role in fueling your body for optimal performance on the golf course. Start your day with a nutritious breakfast that includes a balance of protein, carbohydrates, and healthy fats. Consider packing healthy snacks, such as nuts, fruits, or energy bars, to keep your energy levels steady during play. Stay hydrated by drinking plenty of water throughout the day, especially in warm weather. Avoid excessive caffeine and opt for herbal teas or natural electrolyte drinks instead.
Best foods to eat before, during, and after a round of golf
Before heading to the course, consume a meal rich in complex carbohydrates, lean proteins, and vegetables to provide lasting energy. During play, snack on easily digestible foods like bananas or trail mix to keep hunger at bay without feeling heavy. After a round of golf, refuel with a balanced meal that includes protein for muscle recovery and carbohydrates to replenish glycogen stores. Incorporate leafy greens and antioxidant-rich foods to support your body's recovery process.
Adapting to Different Golf Courses and Climates
As golfers embark on their golf travel adventures, they encounter the excitement of playing on different courses and navigating diverse weather conditions. Adapting to unfamiliar golf courses, preparing for varying weather conditions, and adjusting your game for different terrains are essential skills that elevate your golf travel experience.
Strategies for Playing on Unfamiliar Golf Courses
Playing on unfamiliar golf courses requires a strategic approach to navigate the challenges and maximize your performance. You should arrive early to the course to allow time for a practice round. Familiarize yourself with the layout, hazards, and greens to gain insights into the course's unique characteristics.
Utilize the course's yardage markers and GPS systems to gauge distances accurately. This helps you make informed club selections and adapt to the course's specific yardages.
Consider seeking advice from local golfers or the course's staff. They may offer valuable tips and insights that can help you strategize and make smart decisions during your rounds.
Lastly, embrace a positive mindset and approach each shot with confidence. Playing on unfamiliar courses can be challenging, but maintaining a cheerful outlook allows you to enjoy the experience and adapt more effectively.
Preparing for Diverse Weather Conditions
Golf travel often exposes players to a range of weather conditions, from scorching heat to chilly winds and occasional rain. Preparing for diverse weather conditions is crucial for ensuring comfort and maintaining peak performance on the course.
For hot and sunny weather, prioritize sun protection. Wear lightweight, breathable clothing with UPF (Ultraviolet Protection Factor) and don a wide-brimmed hat and sunglasses. Apply sunscreen generously to shield your skin from harmful UV rays.
In cooler weather, dress in layers to regulate body temperature effectively. Start with a moisture-wicking base layer, add a light mid-layer, and top it off with a wind-resistant or waterproof outer layer. This allows you to add or remove clothing as needed to stay comfortable.
When facing rain, ensure your golf bag is equipped with a rain cover or a waterproof bag to protect your clubs and equipment. Carry a compact umbrella to shield yourself during brief showers.
How to Adjust Your Game for Varying Terrains
Golf travel introduces golfers to an array of terrains, from lush fairways to undulating landscapes and seaside links. Adapting your game to varying terrains requires versatility and the ability to make necessary adjustments.
On hilly or undulating terrains, consider your club selection carefully. Uphill shots generally require more club than usual, while downhill shots may call for less. Adjusting your swing to accommodate the slopes helps ensure better accuracy.
Seaside links courses often feature strong coastal winds, requiring golfers to modify their approach. Play a more controlled and lower ball flight to reduce the impact of the wind on your shots. Additionally, account for wind direction and aim accordingly to maintain accuracy.
When playing on tight and tree-lined courses, opt for more accurate shots and strategic club choices. Emphasize positioning your shots to avoid hazards and challenging rough.
Exploring Local Golf Culture
Embracing Golf Traditions in Different Regions
One of the most rewarding aspects of golf travel is experiencing and embracing the unique golf traditions of each region. Golf is deeply rooted in tradition, and various regions have their own customs and practices that reflect their golf culture.
When traveling to Scotland, the birthplace of golf, consider teeing off at a traditional links course that offers a challenging seaside golf experience. Embrace the local dress code and don a traditional golf cap or "tam o'shanter" to truly immerse yourself in Scottish golf culture.
In Japan, golf is often accompanied by the beautiful art of Sado, or Japanese tea ceremony. After a round of golf, partake in a serene tea ceremony, which is not only a tradition but also a way to unwind and reflect on your game.
Engaging with Local Golf Communities and Clubs
To fully experience the golf culture of a particular destination, engage with local golf communities and clubs. Many golf clubs around the world welcome visiting golfers with open arms, providing an opportunity to play alongside local players and forge new friendships.
Participate in golf tournaments organized by local clubs to experience the camaraderie and competitive spirit that unite golfers from different backgrounds.
Attending golf events or exhibitions is another fantastic way to connect with the local golf community. These events often feature professionals and aspiring golfers, allowing you to witness the talent and dedication that define the local golf scene.
Tips for Learning from Golf Pros in Foreign Countries
For golfers seeking to elevate their skills and gain insights into different playing techniques, learning from golf pros in foreign countries can be a transformative experience.
Many golf destinations boast world-class golf academies and training facilities with renowned golf professionals. Enroll in a golf clinic or private lessons with a local pro to refine your swing and receive personalized guidance.
Additionally, some golf resorts offer exclusive golf packages that include instruction from resident golf pros. This enables you to not only enjoy luxurious accommodation but also receive top-notch coaching during your stay.
Learning from golf pros abroad also provides an opportunity to learn about the philosophy of golf in different cultures. Each pro may have their unique teaching style and approach to the game, enriching your understanding of golf on a global scale.
Capturing Memorable Golf Travel Moments
Utilizing Photography and Videos to Document Your Golf Journey
Photography and videos are powerful tools to immortalize your golf travel experiences. Whether it's a stunning landscape surrounding the fairways or the exhilaration of a perfect swing, capturing these moments through visual media ensures lasting memories.
Carry a high-quality camera or smartphone with a good camera feature to capture the beauty of the golf courses you visit. Experiment with different angles and lighting conditions to get the perfect shot that reflects the essence of each course.
Record videos of your golf swings during practice or rounds to analyze your game and track your progress. Watching these videos later can offer valuable insights and help you identify areas for improvement.
Creating a Golf Travel Journal for Lasting Memories
Keeping a golf travel journal is a delightful way to preserve your experiences and emotions during your golf journeys. Write about the courses you play, the people you meet, and the memorable moments that unfold.
In your journal, include details about the unique features of each course, such as signature holes, challenging hazards, and spectacular views. Describe the feelings and thoughts you had while playing, capturing the essence of each golfing experience.
Add personal touches to your journal by including mementos from each course, such as scorecards, course maps, and ticket stubs. These tangible items enhance the sentimental value of your travel journal.
Sharing Experiences on Social Media and Golf Forums
Social media and golf forums provide a platform to share your golf travel experiences with a wider community of golf enthusiasts. Share your stunning golf course photos, videos of your best shots, and stories from your journey.
Join golf-related groups and forums to engage with like-minded individuals and exchange travel tips and recommendations. These communities offer a space to connect with fellow golfers who share a passion for golf travel.
When sharing your experiences, don't forget to include the hashtags of the golf courses and destinations you visit. This allows others interested in those locations to discover your content easily.
Understanding Golf Course Etiquette Worldwide
As golfers embark on their golf travel adventures around the world, it is essential to understand and respect the golf course etiquette of different regions. Each country has its own customs and rules governing golf behavior, and proper adherence to these etiquettes enhances the golfing experience and fosters mutual respect among players.
Respecting Local Customs and Rules on Golf Courses
When playing on international golf courses, it is vital to familiarize yourself with the local customs and rules that govern golfing behavior. Respect the established golf traditions of the region and adhere to the dress code specific to each course.
In some countries, removing your hat or cap before entering the clubhouse is a sign of respect. In others, certain colors of clothing may be considered inappropriate on the course.
Additionally, always repair your divots and ball marks on the greens to maintain the course's pristine condition. Keeping the course in excellent shape not only shows respect for the golfing environment but also helps other players have an enjoyable experience.
Proper Behavior During International Golf Tournaments
When participating in international golf tournaments, proper behavior is of utmost importance. These events draw players from various countries, and demonstrating good sportsmanship and respect is essential.
Adhere to the tournament's rules and regulations, as they may differ from what you are accustomed to. Familiarize yourself with the pace of play expected during the tournament, and be mindful of time to keep the event running smoothly.
Respect your fellow competitors by maintaining silence and focus during their shots. Avoid unnecessary distractions, and remember to congratulate and show respect to your playing partners after each round.
Adapting to Different Etiquettes in Golfing Cultures
Adapting to different golfing cultures is an exciting aspect of golf travel. Embrace the opportunity to experience and learn from various etiquettes and traditions during your golf journeys.
In Japan, for example, golfers engage in a ceremonial bow before teeing off as a sign of respect to the game and their fellow players. Participating in this custom is a wonderful way to immerse yourself in Japanese golfing culture.
In Scotland, the birthplace of golf, the "Spirit of the Game" is highly valued, emphasizing honesty and integrity. Familiarize yourself with this philosophy and carry it with you as you play on historic Scottish links courses.
Dealing with Language and Communication Challenges
Golf travel presents golfers with exciting opportunities to explore new courses and cultures around the world. However, one of the challenges that come with international golfing adventures is dealing with language and communication barriers. Learning common golfing terms in foreign languages, overcoming language barriers on the golf course, and utilizing translation apps and tools are essential strategies for effective communication during your golf travel.
Learning Common Golfing Terms in Foreign Languages
Before embarking on your golf travel, it's beneficial to familiarize yourself with common golfing terms in the language of the country you are visiting. Basic golfing phrases such as "tee," "fairway," "putt," and "bunker" are essential for effective communication on the course.
Learning how to count in the local language is helpful for keeping score and discussing distances with caddies or playing partners.
Consider carrying a golf phrasebook or utilizing language learning apps to enhance your knowledge of golf-specific vocabulary in foreign languages.
Overcoming Language Barriers on the Golf Course
Language barriers can sometimes create challenges during your rounds of golf, but there are several effective ways to overcome them.
Non-verbal communication plays a crucial role when language becomes a barrier. Utilize hand signals and gestures to convey your intentions to your playing partners or caddies.
Maintain a friendly and patient demeanor, as it can go a long way in bridging communication gaps. Smile, show appreciation, and remain open to non-verbal cues from others.
Engage in visual demonstrations to convey what you intend to do on the golf course. A simple demonstration of your swing or pointing to your intended target can help others understand your intentions.
Utilizing Translation Apps and Tools for Effective Communication
In this digital age, technology comes to the rescue when it comes to communication challenges during golf travel.
Download translation apps on your smartphone to facilitate real-time translation during conversations with locals or other golfers.
Voice translation tools are particularly useful for instantaneous communication, allowing you to speak into your device and have it translated into the local language.
Carry a pocket-sized dictionary or a translation card with essential golfing terms in the local language. This quick reference tool can be invaluable when you need to communicate on the golf course.
Handling Unexpected Situations and Emergencies
Golf travel is an adventure that brings joy and excitement, but it also comes with the possibility of encountering unexpected situations and emergencies. Being prepared for travel emergencies while on golf trips, dealing with lost or damaged golf equipment, and knowing how to find medical assistance in unfamiliar locations are essential skills that ensure a safe and enjoyable golfing experience.
Planning for Travel Emergencies While on Golf Trips
Preparation is the key to handling travel emergencies effectively. Before embarking on your golf travel, create a comprehensive travel emergency plan that includes important contact information and essential documents.
Make a list of emergency contacts, including local authorities, emergency medical services, and the nearest embassy or consulate of your home country.
Keep copies of your passport, travel insurance policy, and important medical information in a safe place. Consider storing electronic copies on a secure cloud service for easy access.
Dealing with Lost or Damaged Golf Equipment During Travel
Losing or damaging your golf equipment during travel can be a disheartening experience, but there are measures you can take to minimize the impact.
Invest in travel insurance that covers your golf equipment. This way, you can have peace of mind knowing that you are financially protected in case of loss, theft, or damage.
Carry your golf clubs as a carry-on item when flying to reduce the risk of them getting lost or mishandled by the airline.
How to Find Medical Assistance in Unfamiliar Locations
In case of a medical emergency during your golf travel, knowing how to find medical assistance in unfamiliar locations is crucial.
Before traveling, research the nearest medical facilities to your accommodations and golf courses. Familiarize yourself with the emergency contact number for medical services in the country you are visiting.
Carry a basic first-aid kit that includes bandages, pain relievers, antiseptic wipes, and other essential items for minor injuries.
Utilize translation apps or tools to communicate your medical needs clearly if there is a language barrier with medical professionals in the foreign country.
Maximizing Enjoyment During Non-Golfing Hours
While golf is the main attraction during your golfing trips, there's plenty to explore and enjoy beyond the fairways. Maximizing your non-golfing hours can add depth and richness to your travel experience. From visiting popular tourist spots to indulging in leisure activities for relaxation, this guide provides valuable insights on how to make the most of your time off the greens.
Exploring Local Attractions
Recommend popular tourist spots near golf destinations
Golf destinations often boast a wealth of captivating attractions waiting to be explored. If you find yourself near a coastal golf course, take some time to visit nearby beaches and enjoy the calming ocean breeze. For courses nestled in picturesque landscapes, venture into national parks or scenic viewpoints to immerse yourself in nature's beauty. Historical sites, museums, and local landmarks are also worth exploring to learn about the region's rich culture and heritage.
How to balance sightseeing and golfing during the trip
Balancing sightseeing with golfing requires careful planning and time management. Consider reserving specific days for sightseeing activities, allowing you to fully devote yourself to exploring without feeling rushed. Alternatively, you can opt for shorter golf rounds on certain days, leaving more time for sightseeing. Strike a balance that aligns with your interests and preferences, ensuring you savor both your golfing experience and the local attractions.
Leisure Activities for Relaxation
Leisure activities for golfers to unwind after playing
After an exhilarating round of golf, take some time to unwind and relax. Consider indulging in spa treatments to soothe your muscles and revitalize your body. A relaxing massage or a rejuvenating soak in hot springs can do wonders for your well-being. Engage in gentle exercises, such as yoga or tai chi, to improve flexibility and reduce tension. Taking a leisurely stroll through local markets or scenic trails can also be a delightful way to unwind.
Spa treatments, local experiences, etc.
Embrace the local culture and experiences by trying out traditional activities or local delicacies. Participate in cooking classes to learn the art of preparing regional dishes. Engage in cultural performances, such as dance shows or music concerts, to immerse yourself in the local arts. Embark on guided tours to gain insights into the area's history and traditions. Every destination offers unique experiences that can complement your golfing journey.
Socializing and Networking Opportunities
Joining Golfing Events and Tournaments
Information on local golf events open to travelers
Many golf destinations host local events and tournaments that are open to travelers. These events vary in scale, from casual charity outings to competitive tournaments. Prior to your trip, research golf clubs or organizations in the area to find out about upcoming events. Participating in these events not only allows you to experience golfing on different courses but also provides an opportunity to engage with the local golfing community.
Benefits of participating in tournaments during travel
Joining golf tournaments while traveling offers several advantages. It allows you to challenge your skills and compete with golfers from diverse backgrounds. Tournaments often create a sense of camaraderie among participants, fostering a friendly and competitive atmosphere. Additionally, you may have the chance to win prizes or receive recognition for your performance, adding an extra element of excitement to your golfing journey.
Engaging with Other Golfers and Locals
Tips for networking with fellow golfers and locals
To make the most of your socializing opportunities, be open and approachable with fellow golfers and locals. Strike up conversations with players you meet on the course, sharing experiences and tips. Attend social events organized by the golf club or resort to mingle with other golf enthusiasts. When exploring local attractions, engage with the locals and learn about their culture and interests. Building connections can lead to valuable friendships and enrich your understanding of the destination.
Enhancing the overall experience through social connections
Socializing and networking during your golf travel adventure can enhance the overall experience in numerous ways. Bonding with fellow golfers over shared passions creates a sense of belonging and community. Exchanging stories and experiences with locals provides insights into the destination's hidden gems and off-the-beaten-path attractions. Networking may even lead to future golfing opportunities or invitations to play on private courses. Embrace the opportunity to form meaningful connections that extend beyond the golf course.
The Sustainable Golfer: Respecting the Environment
As golfers embark on exciting golf travel adventures, it is crucial to embrace sustainability and environmental responsibility. Practicing eco-friendly golfing habits on the road, supporting environmentally responsible golf courses and initiatives, and reducing the ecological impact of golf travel are essential steps to becoming a sustainable golfer. Let's explore the art of being a sustainable golfer with enthusiasm and expertise.
Practicing Eco-Friendly Golfing Habits on the Road
Being a sustainable golfer starts with adopting eco-friendly habits during your golf travel. Here are some green golfing practices to consider:
Repair Divots and Ball Marks: Repair any divots and ball marks you create on the course to promote healthy turf growth and maintain the course's pristine condition.
Use Eco-Friendly Golf Balls: Consider using biodegradable or recycled golf balls that have a lower impact on the environment.
Conserve Water: Be mindful of water usage on the course. Avoid unnecessary watering and report any leaks to course management.
Walk or Use Electric Golf Carts: Opt to walk the course whenever possible to reduce the carbon footprint of your golf travel. If using golf carts, choose electric ones for a greener option.
Supporting Environmentally Responsible Golf Courses and Initiatives
By supporting golf courses that prioritize environmental sustainability, you can contribute to positive change in the golfing industry. Look for courses that have received environmental certifications or participate in sustainability initiatives. You should:
Research Green Golf Courses: Before booking your tee times, research and choose golf courses with sustainability efforts, such as renewable energy use, habitat preservation, and water conservation.
Participate in Charity Golf Events: Many charity golf events raise funds for environmental conservation. Participating in these events allows you to contribute to worthy causes while enjoying the game.
Reducing the Ecological Impact of Golf Travel
Golf travel is undoubtedly enjoyable, but it is essential to reduce its ecological impact. Consider these strategies to minimize your carbon footprint:
Pack Light: Travel with only the golf equipment you need, reducing excess baggage and fuel consumption during transportation.
Choose Sustainable Accommodations: Opt for eco-friendly hotels or lodges that have implemented green practices.
Offset Your Carbon Emissions: Some airlines and travel agencies offer carbon offset programs. Consider participating in these programs to compensate for the carbon emissions produced during your travel.
Traveling Solo vs. Joining Golf Tours
When it comes to golf travel adventures, golfers have the option to either embark on solo journeys or join organized golf tours. Each approach offers a unique set of advantages and considerations. Exploring the pros and cons of solo golf travel, understanding the benefits of joining organized golf tours, and choosing the right golf tour package for your preferences are essential factors to consider when planning your golf travel. Let's delve into the comparison of traveling solo versus joining golf tours with enthusiasm and expertise.
Pros and Cons of Solo Golf Travel Adventures
Solo golf travel can be an exhilarating experience, offering the freedom to create your own itinerary and explore at your pace. Some of the pros and cons of traveling solo for golf include:
Pros:
Flexibility: Traveling alone allows you to be flexible with your schedule, adjusting tee times and sightseeing as you wish.
Personal Growth: Solo travel can be an opportunity for self-discovery and personal growth as you navigate new environments independently.
Tailored Experiences: You have the freedom to tailor your golf travel according to your preferences, playing at the courses you desire.
Cons:
Loneliness: Traveling solo can sometimes lead to feelings of loneliness, especially during downtime or evenings.
Logistical Challenges: Handling logistics and navigation on your own can be challenging, especially in unfamiliar destinations.
Safety Concerns: Safety can be a concern when traveling alone, particularly in areas with unfamiliar cultures or languages.
The Benefits of Joining Organized Golf Tours
Organized golf tours provide a structured and social approach to golf travel. The benefits of joining such tours include:
Pros:
Built-In Camaraderie: Joining a golf tour offers the opportunity to meet and socialize with fellow golf enthusiasts, fostering camaraderie throughout the journey.
Simplified Logistics: All travel arrangements, tee times, and accommodations are typically taken care of by the tour organizer.
Local Expertise: Golf tours often include local guides who provide insights into the destination's best courses and attractions.
Choosing the Right Golf Tour Package for Your Preferences
When selecting a golf tour package, consider your preferences and priorities for the best fit. Some factors to consider include:
Itinerary and Destinations: Review the tour itinerary and ensure it covers the golf courses and destinations you are eager to explore.
Group Size: Consider the group size of the tour, as it can impact the level of personal attention and social dynamics.
Inclusions and Costs: Compare the inclusions of the tour package, such as meals, green fees, and additional activities, to understand the overall value.
Budgeting and Cost-Saving Strategies
Embarking on a golf travel adventure can be a dream come true for avid golfers, but it's essential to be mindful of budgeting and cost-saving strategies to make the most of your golfing journey. Creating a golf travel budget and sticking to it, maximizing cost-saving opportunities, and balancing luxury and affordability are essential aspects of ensuring a rewarding and financially responsible golf travel experience. Let's explore the art of budgeting and cost-saving with enthusiasm and expertise.
Creating a Golf Travel Budget and Sticking to It
Before embarking on your golf travel, it's crucial to create a comprehensive travel budget that includes all anticipated expenses. Here are some steps to help you get started:
Estimate Transportation Costs: Calculate the expenses for flights, car rentals, or any other mode of transportation required for your golf travel.
Accommodation Costs: Research the costs of hotels, resorts, or vacation rentals at your chosen destinations.
Green Fees and Tee Times: Include the costs of green fees and tee times at the golf courses you plan to play.
Meals and Dining: Estimate dining expenses, including meals at restaurants or golf course clubhouses.
Miscellaneous Expenses: Account for additional costs such as caddie fees, tips, and souvenirs.
Once you have your budget set, stick to it throughout your trip to avoid overspending.
Maximizing Cost-Saving Opportunities for Golfers
Golf travel can be made more affordable by maximizing cost-saving opportunities. Here are some strategies to consider:
Travel During Off-Peak Seasons: Golf courses and accommodations may offer lower rates during off-peak seasons, providing cost-saving opportunities.
Look for Golf Packages: Many golf courses and resorts offer package deals that include accommodations, green fees, and other perks at a discounted rate.
Join Golf Memberships or Loyalty Programs: Some golf courses offer membership or loyalty programs that provide discounts on green fees and other amenities.
Consider Stay-and-Play Options: Opting for stay-and-play packages, where accommodations are included with golf rounds, can offer significant cost savings.
Balancing Luxury and Affordability in Golf Travel
While it's tempting to indulge in luxury during your golf travel, balancing luxury and affordability is essential for a well-rounded experience. Here are some tips:
Mix Upscale and Mid-Range Courses: Instead of exclusively playing high-end courses, consider mixing in some mid-range courses to balance costs.
Limit Dining Splurges: Enjoying a few upscale dining experiences is a treat, but frequent dining at luxury restaurants can strain your budget.
Explore Local Attractions: Engage in free or low-cost activities like exploring local attractions, beaches, or hiking trails to complement your golfing itinerary.
Conclusion…
We've presented a comprehensive guide to help golf enthusiasts embark on memorable and rewarding golf travel adventures. From planning the perfect itinerary to embracing sustainability and cost-saving strategies, these top travel tips cover every aspect of a golfer's journey.
By adhering to proper preparation, packing essentials, booking tee times wisely, and selecting golf-friendly accommodations, golfers can ensure a smooth and enjoyable trip. Navigating transportation options and handling unexpected situations with readiness contribute to a stress-free golf travel experience.
Moreover, understanding golf course etiquette worldwide, adapting to different climates and terrains, and exploring local golf cultures enrich the golfing journey with respect and appreciation for diverse traditions.
Capturing memorable moments with photography and travel journals immortalizes the joy of golfing on the road, while language and communication strategies help overcome barriers and foster meaningful interactions with locals.
Ultimately, by embracing sustainability and respecting the environment, golfers can play a crucial role in preserving the beauty of golf courses and destinations for future generations.
Whether traveling solo or joining organized golf tours, budgeting and cost-saving strategies ensure a rewarding and financially responsible experience, striking the right balance between luxury and affordability.
Armed with these top travel tips, golfers can set out on their golfing adventures with confidence, enthusiasm, and a sense of responsibility towards the sport they love and the places they visit.
So, tee up your enthusiasm, swing with knowledge, and embark on a golf travel journey like never before – where each moment on the road becomes a treasured memory, and every golfing experience becomes an opportunity to grow, connect, and savor the passion of the sport.
Safe travels, fairways, and greens await you as you embrace the joy of golfing on the road!
Amazon and the Amazon logo are trademarks of Amazon.com, Inc, or its affiliates.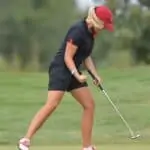 Daisy is the Founder and Editor in Chief of Golfs Hub. She is associated with Golf for more than 20 years. She got the inspiration from her father. She is a very private person & doesn't like to be photographed. She's worked in nearly every job in the golf industry from club fitting to instruction to writing and speaking. Now she is enjoying her retirement from day job... but not from Golf! Daisy lives in southeasternmost part of New York state with her family.