As an Amazon Associate, I earn from qualifying purchases. There is no extra cost to you. Thank you if you use our links; we appreciate it! Learn More.
You can barely play golf in a rainy day and with the sun burning over your head is not the day to play without preparation and precautions. If you are not prepared, you may have to face grave health risks. However, golfing in hot weather is challenging but you can turn it into a fun by beating the scorching sun.
Here you go with the efficient ways and expert tips to complete your round of hot weather golf while staying safe and cool. These are the tested 7 ways and expert tips on how to play golf in the heat.
Tips for Golfing in Hot Weather
1. Keeping Hydrated
Not merely for playing golf in hot humid weather or any outdoor activities under the sky, even golfing in moderate weather requires proper hydration. Whereas the lengthy game like golfing involves, you must keep your intake max especially when the weather is humid.
It should start from the day before. If you know from the weather forecast or somehow else that there happens to be hot on the day of your golfing match, the first thing that should come to your mind is proper hydration on and before the course. You should increase the amount of your normal water intake from the day before. Not to stop here, you should arrange ways that you have cool water at your reach so long the game is on. Because it is pretty crucial to go on hydrating once you are out on the course.
Read: playing golf in extreme heat
2. Electrolytes Supplements
It's common to sweat in hot weather and water intake profusely will not suffice. As you will lose salt and electrolytes on top of the water, you must supplement those. Not to leave you wondering how to do that, there are sports drinks and electrolytes supplement in the stores to buy from.
If you want to avoid sports drinks loaded with sugar, you better pinches of salt in the water and drink. Otherwise, you buy tablets containing electrolytes from the market. Thus, your body will function superbly in hot weather games.
Read: Adjusting Your Golf Swing for Wind, Rain, and Sun
3. Crucial Clothes & Accessories to Beat Hot weather
Yes, golfing attires are different from normal clothes as all the other sports do. There are clothes and accessories that can make a huge difference in challenging the humidity and let you play unaffected by the scorching sun. If you want to avoid sticky hot clothing on a humid day, the following are the go-to summer golf tips to abide by.
Special Golf Clothes
Golf clothes have gone through a noticeable change from its earlier attire. The arrival of synthetic fabric clothes is what can keep you super cool on the course on a sunny hot day. There are loose-fitting, light-colored performance clothes to fight the high temperatures while golfing.
If you are a novice and do not know much about golf clothing, find the clothes mentioning wicking, wicks moisture away, and rapid drying. Know that all the fabrics mentioning those phrasing are meant for keeping you dry in the golf course as they will not make you sweat.
When playing with wicking shirts and polo cotton shirts, they will make the sweat dry quicker than heavier clothing. Moreover, you feel more lightweight and comfortable with them put on.
To make the preference precise for you, there are UPF clothing in the sports stores that will ensure sun protection and you can compare many brands.
Shorts vs Skorts
You know what is short and the skorts are a cross of skirt and short or a skirt with breathable mesh short underneath. While wearing shorts will do but the modern golf skorts offer you added convenience and comfort. If you are torn between shorts vs skorts, modern skorts will give you more edges over the shorts. While the tiny shorts tend to rise up and the longer ones will tightly bite your skin, the skorts are airy and breathable.
You can avail of skorts in the market at an affordable price while high-end products will claim pretty high cost. The skort has an extra edge as you can errands wearing them while out of the golf course and practice indoor. The key is to pick the right fabric that will not feel clingy in hot weather.
Sun Hats
Wearing a hat in golf is the go both for protection from the sun and shielding your eyes from the piercing sun rays when hitting the ball. But another consideration should add to the above and that is your hat better be breathable to let air come and go. A hat with a nice brim without sufficient airflow may ruin your day under a hot summer sun. That type of hat will make you feel your heading baking from underneath. Therefore, find the hats that will protect the sun and offer sufficient airflow altogether.
Quick Drying Socks
Make sure the socks you wear are made of moisture-wicking fabrics. You will have tech socks that will keep your feet dry and cool so long you are on the golf course.
Breathable Golf Shoes
You can have a pair of leather golf shoes or sneaker-type golf shoes and either type will do so long they are airy and breathable. Golf shoes have gone through wide improvisation and now it is easy to find a pair of shoes with fabrics offering adequate airflow. Therefore, make sure that the shoes you wear on a hot summer day are breathable to keep you cooler.
Mesh Golf Gloves
Wearing golf gloves makes a huge difference and so in the warmer temperatures, you must wear mesh golf gloves. You can avail quality golf gloves in the market that are soft, light, and not that restrictive. The favorite golf gloves now are the Cabretta leather-like MG Golf Gloves. The same manufacturer offers topless gloves and as for airflow, they can provide them sufficiently.
4. Ensure Shade
When the game is on, there will be an in-between time to wait for your partners and that is the time you can be under shade. Thus you can have breaks from the scorching sun and keep the warmth significantly down. Riding in a cart and attaching an umbrella are the two alternatives to ensure shade while the game is on and one of the great ways to play golf in the heat.
Riding in Cart
On top of providing shade, riding a golf cart in the course will speed you forward against a cooling breeze. That will soothe your warmth to a great extent besides keeping you under shade so long your turn is not coming. So, when the temperature is above or at 90 degrees; ride on your cart avoiding a long walk under the bright sun. This is another efficient way to keep cooler on hot weather golfing.
Carry Golf Umbrella
If you do not ride in a cart while you are off, ensure that your pushcart stays attached with a golf umbrella. Thus, you can stay shaded and protected from the heat of the scorching sun.
5. Arrange Cooling Golf Accessories
Arranging some golf accessories may prove significantly efficient in cooling you at high temperatures. Here you go with a list of crucial accessories that demand serious consideration when the stake is to fight hot weather in golfing.
Cooling Towels: Wrap around your neck after soaking it with cold water to keep yourself fit in the golf course so long your round is on. These cooling towels may prove to be the real game-changers when it is extremely hot and humid.
Cooler Bags: Loaded with extra drinks and ice to keep your beverages and snacks cool, the cooler bags may find them stowed in your cart to offer the needful at want. Or you can always buy golf bags with cooler.
Golf cart Fan: A long portable clip fan to provide instant air. After you are hit under the hot sun on a humid day, a little air or a mild breeze can soothe you and provide you with the cooling effect to the least.
Seat Cover for Cart: To protect you from the heated vinyl golf cart seat cover as these can go burning hot to make you sweat profusely. In this case, a chilly seat cover may keep your butt and tush cooler.
Insulated Water Bottle: To provide you cool water even long after you have landed on the course, an insulated swell bottle will do magic. And as they are not bulky enough you can conveniently store them in your pushcart to reach at-need and will.
6. Use Quick-cooling Points in Your Body
Keeping hydrated to the most may even fall short of protecting you from going overheated. And this is the time you must cool yourself manually by placing an ice pack around your wrists, back, and neck. Cooling your body thus will help you bring your body heat down in a short while and you can be golf-ready quickly.
Golfers opt for this trick to get back on the tee on time. So, you should do this too.
7. Be aware of Signs and Symptoms
You cannot imagine how dangerous a heat stroke or heat exhaustion can prove if you have not gone through it previously. Therefore, at the feel of any heat-related illness, you must stop playing and retire instantly to a safer place preferably indoor with air conditioning.
And the common symptoms include dizziness, headache, nausea, muscle cramps, and more.
Takeaway…
So, conserving energy, preparations, and precautions are keys to keep safe and cool while golfing in hot weather. For sure, the tips for summer golf are what may make your day if implemented with care and concern. Play golf comfortably even under the burning sun with the proper preparation and awareness stated above.
Amazon and the Amazon logo are trademarks of Amazon.com, Inc, or its affiliates.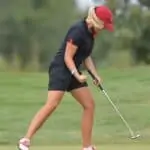 Daisy is the Founder and Editor in Chief of Golfs Hub. She is associated with Golf for more than 20 years. She got the inspiration from her father. She is a very private person & doesn't like to be photographed. She's worked in nearly every job in the golf industry from club fitting to instruction to writing and speaking. Now she is enjoying her retirement from day job... but not from Golf! Daisy lives in southeasternmost part of New York state with her family.