As an Amazon Associate, I earn from qualifying purchases. There is no extra cost to you. Thank you if you use our links; we appreciate it! Learn More.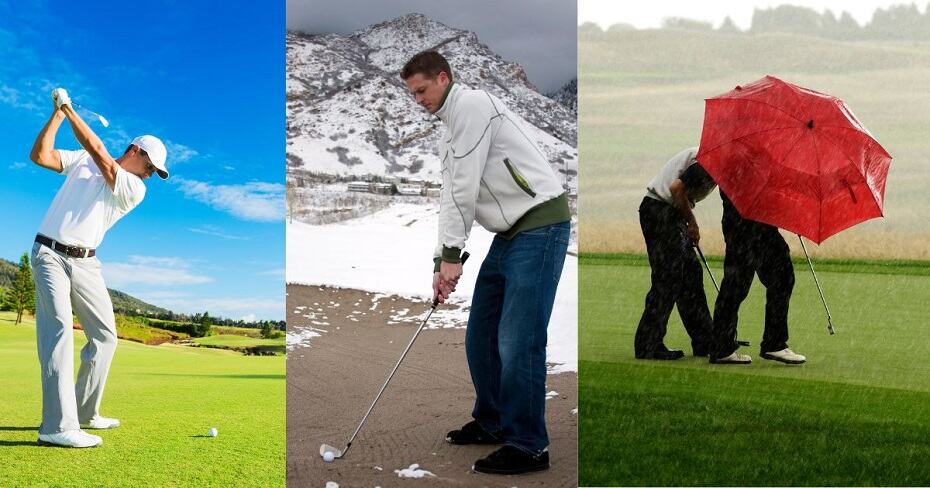 Golf is a game that requires skill, precision, and adaptability, as players often face varying weather conditions that can significantly impact their performance on the course. Playing golf in different weather conditions, such as wind, rain, and sun, presents unique challenges and opportunities to test your abilities and mental resilience.
Today's comprehensive guide will provide you with valuable insights and strategies on how to effectively adjust your golf swing and game plan for various weather scenarios, ultimately helping you become a more versatile and weather-resilient golfer who can excel in any situation.
Mastering Your Golf Swing in Windy Conditions
Playing in windy conditions can be quite challenging. Understanding how to adjust your swing and strategy in the wind is crucial for achieving good results on the golf course.
Assessing Wind Direction and Strength
Begin by evaluating the wind's direction and strength. Use visual cues like the movement of trees or flags to determine how the wind is blowing. Adjust your aim accordingly and prepare to swing with the wind in mind.
Adjusting Your Stance and Grip
In windy conditions, widen your stance to lower your center of gravity, providing increased stability. A slightly firmer grip on the club is also essential to maintain control during your swing.
Club Selection Tips for Windy Conditions
Club selection is critical in windy conditions. When playing into the wind, use a club with more loft to counteract the wind's resistance. Conversely, when playing downwind, opt for a lower-lofted club to maximize distance. This is why it's essential to follow an amateur golf club guide before buying your first irons. You want to be prepared for all scenarios.
Playing Into the Wind vs. Downwind
When playing into the wind, use a smooth, controlled swing to reduce spin, which can cause the ball to balloon upward. When playing downwind, focus on hitting the ball lower with a more penetrating trajectory.
Tackling Rainy Weather on the Golf Course
Rainy weather can affect your grip, stance, and overall performance. The following tips will teach you how to adjust your swing and strategies to overcome these challenges.
Preparing for Wet Course Conditions
Ensure you have the right gear, such as waterproof clothing, shoes, and gloves, to maintain your grip and footing. Keep your clubs and grips dry using a towel or rain cover. You should consider a waterproof golf bag.
Adapting Your Swing for Wet Turf
Wet turf can cause your club to dig into the ground, leading to fat shots. Focus on making clean contact with the ball by taking a slightly steeper angle of attack and minimizing ground contact.
How Rain Affects Ball Flight and Distance
Rain can reduce ball flight distance due to increased air resistance. Compensate for this by using a lower-lofted club to increase your shot distance.
Managing Your Mental Game in the Rain
Maintain a positive attitude, stay focused, and embrace the challenge of playing in the rain. A strong mental game is essential to performing well in adverse conditions.
Read more: How does rain affect Golf?
Adjusting Your Swing for Bright Sunlight and Heat
Playing in bright sunlight and heat can affect your swing, ball flight, and stamina. Learn how to adapt to these conditions for optimal performance.
Protecting Yourself from Sun and Heat
Wear hats, sunglasses, and sunscreen to shield yourself from the sun. Stay hydrated and take breaks in the shade to avoid heat exhaustion.
Adapting Your Swing for Firmer Ground
Hot, dry conditions can lead to firmer ground. Focus on striking the ball cleanly, and use a higher-lofted club to account for increased roll on the fairways and greens.
How Heat Affects Ball Flight and Distance
Higher temperatures cause the ball to travel farther due to reduced air density. Adjust your club selection and strategy accordingly to maximize your
Staying Hydrated and Energized on the Course
Drink plenty of water and consume energy-rich snacks to maintain your energy levels during hot weather. Staying hydrated and nourished will help you maintain focus and stamina throughout your round.
Read more: How to stay cool on the golf course?
Top Tips for Golfing in Extreme Weather Conditions
Beyond wind, rain, and sun, golfers may face other challenging weather conditions. Here are some strategies for playing in cold weather and at high altitudes, as well as staying safe during lightning and thunderstorms.
Cold Weather Golfing Strategies
In cold weather, wear multiple layers to stay warm and maintain flexibility. Use softer golf balls, as they will have better performance in lower temperatures. Adjust your club selection to account for decreased ball flight distance due to denser air.
Playing in High Altitude Conditions
At high altitudes, the ball will travel farther due to reduced air density. Adjust your club selection and strategy to account for increased distance. Stay well-hydrated and pace yourself to avoid altitude sickness.
Staying Safe in Lightning and Thunderstorms
Always prioritize safety during thunderstorms. If you hear thunder or see lightning, seek shelter immediately and wait for the storm to pass before resuming play.
Read more: Golf gloves for winter
Essential Golf Gear for Playing in Various Weather Conditions
Having the right gear will make playing in different weather conditions more manageable and enjoyable.
Rain Gear: Waterproof Clothing and Accessories
Invest in waterproof jackets, pants, shoes, and gloves to stay dry and maintain grip during rainy conditions. A quality umbrella and rain cover for your golf bag are also essential.
Sun Protection: Hats, Sunglasses, and Sunscreen
Protect your skin and eyes from harmful UV rays by wearing a wide-brimmed hat, sunglasses, and applying sunscreen. Choose clothing with built-in UV protection for added defense against the sun.
Read more: Golf gloves for hot weather
Wind-Resistant Gear: Umbrellas and Windbreakers
A sturdy, wind-resistant umbrella is crucial for shielding you from both wind and rain. Wear a windbreaker to stay warm and minimize the wind's impact on your body during your swing.
Read: How does weather affect golf balls?
Final Thoughts on Dealing with Bad Weather
Mastering the art of playing golf in various weather conditions is essential for becoming a well-rounded and resilient golfer. By understanding how to adjust your swing, strategy, and equipment for wind, rain, and sun, you will be better equipped to face the challenges that Mother Nature throws at you on the golf course. Embrace these challenges, adapt your game, and enjoy the satisfaction of conquering the elements.
Read more:
Amazon and the Amazon logo are trademarks of Amazon.com, Inc, or its affiliates.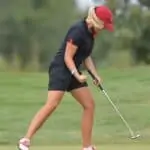 Daisy is the Founder and Editor in Chief of Golfs Hub. She is associated with Golf for more than 20 years. She got the inspiration from her father. She is a very private person & doesn't like to be photographed. She's worked in nearly every job in the golf industry from club fitting to instruction to writing and speaking. Now she is enjoying her retirement from day job... but not from Golf! Daisy lives in southeasternmost part of New York state with her family.