As an Amazon Associate, I earn from qualifying purchases. There is no extra cost to you. Thank you if you use our links; we appreciate it! Learn More.
As the weather seems to be cooling down slowly, it may come down to a 50-degree level in no time. Although it's not a big deal yet, Golfers who hit the course early in the morning can face cold wind blows.
Surely, for the die-hard Golfers out there, cold weather can't hold them back. If you are one of those crazy Golfers, then you must be prepared to tackle the chilling weather while golfing.
This brings us to the question – What to wear golfing in 50-degree weather? How does a golfer dress up in cooler days without looking like a stuffed teddy?
You need to keep it in mind that keeping your body warm, doesn't always require heavy clothing and overcoats. Here are a few tips that you can follow to keep yourself cozy and warm at the same time out there in golf courses.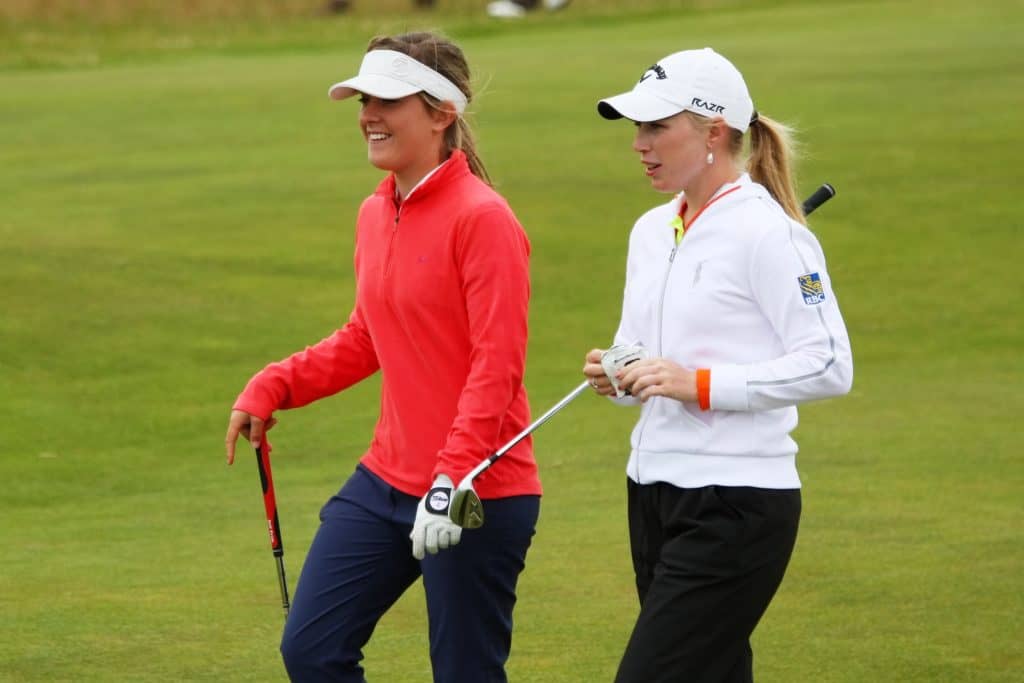 Get Some Layers
The life hack to get warm is to wear clothes that catch warm air between thin layers. The more warm air is trapped, the warmer you are. No need for a large-sized jacket.
Read: Your Extensive Warm-Up Guide to Playing Golf in the Winter
Thermal Underwear
Thermal underwear can be life-saving as these fit ideally in your body and allows you to wear extra layers of attire. These will give you the extra benefit of trapping body warmth for a long time.
We suggest the Long Johns Set with Fleece Lined from Thermajohn for men. It's budget-friendly, machine washable and super comfy!
But for women we prefer the one from WEERTI (My personal favorite!).
Other recommendations:
Wear Thick Socks
Wearing thick woolen socks will provide a nice comfort to your feet in cold weather; given that you put on a pair of perfectly fit comfy shoes. In case you don't find such a pair, wearing an extra pair of socks may save the day.
Read: How to practice golf in the winter
Keep A Hand Warmer
Get a hand warmer. Shake it before the game starts, put it in your pocket. Make sure you put your hands inside your pocket to keep your hands warm. Shake it and warm up your hands before each shot you take.
My first experience with a hand warmer was with Titleist. It has a tube design. It was good for all weather. But didn't like the strap system. So, next, I used Наnd Wаrmers from HotHands. It is Оdоrless and Аir Activаted. It will fit in your palms easily!
Read: How To Prevent Blisters On Foot & Hand From Golf Shoes?
Have A Pair Of Hand Gloves
Look out for a great pair of woolen golf gloves made for the winter season. Check out the stores for the most comfortable one for your hands. A well-fit warm pair of hand gloves will warm up your hand while ensuring a better grip on your club.
FootJoy WinterSof Golf Gloves are easily the decent choice. I am not very fond of the thermal glove from Callaway though. But I will give a 4.9 out of 5 to the Mizuno ThermaGrip Golf Gloves. I still have them!
Put On Ski Cap
Let's admit, most of us don't like the way we look with a ski cap on, but hey, these are best for you to keep your head and ear warm during the cold weather. More if you are playing golf. Find the one that can trap more warmth inside the woolen structure.
Wear Sweatshirt
If the cold weather still cracking the code while you are wearing multiple layers, wearing a sweatshirt will definitely solve the problem. You won't look like a polar bear, yet will be able to keep yourself warm.
A pull-out sweatshirt is exactly what you need. While the day gets warmer, just pull it off to balance the warmth of your body.
Final Words…
Playing golf in cooler weather sounds exciting, but you need to take good care of your health beforehand. Wearing the best gears to keep your body warm is what you need to concentrate on.
Try out these tips we shared here. Tell us, what do you think. Share your ideas and experience. We would love to hear from you.
Read:
Amazon and the Amazon logo are trademarks of Amazon.com, Inc, or its affiliates.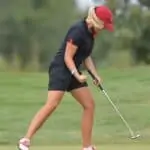 Daisy is the Founder and Editor in Chief of Golfs Hub. She is associated with Golf for more than 20 years. She got the inspiration from her father. She is a very private person & doesn't like to be photographed. She's worked in nearly every job in the golf industry from club fitting to instruction to writing and speaking. Now she is enjoying her retirement from day job... but not from Golf! Daisy lives in southeasternmost part of New York state with her family.