As an Amazon Associate, I earn from qualifying purchases. There is no extra cost to you. Thank you if you use our links; we appreciate it! Learn More.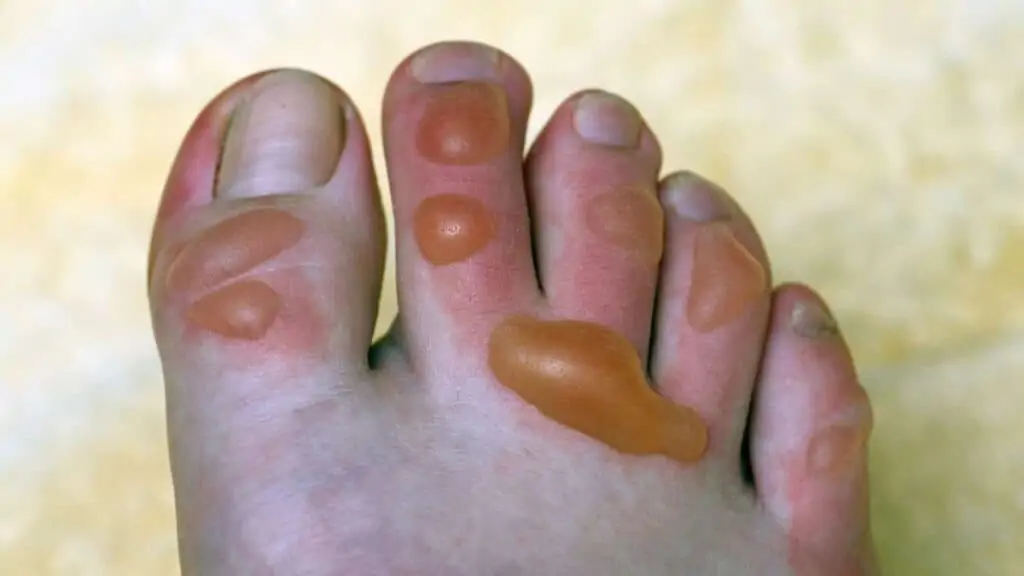 Scary!
Right?
If you are a golf player, then you are surely familiar with the term blister. A lot of time blisters can develop while playing golf and there are a lot of reasons behind it. Blisters are very common for new golf players as they don't know why blisters develop. Blisters are very painful and can ruin the whole game of a golfer.
Yes, Golf has huge health benefits. But it has some disadvantages too (Sometimes even in the environment too!). And one of them is blisters.
This is why knowing the reason and prevention of blisters is important for golfers. So if you are unaware of the prevention then keep reading the full article as I am going to give a detailed description of how to prevent golf blisters.
What Is Golf Blisters?
A Golf blister is a bubble of fluid that can develop under the skin due to improper grip while playing golf. It can also develop due to friction or pressure of something that one is wearing. Blisters can be of any size and it heals on its own after some days.
If you want to avoid blisters on your feet, make sure you have the best spikeless golf shoes.
Where Do Golfers Get Blisters?
Most golfers get blisters on their palms and fingers as they hold and grip with their hands. Besides that, golfers also get blisters on their legs sometimes if they don't wear the right type of shoe while playing golf. Blisters can develop for many reasons and for different reasons it develops in different places. So let's see the possible places where blisters can develop.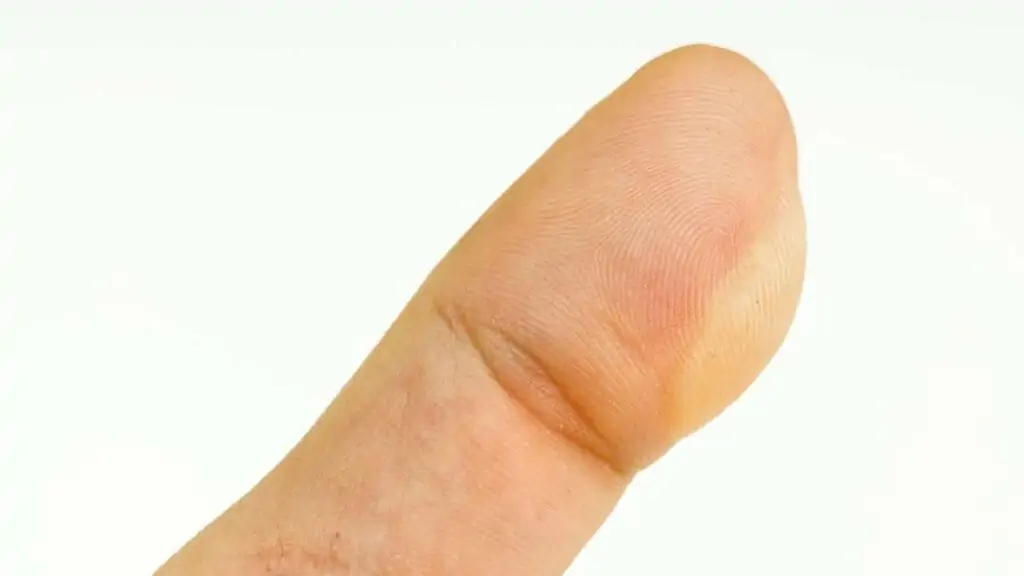 a. Hand Blister From Golf
Hand blisters are the most common among golfers and they can happen in both the right and left hands. Even if you give more pressure on your right hand, you can get blisters on both of your hands for a couple of reasons.
Golf Blisters On Non-Glove Hand
If you are not using gloves while playing, you have a high chance of getting blisters in your hands. Gloves protect your skin from extra pressure and friction that happen when you play golf. Non-glove hands are more likely to have blisters if your skin is too dry.
Read: How to get in perfect shape for Golf?
Golf Blisters On Glove Hand
If you have sweaty hands then you may get golf blisters on glove hands. Excessive sweating causes golf blisters if one wears a glove in hands for a long time. The sweat makes the skin damp inside the gloves which develop blisters and sometimes the skin even peels off its own.
Read: Choosing the best golf gloves for winter
Golf Blisters On Right Hand
Right-handed players are more likely to have golf blisters on their right hand than the left hand. Any improper grip of the golf club or pressure from the golf club can give blisters in your right hand if you are a right-handed player.
Golf Blisters On Left Hand
Left-handed people get blisters on their left hands because they use their left hand more than the right hand. And sometimes, even being a right-handed person you use your left hand in the wrong way while doing swings you can get blisters on the left hand.
b. Blisters From Golf Grip & Swing
One of the main reasons for getting blisters on hand is improper golf grip and swing. If you are a beginner then you will surely get blisters as you will not be able to grip the club properly in the first few days. Sometimes for tight grip golfers get blisters thus knowing the right way to grip the club is important. Moreover, wrong swings of the club also develop blisters in golfers' palms and fingers.
c. Golf Thumb Blister
You can get a blister on thumb from golf if you are holding the club too tightly. The wrong grip of the club can develop a blister anywhere in your hand which includes the thumb as well. Sometimes playing golf for a long time in one day can also give you a golf thumb blister.
d. Finger Blister From Golf
Finger blisters from golf are very common and again the reason behind it is the improper grip or the tightness of the grip. Continuous friction of the club while stroking may also develop a blister in any of your fingers.
Blister On Ring Finger
Too tight grip pressure or interlocking of the left index and pinky finger frequently can develop blisters on the ring finger. Also if the grip of the club is harsh there is high chance of getting blisters on the middle finger.
Blister On Middle Finger
Blisters on the middle finger can happen if your arm position is wrong while you stroke. The pressure creates friction in the middle finger which develops the blister on the middle finger.
Blister On Index Finger
Blister on the corner of the index finger is also common. If you play regularly for a long time in empty hands then it can cause you to blisters slowly on the index finger.
Blister On Pinky Finger From Golf
Blisters on pinky fingers from golf could be for the improper grip of the club.
e. Golf Blister On Palm
Sometimes for the club's grip golfers get blisters on their palms. If the grip is rough or harsh and you hold it too tightly in that case, you can get golf blisters on the palm.
f. Golf Shoe Blisters
Golf shoe blisters are very common among golfers. In most cases, golf shoe blisters develop because golfers wear uncomfortable and wrong-sized shoes.
g. Blood Blister From Golf
Blood blisters can develop if you play golf for a long time and hold the grip too tightly. It mostly develops in the places of the skin that get continuous force or pressure while you play golf.
Why Am I Getting Blisters From Golf?
Getting blisters from golf can have several reasons behind it. Some of the common reasons are:
How To Prevent Golf Blisters?
One can have golf blisters both on the hands and on foot. Above we came to know the reasons why golf blisters develop in different places. Now, let's know the ways of preventing golf blisters.
1. How To Prevent Blisters On Hands From Golf?
Preventing blisters on hand from golf is not a difficult job. At first, you have to know how to hold and grip the golf club properly. This is the first step of preventing golf blisters on hands. If you know how to grip the club properly you will not get any blisters easily even if you don't wear gloves or wrap any golf blister tape in your fingers.
Nexcare Blister Prevention Tape is waterproof. You can use it even after sweating.
Sometimes many golfers get blisters even if they hold or grip the club in the right way. In this case, one can use adhesive tapes or bandages in the places the blisters develop the most. The tapes or bandages will protect the skin in that place and prevent from developing blisters.
Another way of preventing hand blisters is by changing your club's grips and wearing gloves or finger sleeves for golf. If you take care of these things regularly you can easily prevent blisters on your hands from golf.
As for finger sleeves, Finger Sleeves Protectors from Pimoys are great!
2. How To Prevent Blisters On Foot From Golf Shoes?
For preventing blisters on foot you have to choose the right shoe when you go for golfing. You have to wear the right size because if it's too tight it will give you blisters.
Moreover, you have to wear good quality and comfortable golf shoe. There are lots of brands that sell suitable golf shoes for women and men in different price ranges.
Also, you have to wear socks as well to protect your skin from direct contact with the shoe.
If you feel your shoe seems uncomfortable then try to add extra padding.
Do not let your foot get wet as wet feet are one of the main reasons for getting blisters.
You can also wear anti-blister golf socks that help to prevent blisters on foot from golf.
If you follow these things you can easily prevent blisters on foot.
How To Treat Golf Blisters?
Blisters heal on their own but still, if you want to treat golf blisters there is a way for it.
You have to drain the fluid of the blister to treat it.
Wash your hands first with warm water and swab the blister with iodine.
Now take a needle, sterilize and clean it properly.
Use the needle to puncture the blister and take out the fluid from it.
Clean the blister properly and apply some ointment to it.
That's how you can do golf blister treatment at home on your own.
FAQs
How Long Do Golf Blisters Last?
Golf blisters will not last more than 7-8 days and it heals on its own. However, if the blister gets worse then it can last a little longer. If the blister is small it will not last more than 6-7 days and will get healed completely. If it's a little bigger then it may last more time but not more than two weeks.
Do Golf Gloves Help With Blisters?
Yes, golf gloves help to prevent blisters as it protects your skin from any kind of pressure and friction. It keeps the skin protected so even if you're playing for a long time or in the wrong way it helps to prevent blisters to some extent. Many brands have the best golf gloves to prevent blisters.
Should I Pop Golf Blister?
Many try to pop golf blisters on their own but I would recommend not to. Blisters take roughly 7-8 days to heal so there is no need to pop it as it can worsen the situation.
How Do You Wrap A Golf Blister?
You can simply put on a bandage over the blister to protect it. And if you want to wrap it then you can use adhesive tape or golf tape for blisters after putting on the bandage.
How Can I Heal A Blister Fast?
Blisters heal on their own within 1 week however if you want to heal it faster you have to drain out the fluid of the blister. After that, the blister will get healed properly within 2 days.
Do Anti Blister Socks Work?
Yes, anti-blister socks have been tested and after testing it has proven that it works. If you use them in the right way you will not get blisters on your feet anymore.
What Kind Of Socks Prevent Blisters?
Socks that are made of sweat-wicking fibers are best when it comes to preventing blisters. Socks that have merino wool or CoolMax in them helps to prevent blisters.
Should I Wear Socks With A Blister?
Yes, you can wear socks if you have a blister on your feet. You can also cover the blister with bandages and then wear a sock too.
What Kind Of Tape Do Golfers Use On Their Fingers?
Golfers widely use gentle adhesive tapes on their fingers that don't leave any sticky feeling after it's taken off. Elastic tapes are also used by golfers widely in their fingers to prevent blisters.
Conclusion…
I hope after reading this article, you now know why blisters develop and how you can prevent blisters. I have mentioned many ways of preventing blisters and I can guarantee if you follow the ways you will never get any blisters anywhere from golf.
Amazon and the Amazon logo are trademarks of Amazon.com, Inc, or its affiliates.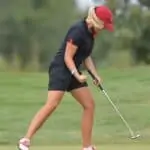 Daisy is the Founder and Editor in Chief of Golfs Hub. She is associated with Golf for more than 20 years. She got the inspiration from her father. She is a very private person & doesn't like to be photographed. She's worked in nearly every job in the golf industry from club fitting to instruction to writing and speaking. Now she is enjoying her retirement from day job... but not from Golf! Daisy lives in southeasternmost part of New York state with her family.