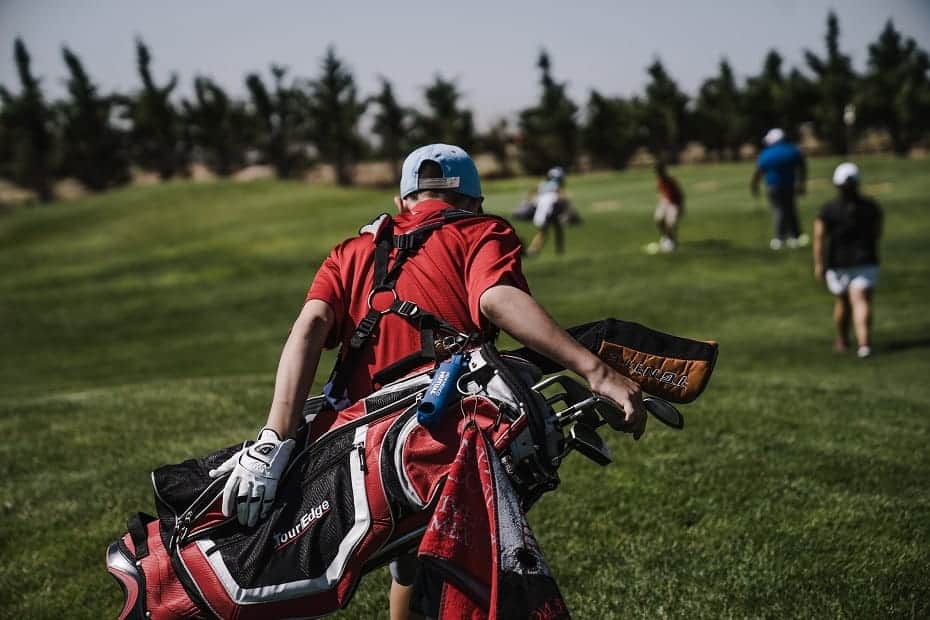 For some people, golf is a hobby and a source of entertainment, while others play it more seriously. Whatever your reasons for playing golf, it's vital to maintain your fitness and get in shape. Like most other sports, being in tip-top shape before and during playing can help reduce the chances of injuries and body pain after playing. However, many golfers don't consider the need to stay in good physical condition. A study on golf participation and well-being found that only 29% of golfers consider themselves physically active — half compared to that of the general population.

Regardless of your age or how often you play golf, it doesn't hurt to stay healthy so you can continue playing the sport you love. Doing so could also improve your golfing, strengthening your swings and ensuring you don't end your day of golfing with back or leg pains.
Today, we'll cover some of the ways you can get in shape for good golfing:
Doing core workouts
Core strength is a crucial point of fitness for any golfer, from beginners to pros. To ensure you can play golf for a long time and avoid hurting yourself while playing, strengthening your core should be at the top of your golf workout checklist. Carries and holds exercises are excellent for improving your grip strength as well as core control. The best thing about these workouts is you can pick up some weights and go on a walk — whether indoors at home or outside.
Generally, workouts that engage your core can help improve lower back stability while boosting hip and upper body mobility, all of which are essential factors that make a good, solid swing. Focusing on core workouts benefits your flexibility, strength, and power as a golfer, so keep that in mind when planning your workout schedules.
Strengthening your glutes
This fitness tip is for you if you ever feel like you're swaying too hard after a swing. Aside from core strength, glute strength is also considered an important point of golfer fitness because it reduces the risk of knee and back pains during and after playing. Your glutes are essential for stabilizing your hip and helping maintain overall balance. Additionally, glute strength helps keep our bodies upright so swinging for that important shot doesn't feel overwhelming.
Simple workouts involving dumbbells, squats, and barbell hip thrusts are all excellent exercises that help strengthen your glutes and, ultimately, your golfing performance.
Going on a nutrition plan
Outside of specific workouts, you can take another step to ensure and maintain your body fitness by taking a healthier diet. Weight and diet problems can be problematic for golfers and may negatively affect their form and general condition. A personalized weight loss plan for golfers should look at your big-picture nutrition data to see what you need to eat to stay fit. On top of making food and nutritional changes, it's crucial to balance this diet out with adequate quality sleep and sufficient water intake.
You can look for diet menu inspiration from your favorite golfers, but ultimately remember to match your dietary decisions to your body's nutritional needs. What worked for Tiger Woods may not work for you, and because different body types react to diets in various ways, it's important not to completely model your diet after the first professional golfer who comes to mind.
Read: What is an albatross in golf terms?
Playing more golf
This is not exactly a workout tip or a diet suggestion, but this one's a good reminder of the age-old saying — practice makes perfect. We've previously written about the health benefits of playing golf, so it shouldn't come as a surprise to you that one of the tips for staying fit for golf is by, well, playing more golf. Doing so can help you have a better feel of the muscles and body parts you need to focus on so that you can further tweak your workout regimes to match what you need on the golf course.
Besides, playing golf provides you with healthy exposure to the all-important Vitamin D while allowing you to take long walks as you progress through the course. As much as all that walking and swinging help burn calories, they are also great for improving your heart rate and keeping dangerous cardiovascular diseases at bay.
Frequently Asked Questions
How can I improve my fitness for golf?
Here are some tips that may help:
1. Get a physical examination and ask about any health conditions that may limit your ability to play golf.
2. Start an exercise program to improve your flexibility, strength, and endurance. A personal trainer can design a program specifically for you.
3. Take golf lessons from a professional golf instructor.
4. Practice your golf swing in a consistent manner. Use a mirror or video camera to check your form.
5. Play golf on a regular basis to maintain your fitness level and improve your game.
How long does it take to get in golf shape?
It takes most golfers about four to six weeks to get back into golf shape after taking a break from the game. However, this will vary depending on how often you play and how long you have been playing. The best way to get back into golf shape is to gradually increase your activity level and play a few rounds of golf each week.
How do you get the best shape for golf?
Here are some tips to help you get in the best shape for playing golf:
1. Get regular exercise
It's important to get regular exercise to improve your overall health and fitness level. This will make it easier to play golf and reduce your risk of injuries.
2. Improve your flexibility and range of motion
Golf requires a lot of twisting and turning. To help improve your flexibility and range of motion, do some stretching exercises or yoga poses specifically designed for golfers.
3. Strengthen your muscles
In addition to improving your flexibility, it's also important to strengthen the muscles used in golf swings. Some exercises that can help include squats, lunges, shoulder presses, and biceps curls.
What exercise should a golfer do?
The best exercises for golfers are those that help improve flexibility, mobility, and rotational power. Golfers need to be able to generate a lot of force quickly in order to hit the ball a long way. Exercises that help improve these qualities will help you hit the ball further and with more accuracy.
What muscles do you use to train for golf?
The muscles used in golf are the same ones used in any other sport: the chest, shoulders, back, arms, legs and core. However, golf also requires a lot of trunk rotation, which works the muscles in the stomach and lower back.
Conclusion…
Golf is a sport that requires a lot of stamina and endurance. If you are new to the sport, or if you have been playing for a while but are not in great shape, then this blog post is for you. We tried to give you some tips on how to get in shape for golf, so that you can improve your game and have more fun on the course.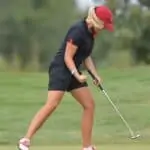 Daisy is the Founder and Editor in Chief of Golfs Hub. She is associated with Golf for more than 20 years. She got the inspiration from her father. She is a very private person & doesn't like to be photographed. She's worked in nearly every job in the golf industry from club fitting to instruction to writing and speaking. Now she is enjoying her retirement from day job... but not from Golf! Daisy lives in southeasternmost part of New York state with her family.