As an Amazon Associate, I earn from qualifying purchases. There is no extra cost to you. Thank you if you use our links; we appreciate it! Learn More.
How well a golf cart performs comes into light when it performs on course. In light of that, our Clicgear Rovic RV1C review has seen some promising results. It is as good as the Clicgear 3.5+, if not better. Also, it is cheaper than RV1S!
The golf push cart gives you a smooth ride on plain surfaces, holds your thing well, staring right from pencils to tees and bottles in between. It uses some excellent industry-standard clasps and silicone straps that you will like. Overall, we loved the foldability, convenience, adaptability, and ability to carry any kind of bag.
Here is what the Clicgear Rv1c review holds for you:
Don't we love it when something is both lightweight and compact? The push-cart here is just that. The average weight of golf carts is more than 18 pounds. The RV1C is even less; 17 pounds! However marginal it seems to you, to us, that is what makes the needle's devastating weight on a pile of 10 other things.
The built of the push-cart is such that it is smaller than most you find in the market. So it will easily fit car trunks and unused home nooks.
The golf cart performs well when it comes to customizability. There are 2 accessory tabs here. You can put all the accessories from the brand in there, including cooler bags, seats and bottle holders, cup holders, umbrella mount, etc.
Like all the other Clicgear trolleys, the Clicgear Rovic RV1C trolley is also foldable. It takes a dimension of 13″ x 15″ x 24″. It seems as if it could do better in making the cart more compact in terms of folding. Although it is space-efficient, it could fold more, given that bigger golf carts also fold down to a similar size. So, since it is small, it should have folded into a more compact shape.
The golf cart comes with adjustable bag mounts, of which there are 2 types. The strap that is similar to model 3.5+ is a better one; the other one is the good old fashioned plastic strap, which we don't want you to have. When you have options to pick a high quality, why go for low quality, plastic ones?
The Clicgear Rovic RV1C golf buggy gives you secure storage. The outer part of the storage console has a built-in pencil holder, tee holder, golf ball holder, etc. In the interior part of the console, you can keep a wallet, key, watch, and anything valuable.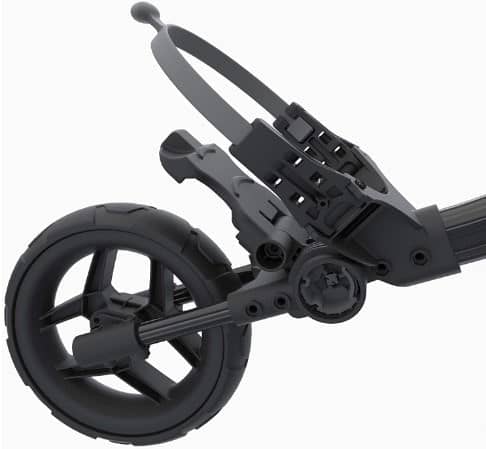 There is no good golf cart without good wheels. For any pushcart, you will pay an equal or more attention to the wheels than any other thing in the product. Here too, you won't be disappointed. It has plastic, airless wheels. The only thing you need to do with the wheels is to use them and clean them. No other maintenance!
When you handle the cart well, the wheels will last you really long. One downside is that the front wheels are smaller than the rear wheels, which doesn't make the cart as stable as you would like it to be.
However, thanks to the handbrake on the cart, your cart will stand in place without any interference from you. The handbrake stands well on the upper portion of the cart.
Keep in your mind you may have trouble keeping the thing stable when you have a slanted surface.
The cart is made of aluminum tubing in the body and airless tires. The latter needs zero maintenance, so all you have to do is just use the cart! The combination is made to last long.
There are a couple of ones out there who are termed as the best golf push carts. Clicgear themself offer some. Here, our model RV1C has been compared to two other ones from Clicgear, RV1S, and 3.5+.
Clicgear Rovic RV1C VS RV1S
The RV1S is more popular than the RV1C from Clicgear, let's start there. So, it has more usability.
The RV1S is also compact when it comes to size and structure, just like the RV1C. It also folds down to the same dimensions of RV1C, as mentioned previously.
RV1S has a larger exterior console compared with a larger umbrella/cup holder. It also has 2 accessory tabs like the RV1C and a swiveling front wheelset.
It weighs lighter than the RV1C and is more costly too.
RV1C is not suitable for tall men, being compact itself. So unless you are a short or medium-heightened person, opt for 3.5+. Both of them take the same size when folded from the entirety. Of the two types of straps, RV1C has, one of the straps that the bag mounts come with is like the 3.5+.
When it comes to accessory tabs, there are 4 of them in the 3.5+ model, compared to just 2 in the RV1C. Both the models are common in another thing, though. They both are expensive on your budget!
Most frequent questions and answers
1. Can I get a mesh pocket for this cart?
You won't get it from RV1C. However, you can check out the 3.5+ if you want mesh pockets.
2. Can children use it too?
This being compact is suitable for children or anyone with less height.
3. Does it fit stand bags?
This brings us to the end of our Clicgear Rovic RV1C Review. As you have seen, it has most of the useful components and features that the other models from Clicgear have. However, it feels heavy on the budget and performs a little weak on slanted surfaces.
Other than these two, we really liked what it had to offer. If you are looking for a lightweight, small golf cart, you will get good things from it. The downsides aren't as critical as they pose to be and can be easily avoided if you are careful to use and willing to spend. Hence, you can give it a shot!
Amazon and the Amazon logo are trademarks of Amazon.com, Inc, or its affiliates.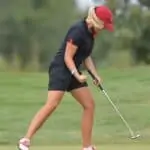 Daisy is the Founder and Editor in Chief of Golfs Hub. She is associated with Golf for more than 20 years. She got the inspiration from her father. She is a very private person & doesn't like to be photographed. She's worked in nearly every job in the golf industry from club fitting to instruction to writing and speaking. Now she is enjoying her retirement from day job... but not from Golf! Daisy lives in southeasternmost part of New York state with her family.