As an Amazon Associate, I earn from qualifying purchases. There is no extra cost to you. Thank you if you use our links; we appreciate it! Learn More.
Golf is as much about patience as skills in it are important. An average golf course could be around 6500 to 7200 yards. It simply implies that you will have to spend enormous energy to travel across from one golf hole to another. It can be tiring and result in fatigue, only to reduce your scores.
One way of avoiding such conditions is to use a lightweight yet reliable golf cart. In this case, Caddymatic Golf Xtreme 3 cart can be an excellent option. Today, I will focus on the Caddymatic Golf Xtreme 3 review to find how much worth this Caddymatic golf cart holds in practical life.
The Caddymatic cart is lightweight and features a seat for rest and an upgraded handle for quick transportation. Thus, this golf cart could be the game-changer on the course. But if you want a cheaper option anyway, I have Caddymatic Golf 360° Swivel cart as a good alternative.
So, check this out.
Caddymatic Golf Xtreme 3 Review
Caddymatci Xtreme is one of the top-rated 3-wheel pushcarts presently in the market. It comes with standout benefits and features that make it one of the premium choices for beginners and PGA golfers alike.
Its best features include-
Built-in seat
As you travel through the large golf course, you may sometimes wish to sit and take a rest. Behold yourself since Caddymatic golf Xtreme 3 wheel push/pull golf cart with seat black allows the same.
The seat is comfortable and provides a backrest facility. So, you can sit on it and even take a nap if you need to while others play. It will surely boost your golfing confidence as no fatigue and tiredness can be close to you.
Read about 6 other Caddymatic Push carts here.
Durable and Unique Frame
The metal frame of the Caddymatic golf trolley is as good-looking as it is durable. The frame is made of premium metal with rust and UV resistance. So, it is usable in all-weather and facilitates lasting performance.
Plus, at 16 pounds weight, the golf cart is truly lightweight. You can quickly take it from one hole to another without being tired at all.
Accessory Inclusion
You will be overwhelmed with the Caddymatic push cart accessories inclusion within the golf trolley. You can carry a beverage in its beverage holder for an energy boost. Plus, it has space for tees.
On top of it, the Caddymatic pushcart has an umbrella holder. So, rain or scorching heat or even snowfalls, nothing can keep you aloof from the fun of golfing throughout the day. You will also get the scorecard holder along with spacious space for tees, balls, and pencils to keep them organized and accessible. It will make your golf career easy and fun.
Wheel Design and Folding Capacity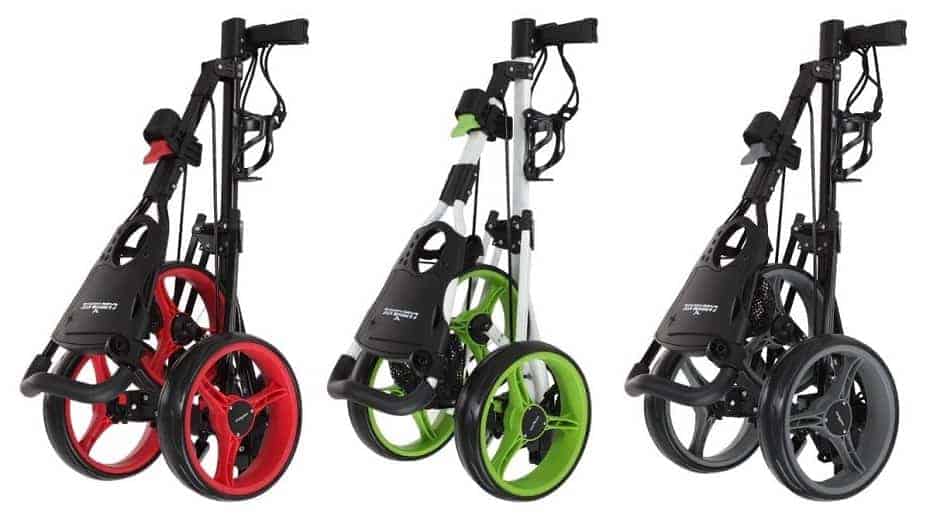 When you want a premium golf cart, folding a golf cart should be your main concern. If it is hard to fold, you will find it difficult to carry the cart from home to greens and vice-versa. Luckily, the Cadymatic push cart folds easily within a few seconds and is compact enough for quick portability.
You will also love its 3-wheel design. The wheels are durable and ideal for riding through the ups and downs of the green course. Plus, it has swiveling capacity for easy maneuverability with a ball-bearing facility that you can't ignore.
Pros
Lightweight and durable design for fatigue-free use.
Quick maneuverability on any golf grass for golfers.
Built-in seat with backrest for comfort and coziness.
The great design includes space for all possible accessories.
Cons
The push golf cart is expensive.
Imbalanced weight distribution.
Why Should You Choose This One?
If you want an awesome golf cart for professional tours and weekend tournaments, the Caddymatic cart is a must-have option. The cart allows you to take a rest with the built-in seat to remove tiredness. Hence, players with less stamina will find it a gold mine investment.
Target Users
Although the golf cart is expensive, it still fits the necessity of all golfers, from professionals to beginners. You will love its sturdier design and quick folding facility. When not needed, you can quickly remove the seat to make it even lighter for comfortable usability.
My Experience with This Cart
I found the golf trolley truly amazing. The wheels feel a bit heavier, but it is worth it, thanks to the brilliant durability. Plus, I loved its built-in seats. I could take a rest under the shades while others play their holes.
Lastly, the cart is easy to maneuver with the swiveling facility. Its ball bearings are lubricated and won't get clogged either. Thus, my overall experience with the cart is impressive. I would give it a 4-star rating. I cut off 1-star because it broke my bank account badly.
An Alternative Option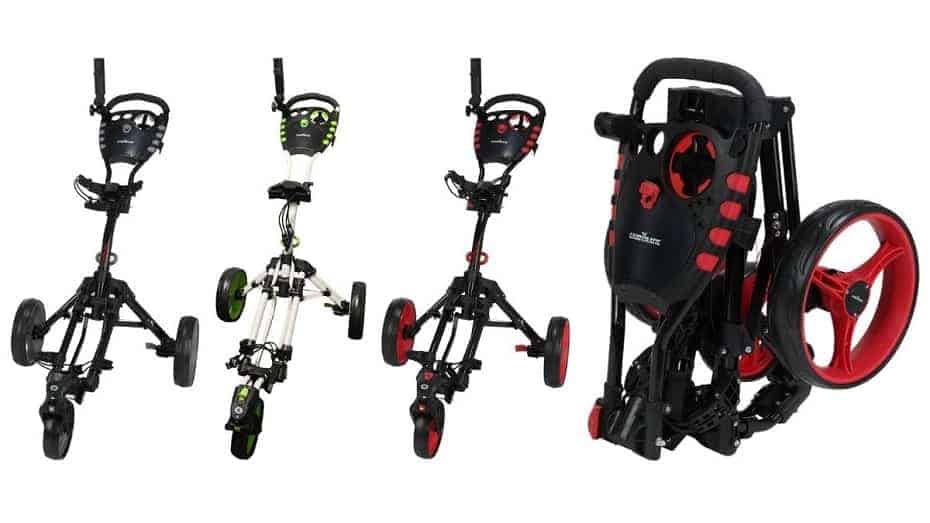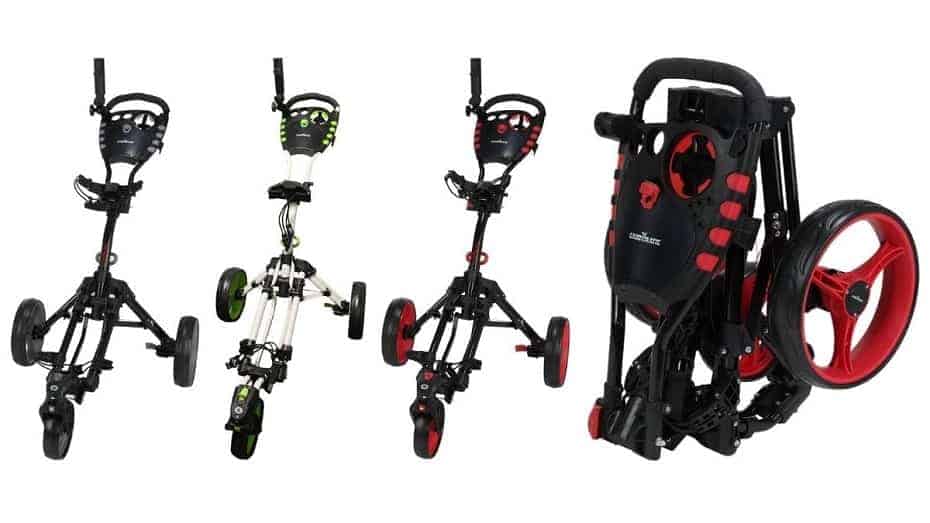 Are you interested in looking at an alternative pushcart with similar benefits but for a reduced price? Well, I found the Caddymatic Golf 360° SwivelEase a worthy cart for a recommendation.
Its front wheel features a 360-degree swiveling facility. Thus, you will enjoy maximum maneuverability on the golf grasses. It is possible to maneuver the pushcart on a dime, which also doesn't need much effort.
What's more, the wheel facilitates quick release too. It makes storage of the cart even easier. When folded, it becomes so compact that you can literally store it in the tightest post of your home. The overall frame is metal-made and sturdier enough to take the abuses of all-weather application. Plus, its cheaper price tag means you can get it within a tight budget as well.
Conclusion…
The Caddymatic Golf Xtreme 3 review found the golf cart a great choice for all. It is awesomely built with a sturdy frame. You can rest on the seat and quietly plan for the next holes. You will never feel exhausted with the Caddymatic pushcart, which is often a common scene for golfers, especially in bigger courses.
I also love the additional space for tees, beverages, balls, and scorecards to keep you ahead of other golfers on the ground. You will be overwhelmed with its supreme portability and maneuverable wheels as well. It is here to elevate your golfing score.
Read More:
Amazon and the Amazon logo are trademarks of Amazon.com, Inc, or its affiliates.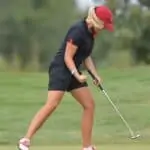 Daisy is the Founder and Editor in Chief of Golfs Hub. She is associated with Golf for more than 20 years. She got the inspiration from her father. She is a very private person & doesn't like to be photographed. She's worked in nearly every job in the golf industry from club fitting to instruction to writing and speaking. Now she is enjoying her retirement from day job... but not from Golf! Daisy lives in southeasternmost part of New York state with her family.