As an Amazon Associate, I earn from qualifying purchases. There is no extra cost to you. Thank you if you use our links; we appreciate it! Learn More.
Golf carts are no short than a blessing for those who are genuinely into the sport of golf. It enables you to effortlessly explore the whole golf course without stressing the back with a 50-pound bag. But the problem is that not everyone is satisfied with the regular speed that a golf cart comes with.
Golf carts have an average speed that is around 14 MPH. It might not feel enough for those who want to it a bit faster. So for those who are looking around to find ways on how to make a golf cart faster, the steps we will share here can help you to take the right approach.
Things To Consider Before Speeding Up Your Golf Cart
Here is an infographic for you:
How To Make A Golf Cart Faster?
1. Torque: The Determining Factor
What is Torque?
It is the first thing you are likely to be told that you need to increase and improve your Torque. But what is Torque? And how will it be increasing the Golf cart speed? Well, Torque is inherently tied to everything that can make your golf cart go faster, but for that, you need to understand how it works properly. So, Torque is the pull that your motor provides. Let's not confuse it with horsepower which is something different from horsepower.
So What Does Torque Do?
Why is it so essential to make your golf cart faster? Well, Torque will determine how well your golf cart pulls your weight without struggling. So it influences the top speed of the motor as well.
So as you can see, that is directly proportional to the power of your golf carts motor. So if you can manage to increase your pull carts Torque, it is going to give you the desired speed you wanted for it. But how do you increase the Torque? Well, without all the technical jargon, it is interconnected to the other ways to Make a Golf Cart Faster from the batteries and other up-gradation of the golf cart.
Read: Factors to consider before selecting an Electric golf push cart for you
2. Replace The Old Battery With A High Powered One
Adding a new and good battery with lots of firepowers can influence your golf cart to have better speed and velocity on the road. But how does the change of the old battery ensure a better speed of the golf cart? Well, here comes again the Torque, which is mainly determined by the battery. It is going to determine the speed and the power that your motor can produce and the pulling power as well, which is what Torque is.
Changing the battery will be much easier than other upgrades you can do to the golf cart. Simply changing the battery with a more high-powered one is going to increase everything from the speed to the pulling power and even the performance as well.
What To Look For In The Battery?
When it comes to the battery most crucial features are the amperage and the voltage of the battery. They will determine how much speed and Torque that is going to provide to the motor.
As regular golf carts will have no more than 8 volts, if you can manage to purchase a battery that comes with a voltage of 12 volts, that is going to provide a much better torque to the golf carts motor and thus increasing its speed quite significantly.
3. Upgradation Of The Motor
How to make my golf cart faster? Well, as we already mentioned here, the speeding up of the golf cart depends on many things from Torque to how much power the battery provides to the motor. But it all boils down to the motor. So if you are serious about the speed of your golf cart and want a total overhaul of how much speed you are going to get, you have to consider the motor and improve it.
But what exactly do you need to change and improve in the motor? Well, you need to have a careful balance when you are going to speed and Torque when upgrading the motor. To be precise, you need to upgrade the field coil in the battery to achieve a more powerful motor. A larger field coil isn't necessarily going to increase the speed, but it will improve the Torque and strength of the motor. The speed will be depending on how high the voltage is in the battery.
Read: Golf Cart Customization Tips
4. Add A Larger Tire
You may not believe or know this, but a larger tire will increase the speed and Torque of your golf cart significantly. A larger tire will increase a higher rotation per minute with much less rotation and generate better-pulling force with less effort. Also, if you can manage to add a good quality tire with a larger diameter, it can increase the health of the motor as well. Because the much pulling force or Torque your motor has, the less stress the motor has to face when it comes to riding uneven terrain. Best of all, large tires are quite cheap as well.
So what is the ideal size of the tire you want to purchase? Well, overall, a 24-inch tire can give your golf cart a great boost.
Read: Pros and cons of modifying your golf carts for speed
Final Words…
How To Make A Golf Cart Faster? Well, it is a bit complicated, but if explained, it is not so hard to understand. Because all you need is to ensure your motor is getting a better torque power and lesser load on the motor with a careful balance of speed and Torque. Adding a large tire or larger filed coil will help as well.
Read More
Amazon and the Amazon logo are trademarks of Amazon.com, Inc, or its affiliates.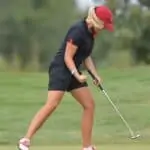 Daisy is the Founder and Editor in Chief of Golfs Hub. She is associated with Golf for more than 20 years. She got the inspiration from her father. She is a very private person & doesn't like to be photographed. She's worked in nearly every job in the golf industry from club fitting to instruction to writing and speaking. Now she is enjoying her retirement from day job... but not from Golf! Daisy lives in southeasternmost part of New York state with her family.