As an Amazon Associate, I earn from qualifying purchases. There is no extra cost to you. Thank you if you use our links; we appreciate it! Learn More.
If you were a golfer and enjoying your retirement lately with your community, chances are high you have seen golf carts on roads. But is the golf cart street legal? Can you buy a golf cart and drive it on the roads like a regular car?
There are specific rules on street legal golf carts that you have to follow to get driving permission. So, it is important to know how to buy the best street legal golf carts. The good thing is it sees immense popularity on the street despite being a lightweight and slow-moving vehicle, especially among senior citizens.
Nonetheless, it has to fulfill some legal requirements to be eligible to be driven on roads. Our discussion includes these laws regarding street legal golf cars, their essential accessories, and nine top suggestions on the golf cart street legal accessories.
What is Street-Legal Golf Carts?
In short, a street legal golf cart is an improvised version of a regular golf cart with some accessories that have the permission to be driven on roads. It has to have basic safety equipment. The list includes head and stop lamps, turn signals on the front, and read parking brakes and reflectors. Other essential kits may include seat belts, windshields, and exterior mirrors.
Since a regular golf cart won't have all these accessories, golf carts that are street legal need extensive modification, you have to purchase these accessories and make sure it fulfills the state traffic requirements properly.
What Makes a Golf Cart Street Legal?
Street legal carts are a hybrid combination of a standard golf cart and small cars. Nonetheless, you can't simply use any golf carts directly on the street. It has to meet traffic regulations for different states and needs to have street legal golf cart kits.
It must have-
Seat belts
Turn signals
Rear lights
Headlights
Brake signal and lights
VIN aka Vehicle Identification Number
The purpose of such high requirements is to fulfill the safety of both golf cart drivers and other drivers and passengers on the road. Also, legal permission for golf carts varies in different states. Some states limit where you can drive the cart, while other states limit the cart speed. For instance, Florida limits the golf cart speed to 25MPH.
Read: Golf Cart Upgrades
We have a detailed guideline on street legal golf cart requirements with an engaging info-graphic, which you can read here.
Read: Factors to consider before choosing the best pushcarts for your kids
What is Required for a Street Legal Golf Cart?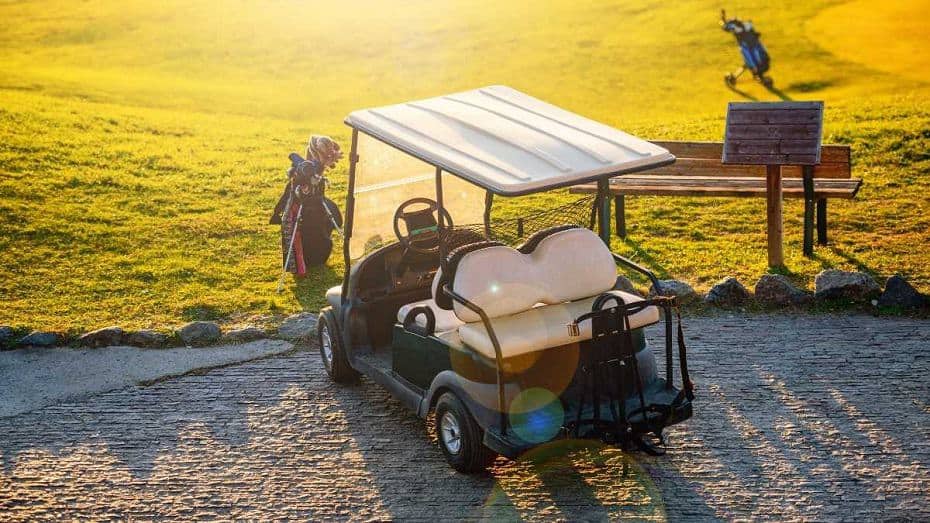 When you want to get a street legal cart, you can't simply get any golf cart. You need to consider a few things for it. Since you will need different accessories for it, the selection needs to be pinpoint accurate, and it's not easy.
So, here we put up our suggestions.
Light's quality
A golf cart for street driving must come with multiple lights. It includes headlamps, brake lights, front and rear lights. The lights must have the proper build quality and different settings. For instance, the headlight should have both narrow and wide beams for night drivability of the cart.
Wheels And Brakes
Brake is a prerequisite safety element of golf carts on the street. Since you will drive through busy roads, the brake must be of high quality. Also, it should be easy to control with the brake pad. Plus, the wheels need to be durable and sturdy too.
It is crucial because regular golf carts come with wheels to be used on the greens and concrete of the golf course. But for street driving, you must elevate its quality.
Windshield
Irrespective of the types of golf carts, it must have a proper windshield for driving permission on roads. Acrylic windshields are the most inexpensive ones. But it shatters easily in high wind or rain. The strongest windshields are made of polycarbonate and are somewhat pricey. You can use impact-modified acrylic windshields. It has great wind resistance and comes in reasonable pricing, too, which should fit your budget.
Read: How to winterize your golf cart?
Pricing
A golf cart may be available for $1000, and it even goes as much as $7500. The price range varies largely due to the type of modification the cart has. Lights, headlamps, windshields, horns, tires, and wheels all contribute to the overall pricing.
Hence, it is essential to fix your budget and purchase the cart accordingly.
Read: Ways of winterizing the golf cart battery
New Vs. Used Golf Carts | Do You Want a New or A Used Golf Cart?
It is tempting to convert it into a street legal version if you have an old golf cart. But is it worth buying a new golf cart?
First off, golf carts are no cheap investment. The price of a new golf cart can easily touch $5000 or more. So, getting a used or pre-owned golf cart can be a money-saving deal as these carts are gettable thousand dollars cheaply. These pre-owned golf carts will hugely benefit beginners and novice golfers with a limited budget.
Also, you can customize the cart anytime you want to give that you have the money. So, for new golfers getting a used cart isn't bad at all.
Pros of used golf carts:
Budget-friendly for new golfers
May already have some customizations
Cons of used golf carts:
It won't last pretty long
New golf carts are expensive but will have great benefits with durability. Its maintenance needs less attention, and so you can focus better on the game.
Pros of new golf carts:
It comes in immaculate conditions
You may get customization straight from the manufacturer
Eye-pleasing look and better driving experience
Its disadvantages include-
Electric vs. Gas Golf Carts | Are You Looking for a Gas or Electric Golf Cart?
Golf carts are available in electric and gas versions. Although both golf cart types come with incredible benefits, you have to choose between the two.
Electric golf carts are the new trend. Although it lacks power, it is eco-friendly. Plus, the battery-operated carts are lightweight and easy to maintain. Hence, electric golf carts have become the go-to option for most golfers.
Its advantages include-
Relatively lower price range than gas carts
Operates almost quietly
Easy maintenance
No noise and environmental pollution
The disadvantages are-
Less powerful
Battery limits full day usability
Gas golf carts are traditional carts and are thought to be powerful. These carts are generally weighty and provide superior performance with durability.
Its benefits include-
Powerful motor for better driving experience
Gas carts are more suitable for street legal driving
Long-lasting and satisfying performance
Its disadvantages are-
Pricier than the electric golf carts
Generates noise
Fumes may pollute the environment
How Much Do You Want To Spend?
When you decide to get a golf cart, you have to be ready to spend a handsome amount on it. The price of the cart depends on the number of seats it has. For instance-
Traditional 2-seater carts will cost you $7000-$8000
$8000-$10000 for the 4-seater golf carts
For 6-seater golf carts, you may have to spend over $12000
Luckily, the pre-owned golf carts are gettable at a much lower price. If you can negotiate, you can get them half the original price. So, you have to decide wisely.
What is The Best Street Legal Golf Carts Brands?
Many manufacturers thrive in the golf cart market, but not all of them build street legal golf carts. We researched the market deeply and found a few brands worthy of mentioning in the list. These brands are-
Club Car: Famous for producing classic golf carts
E-Z-Go: This brand is known for their safety requirements
Yamaha: Perhaps the most popular golf cart brand in the market
Polaris: Eco-friendly LSV (Low-Speed Vehicles) manufacturer
Garia: Offers brilliant design and unbeatable performance
Where to Buy Your New Golf Cart?
You can visit the physical sports of golf stores to get your favorite cart. But, during this pandemic condition, it is better to look for online shops. Amazon has tons of choices with comparable features to help you quickly purchase these outstanding golf carts for driving in the streets.
Reviews Of The Best Accessories for Making the Golf Carts Street Legal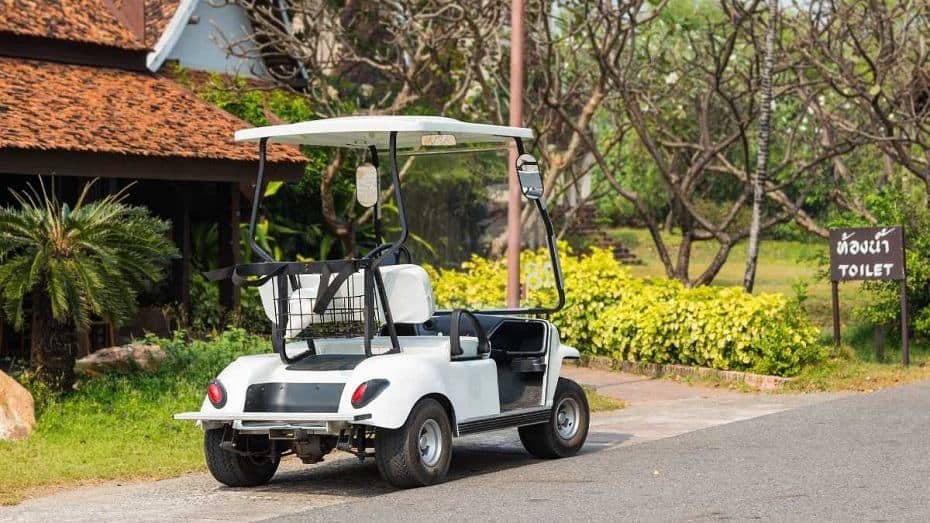 You should by now realize that a golf cart doesn't come ready as street legal. You have to customize the cart with some essential accessories to make it street legal. Hence, we have prepared a list of the street-legal required accessories for top rated golf carts with a brief review. So, let's get on with it-
1. Premium EZGO TXT Golf Cart Headlight
The light kit includes reading LED taillights and halogen headlights. Hence, you can quickly arrange the right lighting system for golf carts to get in the street. The halogen light is powerful and should light up to 100m in the front for safe driving.
The kit comes with a cutting template. It combines with easy instruction to help you cut the cart body's quick and comfy cutting for immediate installation. It is so easy that even an amateur will do it at ease.
The headlight and rear light are powerful and are built with sturdiness in mind. So, you should get long-lasting service from the light kit. The recessed look fits perfectly with the cart shape. Also, the kit is available for both gas and electric cart versions which is a great bonus.
PROS
Quick and easy installation.
Good lighting capacity.
Long-lasting performance.
CONS
Pretty ordinary appearance.
2. Kemimoto Golf Cart Rear View Mirror
The 17" mirror with a 180° viewing angle ensures maximum safety on the road. Its panoramic view helps you drive safely as you know what's coming from behind. The mirror is pretty transparent, and images are crystal clear too. It is made using shatterproof glass for maximum durability.
Its housing is made with high-impact ABS material. It sits on an iron bracket. Thus, the overall design truly offers long-lasting durability and outstanding viewing performance. Since the convex glass and its housing are highly impact-resistant, you can easily take the golf cart over any terrain.
Also, the entire setup ensures vibration-free operation. So, you experience improved visibility on the road, which is a must for safety. Plus, the rearview mirror model is compatible with all EZGO Golf Cart models and other brands.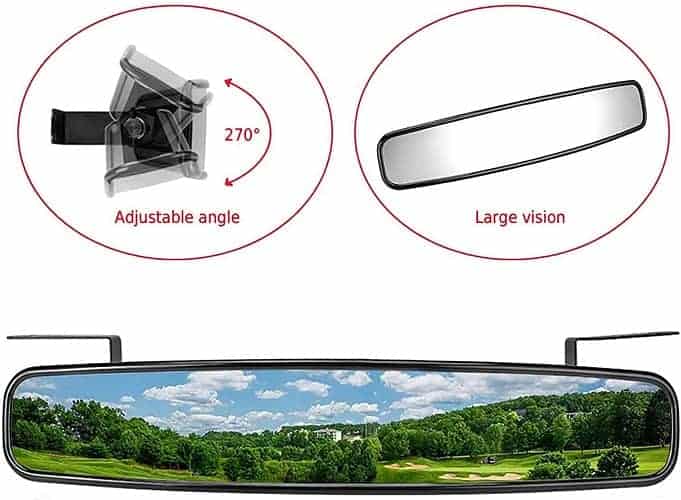 PROS
180-degree panoramic viewing capacity.
Shatterproof glass with improved visibility.
ABS housing reduces vibration for viewing.
CONS
The installation guideline is a little jerky.
3. 10L0L Folding Side Mirror and Panoramic Rear-View Mirror
The kit comes with a long rearview mirror and a pair of folding side mirrors. So, you get a complete package to meet the street legal golf carts requirements. Also, these are the must have golf cart accessories for driving in the street.
The convex glass is shatterproof for durability and all-terrain drivability. Plus, the housing is durable with ABS plastic construction for high-impact driving. The mounting bracket is sturdy enough too. Plus, the flexible adjustment provides you better viewing angle depending on the street conditions.
The visibility is outstandingly clear, and the rearview mirror ensures a full panoramic view with a side mirror for adjustable viewing capacity. So, you will know what's happening at the back and side of your golf cart and drive safely on the road. It increases your driving fun on the street.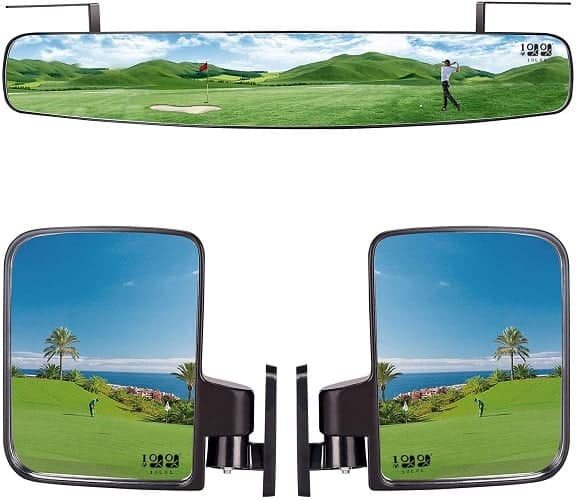 PROS
Quick adjustment possible of the mirrors.
Brilliant construction for all-terrain driving.
The viewing area is enormously large.
CONS
The brackets are plastic made.
4. EZGO TXT 1995-2013 Impact Resistant Windshield
The windshield is another essential accessory for golf carts to be street legal. You can quickly install the EZGO windshield and transform the existing golf car into a street LSV. It is compatible with all the models of EZGO TXT golf carts from 1995 to 2013.
So, the chances are high that it will fit your cart too. The windshield is made of ABS plastic with multiple layers for added protection. It has high impact resistance, which prevents it from breaking down. Also, you can fold down the shield when not necessary. It is a nice bonus to have.
The windshield is clear, and so you won't face any obstructions in your visibility. Thus, it offers superior protection and convenience in golf cart driving during rain and rough weather.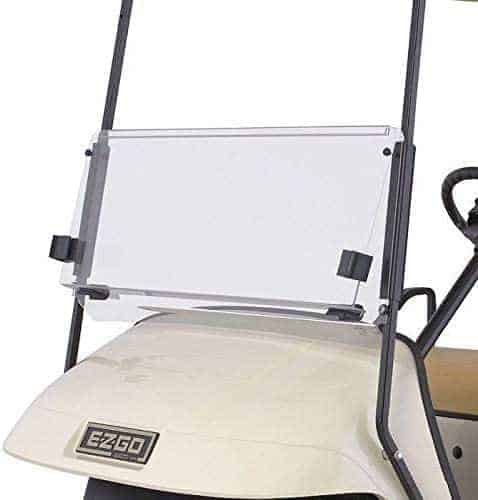 PROS
Multi-layered films add protection.
Impact-resistance for durability.
Easy folding down facility for convenience.
CONS
During removal, you will see scratches.
5. Performance Plus Carts Golf Cart Electric Windshield Wiper
When you have the right windshield for the golf cart, what do you want next? Well, you would want a windshield wiper to remove rain splashes during rain. This golf cart windshield wiper will perfectly fit in this context.
The motorized electric wiper works superbly to keep the windshield visible during nonstop rain. Also, it operates quietly to remove the last drop of water. Plus, you can adjust its parking on the left or right side with easy controls. Thus, you will love its convenience.
The package includes a motor and two wipers. It fits all the models and brands of golf carts too. Lastly, you can adjust its wiping angle at 40, 53, 65, 85, 100, 110, and 120-degree for perfect sweeping of the rainwater.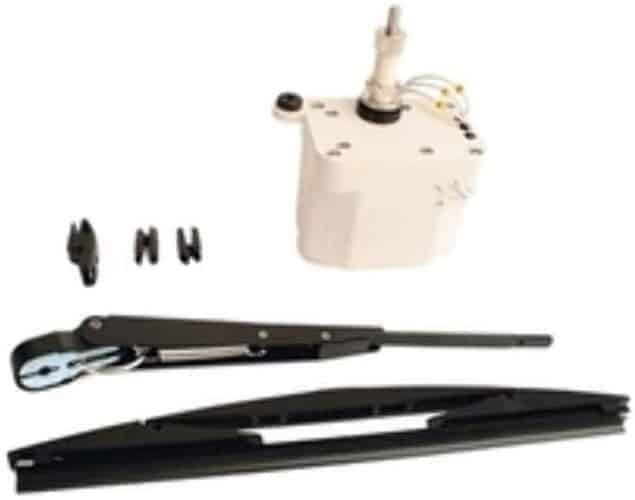 PROS
Compatible with all golf cart brands.
Easy parking side adjustment.
7 different sweeping angles for perfect cleaning.
CONS
Pretty ordinary built quality.
6. 10L0L 4 Passenger Universal Retractable Golf Cart Belts Kit
Passenger seat belts are mandatory for street driving and are indeed a premium safety requirement. Whether you are playing golf alone or have brought your family together, these seat belts will keep everyone safe inside the cart.
The belt is retractable and easy to engage around the chest. The kit is for 4-seat golf carts with everything included for an easy mounting session. The belts and their mounting accessories are sturdy with brilliant quality.
It ensures that even the heaviest person doesn't fall off in case any accident happens. Plus, the quick retracting facility makes cart driving easy. Hence, you will love the convenience and safety these belts bring on the street.
PROS
Includes everything for installation.
It doesn't need any holes for mounting.
Sturdy ad durable-built quality.
CONS
It only supports 4 sitter golf carts.
7. EXRAY Speedometer Kit- Universal Mount
When you drive golf carts on greens or streets, you will want to know its speed. Aren't we right? Hence, we introduce to you the Exray speedometer kit. The display is easily readable with improved visibility. It saves eyes from putting too much stress on the readings.
The speed reading is pretty accurate, and you can depend on it. What's more, the display also shows voltage readings. So, you know the motor condition. This is highly beneficial for electric golf carts where you need to know the electricity consumption.
It comes with a U-bolt for universal compatibility. The mounting bracket is durable and won't catch rust. So, it provides long-lasting performance.
PROS
Shows speed and voltage readings.
Quick and universal mounting.
Pretty accurate speed measurement.
CONS
The speedometer looks cheap.
8. 10L0L 12V Universal Snail Golf Cart Horn Kit
The horn kit is compatible with all brands and models of the golf cart. So, you need not worry about your golf cart model to buy and mount the horn kit. The horn is loud and clear. So, you should grab people's attention better on the road for safer rides with the golf cart.
Its loudness doesn't cross the FDA and state legal limits for street horns too. So, you won't have to pay unnecessary fines for it. Plus, you can control and adjust the volume level to meet different demands on roads ad golf greens.
The kit comes with the horn, mounting bracket, and wire, offering a complete package. Since you need not buy anything separately, it works as a money-saving deal.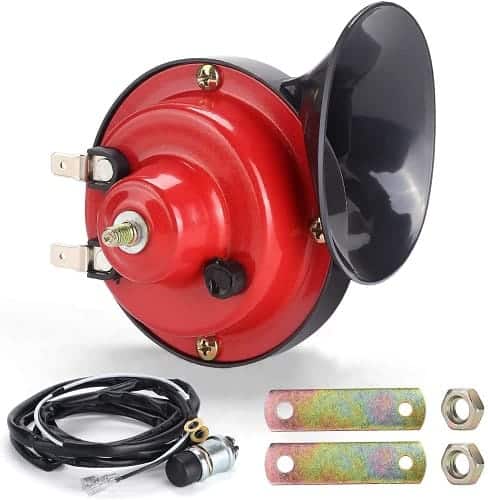 PROS
Loud and crisp horn seeks quick attention.
Fulfills traffic limits successfully.
Easily adjustable volume level.
CONS
Not so durable performance.
9. Stick-on Rectangular Reflectors
When you drive golf carts at night or during low-visibility, these reflectors will improve the cart visibility and work as a safety prerequisite for you. So, other vehicles can recognize you from a distance and also drive safely.
The reflectors come with strong adhesive for quick installation. Also, it is worn, tear, scratch, and water-resistant, which offers long-lasting performance. It comes in many colors to adapt with the cart color. Also, you can get its screw mounting version for better service.
Its visibility in rain and rough weather is top-notch and reliable. Plus, its size is suitable for golf carts and doesn't need any expertise for installation either.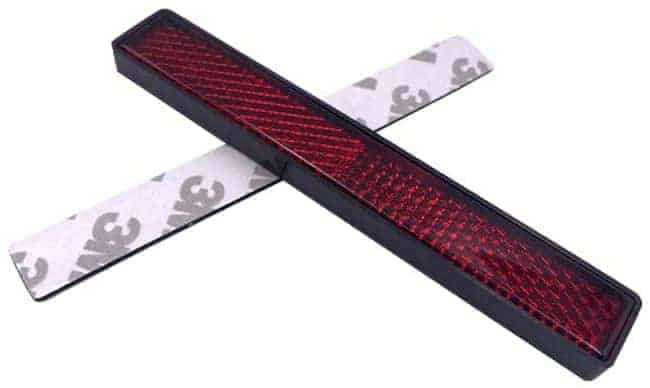 PROS
Automotive-grade reliable visibility.
Wear and scratch-resistant.
Multi-color availability.
Golf Cart Maintenance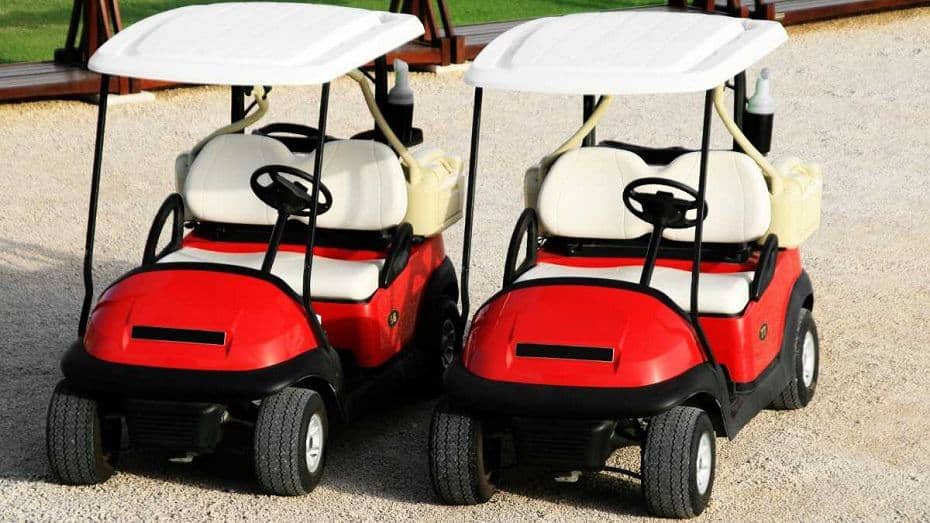 If you use an electric golf cart, always charge the battery fully when it is not in use. Make sure it has 100% before going in the streets.
Always check the battery's water level and make sure it remains above the mentioned level for safety.
Inspect the tires too. If it feels low in the air, check for any holes and repair it. Also, fill up with air if the tire feels low in pressure.
Check the brakes and oil lakes at least twice a year. It is essential for safe driving on roads.
Each golf cart has a weight limitation. So, when you load up the cart with golf accessories and people make sure it doesn't have an excess load.
Frequently Asked Questions (FAQs)
Where can you drive a street legal golf cart?
If your golf cart is street legal and has a license plate, you can drive it around the neighborhood and even on streets safely.
Are gas golf carts street legal?
In most states of the US, gas golf carts are considered street legal. However, the speed limit is 35MPH, and you have to maintain it.
Read: Pros and cons of Golf cart speed modifications
Can I drive a golf cart on the sidewalk?
Yes, you can drive a golf cart sidewalk, given that it has legal permission. Make sure it has horns to make people aware of the cart's presence.
How fast does a golf cart have to go to be street legal?
Golf carts are known as LSV (Low-Speed Vehicle). There's no minimum speed limit for them to be street legal. But the maximum speed in most states is restricted at 35MPH.
Can a child drive a golf cart?
In most cases, kids under 10 aren't allowed to ride on golf carts on public property. Experts suggest that you shouldn't allow kids under 6 to drive golf carts solely.
Conclusion…
Golf carts don't come street legal out of the box. You have to customize with the required accessories as prescribed in state legal rules. Here, we have put the best street legal golf cart accessory reviews to help you customize the cart in the street legal soon.
Hence, you will love the driving experience of the cart on roads. Plus, these accessories are durable, performing, and affordable, fitting your budget and requirements perfectly.
Read More:
Amazon and the Amazon logo are trademarks of Amazon.com, Inc, or its affiliates.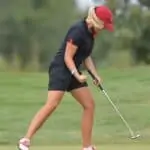 Daisy is the Founder and Editor in Chief of Golfs Hub. She is associated with Golf for more than 20 years. She got the inspiration from her father. She is a very private person & doesn't like to be photographed. She's worked in nearly every job in the golf industry from club fitting to instruction to writing and speaking. Now she is enjoying her retirement from day job... but not from Golf! Daisy lives in southeasternmost part of New York state with her family.