As an Amazon Associate, I earn from qualifying purchases. There is no extra cost to you. Thank you if you use our links; we appreciate it! Learn More.
If you are familiar with golfing in the golf courses, then obviously you are familiar with golf carts as well. Golf carts are small vehicles that are used to carry the golfers and their accessories. It reduces the stresses of walking all around the huge area covered with green.
There are various types of golf carts out there. Like two seated, four seated and so on. Even, they are categorized through their functional abilities as well. In this article, we are going to discuss some significant Types of golf carts along with their pros and cons, so that you can figure out which one is the best pick for you.
Golf carts are of different categories according to their seating capacity, carriage space, the power consumption etc. Here we will emphasize mainly on the 7 most popular genres of golf carts. We will know about these vehicles and try to figure out their pros and cons.
So, let's begin the adventure of knowing different types of golf carts.
Electric golf carts, an emerging phenomenon in the revolution of golf carts. They run on rechargeable batteries. So it's a completely environment-friendly machine. That is why it has reached the peak of popularity among all the golf players and enthusiasts. Now let's check a few more interesting facts about it.
Just like the bright sides, these carts have some drawbacks as well. Such as:
Push golf cart comes with 3/4 wheel (varies from model to model). These are more like a small simple trolleys to carry your golf bag and accessories. You can assign a push cart to one golfer only.
Push carts have nowadays become very popular because it makes your golf experience less hectic, requires no power source apart from some elbow grease, you can move straight from one hole to another.
It also spares your opportunities to gossip with your friends while moving around. So, let's check some other pros and cons of push golf carts.
Pulling golf carts are almost similar to the pushcarts. The main difference between these two is in the number of wheels. Just like, pushcarts come with at least 3 wheels, pull carts come with 2. There is a resting edge on the place of the 3rd wheel, which will hold your bag.
So, all you do is, lift the front edge of the cart a little bit, then pull the cart.
Now, let's see some other facts.
Remote Controlled Golf Carts
If carrying your heavy golf bag is lagging your enjoyment on a sunny day of golfing, you should seek some other available options for carrying that heavy thing. In this case, remote-controlled golf carts can be very handy for you.
Moving this cart is just like driving a remote control toy car with a remote. So, you can just walk relentlessly on the course without the hard work of carrying that bag or pushing the cart. Now let's look upon some other interesting facts about these carts.
We reviewed a fantastic remote golf cart named Spin it GC1R here.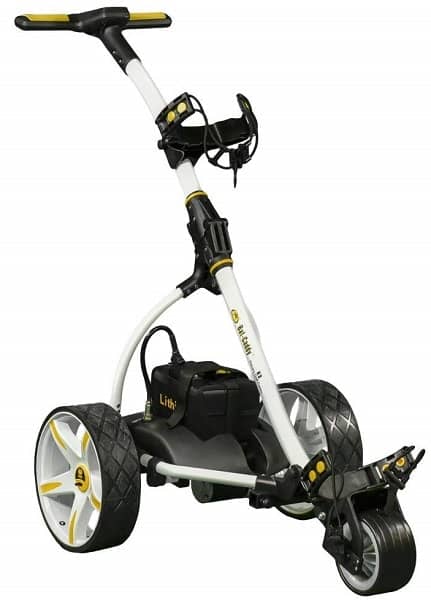 Gas golf carts, the classic one. Well, in many opinions it can be used as a full-time vehicle!! Just kidding. But indeed it has the functions of a full-fledged vehicle.
These carts have two/four-stroke engines, which are powered through fuel, mostly petrol. That means it is quite a powerful cart and can carry a lot of loads. Also, it can move faster, generate more speed and so on.
Usually, they have 4 seats along with carriage spacing. So, in the vast and large golf courses, gas golf carts come handy. Now, let's check out some other interesting facts about these carts.
You can make this carts Street legal by making some changes & can enjoy driving around the road. To make it street legal you'll need proper golf cart accessories.
Luxury/Club Car Golf Carts
This is the exotic genre of the golf cart industry. If money is not an issue to you and you are looking for the absolute best experience for driving golf carts, then Club car golf carts or Luxury golf carts will match the perfect deal for you. Starting from looks, performances and comfort, these are the best.
So, let's get to know some more facts about these carts:
A very noble machine. If someone has physical disabilities to stand up properly, but strong shoulders or sheer willpower for playing golf, then they can surely take the help of adaptive golf carts. The single-seated carts have some extraordinary features like:
And, to be honest, there are no logical cons of these carts have been found. After all, these carts are doing an amazing job and letting almost everyone to have the opportunity to play golf. So, what can be bad about these?
Everything has its own positive and negative aspects. Golf carts are no different from that. There are many Types of golf carts and each one of them has its unique features. It's nearly impossible to find all the facilities in one particular product.
That is why, in this article, we have shown you several types of Golf carts pros and cons, so that you can find the right pick for you according to your capacity and the features that the golf carts offer.
Amazon and the Amazon logo are trademarks of Amazon.com, Inc, or its affiliates.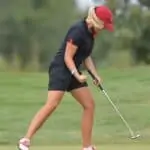 Daisy is the Founder and Editor in Chief of Golfs Hub. She is associated with Golf for more than 20 years. She got the inspiration from her father. She is a very private person & doesn't like to be photographed. She's worked in nearly every job in the golf industry from club fitting to instruction to writing and speaking. Now she is enjoying her retirement from day job... but not from Golf! Daisy lives in southeasternmost part of New York state with her family.