As an Amazon Associate, I earn from qualifying purchases. There is no extra cost to you. Thank you if you use our links; we appreciate it! Learn More.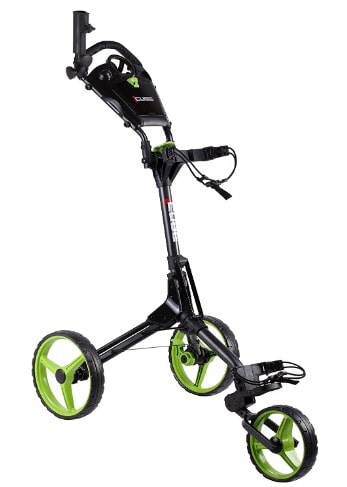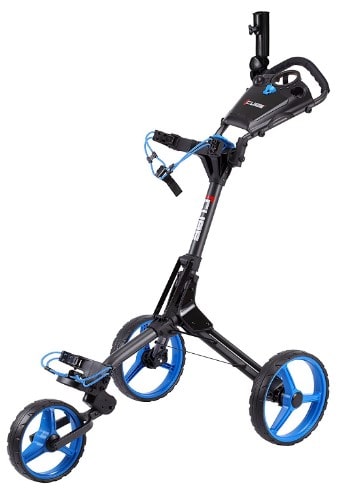 Often times, when it becomes hard to afford a caddy or there are none around the golf course to help you carry your gear, a golf cart is what you mostly can rely upon. The right pushcart can cut down a lot of hassles, standing up as a convenient carry assistant throughout your game.
The Cube 3-wheel push-pull cart has been one of the best-rated 3-wheel pushcarts in the market for a while recently.
But is this the right match that you've been looking for? Let's find it out by peeking into the key insights through this Cube Cart 3 Wheel Golf Trolley review.
Overview of Specifications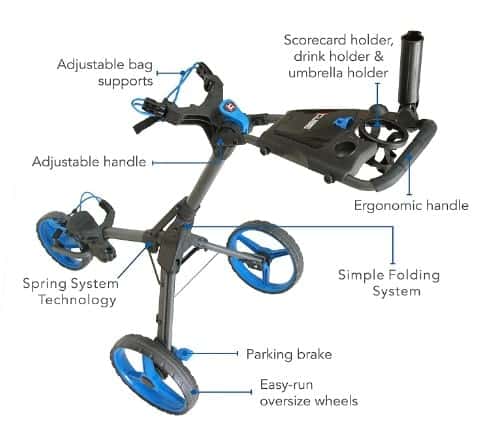 | | |
| --- | --- |
| | |
| | Two-step folding golf push cart |
| | |
| | |
| | |
| | |
| | |
| | Drink holder, Scorecard holder, ball and tee holders, Accessory compartment, Umbrella holder |
| | |
The Greats
Apart from the catchy design and the variant color options, the Cube Cart 3 Wheel pushcart does come with some decent attributes that can make the hauling of your golf supplies in the course more convenient. Here's what I found useful about the cart.
Sturdy yet Lightweight Frame
As soon as you get your hand on this golf cart, you'll feel the lightness of its weight. It weighs only a bit over fourteen pounds, which might lead a lot of its potential suitors to doubt its durability. But the fact that it's made of 7068-grade aluminum, one of the sturdiest aluminum alloys out there, the frame is indeed far from frangible.
A lightweight yet sturdy cart-frame can be handy at times when you decide to overload it with snacks, drinks, and a handful of other personal items other than your golf bag, which would otherwise make the pushing thoroughly tedious.
Easy Folding and Adjustability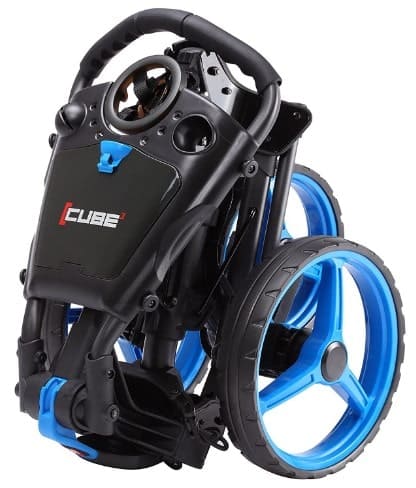 After a tiring day at the course, the last thing you'll be keen to deal with is a wayward cart that keeps refusing to fold down. Thankfully, with this cart as your hauling assistant, such a scenario is highly unlikely. With little efforts, you can collapse the whole assemblage into a neat wad within a few seconds. And when folded, its compactness will allow you to comfortably seat it in your car boot regardless of its size.
And it won't ruffle you during your game either. The ergonomic handle gives you three options to adjust it in your preferred way. So, if you're playing in pairs, both you and your partner who shares a different height than yours can find comfort in the hauling.
Convenient Maneuverability
If rough, unstable rollings on the course have long been an issue for you, this cart has got you covered. Its wheels are made to provide smoother roll-ons with higher stability, thanks to the friction-free tires that allow you to maneuver the cart even in rugged surfaces comfortably. Besides, it has its front wheel fixed into place, which makes your pushing through slick terrains far easier.
At a price so low, the cart is likelier to beat its potential competitors in terms of providing storage options.
The makers never actually thought of skimping on giving you enough space for storing your accessories in this cart. You get a drink holder, scorecard holder, ball and tee holders, an additional accessory compartment, and even an umbrella holder within this cart, which will leave you in no shortage of options if you want to pile it up with your personal goods.
Do the inclines in the course concern you with the possibility of your cart to roll all the way down? Well, fear no more if you are to park this cart. No matter how loaded the cart is, you can secure it in place anywhere with the help of its foot brake that cuts your worries of sudden roll-downs.
The Not So Greats
Well, despite the cool features, here are the downsides of this cart that you must consider before making a purchase.
While the tires are great for smooth rollings onto rugged or uneven surfaces, they are not broad enough to provide you sufficient assistance when carrying it through inclines. It'll make you struggle to balance it properly on hilly terrains because of its ultra-lightweight.
The straps that are supposed to hold your bag may not prove to be expansible enough in some situations, which might be very annoying. For instance, if you pack in a hurry and your bag gets bulged, the straps are unlikely to support it.
Verdict…
Apart from the incline issues, the Cube Cart 3-wheel golf cart stands as a firm contender among its peers as far as the price is concerned. Also, at this price point, very few models can match the likes of fast-folding mechanism, maneuverability, convenient pushing, and most notably, the storage option of this pushcart.
So, if you're not golfing in hilly courses anytime soon, the cart can be an excellent cheap alternative to a golf caddy, especially if you're looking for overall accessible manageability and durability in a pushcart.
What's your take on this Cube Cart 3 Wheel Golf Trolley review? Share your thoughts in the comment section below. We'd love to hear you out.
Read More
Amazon and the Amazon logo are trademarks of Amazon.com, Inc, or its affiliates.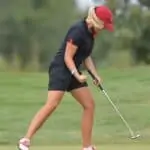 Daisy is the Founder and Editor in Chief of Golfs Hub. She is associated with Golf for more than 20 years. She got the inspiration from her father. She is a very private person & doesn't like to be photographed. She's worked in nearly every job in the golf industry from club fitting to instruction to writing and speaking. Now she is enjoying her retirement from day job... but not from Golf! Daisy lives in southeasternmost part of New York state with her family.