As an Amazon Associate, I earn from qualifying purchases. There is no extra cost to you. Thank you if you use our links; we appreciate it! Learn More.
Although automatic or robotic golf carts have seen an upsurge in golf courses, the conventional push and pull golf cart is still the standard of most golf courses. And the Qwik Fold Golf Cart is truly a popular push and pull golf cart choice among golfers for a number of reasons.
And today, we are going to investigate deep into the cart in our Qwik Fold Golf Cart review to show whether or not it is worth the golfer's choice. As far as the Qwik fold golf trolley is concerned, it has the superior folding capacity, efficient movement, and a sleek design that boasts patented technology.
Hence, it receives raved feedback from golfers and has become a norm in carrying the golfer's equipment with the minimum fuss.
Best Features
Quick folding and opening.
360-degree swiveling wheel.
Tap-in foot brake activation.
Built-in holder for umbrella.
Qwik Fold Golf Cart Reviews
Qwik fold Swivel golf cart truly lives up to its expectation mark with the naming. It has the fastest swiveling and folding capacity among the golf carts in the market. Also, the modern design and freakish sleek design definitely give it an edge over the other carts.
But is Qwik fold golf cart worth it?
Let's see what its benefits bring us, convenience or discomfort.
Quickest folding facility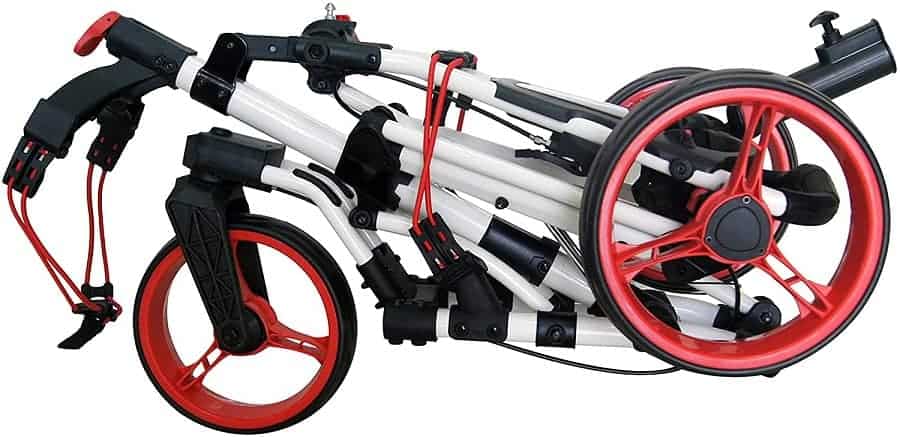 The golf trolley uses patented bullet-system folding and unfolding technology. It enables the cart to open in seconds while you are all set to explore the golf course to test your golf swinging skills. Also, it folds in less than a few seconds.
The quick opening and folding make the golf cart convenient to use. Also, the folding and unfolding of the cart are made comfortable and easy for all.
Swiveling wheel
Many golf carts have incredible features in the paper but fail to offer smooth movement over the lush greenery of the golf course. The manufacturer of Qwik fold Swivel golf cart has noticed the issue and solved it swiftly.
The golf cartwheels have a quick and easy 360-degree swiveling facility. So, you can quickly move the cart back and forth. Also, the ergonomic handle makes the pull and push actions comfier than ever. You will truly appreciate its buttery movement on the green course as you explore the large playground.
On top of the swiveling facility, you can even lock the front wheel. Thus, it provides a remarkable maneuvering facility as you push the cart forward. It boosts the cart maneuvering comfort and is among the top-rated swivel wheel pushcart in the market.
Easy and safe brake
When you find the right place to start your golfing day, you would want the golf cart to put a stop in place securely. We have to give accolades to the foot brake design of the Qwik golf cart that truly comes with an exceptional braking capacity to make such stops quick and safe.
Yes, you will only need to tap the foot brake to activate it, so the cart stops immediately. Also, the brake is made smoother to ensure that your golfing gear doesn't shake and tip over the cart. It safely stays right where you place it with the brake pad activated.
Umbrella Holder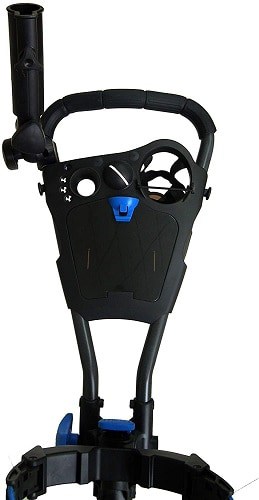 When you plan to enjoy golfing during the monsoon or rough weather, getting wet in the rain may be a big concern for you. Or what about saving you from the scorching sun? Well, the weather won't be a big deal for you anymore.
Thankfully, Qwik fold golf cart parts include a built-in umbrella holder. Thus, you can quickly fix the umbrella during the downpours to save you and the golf clubs from getting wet. It is truly a genius innovation by the manufacturer to ensure maximum comfort and convenience for golfers. Moreover, the holder opening and folding are super-fast too.
Premium Construction
The golf cart features a collapsible design with quick opening and folding ability. The frame is made of aircraft-grade aluminum to ensure the maximum sturdiness and durability of the golf cart. The wheels are also designed to offer premium maneuverability that you will fall in love with promptly.
On top of the frame boasts of an attractive matte black finish. It goes perfectly well with any golf bag and brings a premium feel.
PROS
Very easy to maneuver and brake
The sleek design brings an eye-pleasing look
Durable and sturdy aluminum design
It has height adjustability for comfort
The frame is lightweight and easy to move
CONS
At times may veer in one direction
Available in black finish only
Why Should You Choose This One?
The Qwik Fold golf cart is definitely the best 3-wheel golf push cart you will find in the golf market. If you look for a sleek, designed, and a long-lasting cart to explore the golf courses, this golf cart is your best bet by miles.
Its easy maneuverability, quick braking activation, and convenient release make it our top choice for all golfers, from experts to beginners. Plus, its easy folding means you can easily carry it at the back of your car or SUVs.
An Alternative Option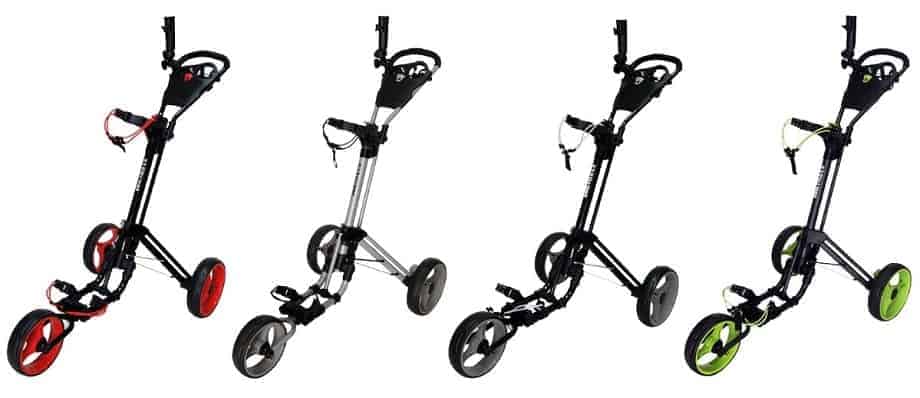 If you want an affordable option but don't want to compromise with the qualities and benefits of the golf cart, Qwik-Fold 3 Wheel Push Pull Golf CART will be your best buy. It comes with all the benefits of the Qwik Fold golf cart and is priced low.
It features an aircraft-grade construction and convenient movement. The three wheels are easy to swivel and lightweight for comfort as well. On top of everything, the golf cart has a beautiful white finish that complements the black wheel for a pleasing appearance.
Also, it is lighter and more compact than the Qwik fold golf trolley, which adds to its benefits tally too.
Conclusion
Golfing should be fun and for amusement. Sadly, many golfers and caddies become tired while carrying their golf gear. It happens mostly because of the inappropriate selection of the golf cart. Therefore, in our Qwik Fold Golf Cart reviews, we find it worthy of recommendation to solve these problems forever.
The golf cart has incredible feature-packed benefits, both in the papers and practical uses. Although it sits at the upper end of the golf cart pricing, it is still a worthy investment. Whether you are a beginner or a pro golfer, it has everything to make your golf sessions less taxing on the body. It is a highly proper golf cart for you to enjoy the best-golfing sessions.
Read More
Amazon and the Amazon logo are trademarks of Amazon.com, Inc, or its affiliates.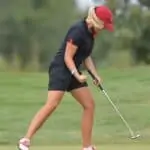 Daisy is the Founder and Editor in Chief of Golfs Hub. She is associated with Golf for more than 20 years. She got the inspiration from her father. She is a very private person & doesn't like to be photographed. She's worked in nearly every job in the golf industry from club fitting to instruction to writing and speaking. Now she is enjoying her retirement from day job... but not from Golf! Daisy lives in southeasternmost part of New York state with her family.