As an Amazon Associate, I earn from qualifying purchases. There is no extra cost to you. Thank you if you use our links; we appreciate it! Learn More.

Many golf courses now prohibit the usage of motorized golf carts to persuade using push carts. When talking about pushcarts, Bag Boy is one of the most renowned brands. Their recent Bag Boy Nitron takes the push cart experience to the next level.
The Bag Boy Nitron is one of the best push carts for golf lovers. Its compact shape and easy to open mechanism paired with other unique features make it one of the top choices for anyone in the market for a new push cart.
There's a lot to talk about this particular cart. And you would want to know about the pros, cons, exclusive features, and other specs before making a purchase. In this comprehensive Bag Boy Nitron push cart review, I will explore the features of it, why it's recommended, and also compare it with other similar products so that you can decide for yourself whether it is the right one for you.
Bag Boy Nitron Push Cart Review
The Bag Boy Nitron can be considered one of the best if not the best push cart to date. Many other carts have similar features to this but the one thing that none could match is its nitro piston technology. You can fold and unfold it in a single step which is an excellent feature I personally love.
It also has the top-lok technology to ensure the safety of your golf bag. The console can carry scorecards and drink bottles with ease. The handbrake is placed in a convenient place to ensure maximum comfort and minimize accidents.
All three wheels are specially designed for stability. They are made from specialized foam and hard plastic that require no expert maintenance. You can freely push the cart around the golf course whatever the terrain without a hassle. No matter the surface is rough, muddy, wet, or whatever; the wheels are built competent enough to carry the cart anywhere.
Even after all these features, the Bag Boy Nitron is ridiculously lightweight. It weighs just around 16 pounds when empty and has a dimension of 19 x 13.5 x 22 inches when folded. So, it can be carried easily.
To ensure its lightweight, mostly plastic has been used in the making. So, its durability can be questioned. But with proper care, you can easily use it for a few seasons. Its front wheel is locked, so stability is increased at expense of ease of handling.
Specifications
Brand: Bag Boy
Model: Nitron
Dimension: 19 x 13.5 x 22 inches
Front-wheel diameter: 9.5 inches
Rear-wheel diameter: 11 inches
Weight: 16.75 pounds (when empty)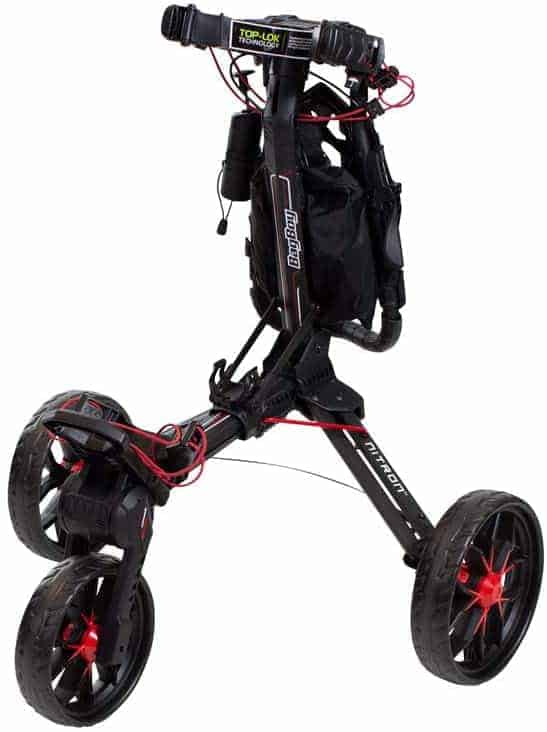 Features
Nitrogen Powered Folding Mechanism
The biggest hassle of pushcarts is countered with the use of nitro piston technology. You can fold it or open it in one single step.
Top-Lok Mechanism
Bag Boy's patented top-lok technology allows secure attachments of your golf bag with the cart. You can push the cart however you want, wherever you want without worrying about them falling off.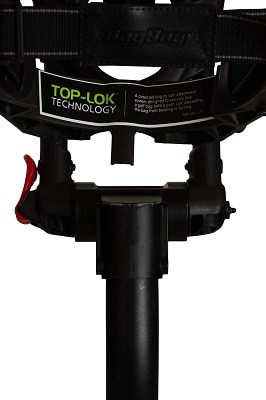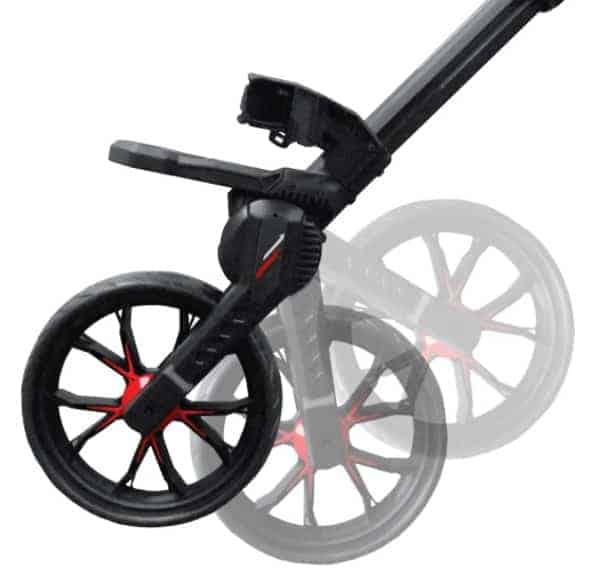 Fixed Front Wheel
The front wheel is fixed, unlike the triswivel version. While this reduces handling, it increases the stability of the cart. A lot of heavy equipment is carried on push carts so stability is a major issue.
Spacious Console
The console is so big you can easily put the scorecard, golf balls, etc. Additionally, you can also keep electronic gadgets, drink bottles, wallet, car keys and more with room to spare.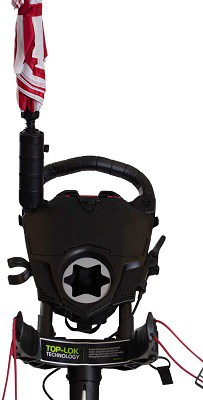 Umbrella Holder
The Bag Boy Nitron has your back during a sudden downpour. The integrated umbrella holder can carry your umbrella both opened and closed.
Strategically Placed Accessory Bag
The accessory bag is placed directly below the console. This makes storing, carrying and pulling out your golf equipment a lot easier and intuitive.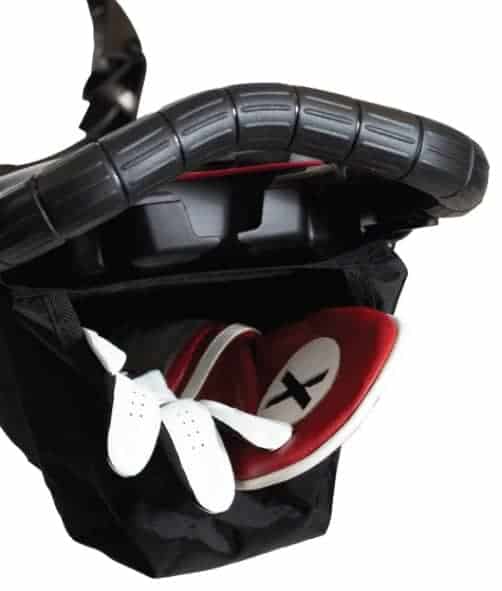 Pros
Adjustable handle
Fast open and closing mechanism
Hard wheels
Great design
Large accessory bag
Broad console
Any sized golf bags can be used
Lightweight
Multiple color options
Cons
Fixed front wheel so less maneuverability
Durability can be an issue
A bit expensive
How Good Is It?
Bag Boy push carts have been admired by golfers for a very long time. After popular models like Quad XL, Triswivel; their latest release Bag Boy Nitron auto-open push cart has been able to live up to the expectation. Its slick look, compact design, and few exclusive features separate it from other push carts and place it among the best golf push trolleys.
Its 3 wheels are designed in such a way so that the cart can carry enough load without any possibility of being ruptured. The front wheel is fixed in its place to maintain balance. The two rear wheels are placed wide enough for stability. Also, the wheels are airless hard wheels. So, you won't have to worry about flat tires on rough terrains.
You can store all sorts of golf equipment as well as scorecards, drinks, and even an umbrella. So, don't worry about those rainy days. It's very easy to assemble, you won't require any special tools. Also, there's plenty of storage for small accessories as an extra bag is attached below the console which is easy to access and conveniently placed.
The best part about the Bag Boy Nitron golf push cart is the unique feature that isn't used in any previous models. Its nitrogen powered piston, known as nitro-piston technology makes the folding and opening very convenient.
Air is compressed when it's folded, so the release of pressure automatically opens the cart when the corresponding lever is pulled. This makes assembling and collapsing the push cart fast and super easy.
When folded, it can be easily carried in hand or the back of a car. It's about two feet long, one and a half feet wide, and one foot tall when folded, so it's safe to say the design is very compact. Also, the designers and engineers behind it managed to keep the weight to a minimum to make sure convenient hand carrying.
So, after careful analysis of the attributes mentioned above, I can confidently say that the Bag Boy Nitron trolley is a safe and worthwhile investment for golf enthusiasts as well as casual golfers. You are getting so much in a small package at a fairly reasonable price which makes it an extremely good purchase.
Why Would I Recommend It?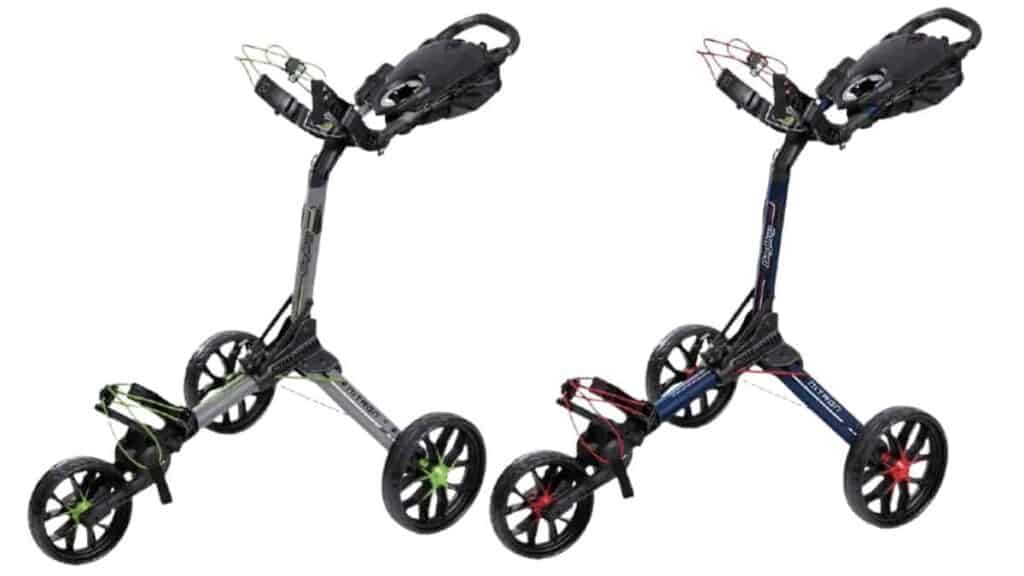 When it comes to the best golf push trolley, Bag Boy Nitron remains at the top. It boasts various interesting and useful features. But some the reason I would recommend it is some state-of-the-art features that aren't easily available in other models.
Nitro piston technology isn't anything new. It has been used in air guns for quite a while now. In Bag Boy Nitron, the same technology is used to achieve a different goal. Many other foldable push carts are quite a hassle to use. Their folding and opening mechanism are a bit difficult and hassle some with their hinges and manual folding.
Using the nitro piston technology, compressed air is used to open the folded trolly with ease. When folded, the air is compressed and accumulated inside. So, when you are opening it, the decompressed air is released and automatically unfolds the cart. All you need to do is to use the specific lever and the nitro piston will take it from there.
The golf bag is a part and parcel of golfing. Carrying the bag separately can feel quite irritating. Bag Boys patented top-lok technology ensures that the bag stays securely attached to the cart. So, you don't have to worry about the bag being displaced or dropping stuff.
The Bag Boy Nitron is lightweight and highly portable. Not exceeding 2 feet in its longest dimension with an empty weight of 16 pounds. So, you can easily carry it from place to place. In the boot of the car, back of a Motorcycle, or in the hand, you can carry it however you want with ease.
Let's watch a video:
Bag Boy Nitron VS Clicgear 3.5
Clicgear 3.5 is another widely popular push cart. It is slightly heavier as it has more metal in its build. So, the overall build quality is superior and feels sturdier than the Bag Boy Nitron. However, when it comes to convenience, the Bag Boy Nitron is the clear winner between the two.
Folding and opening the Clicgear 3.5 can feel exhausting. You have to go through three different locks, fold the front wheel, then fold the entire cart. On the other hand, the nitrogen fueled Bag Boy Nitron offers effortless unfolding. You just have to use the one designated lever for folding and opening and the nitro piston technology will do the rest of the job.
Also, the accessory bag is easily accessible in the Bag Boy Nitron. So, in times of hurry, you won't have to ransack through your stuff.
Bag Boy Nitron VS Clicgear 4.0
The Clicgear 4.0 is much improved than its predecessor. The folding and unfolding mechanism is way easier than Clicgear 3.5. It is highly admired for its ability to carry heavy bags with ease. Just like other Clicgear models, it's very durable.
The big boy Nitron is lightweight and easy to handle. Other than easy folding and opening, the Clicgear 4.0 hasn't overcome the other downsides of its previous version. Bag Boy Nitron wins in literally every aspect besides durability. Furthermore, due to being an old model, the Clicgear 4.0 is difficult to find in the market. This is one of the reasons that Bag Boy Nitron is reigning supreme.
Bag Boy Nitron VS Triswivel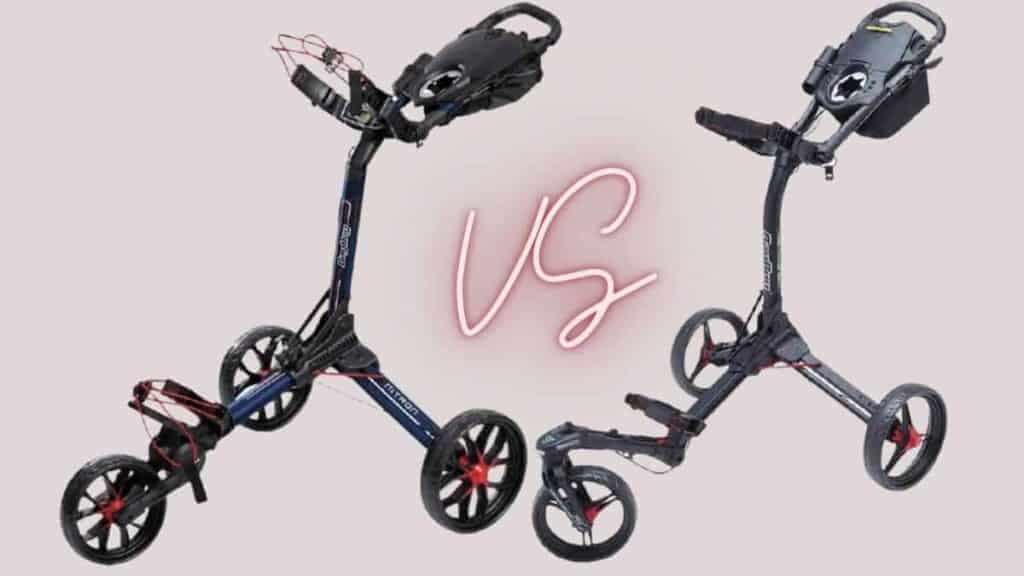 The Triswivel is also from Bag Boy. As I have already stated, its front wheel can be swiveled hence the name. Due to the swiveling front wheel, it provides a lot more handleability than the Nitron. Also, the wheels are tough. So, don't fret if the terrains are rough. Although it isn't highly maneuverable like the Nitron.
The Bag Boy Nitron has fixed front wheels. While it increases stability, the convenience of pushing it around the golf course is drastically reduced. But it is compensated by its nitro piston technology. Other than that, both offer pretty much the same features.
Bag Boy Nitron VS Spartan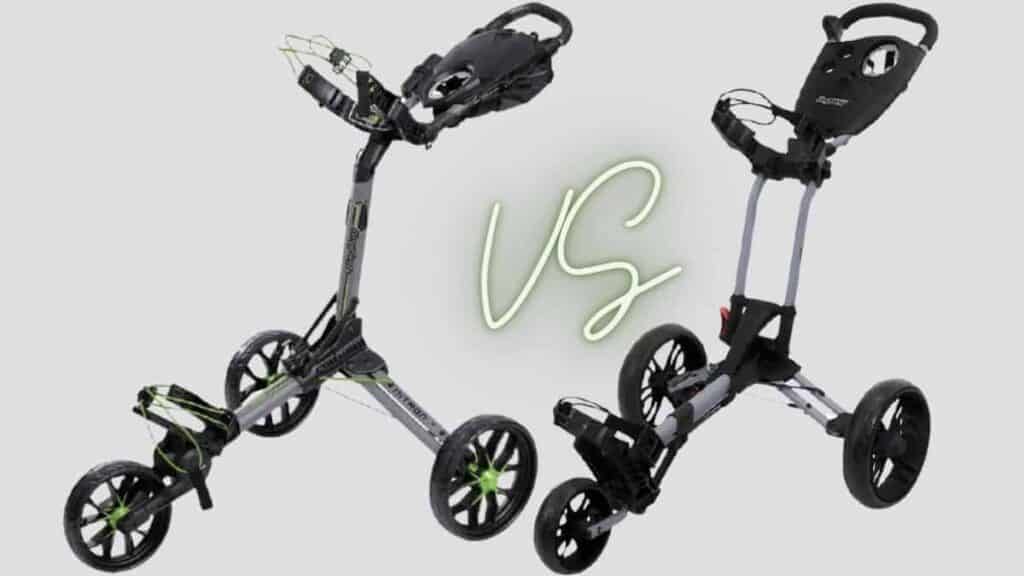 The Bag Boy spartan stands somewhere in between Clicgear and Nitron. While the fold-unfold mechanism is more simplified compared to Clicgear variants, it's still a two-step manually executed mechanism. It has a foot brake which may or may not be preferred by people.
Its rear wheels are bigger than the Nitron's. The bigger wheel gives it more stability so you can carry heavy equipment without worrying about tipping over. Like other Bag Boy models, spartan has a scorecard holder, drink holder, etc.
Bag Boy Nitron VS Quad XL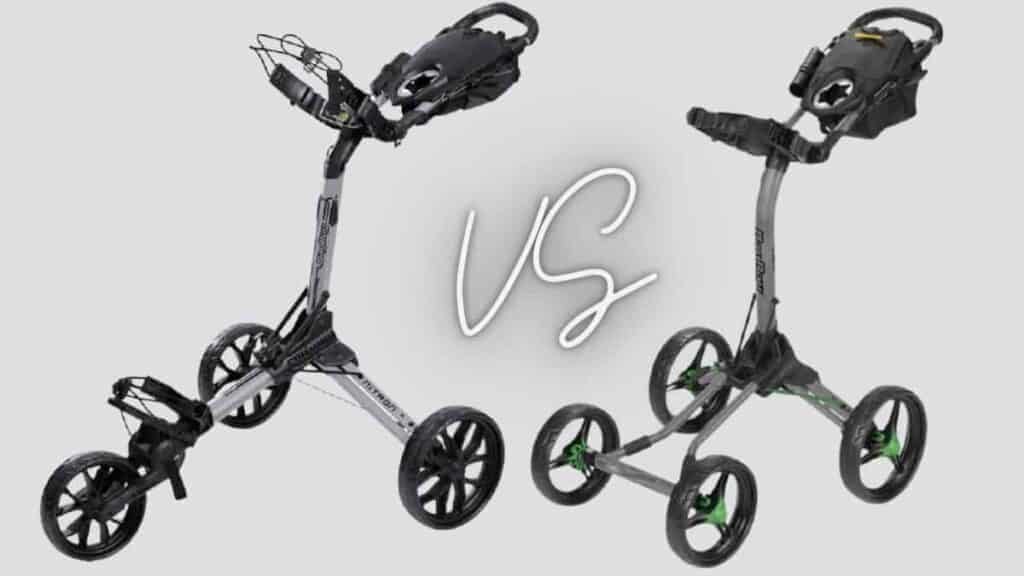 The Quad XL is the only four-wheeler among the mentioned carts. It is also from Bag Boy. It has a simple two-step open-close system, so it is more convenient than most other non-Bag Boy models. It also has the top-lok technology, umbrella holder, accessory bag, etc. There are only two differences worth mentioning.
It's lighter and cheaper. Also, provides more balance but less maneuverability due to the four-wheel design. Its empty weight is 14 pounds and 30 dollars cheaper than the Nitron. So, in the end, it comes down to your preference.
Final Verdict…
Bag Boy has been making push carts since 1946. They have various models like spartan, Quad XL, Nitron, Quad junior, etc. But the Nitron is supposedly the best not only among the Bag Boy models but according to many among other manufacturer's carts as well.
In this Bag Boy Nitron review, I discussed everything that might help you in making your decision. Basic features, pros, cons, and what sets it apart from other push carts in the market. The goal was to provide you with valuable insights about this particular model, which I am confident that you have gained once you've finished reading this Bag Boy Nitron push cart review.
I really hope that this article was of help to you. Wish you the best of luck with your purchase. And until next time, farewell.
Amazon and the Amazon logo are trademarks of Amazon.com, Inc, or its affiliates.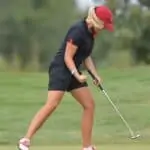 Daisy is the Founder and Editor in Chief of Golfs Hub. She is associated with Golf for more than 20 years. She got the inspiration from her father. She is a very private person & doesn't like to be photographed. She's worked in nearly every job in the golf industry from club fitting to instruction to writing and speaking. Now she is enjoying her retirement from day job... but not from Golf! Daisy lives in southeasternmost part of New York state with her family.