As an Amazon Associate, I earn from qualifying purchases. There is no extra cost to you. Thank you if you use our links; we appreciate it! Learn More.
To be a sincere and smart golfer, you should have a clear conception of all the golf requirements. Playing golf with special equipment seems enjoyable and successful. Among all the accessories, the golf push cart is an excellent addition to the golf. It's a necessary tool to carry golf accessories elsewhere. Need to say that, maximum golfers are still struggling to choose the right golf pushcart to get a better approach to golf.
Considering user suffering, we're here to discuss one of the best pushcarts called the Bag Boy c3 push cart. From this Bag Boy compact 3 push cart reviews, you will get all the benefits and specifications of this product including storage, size, weight, design, durability, braking system, wheels and so on.
Let us dive into the context.
First Look
You indeed will be amazed by overlooking the external beauty of this product at first sight. It's an awesome cart that comes with an ultra-modern design. The outer aluminum frame looks so catchy that you can't change your concentration from it anyhow. The overall design and specifications are much appreciable to all.
Furthermore, it comes with a different color combination and some user-friendly conveniences. That is why golfers irrespective of beginner and advanced tend to purchase this bagboy pushcart at first glance. It will give you some definite advantages to get a better outcome for your game improvement.
Bag Boy Compact 3 Push Cart Reviews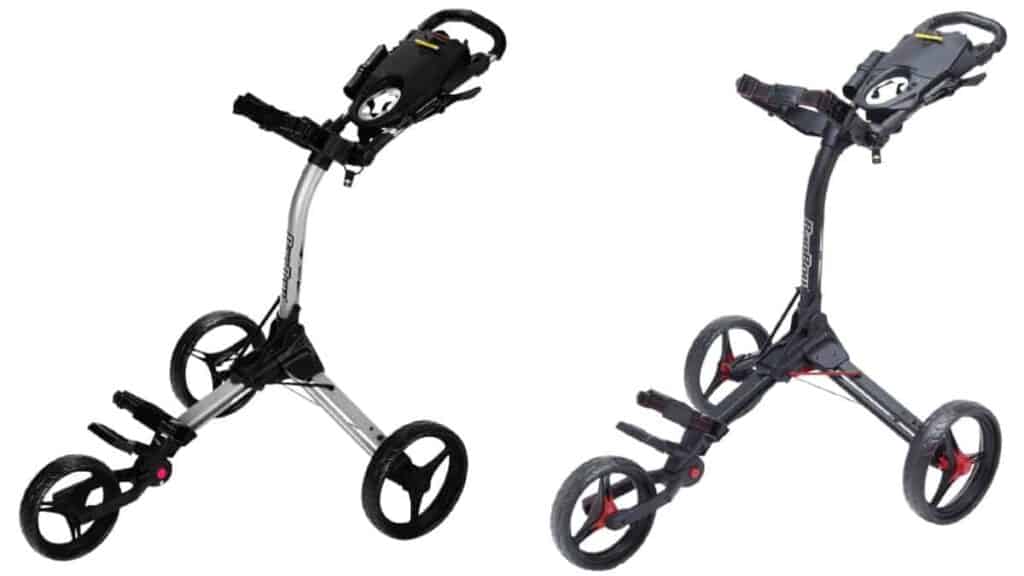 Every product has some distinctive features whatever took it top of the favorite list. And the Bagboy C3 pushcart isn't different at all. It covered with some of the user-friendly benefits to deliver ultimate advantages to the golfer. Some of the remarkable features given below in depth.
The following features are merely suits with this branded cart. It's the point why it rated as the most luxurious, fashionable and useful golf push cart evermore.
Wheels
The overall credential and working efficiency of a pushcart rely on the wheels. You may know that the Bagboy push cart comes with 3 wheelers to deliver a comfortable pushing convenience. The front is smaller than the rear 2 wheels to increase the speed range while pushing it around.
Besides, the wheels are so solid that you could push around the cart quickly and smoothly. As the wheels are airless and maintenance-free, thereby you never need to be concerned about deflation.
Moreover, it has a triangular shape at the base to provide the best pushing performance all along. What else needs to be the right cart of you?
Storage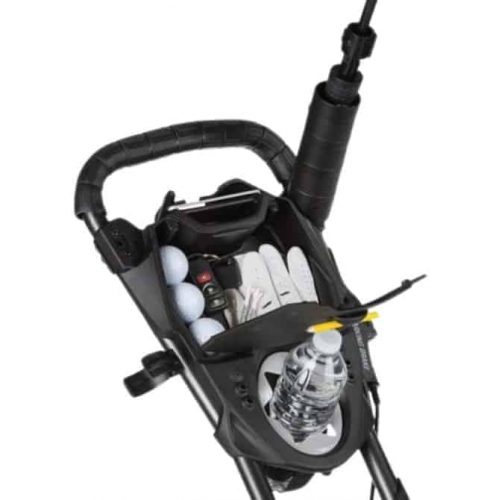 Needless to say that the most important criteria of a pushcart are its storage. The entire performance of a cart depends on how large space it delivers to the golfer and how many accessories contain. The Bagboy pushcart can be your best accompany as it designed with extra extensive storage capacity. You could store everything you need to go playground by this pushcart.
Furthermore, with its extra-large accessory bag, you can carry your cell phones, foods, drinks and other stuff in ease. You will be impressed with its integrated mobile device holder and beverage holder. Is it not enough for you?
Bag Boy Nitron Auto-open Golf Pushcart
Size and weight
Size and weight are two significant matters to rate a pushcart as best. A lightweight and moderate-sized cart are easy to control. You will be happy that the Big boy push cart comes with lightweight design; just around 13 pounds.
And for size, it has variety so that you can choose according to your preference. Even you no need to struggling while carrying it up as it lightweight and moderate in size. Its secure folding system took it top of the user's popularity than other pushcarts.
Braking System
To give you better control of the cart, the high-quality braking system is inevitable. You can't even think to feel comfortable while driving the cart without a smooth and risk-free brake. And this 3-wheel golf push cart contains high-efficiency braking opportunity.
It has a handbrake facility to stop at once. The brakes are very active on the steep slope roads. These are mounted on the front wheel to deliver you more comfortable and better control onto the cart. Besides, the adjustable support arms are also contributed a lot to enhance the control advantages over the pushcart.
User-friendly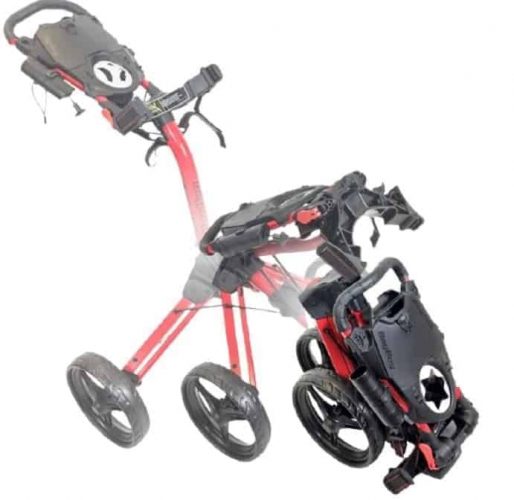 Who doesn't prefer a user-friendly pushcart? The cart which provides maximum convenience to the golfer is better than other carts. The bag boy compact 3 push cart featured with some noticeable advantages which let the user get a better outcome on game improvement. First of all, the pushcart is lightweight and compact.
Moreover very comfortable to use. It can be handled according to user intent. Even the fundamental process contributes a lot to provide much convenience to the user.
Caddytek EZ fold 3-wheel golf Push Carts
Warranty
Not only you almost all the golfers explore such a pushcart which ensures them a long time warranty. This is also one of the best products of a longer warranty list. It's so durable that can be used for a more extended period.
By chance, if there arises any manufactural problem; can be amended as it promised a long time warranty. So, there is nothing to be concern about its warranty. You will get an approximately one-year serving warranty to this pushcart.
Portability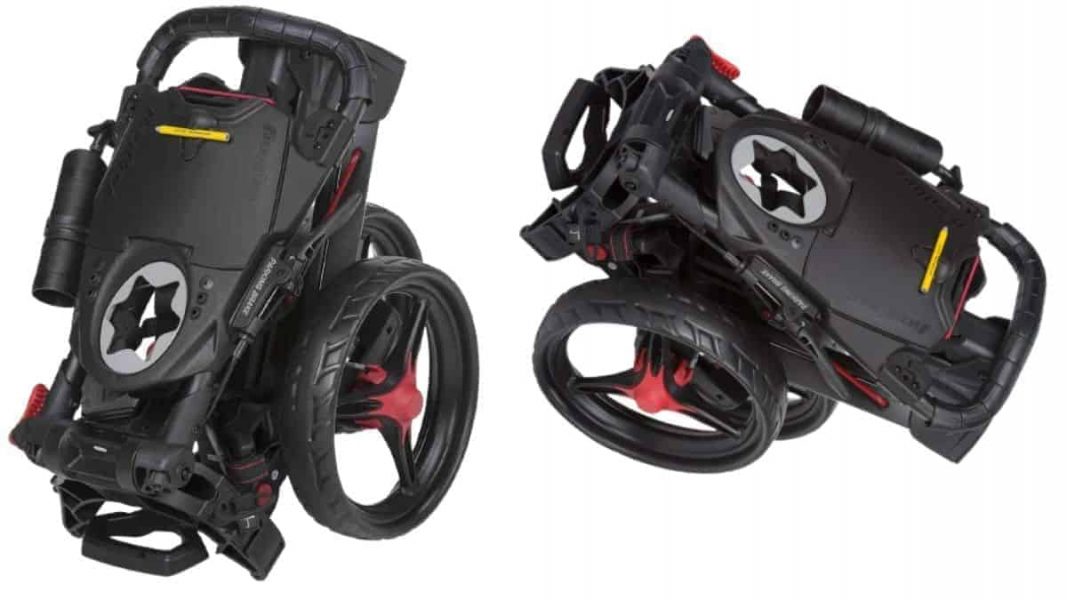 How can you imagine the best golf push cart without portability? Since a pushcart predominantly used to carry accessories thereby, it must be portable. In this regard, the bag boy c3 pushcart made of managing full portability scope. You can carry it anywhere you want spontaneously. It's a durable and portable pushcart.
Design
In many cases, design refers to whether the pushcart sturdy or not. Only a well-designed cart can ensure to provide longtime service with much comfort. The bag boy pushcart designed with the durable weather-resistant aluminum frame. It assures stability and maximum durability. Substantial foam maintenance free tires and adjustable support arms make it perfect than other carts.
Caddytek Superlite Deluxe Golf Pushcart
Handlebar
This pushcart contains a handlebar on the backside to push it quickly. You can hold and push it forward through the stronger handlebar. There is no possibility to happen arm injury since the handle is so much comfortable. You can quickly push it and holding the grip through the handlebar.
Durability
Earlier we said that it's an active pushcart that lets the golfer long time using convenience. It's made with stronger and sharper materials to increase the utmost durability. The aluminum frame and waterproof framework keep it durable years after years.
Clicgear Model 4 Golf Push Carts
Bag Boy Compact 3 Accessories
Apart from standard features, this push cart comes with some new accessories. The integrated mobile device holder, beverage holder, upper bag bracket, adjustable support arms, extra-large accessories bag are some new and revolutionary included accessories of this best pushcart.
Pros & Cons of Bag Boy C3 Push Cart
It's comfortable and easy to use.
Made with aluminum and weatherproof framework.
Large storage capacity.
Lightweight and compact.
Has an adjustable handlebar.
Maintenance free wheel.
Stand and cart-friendly.
It has a beverage cooler system.
Can push it in any position.
Uses handbrake.
Durable and foldable.
Some golfer complained the bottle holder is inaccessible.
The front wheel doesn't swivel.
It doesn't have a brake in both side.
The cart takes a bit longer to fold.
Personal Experience with Bag Boy Compact 3 Golf Push Cart
I've had a chance to use this product a few days ago. At first-ever use, I feel impressed to this pushcart. It's a lightweight and heavy pushcart. It can be pushed and hold around easily without having any suffering. Besides, it can contain large golf accessories to assist a golfer to get best game improvement.
Who is the Target User?
Almost all classes of golfers feel free to utilize this outstanding golf pushcart. But these days, the average level golfers tend to purchase these at most. Besides, the beginners are also keeping their reliance on it though they're still inexperienced.
Is it user-friendly?
Most of the golfers are accustomed to asking the question of whether it is user-friendly or not. Earlier in this content, I told that the most stand-out feature of it is a user-friendly convenience. So, you can feel free to purchase it.
Sun Mountain Pathfinder 4 Review
Is Bag Boy Compact 3 worth your money?
Yes, it's a sensible question. You must consider your budget before going to purchase a definite one. No matter how heavy you're budget is; you can choose this product without hesitation as it sells at a lower price. So, it's clear that this product is worth your money.
FAQs
1. Does this bag boy c3 push cart has top-lock technology?
Yes, it featured top-lock technology.
2. Do the clubs interfere with the beverage holder when loaded with a cart bag?
No, never, it's well designed.
3. Does the umbrella holder fit this cart?
Yes, of course.
4. Is it durable enough?
Yes, it is.
Final Verdict…
This Bagboy Compact 3 push cart reviews promised to meet you with one of the best pushcarts for your better game improvement. You will be much benefited using this Bagboy C3 pushcart a lot. Even you will keep thanking us after being impressed with the product.
However, all credits go to the brand as it accumulated all the user-friendly advantages. It's tough to find out such an excellent cart to carry large golf accessories. It's time to scrutinize all about features and facilities of this product. And ultimate choose this cart to get assurance on longer carrying facility of your golf accessories. Have a happy life.
Read More
Amazon and the Amazon logo are trademarks of Amazon.com, Inc, or its affiliates.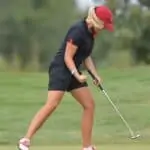 Daisy is the Founder and Editor in Chief of Golfs Hub. She is associated with Golf for more than 20 years. She got the inspiration from her father. She is a very private person & doesn't like to be photographed. She's worked in nearly every job in the golf industry from club fitting to instruction to writing and speaking. Now she is enjoying her retirement from day job... but not from Golf! Daisy lives in southeasternmost part of New York state with her family.