As an Amazon Associate, I earn from qualifying purchases. There is no extra cost to you. Thank you if you use our links; we appreciate it! Learn More.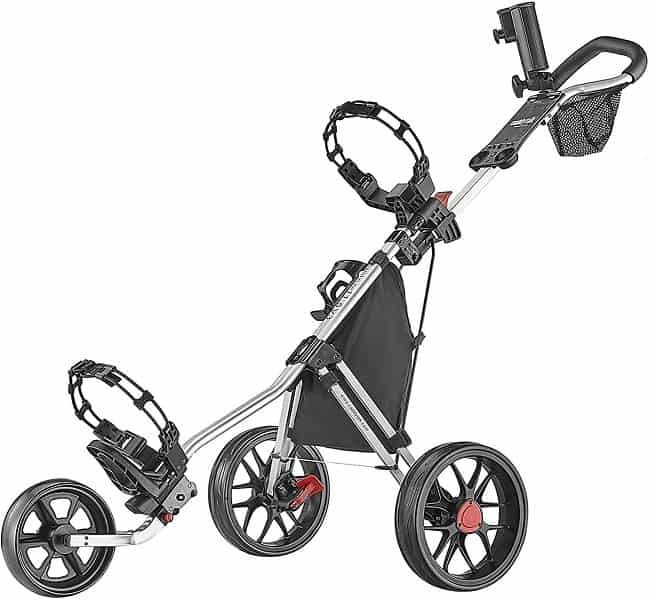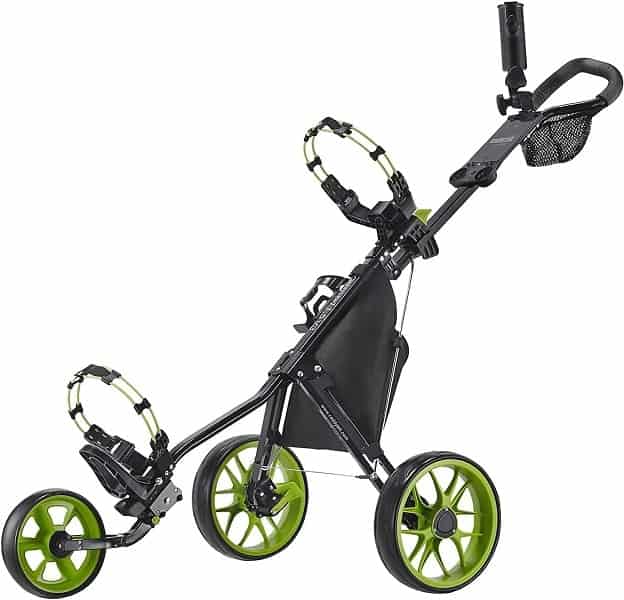 Tired of carrying heavy bags and looking for an alternative affordable option? I know exactly how irritating it is to carry a bag loaded with heavy golf gear. You'll get tired, your shoulder and back will hurt and all. On the other hand, electric golf carts are way too expensive.
So how would you feel if I introduce you to something which will wipe out all your problems? Thank me in advance because that's exactly what I am going to do right in this very article. The CaddyTek SuperLite Deluxe Golf Push Cart is the solution to all your problems.
It has a lot to offer to its owner, from storage to smooth moving wheels. And the finest part is, it won't cost you a fortune. In this CaddyTek SuperLite Deluxe golf push cart review article, I have covered all the important aspects of this cart. From the features of my final opinion, you'll get to know everything.
So without further ado, let's dive right in:
CaddyTek SuperLite Deluxe Golf Push Cart Review
The CaddyTek Super Lite Golf Push Cart belongs to a reliable and trusted manufacturer. CaddyTek is serving the golf market with top-notch products for a very long time. And this CaddyTek SuperLite Deluxe Golf Cart is no different.
It has gained huge popularity for its superb capabilities as well as features. Plus, it has earned the best-selling tag & best golf push cart tag which pretty much says how convenient this trolley-cart really is.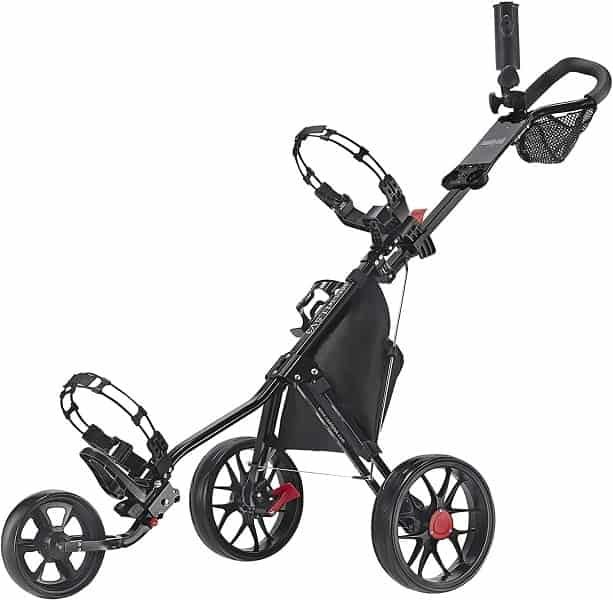 Let's have a look at what this product really offers.
DESIGN
Design is what makes a product appealing to us. If the design is boring, no matter how well the product works, people will ignore it. On the other hand, people love to own things with the impressive design even if the performance is not that good.
The CaddyTek push cart comes with an outstanding design. You'll definitely have a hard time to get your eyes off this cart. The way it is designed as well as the color combination is simply awesome. It comes in 3 different colors so you can choose the one you like. It comes with a classic look that can match in any environment.
WHEELS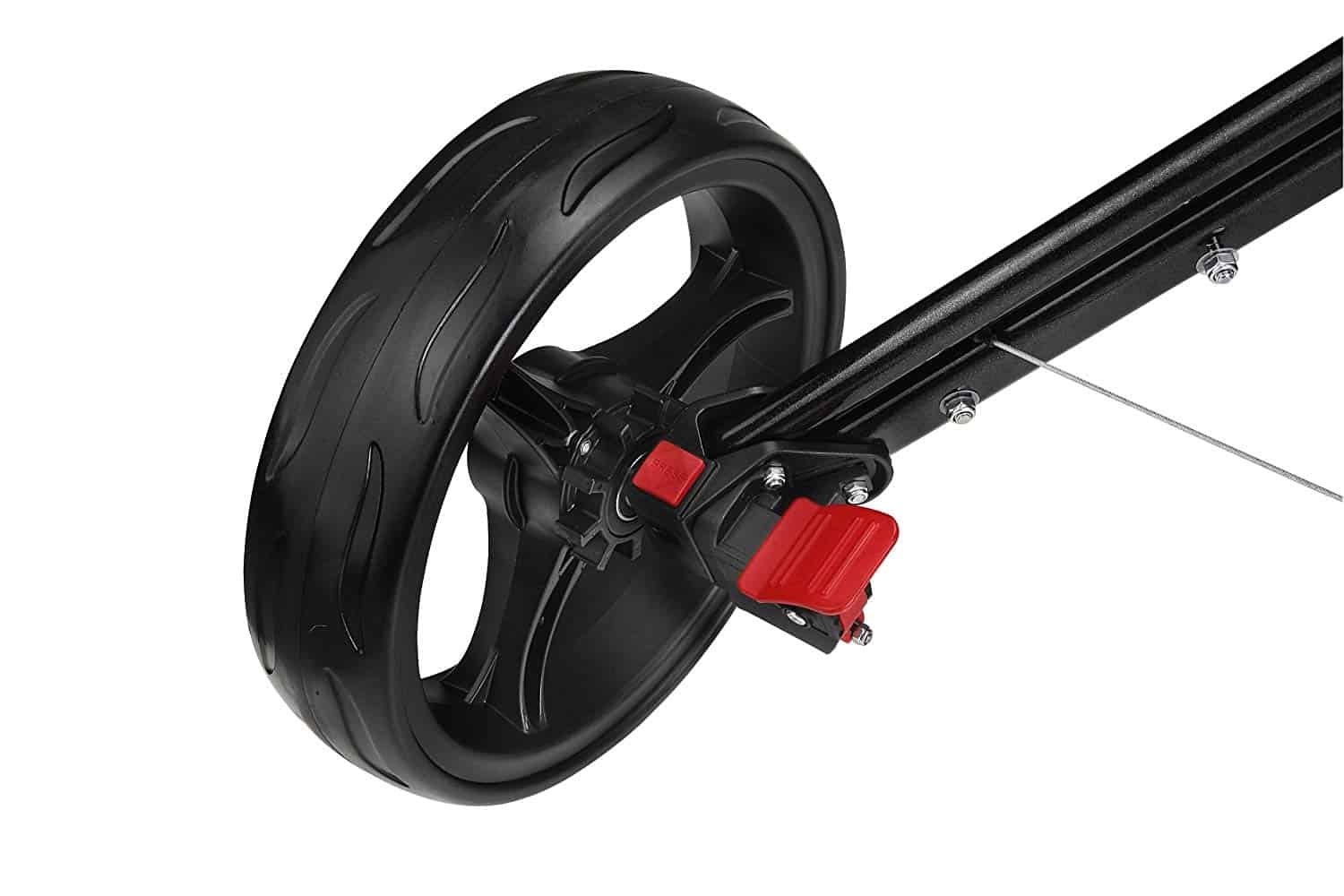 Wheels are the most important aspect of a golf cart. These wheels are what make a pushcart convenient. I am pretty sure you don't want a pushcart trolley that would be stuck in the middle of the road or require a ton of pressure to move it.
The manufacturers of CaddyTek have kept that in mind and they have installed 3-wheels in this CaddyTek super lite deluxe golf push cart which are super smooth. These wheels are designed to move comfortably on any surface.
The front wheel is smaller than the others. Most of the weight of the cart will be on the front wheel and the front wheel will control the direction. On the other hand, these wheels are airless which means they won't require much maintenance.
STORAGE CAPACITY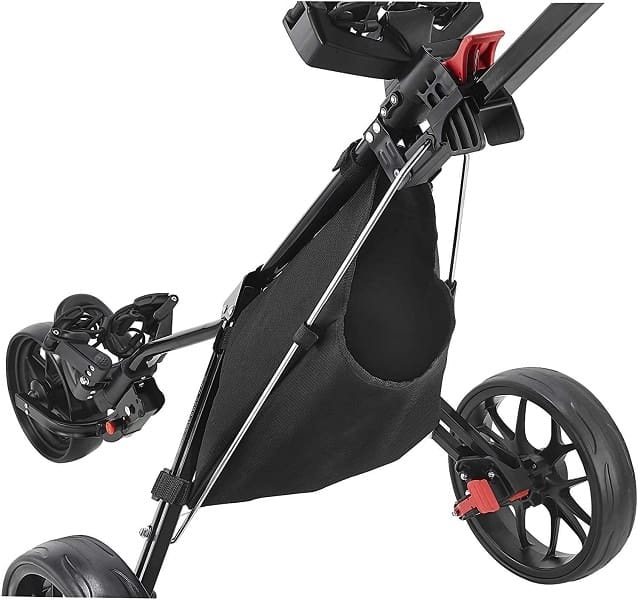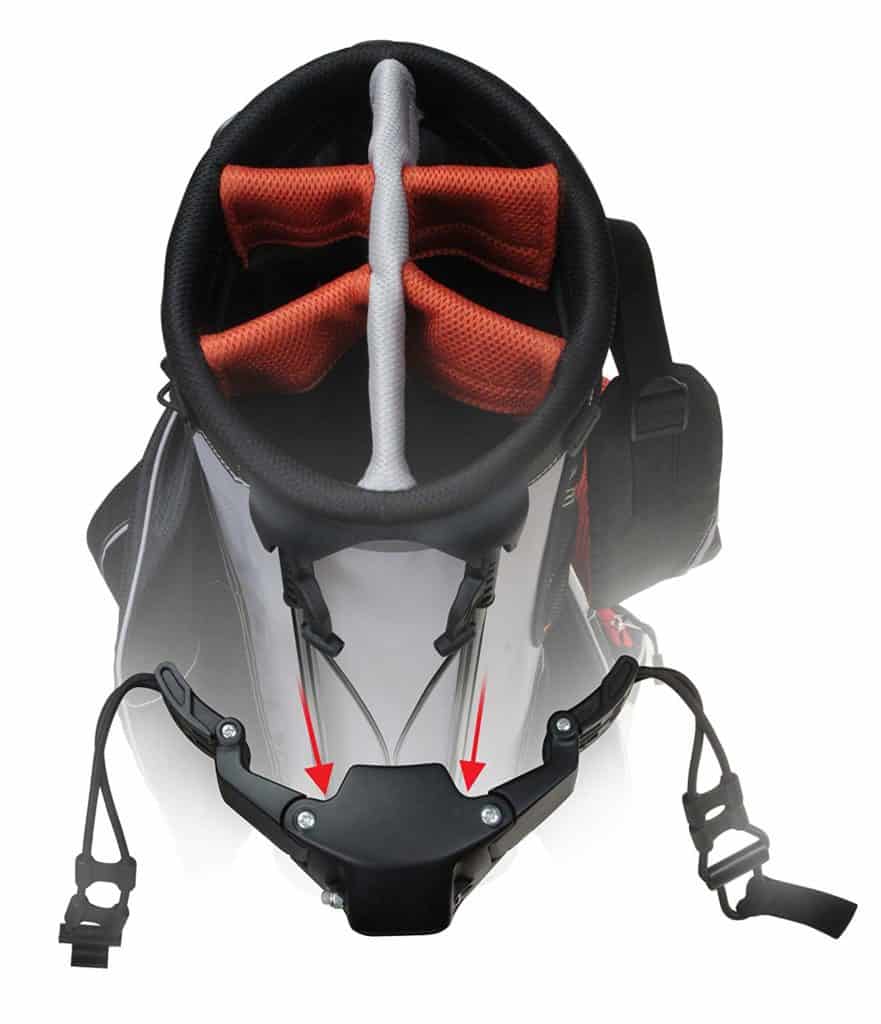 This pushcart can hold almost any sort of golf bag such as a stand bag, cart bag, etc. It comes with two pre-installed bracket which holds the bag nicely. In order to ensure a snug fit, this cart also features an elastic strap that expands and makes sure that your bag stays in place.
On the other hand, this CaddyTek Superlite deluxe push cart also comes with an umbrella holder, mesh net and beverage holder. Moreover, the umbrella holder comes with an adjustment knob, which keeps the umbrella in place.
Read More: Tangkula Golf Cart Reviews
WEIGHT AND SIZE
As pushcarts are meant to be pushed, so people want them to be light, smooth and strong. This CaddyTek push cart is one of the lightest golf push carts on the market. It weighs about only 12.2 pounds which is super convenient for any golfer.
Along with lightweight, this cart is highly portable too. You can store the cart in almost everywhere. You can put it on the back of your car, or tuck it somewhere else, it's wouldn't make any trouble.
Check out the best auto-open pushcart of Bag Boy With Nitron Pistone Technology
HANDLE BAR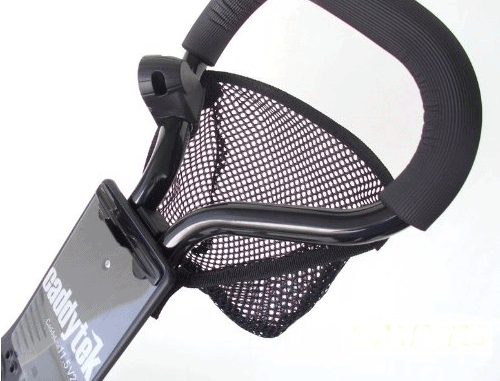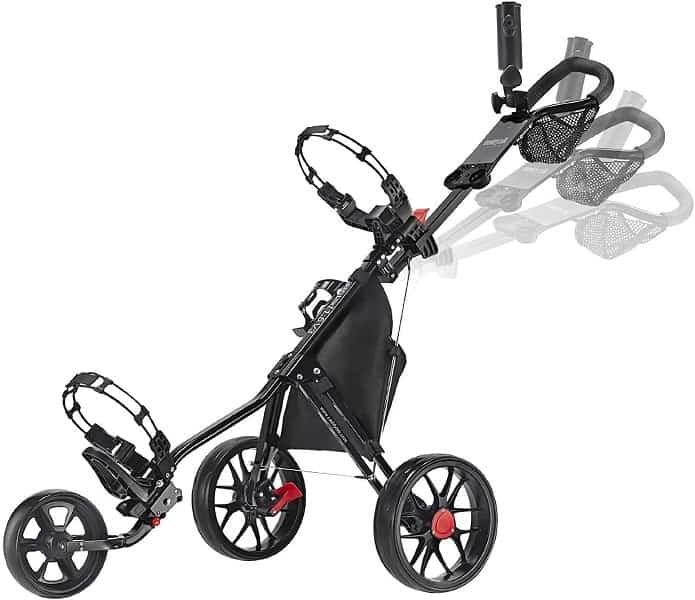 This pushcart offers a handle which is nicely padded with cushion for optimum comfort. Plus, the handle is adjustable, so that people of different heights can use it comfortably.
FOOT BRAKE
The CaddyTek Superlite deluxe cart comes with a foot braking system that you can activate and deactivate easily with just a soft push. It makes controlling the cart much easier.
FOLDABLE
Another awesome feature of CaddyTek golf push cart is it is foldable. You can fold/unfold this cart following just a simple step. The folding mechanism works by the handle and the front wheel.
When this cart is folded, it measures 17.5 x 15.75 x 33.6 inches which are smaller than most pushcarts on the market. Moreover, the rear wheels can be removed and that makes it far much easier to store the cart anywhere.
DURABILITY
This pushcart is made of tubular aluminum which is highly durable and long-lasting. It is heavily constructed and with proper use, there is no doubt that this golf push cart will serve you for years.
Pros & Cons of Caddytek Caddylite 11.5 V3 Deluxe Golf Push Cart
PROS
You'll be able to fold/unfold this cart within seconds. The mechanism is very smooth.
It requires less energy to push the cart on the grassy surface. As it is very lightweight, it moves effortlessly.
The cart has the ability to accommodate any type of golf bag.
It comes with an umbrella holder and mesh net for storing beverages.
Features an adjustable handlebar that makes the cart suitable for people of any height.
The manufacturer has installed a cushion grip on the handle so that you can hold it better.
The wheels are airless so they don't require much maintenance.
It comes with EVA wheels that offer nice traction and balance.
Comparing to the features, the cart comes at a very low price.
The rear wheels are removable, so you can store or carry it anywhere.
The manufacturer gives a one-year warranty. Also, the CaddyTek brand is renowned for their amazing customer care service.
CONS
I have seen some complaints about the foot brake. According to few users, the foot brake is not reliable and doesn't last long.
The manufacturers could have put the bottle holder in a more suitable place. For getting the bottle, you'll have to put your hand under the golf bag.
The frame of this pushcart trolley is not waterproof.
Let's watch a video:
FAQs
1. Can I use stand bag on this cart?
Obviously, you can. I personally use a stand bag in it. I know it seems that a stand bag can't be used on this cart because the strap is too narrow. However, the thing is, this strap is very flexible, so it extends and holds the bag securely.
2. Will this cart fit perfectly inside a travel bag?
I think that's unnecessary. You can fold it very easily and put it on the back of your car or truck. But the answer to your question is, Yes. You can put it inside a standard-sized travel bag. However, you'll have to remove the rear wheels.
3. Is the Caddytek Caddylite 11.5 V3 foot brake reliable?
It's true that the braking system of this pushcart doesn't work very accurately. After some use, the brake can get rusty.
4. Which kind of umbrella can I use in this cart?
Almost all types of golf umbrellas can be used in this cart. However, you might face some problems when using the regular ones.
5. How do I fold CaddyTek SuperLite Deluxe Golf Push Cart?
It's very simple. In the cart, there is a point where the metal rods intersect with the handle shaft and there is a portion that slides up a little. The cart will be folded once that portion slides up. Make sure, you fold the front wheel first.
See also: What are the legal aspects regarding driving a golf cart?
Finally…
To be honest, the CaddyTek SuperLite Deluxe Golf Push Cart is an outstanding push cart for any type of use. You'll barely find a similar cart that comes with all these features at such a low price point. Moreover, the brand itself holds a high trust level. From their product quality to customer service, everything is top-notch.
I agree that this cart has some drawbacks. However, these drawbacks are not that major. Plus, this cart certainly offers much more than it costs. I hope you enjoyed reading this CaddyTek Superlite deluxe golf push cart review.
And lastly, if you ask my opinion, I would say this cart is definitely one of the best 3 wheel golf push cart & suitable whether you are a professional or an amateur golfer. With proper use, this cart will serve you for years. Having this golf push cart will surely be a smart investment.
Read More
Amazon and the Amazon logo are trademarks of Amazon.com, Inc, or its affiliates.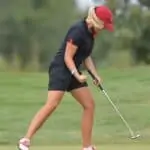 Daisy is the Founder and Editor in Chief of Golfs Hub. She is associated with Golf for more than 20 years. She got the inspiration from her father. She is a very private person & doesn't like to be photographed. She's worked in nearly every job in the golf industry from club fitting to instruction to writing and speaking. Now she is enjoying her retirement from day job... but not from Golf! Daisy lives in southeasternmost part of New York state with her family.