As an Amazon Associate, I earn from qualifying purchases. There is no extra cost to you. Thank you if you use our links; we appreciate it! Learn More.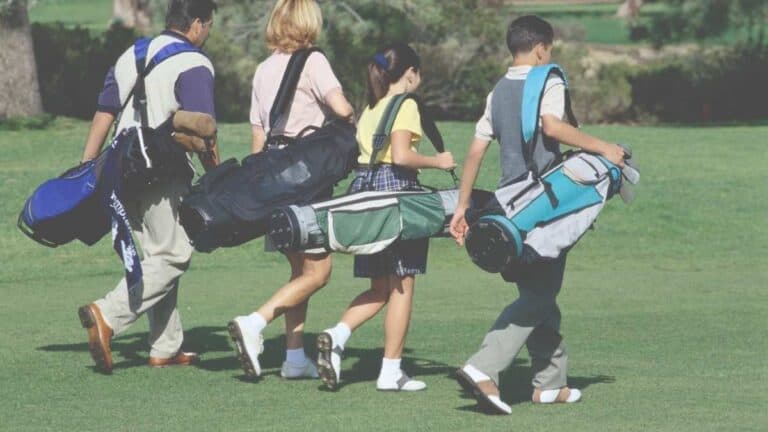 Golf bags are one of the most frequently used things in the game. You keep all your clubs, gloves and other equipment's in it. Is carrying a golf bag bad for your back is the question to find precise answers to. There is no space for argument whether carrying golf bags or any bag on one's back is good or bad. It is not advisable.
You can carry something on your back only when you have no other way left. It would help if you kept in mind that carrying some on the back is to put your spine, shoulder, and muscle into a strain. And when the question comes to carrying a heavyweight golf bag, it is something not to thinks of.
If you listen to the specialist physicians and veteran golf coaches, they are too outspoken about the harmful sides of carrying heavy bags on the back. Let's dig into the matter.
Why is Carrying a Golf Bag on Back is Bad?
Indeed, a bag is meant to be carried. More or less, you keep your desired things in it. But the problem lies in how you carry them. A golf bag having nearly 10 kgs (more or less) equipment may not be holistic for you.
From playing in the scorching heat to playing in the heavy rain, carrying the bag will always be a pain for you. Your back muscles will be hurt, and regular activities will not be stable. You will face difficulties in weight lifting or essential things.
The stamina you preserve for the game will soon be affected. Reason? You spend a lot of them carrying the heavy bag and walking down the court.
Carrying the heavy bag means you are putting extra loads on your body. You game postures, actions and result will have a significant impact due to it. Just for carrying your equipment, you will end up having a bad game and sometimes an injury.
Carrying a Golf Bag vs Push Cart
You spend the middle of all the consequences you face while carrying a golf stand bag. Whereas a pushcart is not a better alternative, it inspires lesser harms. It solves 80% of the obstacles you are meant to withstand while carrying a backpack.
You won't have to take loads on your back. Just keep the bag in a cart and push it conveniently to your destination.
It will remove the pain of carrying the bag, but you'll also be able to have your initial stamina. You'll have fewer chances of being tired and having back problems.
Most importantly, your game will be improved. Your stance will be right, as your body will not go fatigued. 
Read: The 9 Best Cobra Golf Bags for you
Precautions to Take
If the situation is like that you have no other alternative left, you have to take precautions to avoid the bad injuries. Two are the most crucial not to escape:
Check both the shoulder straps are working right. Thus how the weight distribution will be balanced across your back. That may cause zero or minimal strain.
Put the heavier items to the bottom of the bag. This is not to save your shoulder. Instead, it will keep you less loaded.
Frequently Asked Questions
1. Should I use a golf push cart?
You can use a golf push cart to avoid the initial fatigue you face after carrying a bag. It will improve your swing, stance, and overall gameplay. Indeed, the back, spine, and shoulder become the most strenuous with a heavy load on your back.
2. Can PGA Tour caddies use pushcarts?
Golf being a gentleman sport enables the caddies to use pushcarts.
3. Is carrying your golf bag bad for you?
Carrying your golf terrible can be bad for you in many ways. Your back, hand muscles, stances, and overall gameplay might be affected due to the fatigue you'll have after carrying a golf bag.
4. What is the best pushcart golf bag?
The Sun Mountain C130 Cart Bag is arguably the best pushcart golf bag to have.
Final Words…
The precautions presented above are crucial if circumstance makes you carry the load on your back. Therefore, focus on the adverse consequences that carrying a golf bag on your back can cause. Because your spine, back, shoulder, and muscle play the most critical role in making the crucial golf swing. They can become affected if not injured when you carry all the golfing equipment on your back.
So, answer to the question "is carrying a golf bag bad for your back?" by avoiding a golf bag and adopting a pushcart.
Don't wanna use a cart, but wanna carry a bag safely? Then Use the lightweight Sunday Golf Loma Bag.
Amazon and the Amazon logo are trademarks of Amazon.com, Inc, or its affiliates.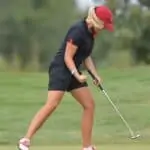 Daisy is the Founder and Editor in Chief of Golfs Hub. She is associated with Golf for more than 20 years. She got the inspiration from her father. She is a very private person & doesn't like to be photographed. She's worked in nearly every job in the golf industry from club fitting to instruction to writing and speaking. Now she is enjoying her retirement from day job... but not from Golf! Daisy lives in southeasternmost part of New York state with her family.