As an Amazon Associate, I earn from qualifying purchases. There is no extra cost to you. Thank you if you use our links; we appreciate it! Learn More.
A professional and fully functional golf bag is definitely a great option for all. But if you want some relaxing golf sessions during the weekend, you might want a less weighty and easy-to-carry weekend golf bag. Right?
The Sunday Loma golf bag precisely serves you with the purpose. The golf bag has ample space for 6-7 clubs and offers great portability for a par-3 course golfing session. We also found some pretty practical benefits of it during our Sunday Golf Loma bag review.
So, if you are keen to get a smaller yet functional and stylish golf bag for some weekend fun and occasional practice sessions, continue reading the article. You will certainly get what you need.
Sunday Golf Loma Bag Review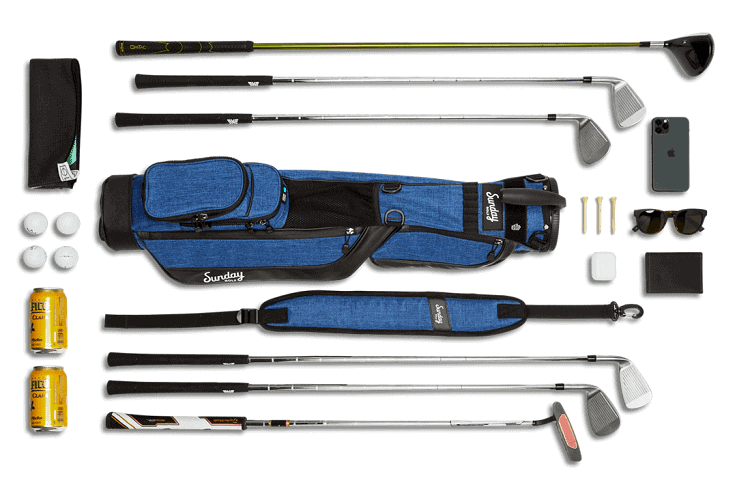 If you want a sleek, durable, and portable golf bag for par 3 course, the Sunday golf bag with a stand is simply unbeatable. It considers the necessity of both professional and weekend players and presents a bag that serves both.
Also, if you want to practice golf, this bag will be an excellent addition to your overall golf kit. Its stylish cobalt blue look with two sturdy stands just never goes out of the trend. Now, let's look at the most amazing and practical benefits of this Sunday Golf Loma stand bag.
A Stylish Appearance
Golf has been long associated with style and fashion. This travel golf bag takes it into account and truly presents you with an impressive design. Its cobalt blue color with seamless stitching makes it one of the best-looking golf bags.
Plus, the PU leather finishes around the corner with a black tone that enhances the aesthetics. As you carry the bag on the back, people will surely stare at you.
Lightweight and Easy Portability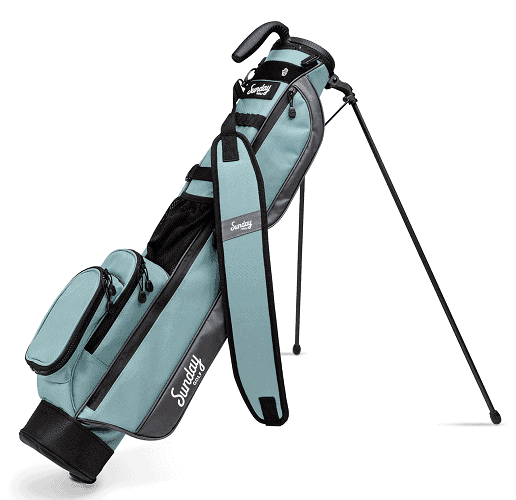 Planning for a simple walk to the nearest golf course and practice your skills? Get your clubs on this Loma bag and let your feet take the responsibility. The Sunday Golf Loma Golf Stand bag weighs only 1.95 pounds. Thus, you will not feel any stress at all as you walk with the bag deep into the golf course. Plus, its Velcro strap and carry handle make the portability comfier.
Whether you plan for an executive course or par 3 courses of golfing, this carry bag is there for you.
Ample Storage and Valuable Pockets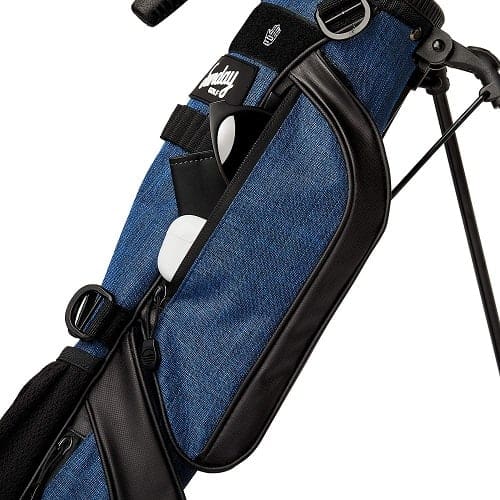 When you want some weekend fun, you may not want to bog down with the large golf bags for the cart. It will limit your movement. Hence, a lightweight bag is preferable. But, it needs to have enough space for clubs and other accessories too.
The Sunday Golf Loma bag has it. It comes with storage space for 6-7 clubs at ease. So, you can easily take all of your favorite golf clubs in it. Plus, it has valuable pockets too.
The pitch and putt golf bag feature multiple velour-lined bags. These are waterproof and have a strong chain. Thus, you can keep your valuables such as your smartphone, wallet, and cards there and peacefully focus on your golf. It is an amazing feature as you need not worry about the valuable anymore, a common distraction with ordinary golf bags.
A Bag for Quick Driving Range
The bag is compact and incredibly portable. So, it fits into the car's back seat or trunk easily. It helps you in going to the nearest golf course within a short driving range. You need to not worry about the large golf bags anymore.
Also, it doesn't put too much stress on your shoulder during carrying time. So, your entire body remains calm and relaxed, and it is an essential feature for the perfect golf club swing.
Added Cooler Pouch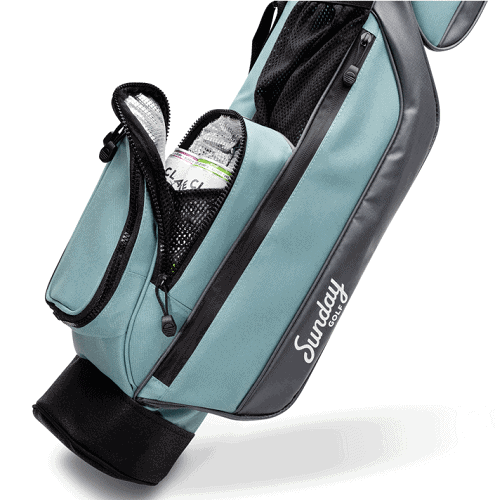 Don't want to leave your favorite beverage behind? Don't worry. This Sunday golf bag Loma has a cooler pouch attached. You can keep 1 full-size bottle or 2 cans inside it. So, whenever you feel thirsty, don't forget to get a sip from the beverage or energy bottle.
Quick and Sturdy Stands
Another tremendous feature of the bag is its stand. The two stands are easy to mount on the ground with a pop-up setup. Thus, you can easily find your favorite club as the bag stands firm and steadily on the ground.
Pros
Stylish, sleek, and durable design with premium fabric.
The two stands are rugged and support quick club finding.
Waterproof valuable pockets for your gadgets and kits.
Easy to carry with the Velcro straps and carry handle.
Best for per 3 courses, putt and pitch, and executive courses.
Cons
We didn't find any negative points for this one, but yes, the bag is a bit overpriced than other pencil bags. But it is worth every penny!
The bag becomes slightly unbalanced when clubs are on it.
Why Should You Choose This One?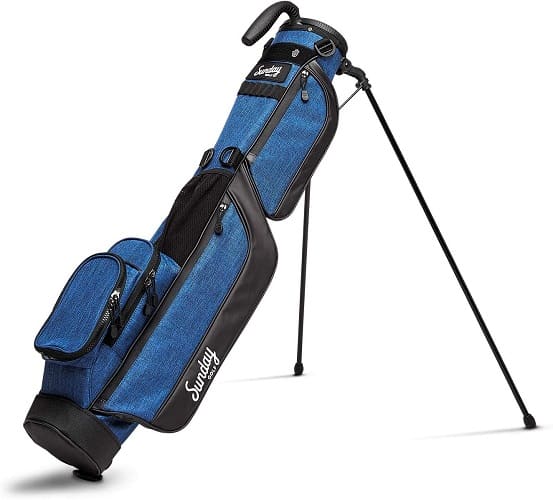 The golf Sunday bag is a perfect golf bag for a cart if you want a lighter and smaller bag for weekend fun. It has space for 6 to 7 clubs and is highly compact. You will love carrying the bag deep into the course and practice some 3-par course in a couple of hours.
Also, its stylish look keeps you at the center of attraction. Hence, the Sunday golf bag will be your ultimate weekend companion.
Target Users
During my Sunday Golf Loma Golf Bag review, I found that the bag is highly suitable for pro golfers, business persons, and corporate people. You can carry it in the car or SUV trunk and enjoy your leisure time. Also, it will suit the personality with such a bold design.
My Experience with this Bag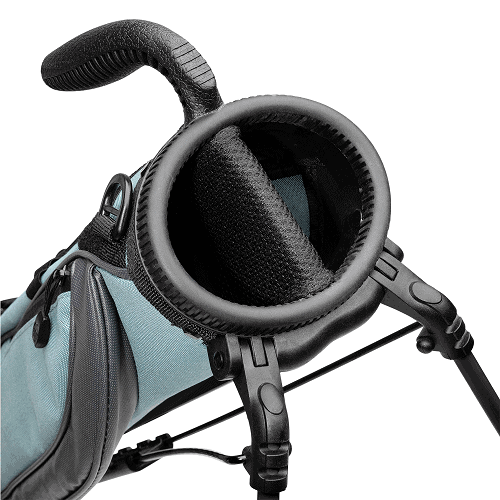 As I used the bag, it gave me a pretty decent feel. The carry handle feels ergonomic and sturdy. The Velcro strapping is comfy and fits snugly. The best part was the two stands of the travel golf bag. It stands upright on the ground and doesn't move much.
So, I was able to bring my most favorite club without the bag falling off the ground. The pockets were easily accessible, and it saved good time. Last but not least, I have to mention the cooler pouch. It allowed me to take my favorite apple beverage and enjoy a relaxed golfing session.
Conclusion…
The Sunday Golf Loma bag review found it as an amazing investment for golfers. It, initially, may seem a bit pricy, but you will find it a great golf bag with the use. The bag is lighter than most golf bags of its class and supports quick transportability.
This is the best 3-par golf course bag for some weekend or leisure time fun. You will appreciate how it makes your golfing time joyous and fun.
Read More
Amazon and the Amazon logo are trademarks of Amazon.com, Inc, or its affiliates.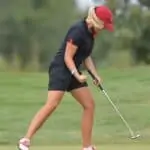 Daisy is the Founder and Editor in Chief of Golfs Hub. She is associated with Golf for more than 20 years. She got the inspiration from her father. She is a very private person & doesn't like to be photographed. She's worked in nearly every job in the golf industry from club fitting to instruction to writing and speaking. Now she is enjoying her retirement from day job... but not from Golf! Daisy lives in southeasternmost part of New York state with her family.