As an Amazon Associate, I earn from qualifying purchases. There is no extra cost to you. Thank you if you use our links; we appreciate it! Learn More.
Golf generally falls under the category of low-intensity sports. But that barely keeps it from causing injuries to those who play the game.
And when you talk golf-related injuries, it is no doubt that back pain ranks highest among all. Nearly two-thirds of all golfers suffer some form of back injury every now and then, regardless of whether they manage to avoid any other type of injury. And it's not much surprising since the swinging involves repetitive rotational movements leading to misalignment of the spine.
So, if you don't want to lose the enjoyment of your favorite sport, read ahead of this article, where we've discussed the three most common golf back injuries, their causes, and the streamlined methods to prevent them from occurring.
3 Most Common Golf Back Injuries
Lower Back Pain
Lower back pain is undoubtedly the most common among all golf back injuries, and amateur golfers are usually the frequent sufferers. According to the British Journal of Sports Medicine, more than 27 percent of amateur golfers suffer from this injury.
Among the top causes of golf lower back pain is improper swing technique. In addition to straining your muscles, it can also exert significant pressure on the spine's discs and ligaments if the swing is too abrupt or forceful. Since spinal mobility decreases as we age, lower back pain among senior golfers isn't a bit surprising.
Forgetting to warm up or stretch, over-swinging with awkward weight balance, and poor posture are several other key factors leading to tightness or over-activation in the lower back, and hence the pain.
So, what can you do about it?
How to Avoid Lower Back Pain from Golf?
There are several ways to prevent lower back pain when you play golf. Such as-
Proper Warm-ups
Researchers found that golfers with stiffer back rotations and reduced joint motion ranges experience more back pain. Stiff players' bodies are forced to move past their comfort zone instead of smooth, fluid movements. Proper stretching and warming up can reduce injuries and pain caused by stiff joints.
A few of the best golf stretches include:
Try not to strike the ball as hard as you can whenever stepping up to the tee. Besides inconsistent ball placement, excessive effort increases your risk of overworking your back and thus injuring yourself.
Maintaining the Neutral Spine Position
As you lean over the ball for a swing, keep your spine relaxed in a comfortable position and bend your knees and hips.
Read: How to avoid knee injuries?
Strengthening your core will enhance your ability to swing with composed motion repeatedly. So it's vital to tone your hips, lats, glutes, and obliques.
Left Upper Back Pain
Very few back injuries are as painful as the left upper back. And the worst part- it happens without any warning. A cramp or a jolt suddenly strikes your left upper back as you're practicing your swing or playing catch with your kids.
A University of Michigan Medical study has found that most left upper back pain is caused by overusing or weakening the rhomboid muscle connecting your spine and shoulders.
How to Avoid Golf Upper Back Injuries?
The warm-up stretches we've pointed out earlier can hugely contribute to your upper back pain relief, and so can your swing improvements. You can also take up some simple daily exercises to tone your rhomboid to reduce the risks further.
Arm Slide
Face a wall with your back and rest your wrists and elbows against it. Next, raise your arms as far as your comfort level will allow—reverse position after holding briefly. Repeat this process ten times.
Shoulder Squeeze
Squeeze and jam your shoulder blades together for 5-10 seconds while keeping your arms at your side. Do it in three sets of ten. You can practice this either sitting or standing.
Chest Stretch
Place your legs straight out in front of you and sit flat (avoid making a V). Next, grab each thigh and bend your head forward as far as possible. Hold this position for 15-20 seconds; repeat three times. Avoid this exercise if your neck is hurting or uncomfortable.
One more thing- exercises aside, you should always avoid carrying your golf bag and start using golf cart if you frequently experience this pain.
Herniated Disc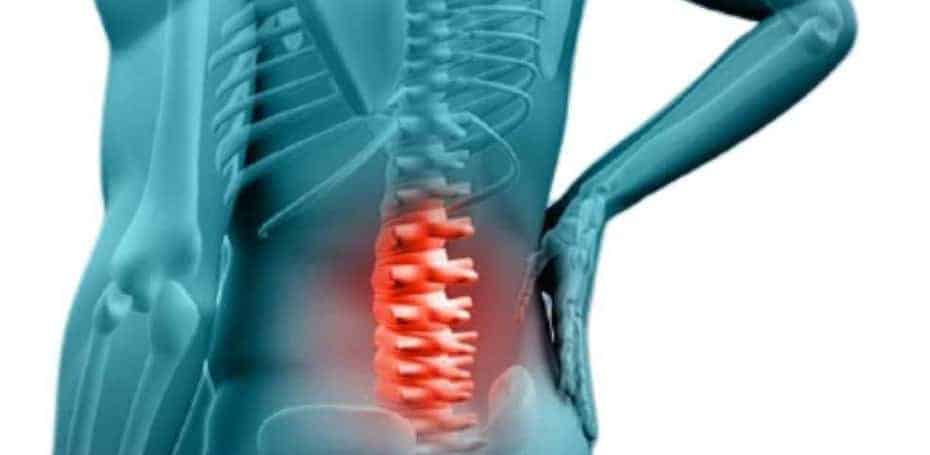 A herniated disc is among the most severe injuries a golfer can suffer, which significantly impacts their ability to play golf. This injury is often serious and requires surgery.
Spine bones (vertebrae) include small flat discs acting as shock absorbers. A rigid outer layer surrounds a soft jelly-like nucleus. The injury occurs when a tear in the surrounding layer allows this nucleus to swell or protrude.
Golfers are more likely to suffer from herniated discs in their mid to lower backs (lumbar spine) since a normal golf swing requires a transfer of power from the torso to the hips.
The symptoms of a herniated disc injury depend on how close the disc is to a nerve. No contact can result in minor pain. But if there's a nerve contact, excruciating pain, numbness, or weakness can occur, which can transfer to the limbs.
How to Avoid a Herniated Disc in Golf?
Herniated disks are not always preventable, for it's often related to aging. However, you can lower the risk by:
Frequently Asked Questions
Should I play golf with lower back pain?
You don't need to abandon playing golf because of back pain. Even if your back hurts, you can still enjoy the back nine. It's not uncommon for pro golfers with back problems to participate in tournaments and still score well. That's possible if you adjust your game and ease your discomfort by maintaining the proper posture.
How do I know if my back injury is serious?
A severe back injury may be indicated by any of the following symptoms.
How do you fix a sore back from golf quickly?
Seated rotations, planks, kegel exercise, glute bridges are some of the actions you can do to relieve a sore back after golfing.
Why does my golf swing hurt my back?
Unconsciously, many of us stand in a hunched position while we prepare for our swings. You experience rotational stress in your body frame and arms when you swing in this state. Eventually, through repetitions, this may lead to pain in the lower back, extending to the mid-back and other parts of the spine.
Is golf bad for your back?
Yes and no. It depends on how you approach your game. If you hold the proper stance and follow the right techniques during your swings, you're less likely to experience back problems.
You may as well inflict some strain on your back if you play and practice a lot while skipping the necessary exercises. In that case, golf might be bad for you; otherwise, it's not.
Final Thoughts…
Now that you know how to avoid back injury in golf, it's time you've upped your game and your physique by taking the proper measures.
Should you get to this post too late and you're already suffering from back problems, we'd suggest getting a proper diagnosis before you hit the course again. Since the remedial exercises vary from person to person, you'd be best consulting a doctor when you have serious issues.
Read: How to calm nerves during golf?
Amazon and the Amazon logo are trademarks of Amazon.com, Inc, or its affiliates.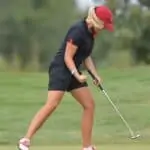 Daisy is the Founder and Editor in Chief of Golfs Hub. She is associated with Golf for more than 20 years. She got the inspiration from her father. She is a very private person & doesn't like to be photographed. She's worked in nearly every job in the golf industry from club fitting to instruction to writing and speaking. Now she is enjoying her retirement from day job... but not from Golf! Daisy lives in southeasternmost part of New York state with her family.