As an Amazon Associate, I earn from qualifying purchases. There is no extra cost to you. Thank you if you use our links; we appreciate it! Learn More.
Golf is one of the most popular sports in the United States, and four major tournaments draw large crowds as well as large television audiences. The best part about these events is that they take place during the spring and summer months when the weather is nice enough to be outside for several hours a day. It also means that you can bring the kids to an event without worrying about school the following Monday.
Major Golf Championships and Streaming Providers
The Masters
Played each April at Augusta National in Georgia, the Masters is perhaps the most anticipated event in golf. It is unique in that it always takes place at the same venue each year, and it is also known for the green jacket that is presented to the winner.
In 2022, Scottie Scheffler won the event for the first time finishing at 10 under par. Dustin Johnson set the low scoring record when he finished the tournament at 20 strokes under par in 2020.
Jack Nicklaus holds the record for most Masters victories with six and was the oldest player to win the event when he did so in 1986. Tiger Woods won the Masters by 12 strokes in 1997, which is the largest margin of victory in tournament history.
How Can You Stream This Event?
ESPN and CBS share the rights to this event, which means that you can stream live coverage by subscribing to ESPN+ or Paramount+. You can also watch live coverage of the event by visiting Masters.com. ESPN+ is $6.99 per month on its own or $13.99 per month as part of the Disney Hulu bundle. Paramount+ is $4.99 a month or $49.99 per year, and both platforms generally offer free trials for new users.
Read: How to watch the Masters Golf Tournament online?
PGA Championship
The PGA Championship takes place in May just a few weeks after the Masters. The tournament used to be played in August before the introduction of the FedEx Cup. However, PGA organizers wanted FedEx Cup tournaments to be played during this month, which means that the PGA Championship had to be moved on the calendar.
This event has traditionally been played on courses located in New York, Pennsylvania or Ohio. However, it has also taken place in Colorado, Oklahoma and Washington. In 2022, Justin Thomas won the PGA Championship for the second time after defeating Will Zalatoris in a playoff.
The winner of the PGA Championship becomes an official member of the PGA Tour for five years and a member of the European PGA Tour for seven years. Furthermore, he gets to play in all four major PGA tournaments for the next five years and the PGA Championship for life.
One of the unique features of this tournament is that it is the only major championship open only to professional players. Although the tournament now uses a stroke play format, it used a match play format until 1957. The last person to win this event in match play was Lionel Hebert who defeated Dow Finsterwald.
How Can You Stream This Event?
You can stream the PGA Tour Championship by subscribing to ESPN+. You can either watch standard coverage through the app or make use of the PGA Tour LIVE feature for additional content.
The U.S. Open
The U.S. Open is typically played in early June with the final round traditionally played on Father's Day. The tournament is played at a variety of courses throughout the country, but the United States Golf Association (USGA) tends to choose venues that offer a true test of a golfer's abilities. It is not uncommon for the winner to finish at even par or several strokes above par.
In 2022, Matt Fitzpatrick won his first career major championship after taking the Open by one stroke over Scottie Scheffler and Will Zalatoris. Rory Mcllroy set the tournament scoring record when he shot 268 over four rounds in 2011. He finished the 2011 tournament 11 strokes under par, which was also a record for this event.
Unlike the PGA Championship, this event is open to everyone who is able to qualify. In fact, the winner of the most recent U.S. Amateur tournament automatically gains entry into the field along with previous Open champions and those who have won any other major in the past five years.
The USGA does have the power to invite individuals to the tournament who may not otherwise meet the criteria to qualify. These individuals are typically previous champions or all-time greats who may have been inactive for a period of time. In most cases, those who have retired would not meet world ranking, cash winnings or other criteria for entry. However, those who receive exemptions are still good enough to be relatively competitive.
How Can You Stream This Event?
The U.S. Open tournament is available for streaming on Peacock, which is NBC's streaming service and is $4.99 per month with ads and $9.99 without. You can also stream the event on any service that provides NBC or Golf Channel. Most major streaming services such as DIRECTV STREAM, Hulu + Live TV and YouTube TV offer these networks. Basic service plans for these providers start at $64.99 per month, and free trials are available for new users.
The Open Championship
Formerly known as the British Open, the Open Championship takes place in July and is the last of the four majors to be played each year. As with the American version, the Open Championship is available to everyone who is able to qualify. However, in practice, the field is largely made up of professionals or amateurs who are likely going to turn into professionals in the near future.
Cameron Smith is the defending champion after shooting 268 over four rounds, which was 20 strokes under par. He was four shots behind Rory Mcllroy and Victor Hovland entering the final round, but birdies on the 10th through 14th holes proved to be enough to win the title by a single shot.
In 2022, the tournament took place at the Old Course at St. Andrews in Scotland. This course is one of the oldest in the world, which means that winning there is considered to be one of the highest honors in golf.
How Can You Stream This Event?
The Open Championship is broadcast exclusively on NBC, which means that you can stream it through Peacock. You can also download the NBC Sports app to watch live coverage of your favorite golfers during all four rounds.
Summary…
If you are a golf fan, you don't want to miss any of the four major tournaments. Subscribing to DIRECTV STREAM, Hulu + Live TV, ESPN+ or others may allow you to follow the action without having to pay for an expensive cable package. You can also stream The Golf Channel to watch some rounds of major tournaments or golf events in Asia and Europe.
Amazon and the Amazon logo are trademarks of Amazon.com, Inc, or its affiliates.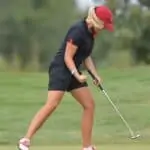 Daisy is the Founder and Editor in Chief of Golfs Hub. She is associated with Golf for more than 20 years. She got the inspiration from her father. She is a very private person & doesn't like to be photographed. She's worked in nearly every job in the golf industry from club fitting to instruction to writing and speaking. Now she is enjoying her retirement from day job... but not from Golf! Daisy lives in southeasternmost part of New York state with her family.