As an Amazon Associate, I earn from qualifying purchases. There is no extra cost to you. Thank you if you use our links; we appreciate it! Learn More.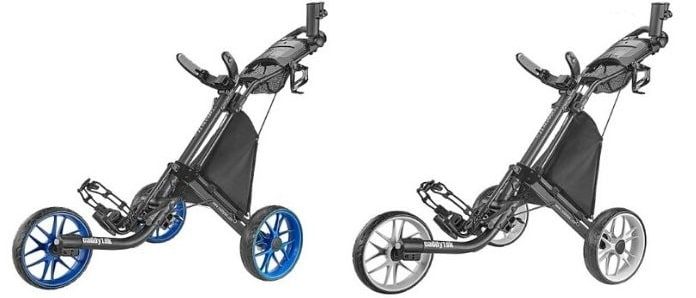 If you are searching for a golf cart that will serve you as well as your little one…then…yeah…I have found one for you… By using this cart you can save both money and labor of course!
I am talking about Caddytek ez-fold 3 wheel golf push cart. It has also a new version named "CaddyTek Caddylite EZ V8 – EZ-Fold 3 Wheel Golf Push Cart". Both are almost same.
If you still letting your junior to carry around that 20-pound bag and not paying any heads to his/her back health, then I must say you haven't been paying attention. In numerous studies, it has been found out that the pushcarts are infinite time better than the golf bags where the health of your junior is concerned.
If you are a passionate golf lover, then you must have heard of Caddytek Push carts. They are one of the premium brands for the three wheel golf buggy which are considered one of the Best golf push carts for Juniors (as the handle raises up and down).
In this Caddytek ez-fold 3 wheel golf push cart review, we will let you know why you should pick this 3 wheel golf cart over others and also about its new version as well.
Should you use it?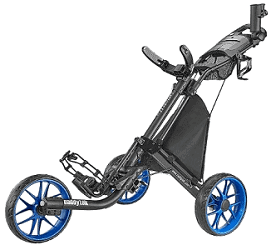 Lightweight with a very durable aluminium body frame.
Handle with a mesh net.
With a cooler built in original basket.
GPS, cell phone, umbrella holder with a storage rack.
Maintenance free Three EVA wheels for perfect traction & balance.
You can use it on all type of terrain.
Easy to push, open & close design.
1-click button fold mechanism.
First Impression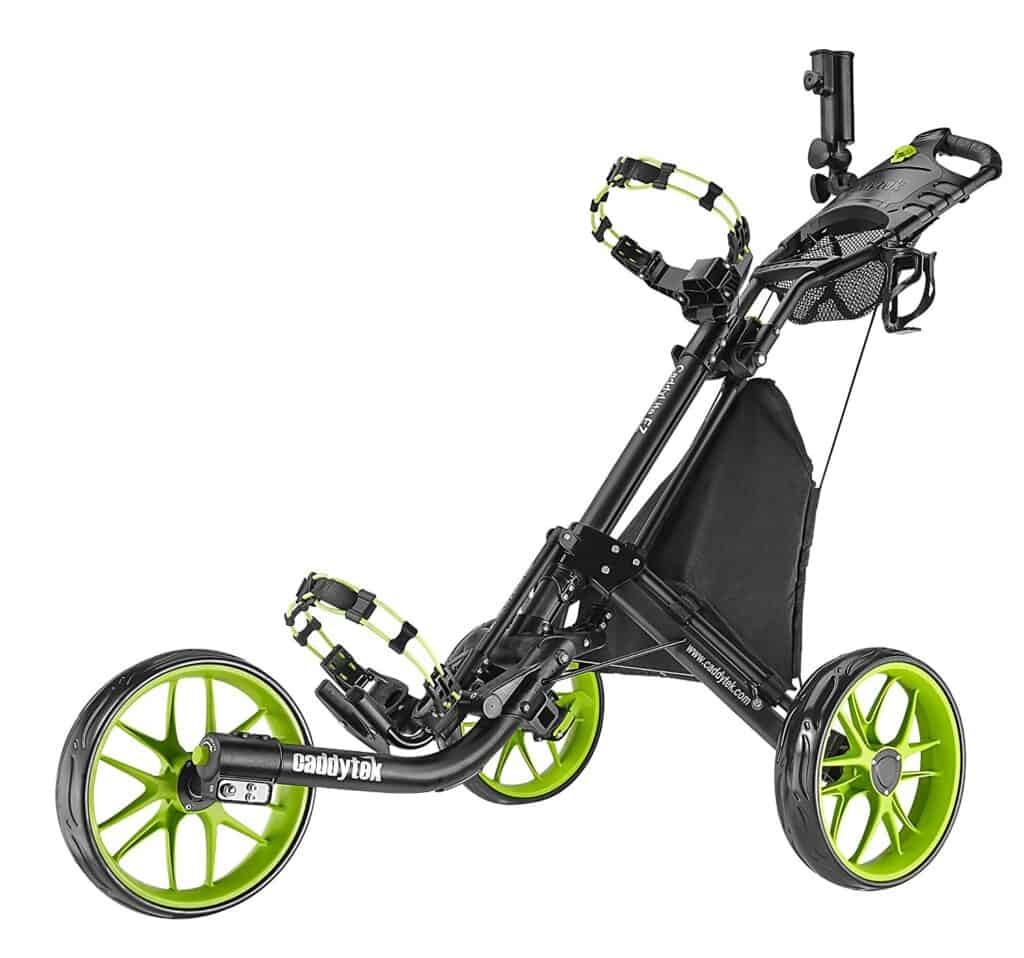 The first thing that will strike you is the cart's flexibility. Why do you use a golf cart? The most common answer is it is the best way to carry your clubs, isn't it?. Well, if a cart is not much flexible to push and hard to handle then why you should buy it?
And also this 3 wheel golf cart from caddytek is perfect for juniors because it is effortless to carry around, folds very quickly and it is very light-weight. It has many other features as well but it's flexible and foldable features is quite noticeable from the beginning.
Caddytek Ez-Fold 3 Wheel Golf Push Cart Review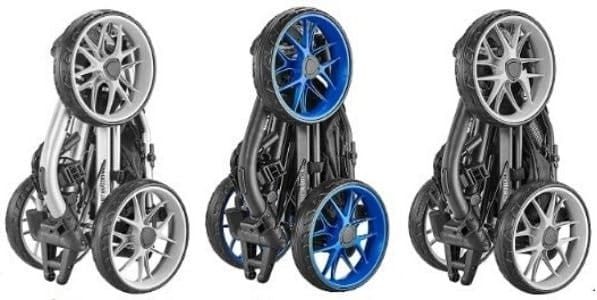 Size
As size is significant for any product, the Caddytek ez fold 3 wheel comes in a compact size which is perfect to carry your clubs, but it doesn't take too much space either. The exact product measurement is 72 cm x 41.9 cm x 36.6 cm. But don't let its size fool you, it can accommodate carry bags just fine. You can easily accommodate a 29" carry bag of your junior as well.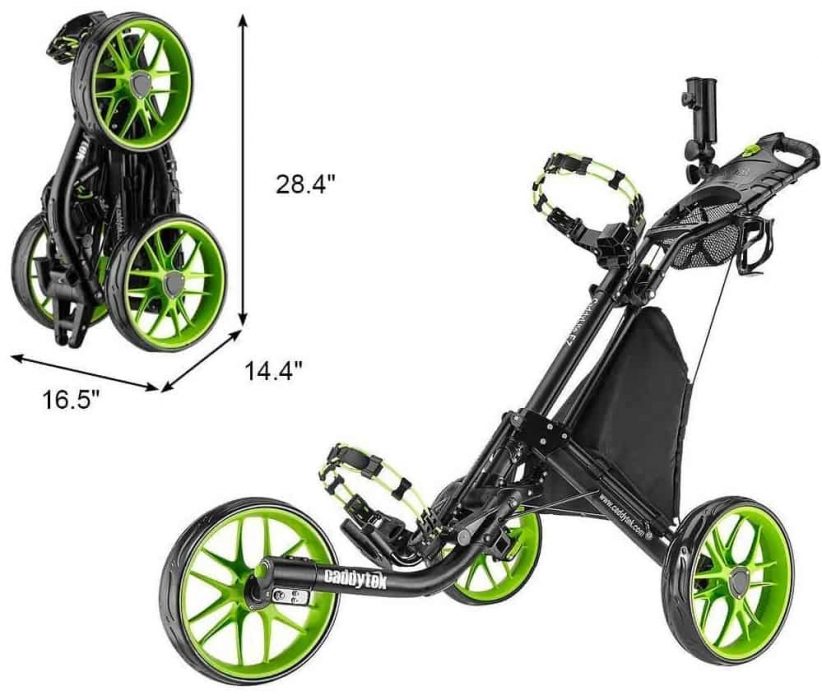 Weight
The cart is also quite handy in terms of weight. It is not at all heavy at all as it is meant to be carried by juniors. So, the brand has made it quite suitable to carry it by juniors. The caddytek ez fold weighs less than 18.5 which is only 8.3 kg in weight which is one of the biggest advantages of it.
Wheels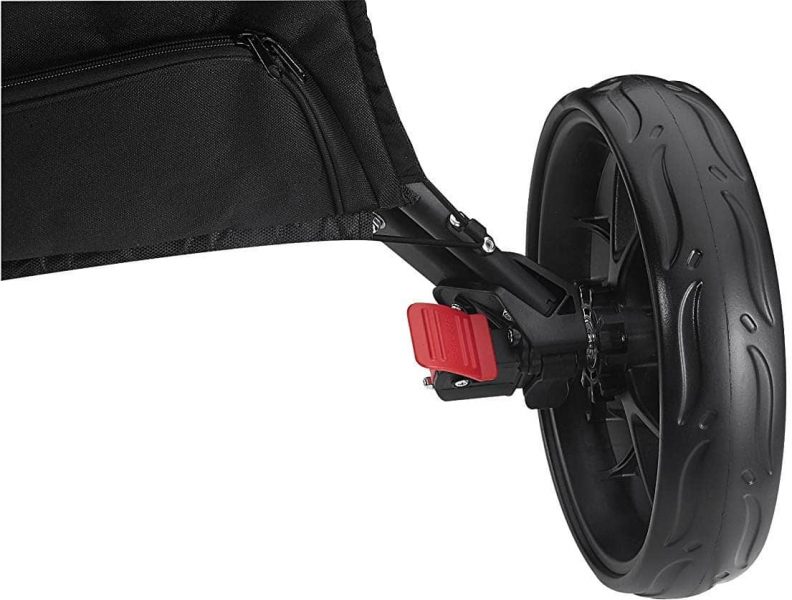 The wheels that come with this product is quite amazing. There are some nifty features added in wheels which make this product more useful like including Three 11.5″ x 2.6″ EVA maintenance-free wheels. These wheels provide perfect balance as well as traction on all types of terrain and grounds. Wheels with a bit larger diameters are increasingly in demand nowadays as these kind wheels are more durable types.
This cart allows your little golfers to walk the steep terrain as well as hilly slopes. But remember, to pass the drains, it is best to inflate wheels, and Its front wheel swivels independently too.
Read: Spin it golf gc1r Electric Golf Cart Review
Braking system
As we all know, on a golf cart the brakes are the most essential and critical feature to have as nobody wants that their trolley will roll down a slope. But the good news is caddytek ez-fold 3 has included a press to brake as well as press again to release foot brake which has 31-inch wide body design for your juniors to handle the brake when necessary easily.
Storage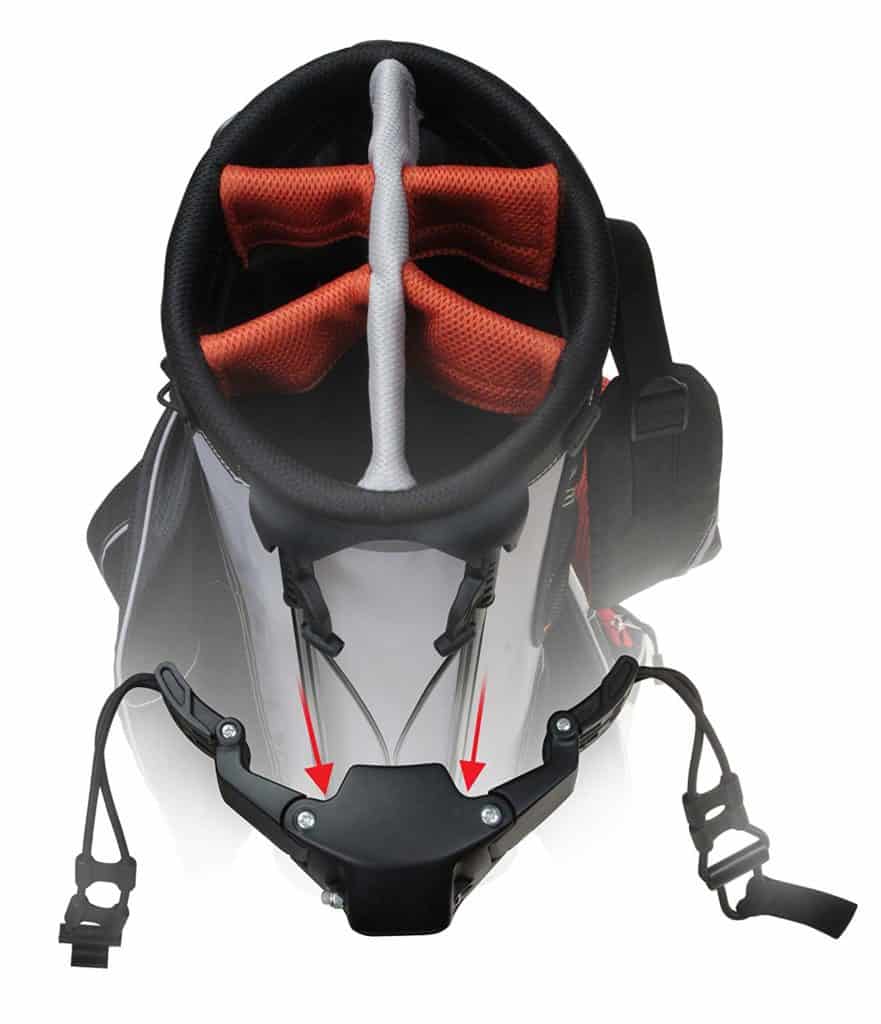 The caddytek ez fold is the best golf pushcart when it comes to storage It has a fantastic storage system. The brand knows precisely how much storage your junior needs and it is made according to their necessity.
It comes with a basket in it, and the basket has an incredibly fantastic build. It also features a mesh net on the handle, and it has an umbrella/cell phone as well as a GPS holder. The list also includes a storage rack. And you can keep your drinks or tea with its tea holder as well.
Check out the Gymax Golf Pushcart
User-friendly
One of the much-appreciated features about the Caddytek EZ fold cart is that it is one best user friendly push cart with its smart features like the basket with integrated cooler, umbrella, scorecard, and beverage holders which fulfill the expectation of any user.
There is no chance for the golfer to get tired to pull or push with this versatile cart. It has enough storage for you, it is easy to carry, and it provides you with a lot of accessories. What more we can expect from a golf push cart?
Read: Bag Boy Compact 3 Review
Warranty
You don't need to stress over the warranty for up to 1 year. Within this period, you can ask for any help if the product doesn't work correctly.
Portability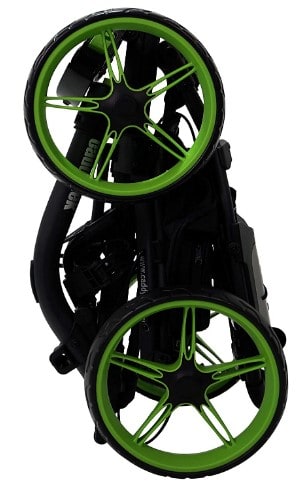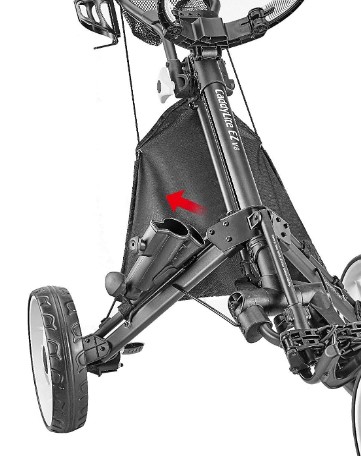 The product is very portable due to Its compact size and ease of carrying. The product doesn't require a lot of effort for carrying as it is easy to push & weighs very less.
Design
Caddytek is one of the most recommended pushcarts that is best for junior golfers. It is a revolution in pushcart innovation. They have made the cart budget-friendly also easy to fold and very easily unfold the Caddy Lite EZ. Its latest design has a sturdy aluminum C-frame which makes it more stylish in look, and it is considered to be a benchmark for other manufacturers to follow.
Read: Clicgear Model 4.0 Golf Push Cart
Durability
The product is quite durable due to its sturdy aluminum built. You can use it for a long time without the worry of decaying or any parts not working correctly. Also, Caddytek as a brand has an excellent reputation for their product's durability.
Handles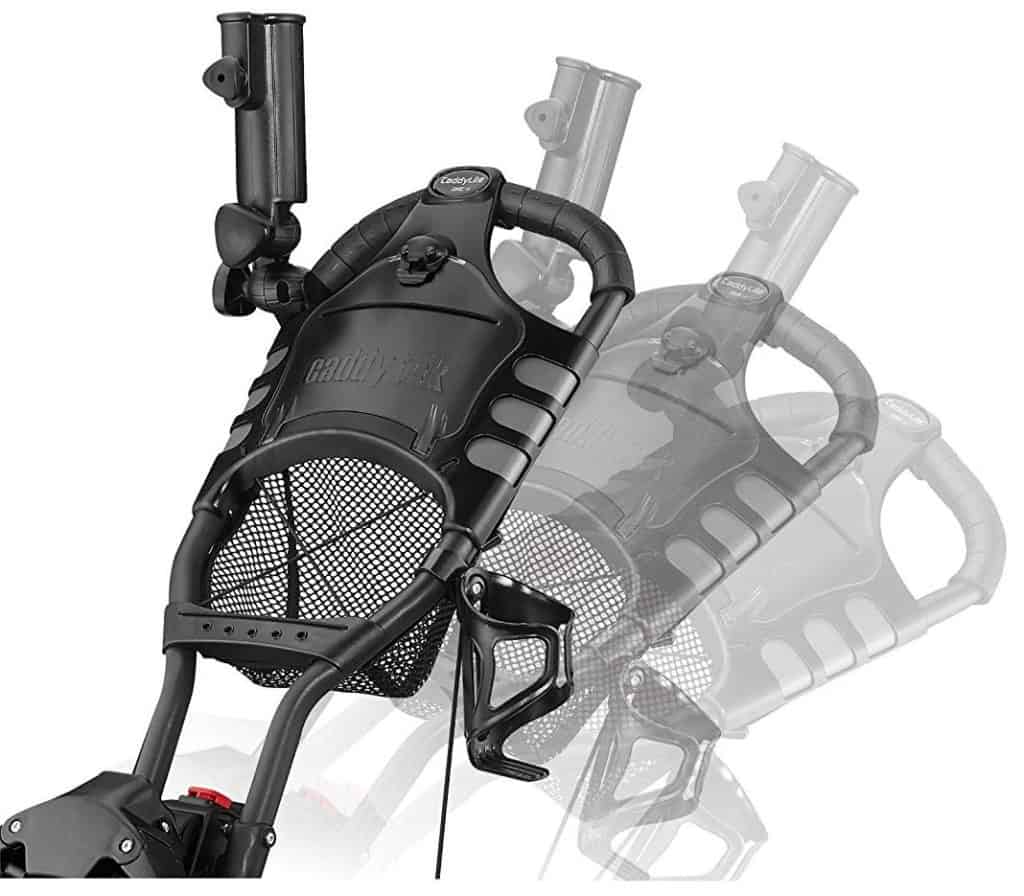 The handles are quite good and easy on hands for the juniors as its padded and adjustable. So whether your junior is 48" or 45", you can always customize it for your need.
Caddytek EZ Fold 3 Accessories
It comes with a drink holder, cup holder, ball holder, umbrella holder, storage rack & a Scorecard holder. You can buy seat with it. There is a cell phone/gps holder on the scorecard holder.
Read: CaddyTek SuperLite Deluxe Golf Push Cart
What is New in the New Version of This Product
The new version has come out quite recently, and there isn't any significant change we have found into the new model so far. However, there are some minor changes like the front wheel doesn't swivel independently in the latest version.
Another cool addition is the clamp style bag holder where the previous model has an elastic cord. Other than these, there aren't any new features worth mentioning.
Check out the Cube cart 3-wheel trolley here
Is Caddytek ez-fold 3 Good?
PROS
The frame is made of lightweight aluminum.
Folds into an easy to carry shape.
It has a two-step folding system.
Easy to fold and unfold.
The wheels lock securely.
It is effortless to clean.
The product is quite cheap comparing its quality.
The wheels are quite broad.
The product is very user-friendly for the juniors
The weight of the product won't trouble you.
CONS
The large spokes can pick up debris.
Limited storage space.
No easy lockup mechanism to stay the cart in folded position.
While closed, it may unfold- if you set it down wrong.
The foot brake is problematic & tricky.
My Personal Experience
I've chosen this golf push cart as my little one prefer to play golf in the morning. It is perfect for my junior as he can push the cart quickly and he loves to carry around the cart. There is no chance of him getting stuck with it so can be worry free as well.
The Target User Of This Product
It is made for targeting the junior golf lovers and their parents. The parents always want to purchase the best for their junior ones, and this brand is meant to provide the best for them with its durability and stylish build which matches every parent's criterion.
Is it user-friendly?
The manufacturers and makers were pretty keen to make their design, price, as well as the use of the golf push cart above par. Also, they were cautious not to make it something that is complicated to use for the users. So It is very user-friendly indeed.
Is the product worth your money?
The Caddytek ez-fold 3 wheel golf push cart worth your every penny. Because everybody wants to invest in a quality product and this is one of those rare products that have managed to keep the quality even such a meager price.
FAQs
1. Is there a drink holder?
Yes.
2. Is the drink holder removable?
Yes, you can remove the drink holder if you want to.
3. Is there are a clip to hold golf accessories like towels and brushes?
You can keep them in the storage compartment as there are meshed areas to keep them secures.
4. After folding, should the cart click into place and somehow "lock"?
It will lock. There's a little yoke concerning midway that snaps into grooves on the most stem. Warning: you've got to confirm that the higher bag yoke isn't unknowingly placed into the closed position once collapsing, it'll stop the 2 items from snapping along.
5. Does the front wheel swivel?
Not on this model.
6. Is this cart ok for juniors?
Yes.
7. Can I use a carry bag with this?
Yes you can. It can accommodate any size of carry bag.
8. Does this cart come with a seat?
No, it doesn't. But you can order one .
Final Verdict…
As our children are often dependant on us for making the decisions for them, it is wise to make an informed decision. In this Caddytek ez-fold 3 wheel golf push cart review, we have given you an in-depth walk through all the features that make Caddytek ez-fold one of the best push cart.
But still, there is one question that needs to be answered, which should let you go for the old one or new? Well, as the latest one has just come out and isn't widely brought like the original model, we would recommend you to buy the Caddytek ez-fold, to be in the safe side.
Read More
Amazon and the Amazon logo are trademarks of Amazon.com, Inc, or its affiliates.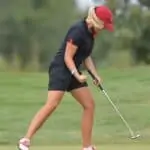 Daisy is the Founder and Editor in Chief of Golfs Hub. She is associated with Golf for more than 20 years. She got the inspiration from her father. She is a very private person & doesn't like to be photographed. She's worked in nearly every job in the golf industry from club fitting to instruction to writing and speaking. Now she is enjoying her retirement from day job... but not from Golf! Daisy lives in southeasternmost part of New York state with her family.