As an Amazon Associate, I earn from qualifying purchases. There is no extra cost to you. Thank you if you use our links; we appreciate it! Learn More.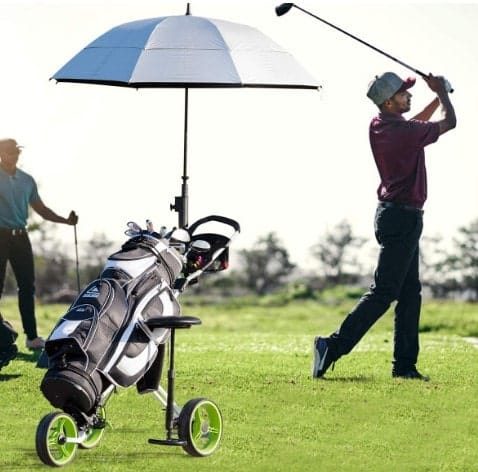 Walking all day in the golf course with a heavy bag on your shoulder isn't always an entertaining idea when you're forced to find an alternative to the caddy cart you can't afford. And that's why golf pushcarts came into the scene to save the day (or years!).
So, if you're in the market in search of a bang-for-the-buck of a golf trolley, you'll definitely want to take a look at the 3-wheel Gymax pushcart, which has already managed to appeal many avid golfers with its top-notch quality and superior performance.
Let's peek into the key insights of this up-and-comer pushcart through this Gymax 3 Wheel Golf Push Cart review.
Overview of Specifications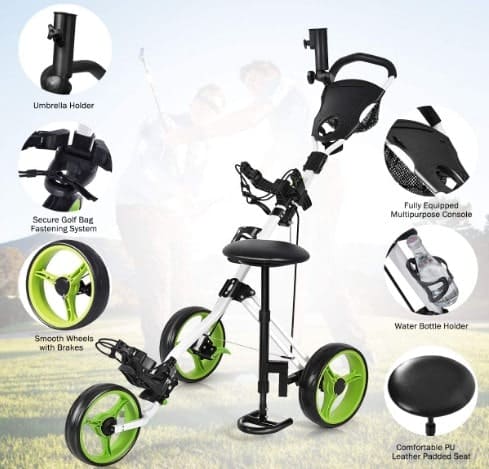 | | |
| --- | --- |
| | |
| | Two-step folding golf push cart |
| | |
| | |
| | |
| | |
| | |
| | |
| | |
| | Drink holder, holes for balls and tees, Accessory compartment, Umbrella holder |
| | Leather-padded stool, Scorecard |
| | |
Why You'll Love It?
Aesthetics aside, the Gymax golf pushcart is jampacked with whacking great user-oriented features to make the haulings of your staff all the more peaceful and free of hassles. So, what's so lovable about this cart? Let's find out.
Sturdy yet Lightweight Frame
The neat and concise body of this golf pushcart boasts a sturdy frame made of top-grade carbon steel, which promises to deliver durable, worry-free hauling for years. But despite the solidity, it'll surely surprise you with its overall lightweight feel.
Weighing nearly nineteen pounds, it's one of the lightest carbon-steel golf carts out there. While the lightweight build allows you comfortable hauling of your goods with convenient maneuvers, the rigidity covers up for you by keeping it from giving in during heavy overloads.
Fast-Folds with Superb Adjustability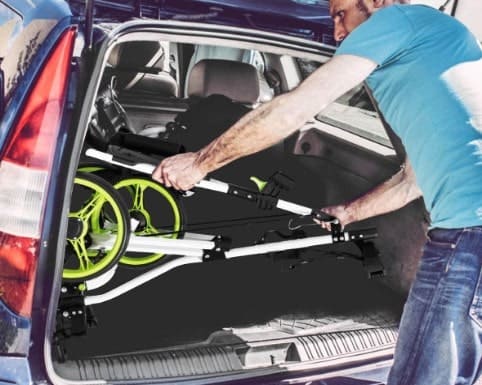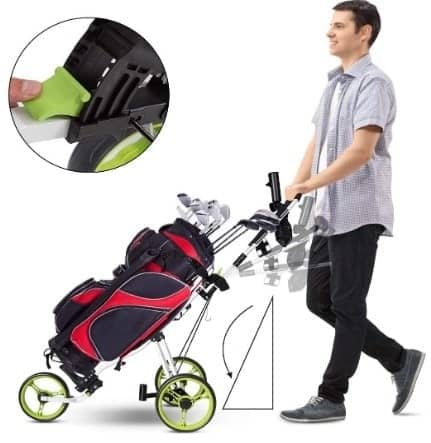 If you have concerns about the probable hard times regarding the enfoldment of your golf cart after a long tiring day at the course, you can forget that once and for all, once you get your hands on this pushcart. The two-step cart only takes a mere few seconds to nicely fold into a compact and storable wad to spare you all the potential hassles.
And it comes with unmatched adjustability as well. Not only can you adjust the height of its ergonomic handle to your preferred position, but you can align it to an angle that comforts you most. What's more? The deftly crafted, fast-responding whole has excellent overall flexibility to support your back to help tackle the fears of back-pain.
Convenient Maneuverability with Incline Support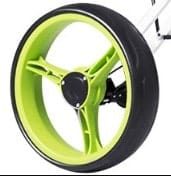 Say how exasperating it would be when you're hurrying in the course, and your trolly starts nagging and keeps refusing to move with all your staff on it because of its reduced mobility?
Well, that won't happen if you have this cart at your disposal. It comes with smooth ball bearings on its wheels, and when you attempt to shift right or left, the revolving front wheel will make it easier for you every time with swift and smooth shifts of directions.
But what I liked most about its maneuverability is the excellent incline support that it provides on hilly terrains. While it's primarily because of its astutely crafted polypropylene wheels that have a broader width, the overall robust build provides substantial assistance by keeping it from twitching even when you load it heavily.
Secure Parking
Since the trolleys have got wheels, it's natural that they'll tend to slide away on their own or roll all the way down a slope if you don't keep a close eye on them. But who's got that much time while playing out the swings?
Thankfully, with this trolley, you won't have to bother much about it. It comes with a pair of convenient foot-brakes that keep its wheels from sudden roll-ons to allow you secure parking. And besides the stability, the quick-acting brakes will enable you to prevent accidents with simple footwork.
Rest-On Stool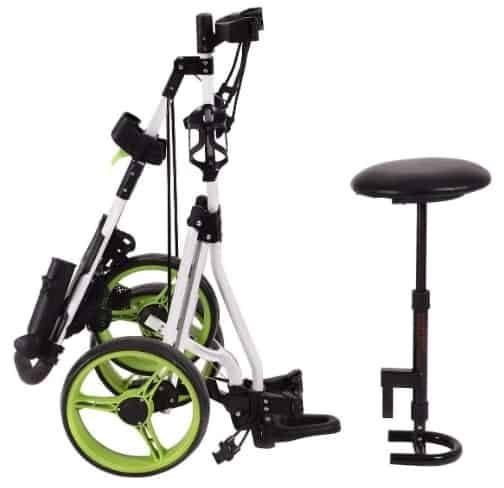 Say how satisfying it is to take a break from your game once in a while and rest on for a few minutes? Surprisingly, even without a caddy cart, that is absolutely possible with this golf trolley. It comes with a nice and comfy leather-padded stool that you can rest on in between your game. So, you can enjoy your golf and your drink at favorable intervals.
Easy to Store
Not only you can fold it into a compact and concise unit for quick storage, but you can keep the space neater as well. Thanks to its detachable wheels that you can take off easily. So, when not in use, you can tidy up things more comfortably while storing this pushcart.
Additional Features
The cart vows to ensure an all-round satisfactory hauling experience in the golf course for you, and its inclusion of so many tactful details sensibly indicate that. It left no room for a shortage of storage options. Along with the dedicated holes for resting your tees and balls, it comes with an additional compartment with mesh enclosure to let you secure the goods you might want to carry with you. And to keep yourself under the shade during golfing in the hot summer days, you can fittingly place your umbrella onto its dedicated slot.
Moreover, it lets you secure your heavy golf bag for a firmer, rattle-free hold with its sturdy, high-tensile straps. They keep providing you with superior support no matter if there's a huge bulge.
What Could've Been Improved?
To be honest, there's hardly an aspect you can complain about this product, which is loaded with too many quality attributes. However, what they could've worked a bit more on are the brakes. They become somewhat hard-to-retract once you settle it down for parking even though they quickly act when you force them down in the first place.
But it's far from being a major issue since you can overcome it easily by applying a little more effort. Besides, you can expect the brakes to become flexible over time with frequent use.
Verdict…
The Gymax 3-Wheel trolley undoubtedly one of the best quality pushcarts you'll ever come across. It's indeed blessed with all the bells and whistles that anyone would look for in a golf pushcart. Having already amazed its customers with its super expedient characteristics, it evidently promises to deliver the ultimate satisfaction to anyone who uses it. And with the price being within easy reach, the cart is set to keep flying off the shelves.
Hopefully, from this Gymax 3 Wheel Golf Push Cart Review, you now have a more precise prospect of your purchase options. So, go ahead, give it a try, and share your experience in the comments below.
Read More
Amazon and the Amazon logo are trademarks of Amazon.com, Inc, or its affiliates.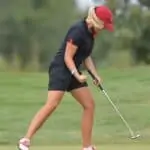 Daisy is the Founder and Editor in Chief of Golfs Hub. She is associated with Golf for more than 20 years. She got the inspiration from her father. She is a very private person & doesn't like to be photographed. She's worked in nearly every job in the golf industry from club fitting to instruction to writing and speaking. Now she is enjoying her retirement from day job... but not from Golf! Daisy lives in southeasternmost part of New York state with her family.