As an Amazon Associate, I earn from qualifying purchases. There is no extra cost to you. Thank you if you use our links; we appreciate it! Learn More.
If you had been living under the rock for years, you wouldn't know how important these golf push carts have become. Even if it's new to your ears, the symbol of durability, adaptability, and reliability in golf courts has taken yet another new name in the shape of carts.
Out of our love for all that is essential and savvy in golf, we decided to do a Sun Mountain Pathfinder 4 review. And let's just say this isn't your regular wobbly-wheeled, weak brake system, poorer storage availability carts. This special one has won awards for its sturdy features and performance. Let's check them out!
Is Pathfinder 4 Good Enough?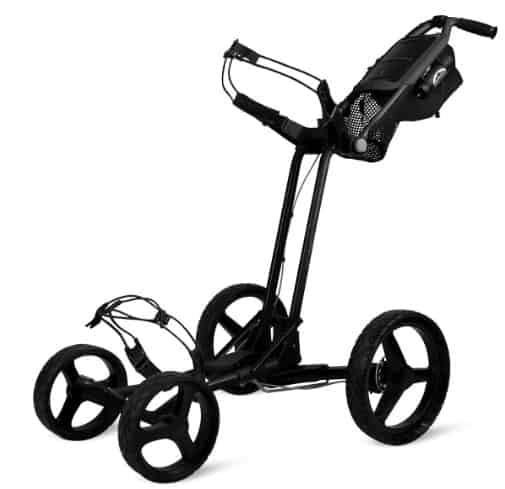 Rolls better on rough surface.
2 larger front wheel make the cart even lighter.
Velour lined pocket & mesh basket for storage.
Enough space to hold more balls & tees.
Flexible bungee cords to hold the bags.
Handlebars are adjustable.
Easy to push
Sun Mountain Pathfinder 4 Review
This pushcart is the next-generation Micro-cart offered by Sun Mountain. It is real evidence of how far the golf push carts have grown in terms of technology and utility. We will split the features in terms of what we think is useful. Take a look at the following considerations:
Design
The cart weighs only 17 pounds and is a durable cart that is well constructed, stable and firm. There are airless, plastic mag wheels on the cart with fixed foam tires. These make it possible for them to roll over almost any terrain without any inconvenience easily.
The brake system is super easy to operate. You only have to flip it to engage and disengage the brake. You'll find it on the side of the accessory console. Also, there are 8 color combinations of the cart available.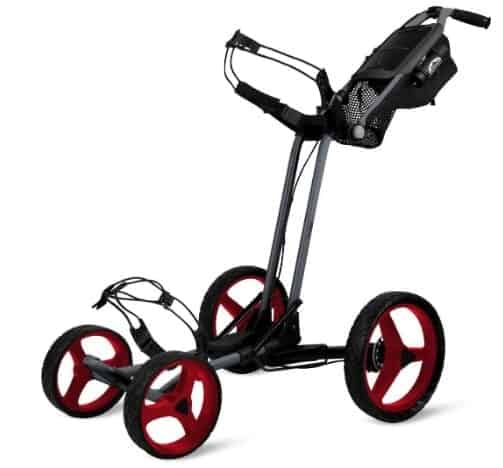 Assembly
You do not need to assemble the cart. However, if you plan on going all out intuitive, you may check the instruction manual that comes with it. If you would like to change the alignment of things, you can do that too. Sun Mountain grants you a wrench to do your thing.
To conclude, you can take your cart straight out of the box and roll it without much alteration!
Locking and Expansion
It comes folded, but you can expand it right after bringing it out of the box. When you lift the top handle, the lower base tray will extend and lock the thing into position. There is a top handlebar that allows you to adjust the height at which you want the cart to operate.
There are brake systems both at the top and at the bottom. You can press your foot at the bottom lock and unlock the cart. Then you can open the top part as mentioned previously. To fold it again back to position, you can only use a hand to fold the thing down.
Accommodation, Storage, and Accessories
You can fasten your bags to the cart with the help of bungee cords already added to the cart. Now, when we say bags, we mean both stand bags and cart bags, anything goes.
You can keep your wallet, ball marker, tees, balls, scorecards, or cellphones in the accessories console. Behind the console, in the pouch, you can keep your electronic items.
Anything from Bluetooth speakers, headphones, chargers, or rangefinders can be placed in the velour pouched. It is big enough to hold your folded jacket even! There is another pouch at the bottom of the console, but this time it is made of mesh.
Other than these, you get a decent umbrella holder to save yourself on rainy days.
Portability
You can easily fold the thing and carry it in the trunk of your or behind your SUV. Once folded, it is straightforward to carry from courts to home!
It is rightly crowned by Golf Digest as the best 4-wheel golf pushcart, and there's no denying it!
Sun Mountain Pathfinder 3 VS 4
Pathfinders have always enchanted golf-cart users be it their 3-wheel carts or 4-wheel carts. You can see the ergonomic effectiveness and efficiency of pushcart designs unleashed by the Sun Mountains in all of their carts.
However, there are subtle differences, as we mention here in terms of Pathfinder 3 and 4.
First off, the most obvious difference is the number of wheels. Pathfinder 3 has 3 wheels.
Also, it is cheaper than the opponent cart, Pathfinder 4.
Pathfinder 3 is also lightweight, weighing only 16 pounds and having a dimension of 29*17*13 inches. Pathfinder 4, on the other hand, is slightly heavier, weighing 17 pounds, and with a foldable dimension of 26*16*14 inches.
Needless to say, they are both lightweight, foldable, and expand easily than most golf push carts available in the market. Another important fact is that both the carts have rangefinder bags, console trays, and other accessories. The umbrella holder, water bottle holder, cooler bags are available in Pathfinder 3 too.
So, it can be said that other than the difference of wheels, dimensions, storage (minute), and weights, there is not much of an explicit difference between the two; however, if it comes to the better option, for obvious reasons, we like Pathfinder 4 better!
The Bottom Line…
Here ends our Sun mountain Pathfinder 4 review for today! For those golfers who occasionally keep their clubs in the car, the Pathfinder 4 is a big hit—manufactured by one of the leading golf-cart producers of the industry, the efficiency, and adoption of practical approaches in making a handy and beautiful golf cart has had its result with many amateur and pro-golfers.
As we have seen in the features and the cart's performance, we find it an easy buy that is totally worth the money and the hype. We hope you'll go cart-shopping soon!
Read More
Amazon and the Amazon logo are trademarks of Amazon.com, Inc, or its affiliates.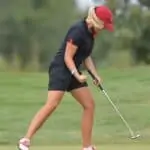 Daisy is the Founder and Editor in Chief of Golfs Hub. She is associated with Golf for more than 20 years. She got the inspiration from her father. She is a very private person & doesn't like to be photographed. She's worked in nearly every job in the golf industry from club fitting to instruction to writing and speaking. Now she is enjoying her retirement from day job... but not from Golf! Daisy lives in southeasternmost part of New York state with her family.