As an Amazon Associate, I earn from qualifying purchases. There is no extra cost to you. Thank you if you use our links; we appreciate it! Learn More.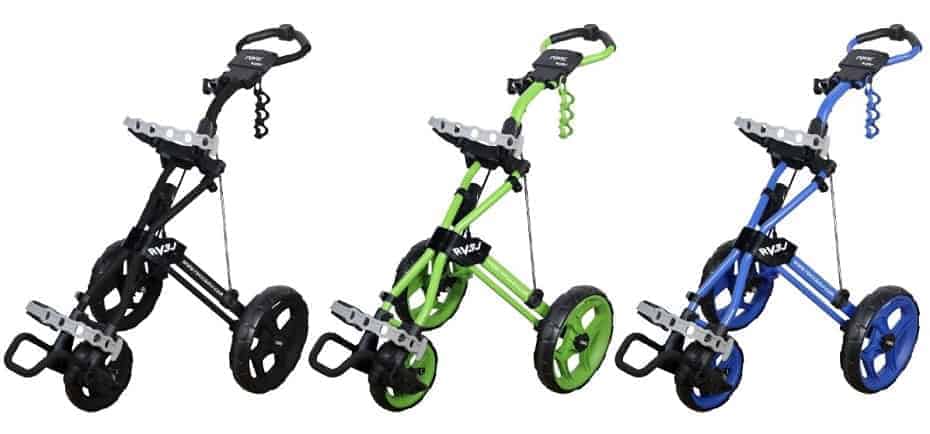 The pitfall of using the golf bags is something we might not anticipate until your junior end up hurt. They have to carry the bag into a way that isn't exactly friendly to their spinal column. But you can't just let them have any random golf push cart. The junior bag won't likely fit the pushcart too well. Also, you will always have to look for ways to keep the bag and even have to do some customization the cart.
But if you are not up for the hassle, Clicgear Rovic rv3j junior push cart is one of the best junior golf push carts to have. It does not just look pretty; it delivers all the functionality your junior might need.
It is a perfect push cart for 6 to 10 years old junior golfers. Moreover, you can fit in an adult bag in it too. In this Clicgear rovic rv3j review, I will explain all the opportunities it has to offer.
But if you don't like it, then I have suggested an alternative option for your kids too.
Let's begin!
First Impression
Thanks to the makers for the gorgeous and classy look. The construction is incredibly stylish and strong. They have realized that no matter how effectively does it work if it does not give the customers an aesthetic design then you simply will not buy it for your kid. Even I wouldn't buy it!
Rovic Rv3j Push Cart is an amazing junior golf cart that will definitely be going to to make you hear 'wow' from your own mouth.
Its a good news for you or your junior if you are a love to play with colors, because you are in the right place, trust me. You have freedom from choosing different colors. Rv3j Junior Push Cart has a blue body and the wheels and brakes are black in color. But this push cart is also available in black, green, red and white. The Clicgear Rv3j has set the benchmark for other pushcarts.
Features of Clicgear Rovic Rv3j Junior Push Cart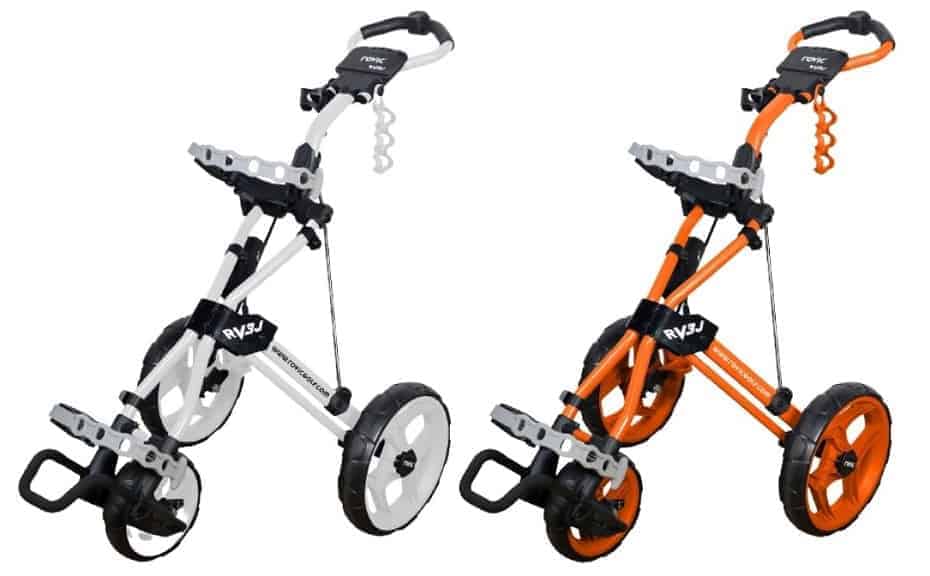 Wheels
Wheels are the most important and prominent part of any golf cart and Clicgear junior golf cart ensures reliable wheels that you can trust. Do you want a feeling for lifelike pushing trolley cart at any department store instead of wobbling around with the heavy bag? Well, nobody wants that, actually. Wheels of Clicgear Rovic Rv3j Push Carts are able to match your expectation level and let you enjoy a smoother ride.
As this pushcart has three wheels, more pressure is on the front wheel it is easy to push. The two rear wheels are larger than the front wheel. The whole thing is designed for giving you the fastest experience. Also, you do not worry about any physical stress as it is easy to handle pushcart. Another thing that adds an extra advantage to the wheels is, all of them are airless. So you are getting rid of that maintenance cost and repairing.
Storage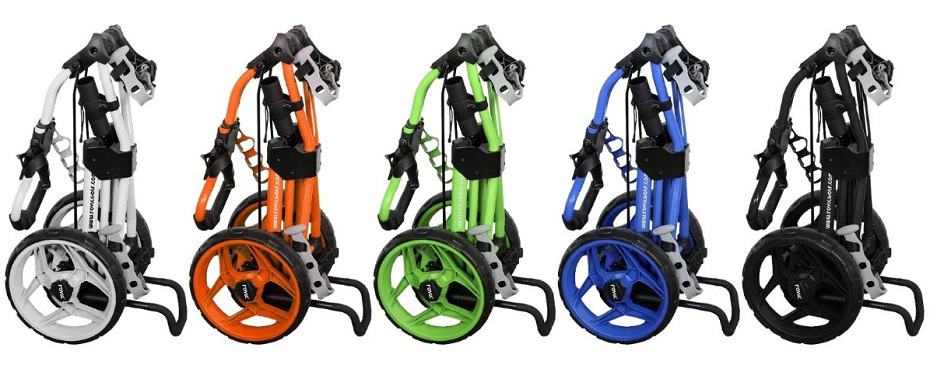 Why would you buy a cart that does not even remotely meet any capacity goal? In this regard, our Clicgear Rovic Rv3j Cart is one of the best one to buy. The Clicgear Push Cart has an umbrella holder and a cup holder. You will get two more tabs. as you can also attach gears and customize the whole design.
One downside about storage is that there is a problem with the main storage., it does not have any mesh storage.
Size and Weight
If anyone is asking why are you buying the Clicgear Rv3j Junior Push Cart then simply reason to give them is it's very lightweight. It weighs only 16.5 pounds. This cart is highly compact equipment. When you fold this cart, it becomes even smaller and thus quite easier to carry around in distances.
Also, It has good durability. The high-end finish in its construction makes it it easy to fold, you can fold it within few seconds.
Braking system
The wheels and brakes are very sturdy. Brakes are another important feature of any good golf pushcart. With these brakes, you are free to go wherever you want. So you can move as you like to without giving any consent or hesitation.
The foot brake is placed exactly where it needs to be placed. The frame is good enough to handle the brakes. The rear foot brakes ensure it to move it from any side. The frame is good enough to handle the brakes. It also has an adjustable wheel alignment system.
Portability
This Push Cart is great equipment for junior golfers. This cart is super comfortable to use. Also, it is lightweight and easy to move.
Handlebar
The handlebar is something we often forget to check before but comfortable handle means easier control for the rider and less strain on the wrist. It has a nice foamed handle that makes it easy to carry and push.
Specifications at a Glance
It can have room for golf bags from 26 to 30-inch size & keep it in place when the cart is folded.
It has an easy one-step folding system.
It's 13" rear wheel makes it easy to push for the junior golfers.
It comes with a cup holder, ball clip, umbrella mount & storage net.
It uses standard Clicgear Umbrella mount so that you can add multiple clicgear rovic rv3j accessories.
It has a scorecard console with a pencil & card holding strap.
It has an easy clip bag strap which works fine with any bag size.
It has adjustable bag support & wheel.
It has an easy to use & maintenance-free foot brake system.
Are Clicgear Rovic RV3J Push Cart Good?
PROS
Clicgear Junior Push Cart is amazingly lightweight.
A compact body makes it easy to fold and it becomes quite small.
It is easy to push and extremely balanced to the core.
Airless wheels, no maintenance needed so it will cut a lot of hassle
Efficient brakes for any stoppage or worse, if you find yourself not able to control it properly.
At a glance are quite eye-catching and quite a thing to have with you.
CONS
The only issue that I faced with the small front wheel compared to the rear wheels which are a little larger. It's a three-wheeler and you can have a problem with those two big rear wheels when pushing it too far.
Rovic Model RV3J Junior | Youth 3-Wheel Golf Push Cart (Orange)
ProActive Sports Big Styx Junior Golf Push Cart (Black)
Rovic Model RV3J Junior | Youth 3-Wheel Golf Push Cart (Orange)
ProActive Sports Big Styx Junior Golf Push Cart (Black)
Alternative Option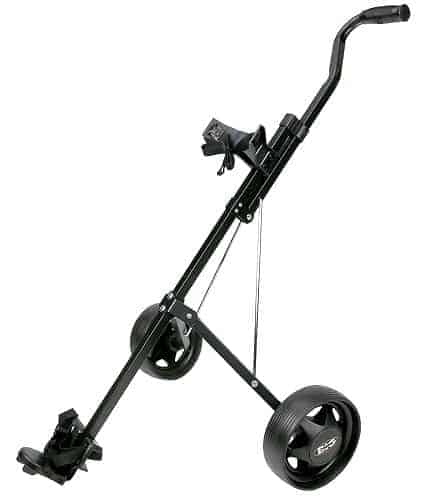 ProActive Sports Big Styx Cart is ultra lightweight push cart which will keep your little one very comfortable in the course. It is only 6.5 pounds! The best thing of this cart is that it has a shoulder strap. So that kids can carry this cart anytime while learning the holes.
This cart will free them from worrying about how they will carry the clubs so that they can turn their attention on learning the game instead.
It has a steel construction which can accommodate 26 inches & upsized golf bag easily. This cart has Nylon made bushing wheels which are removable. It is a two-wheeled golf cart. It has a central leg in the front which provides support for the cart. It is a perfect beginner Golf Push Cart for your little one. It has a one year warranty.
It has a problem though. The straps are not very good. Basically, it is a pull cart & its not a professional cart. But it's great for a starter.
Personal Experience With Rovic rv3j Junior Golf Push Cart
To describe my personal experience with this Rovic rv3j junior 3-wheel golf push cart is in one word, 'great'. Let's talk about security first. All I wanted is my golf bag will get good support and security for my 11-year old son during the time I am in golf court and yes I got absolutely what I wanted. The cart comes with strong brakes and adjustable straps.
These make it easier for him to have a good experience with the bag. Even all those pushing and bumping seemed effortless with strong brackets. This cart simply holds it in its place. More importantly, he did not find having any trouble while storing his stand bag in it. The cart has five colors, I used the lime one matching with his bag, umbrella and water bottle.
Is The Clicgear Golf Junior Rovic rv3j Push Cart User Friendly?
If you ask us if it is user-friendly equipment then we will definitely say yes, of course. Rovic Rv3j Junior caddie has targeted junior golfers as their customers. This cart is lightweight and easy to push. The whole experience with this Push Cart will never give your little one any physical strain. So the junior golfers are always happy. Nobody wants a boring experience with their carts. The cart has a variety of colors, so the floor is open for your choice.
No matter how good it is, customers will always worry about the price. This is a very premium but efficient cart that you cannot say no for this. All we can guarantee is that your money will not be wasted if you buy such a pushcart for junior golfers.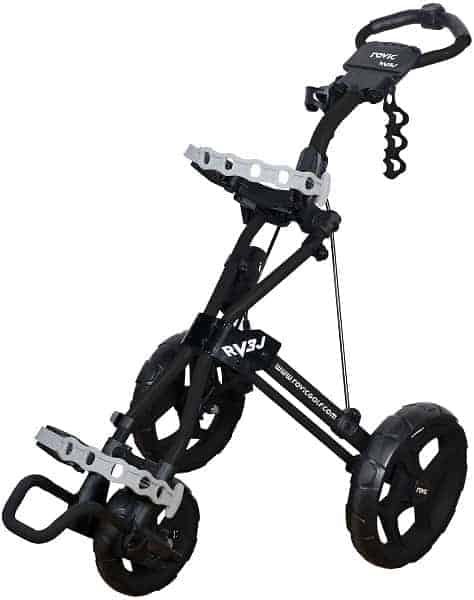 FAQs
Does rovic rv3j golf push cart come with the umbrella holder or do you have to buy it separately?
You can keep calm and enjoy because this cart comes with an umbrella holder, you do not have to worry about buying it separately.
Will this clicgear rv3j cart hold an adult bag as the golfer grows?
Yes, it will, but I will recommend you to not do this because it is actually made for your junior golfer.
Does the top handle that holds the scorecard council has the ability to be adjusted in multiple positions is higher or lower?
Well, pretty important question it is, right? Yes, it has an adjustable knob. You can adjust it according to your need to make it higher and lower.
Does rovic rv3j come with the cup holder as pictured? Or do you have to buy one to add?
Yes, absolutely. It has a cup holder. You do not have to spend your money on that.
Will rovic junior push cart hold any size bag?
No actually, in this case, this bag is made for junior golfers, so keeping in mind you have to think it is made that way to not hold any size bag.
What seat fits this pushcart?
Only for juniors.
Final Verdict…
So, as we are now at the end of our article. The reason for writing this article was to help you with detailed information about finding the best junior golf cart. About the Clicgear Rovic Rv3j Junior Push Cart, we are not even saying that it is the best Junior Push Cart, but it is certainly is one of them. It's easy to fold system and a compact body saves space wherever you keep it.
Also, airless wheels make it easier for you as they do not require any maintenance fee. it is lightweight and has an efficient brake.it meets every expectation for your junior golfers. I will strongly recommend this cart for your junior golfer.
Read More
Amazon and the Amazon logo are trademarks of Amazon.com, Inc, or its affiliates.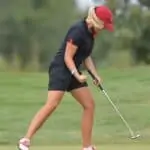 Daisy is the Founder and Editor in Chief of Golfs Hub. She is associated with Golf for more than 20 years. She got the inspiration from her father. She is a very private person & doesn't like to be photographed. She's worked in nearly every job in the golf industry from club fitting to instruction to writing and speaking. Now she is enjoying her retirement from day job... but not from Golf! Daisy lives in southeasternmost part of New York state with her family.