As an Amazon Associate, I earn from qualifying purchases. There is no extra cost to you. Thank you if you use our links; we appreciate it! Learn More.
Wondering about how to stop hooking the ball in Golf? You are looking for an answer or a bunch of answers for this, right? Well, the first cure is, if you tend to hit a hook (unintentionally), don't get disappointed. This is one of the most common issues for golfers, especially in the amateur stage.
A hook is the last fence to overcome on the journey of being a swing expert. A hook says that you are going to be a consistent and good player soon if you can overcome this issue confidently. Here, in this article, we are going to discuss the causes of hooking in golf and how to fix or solve it. Just find out the cause that is creating a hook problem for you, and then you can easily fix that following the solution that comes after the cause.
Before going to the core discussion of how to avoid hooking the golf ball, let's know something about Golf hooking the ball, in case you do not know about it. If you have enough idea on hooking, just move to the next section.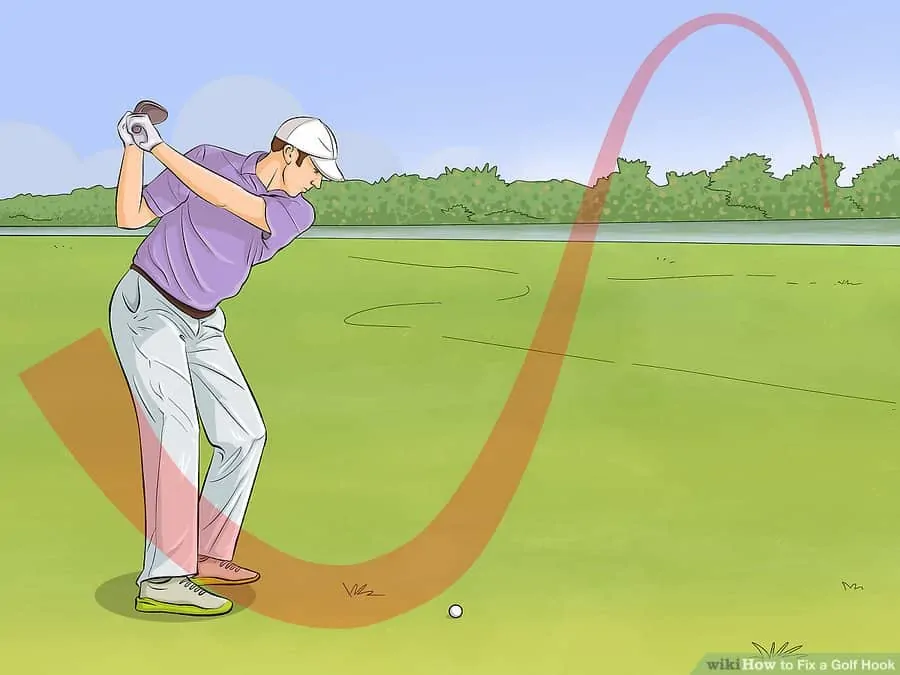 What is Hook in Golf?
In golf, A "hook" or "Golf hook shot" is a kind of shot that happens as a result of major right-to-left curving of the flight of the golf ball (for a right-handed golfer). When it comes to a lefty, it is a hook curve from left-to-right in the golf ball's flight. A hook can either be intentional or unintentional. But, most of the time it is usually a fruit of a mishit.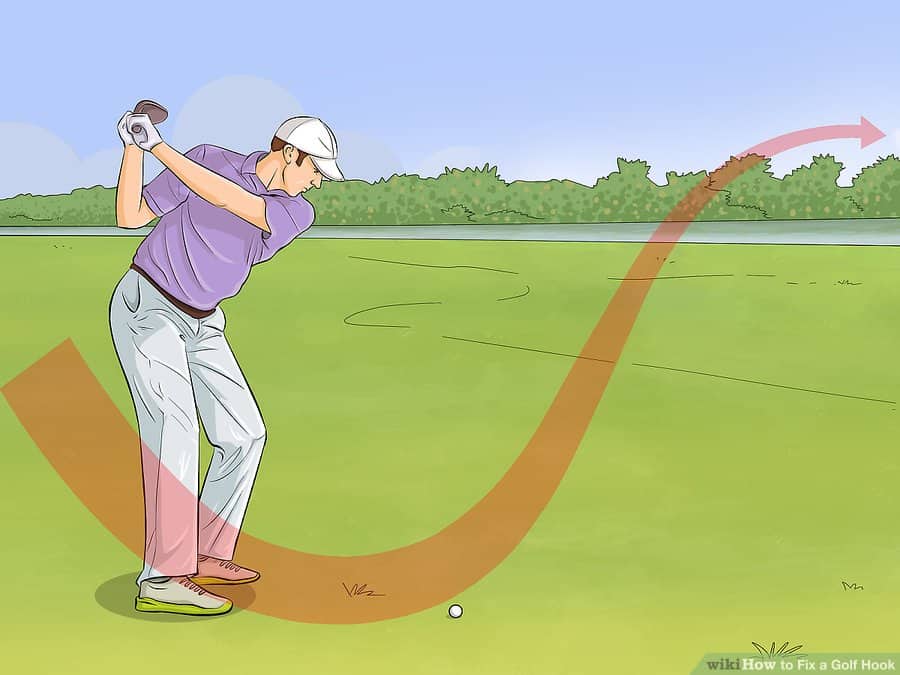 A hook is just the reversal of a slice shot and can be categorized as a severe version of the draw.
A "snap hook" or "duck hook" are the terms used for a severe version of a hook.
Well, if you have got some information about the Golf hook definition from here, let's move to the causes and solution now for which this article is written. Here you will get a clear picture of how to cure a hook in golf.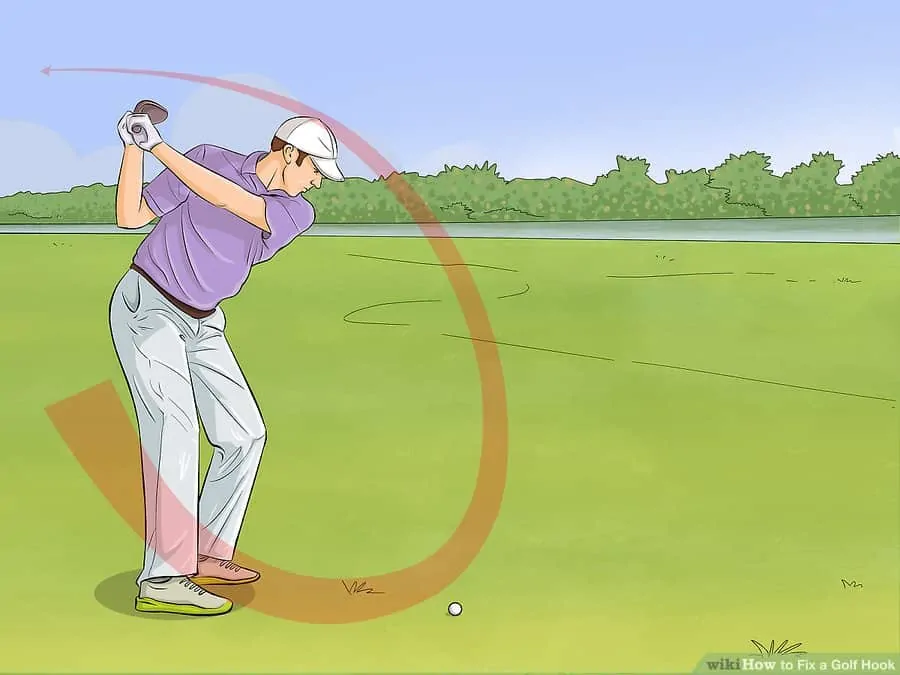 How to Stop Hooking the Ball in Golf: Causes & Solutions
To fix the hooking in golf you must know "What causes hook in golf" first. Here I will discuss some drills to stop hooking the golf ball according to their cause.
Cause 1: Poor Grip
You may think that a grip is not that important while it comes to the direction swing. You are probably right. But, a grip has a huge contribution to the looks of the clubface at the impact. A grip may not be suitable for everyone. It is because, a grip that might output a smooth and straight shot for player A, might produce a weak shot causing a huge hook for player B.
However, it is possible to make a generalization about the grip when it is related to hooking.
For example, when you stretch your hand too far to the right on your club, it is quite possible that it will return with the clubface that looks at impact to the left.
Solution:
While you stand to target the clubface square, firstly, make sure that you are perfectly able to look down. Secondly, when you look down, it is important that you see only two knuckles and not more than this on your left hand. It is because, if three or four knuckles are seen, we can guesstimate that they are responsible for your hooking issue.
Another technique might come to your help. That is, looking at the "V's" shape that is formed between your thumb and knuckle on both hands. You need to make sure that these are pointing to somewhere near your right ear as well as right shoulder. You should not let them point to left by anyway.
Last but not least, you need to make sure that you have used your right hand to correctly grip the club. You cannot overcome the griping issue unless you put your grip on the club properly. You can watch the VideoJug video named 'the grip' to learn about the mystery of making a perfect grip. If you are confused about how to fix a golf hook, and the problem is with poor grip, this will really help.
Cause 2: Wrong Stance or Posture
The wrong golf stance is one of the main factors for hooking. It may sound quite rational that once you understand that you are getting too much to the left, you instantly start doing the opposite to mend the former. Though your action may seem logical, actually it is the worst thing to do.
Because, the fact of the matter is, most of the golfers who hook make this same mistake. Well, what's the problem here? Actually, if you aim to the right, it will result in the swing's circle taking the ball too far to the right. This very thing will contribute to intensifying the hooking motion.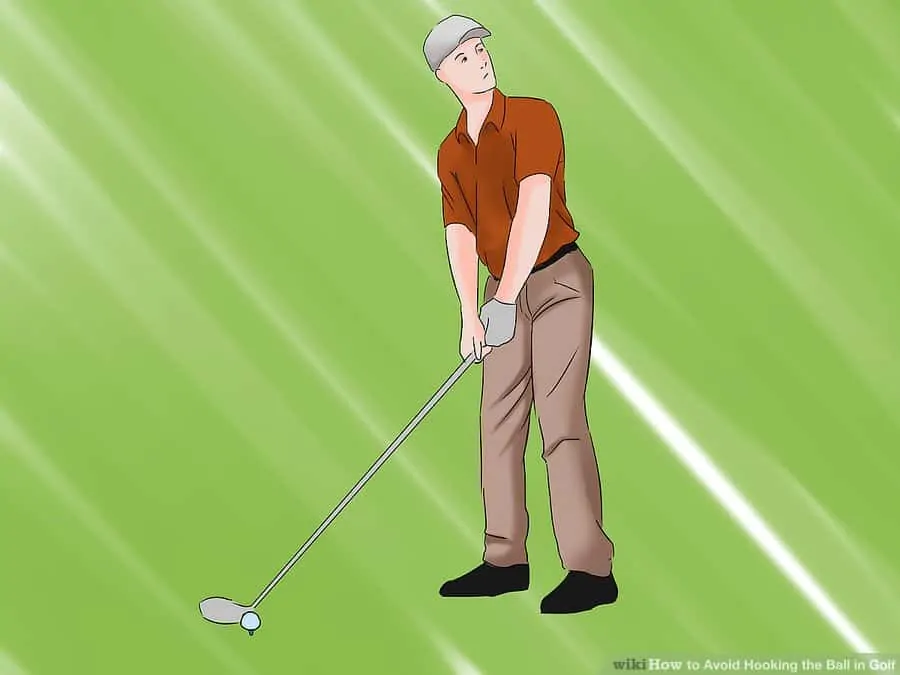 Solution:
Now, you may ask about the solution to the wrong stance issue. At first, you need to double-check the fact that you aim at not too far to the right, especially regarding your shoulders. If you want to check your aim, you should better lay a club on the ground. Place the club in a way so that it remains parallel to your target line.
However, you can also take help from your friend to check that your alignment is right. You need to make sure that your shoulders, knees, hips, and feet– all of these are parallel to the club laid on the ground. This will ensure the fact that you are sticking to your target line as required.
Finally, while you swing, make sure that you have kept your upper body at a certain constant angle comfortable for you. By keeping your weight on the balls while you go for backswing will let you swing the club without any restriction. This is one of the important drills to stop hooking the golf ball.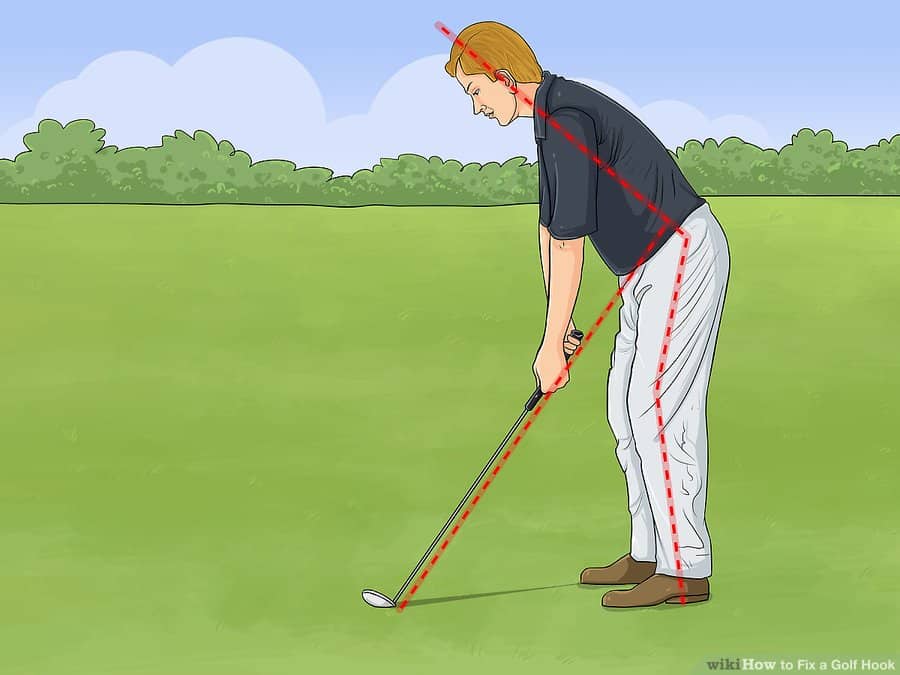 Cause 3: Problem in the Backswing
If your backswing is not appropriate, it may become just another factor that contributes to the hooking problem.
There are several backswing issues that have an adverse effect on your impact. Yet, you can trace two core flaws in the backswing. The first flaw is, going to much inside or around in backswing. The second one is a counter-twist of the shaft. Note that, both can equally be the reason for hooking.
Why are these considered as problems? Well, when your backswing is much inclined to the inside and not up as expected, the club may approach the ball on a certain angle which is extremely shallow or very much on the inside. To put it differently, that can be along the ground more than required. The swing direction produced here will let the ball spin counter-clockwise.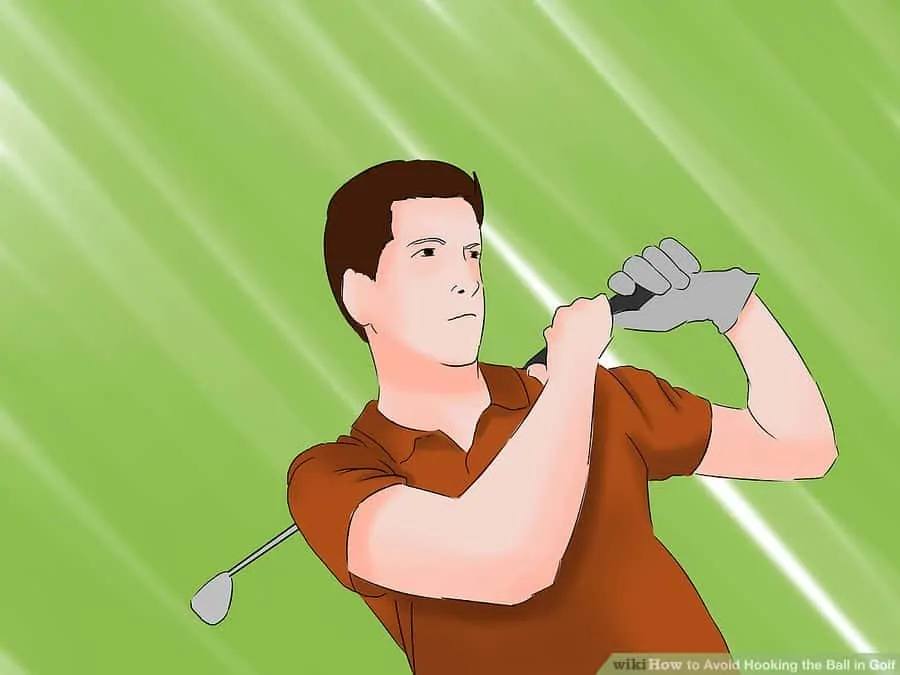 Solution:
To solve the backswing issue, you need to review the backswing that occurs at the top. The shaft should be over your shoulder. Do not let it go much behind your shoulder. When it comes to golf hook fix, this helps a lot.
One mistake is very much common in the backswing. To begin backswing, many of the golfers do the mistake of turning the club counter-clockwise. Unluckily, a closed face at impact is created by that closing of the club.
Read: How to Clean Golf Club Grips, Shafts, Heads & Rust at Home
Another thing is, you should open the clubface on the backswing by relating it to the target line. You can not open that natural opening by a twist in the hands. Rather, you need to turn your torso and shoulders to do that.
While making backstroke you just need to hold on to the club. You should avoid any twisting or hinging of the wrist. To have a proper position, you can look at your left wrist while you try to get to the top. You need to ensure that the back of your left wrist is straight and not otherwise.
Read also: Callaway Strata Review : For beginner to experienced
Cause 4: Issue with Elbow Positioning
If you are a golfer who is okay with everything and yet having a hooking experience, you may have a problem with your elbow positioning. It is a common issue for many golfers that their right elbow sometimes drifts a little bit sideways from the joint when they move the back of the club.
This problem actually shuts the clubface. And ultimately pointing at the ground halfway back, it comes back into impact in a position that is closed. This is one of the big reasons for big hooks!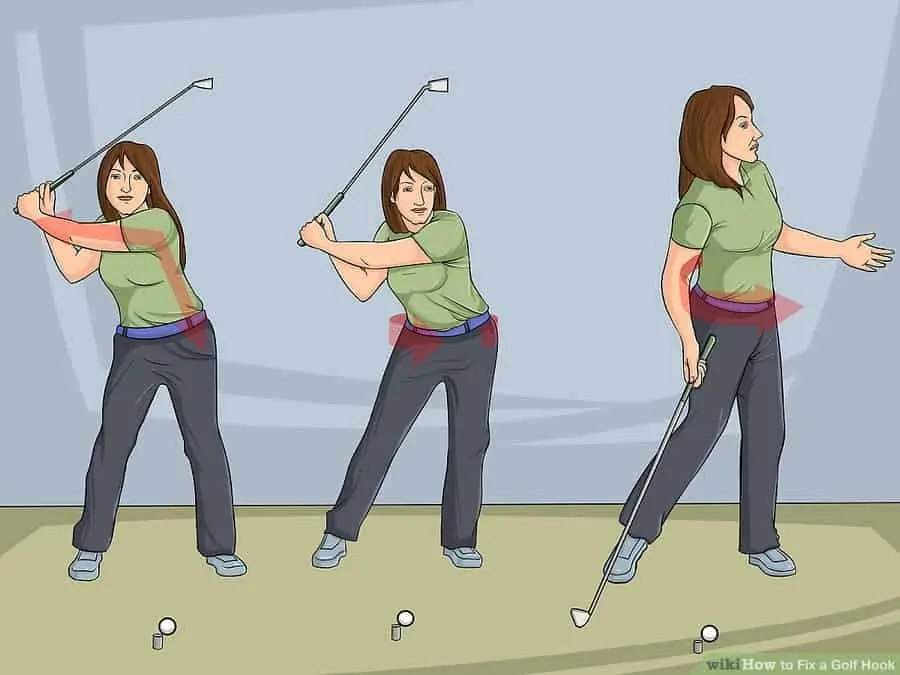 Solution:
To solve this issue, you need to try hard to keep your right elbow a little closer to your right hip as long as you take your club away. This will let you deliver the ball properly-staying in a neutral position.
FAQs
How do I stop snap hooking the ball?
To stop snap hooking the first thing you need to consider is your body posture. Other things to consider are your grip and club path. Do not bend too much while doing a swing and keep a good grip in the club. Lastly, practice considering all these and soon you will stop snap hooking the ball.
Why am I hooking my 3 wood?
If you are hooking your 3 wood that means you are struggling and not able to pick the right club. Another reason could be an over-the-top swing. If you keep turning your hands over too soon which means if your right hand rotates the top of your left hand it can hook your 3 woods.
Is it better to hook or slice?
Hook and slice both are shots that can ruin your gameplay in golf thus neither of these shots are good. If you are a beginner in golf you will face both hook and slice in your shots. Hook and slice happen for wrong body posture and swings. If one keeps practicing and focuses on his/her body posture and swings, he can easily ignore both hook and slice in golf.
Final Checklist of How to Cure a Hook in Golf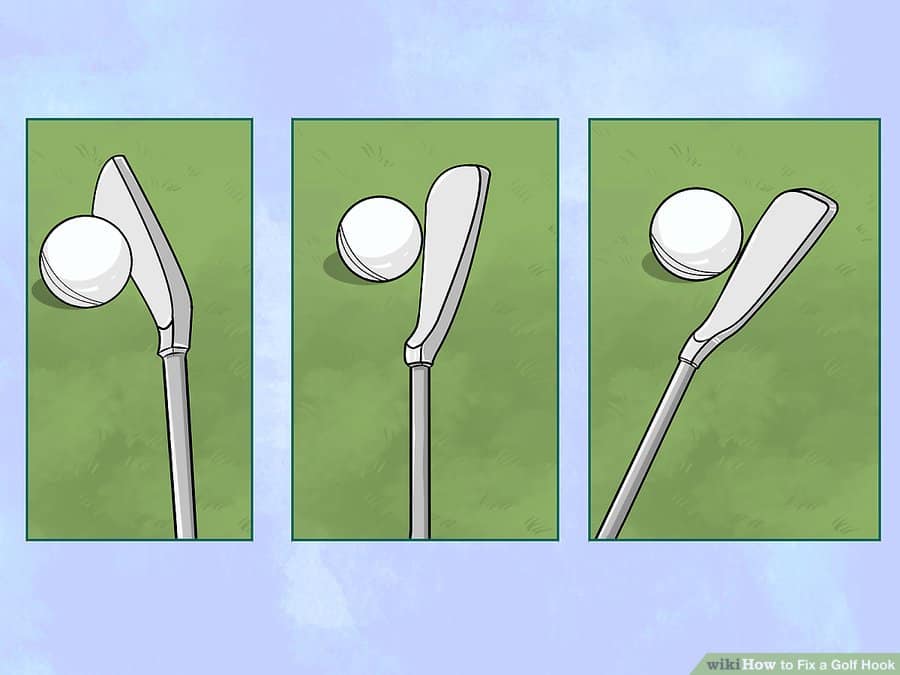 Avoiding hook is easy if you can find out the culprit that is responsible for hooking. And finally, to summarize how to stop hooking the ball in golf, we would suggest you to use this checklist to avoid hooks:
Hips, shoulders, and feet are according to the proper alignment and parallel to the target line.
Clubface in the right square position.
Hand in neutral grip position.
If you can see two knuckles in your left hand as required.
Turning left toe out.
The lower half is not inactive.
See also:
Amazon and the Amazon logo are trademarks of Amazon.com, Inc, or its affiliates.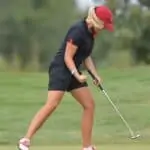 Daisy is the Founder and Editor in Chief of Golfs Hub. She is associated with Golf for more than 20 years. She got the inspiration from her father. She is a very private person & doesn't like to be photographed. She's worked in nearly every job in the golf industry from club fitting to instruction to writing and speaking. Now she is enjoying her retirement from day job... but not from Golf! Daisy lives in southeasternmost part of New York state with her family.