As an Amazon Associate, I earn from qualifying purchases. There is no extra cost to you. Thank you if you use our links; we appreciate it! Learn More.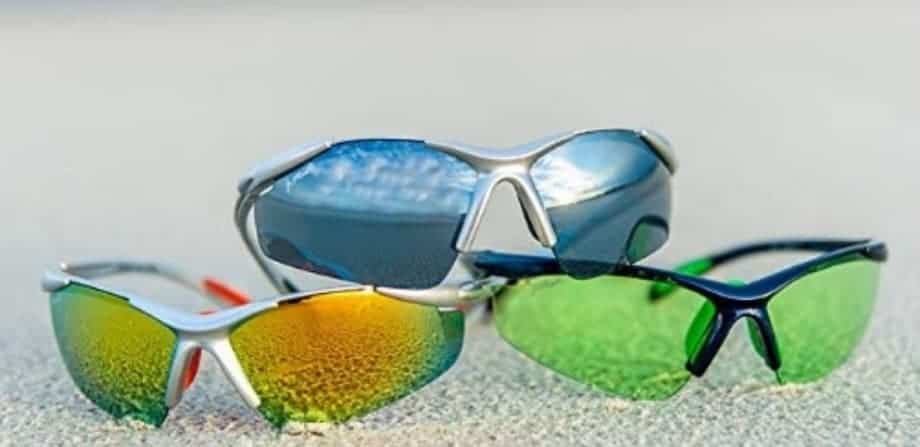 Waking up on a sunny day and preparing for a golf match would be great for you. But make sure you keep your favorite Golf sunglass with you. At the same time, don't forget that your favorite golf sunglass should have the best lens color for Golf match.
Now, you must be thinking about your current color of your lens, right? Well, don't worry about that at all since this article is regarding sunglass lens color guide.
First of all, never put your trust on one or two lenses. Different environments demand different types of lenses to wear. So, the question is, what is the best-colored sunglass lens for golfing? When will you choose those lenses?
For instance, a good pair of golf sunglasses increases contrast. Besides, those pair of sunglasses would be more vibrant in the early morning and evening. Also, sunglass tint colors have a vital role while golfing.
Let's share with you the best sunglass tint for golf and how those suit you variable.
Brown/Amber
Brown, amber lens recognized as copper related tints also, considered to be the best tint for sunglasses. Because each of these colors has moderate contrast. Therefore, viewing the ball against the blue sky is the key reason to choose a brown lens.
Most often, players find it difficult to catch the vision against the blue sky. On a clear blue sky, the white ball easily gets lost, in that case, the brown lens works great. In addition, you may not find any color distortion even if some of it has high contrast.
But if you experience any color distortion while putting brown lens, you will have it in a lesser degree in comparison to other lenses. That's why the brown lens is always preferable in the first place.
Gray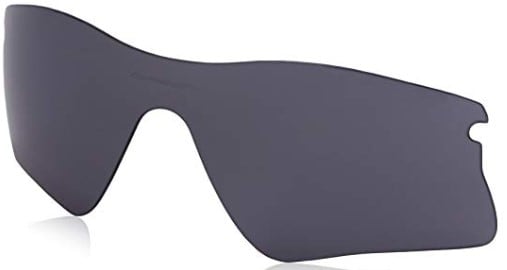 Depending on different conditions, each tint might affect your vision differently. So a question also comes up "What is the best lens color for bright days?"
The answer is Gray lens since it is able to recognize all the colors on a bright day.
In addition, gray neutrally delivers true color and is able to deal with the sun's ray. For the brightest day, think about any dark gray lens and on a partially cloudy day, go for a medium dark lens.
On the other hand, gray sunglasses tint percentage level is the highest. It blocks maximum 85% of light and tints transmit 15%.
Besides, some players believe that gray should not be preferable because it makes the white ball non-distinguishable.
Rose

Did you ever ask yourself, what color lenses are best for cloudy days?
Wearing Red lens and playing golf when thick clouds overcast the sky would be the best match for you. In that case, it can enhance the contrast level on a dark day and it amazingly suits with your overall vision.
Now, another question comes across your mind.
What's the best lens color for reading putting greens?
Yes, the answer is a red lens.
The color of love is Red and it works great to extract red and yellow tones especially within green color. But don't forget that this color produces the highest level of color distortion with rosy hues. But still, it is effective while you keep your eyes on a cloudy day.
We will not suggest you to look at the blue sky through a red lens because of color distortion. Conversely, rose or red lenses can save you from eye strain because it doesn't darken the field vision like other lenses usually do.
Note: Don't forget to keep another set of the lens along with Red for different weather conditions.
Green

Green sunglasses are becoming popular to golfers day by day. Many popular golfers now put this lens color to avoid sunlight. The use of the green lens is pretty similar to the gray one since both of them are used in case of the brightest day.
As we said about the good contrast of gray lens, the same goes with the green lens too. It's also effective for a big shot while you need to differentiate between the white ball and blue sky.
On the other hand, this lens filters blue light, as well as reduces glare. In order to maintain the color balance, it is quite effective as well. Consequently, it increases the clarity and has acute vision.
Importance of Lens Color for Golf Sunglasses
The lens color of your golf sunglasses can have a significant impact on your performance on the course. Different lens colors can enhance contrast, reduce glare, and improve visual acuity in different lighting conditions.
Here are some common lens colors and the benefits they offer for golf:
Brown or amber lenses: These lenses can improve contrast and depth perception in overcast or foggy conditions. They can also reduce glare and improve visual acuity on the fairways and greens.
Rose or pink lenses: These lenses can enhance contrast and improve visual acuity in hazy or low-light conditions. They are also believed to reduce fatigue and improve concentration.
Yellow or gold lenses: These lenses can improve contrast and reduce glare in bright sunlight. They are also believed to enhance visual acuity and depth perception on the fairways and greens.
Grey or silver lenses: These lenses can reduce glare and provide good overall protection from UV rays. They are a good choice for bright, sunny days on the course.
Green lenses: These lenses can improve contrast and reduce glare in bright sunlight. They are also believed to reduce eye fatigue and improve visual acuity.
Ultimately, the best lens color for golf sunglasses will depend on your personal preferences and the lighting conditions you typically encounter on the course. It may be helpful to try out a few different lens colors to see which ones work best for you.
Polarized lens
Many people try to understand about polarized sunglass lenses. There is no such best Polarized lens color for golf that reduces the glare of sunlight. You are supposed to know that Golf is almost glare-free, don't you? Again, if the polarized lens reduces the glare, for that this would be excessive. For other types of sports, the glare of sunlight can be an issue. However, for golf, you don't have to worry about it at all.
However, we have already suggested you not to use polarized lens but still, it has few benefits. It deems the sunlight and makes your eyes ease from strains. They are capable to block vertical light, which reduces eye strain. Polarized lenses are also available in different colors and densities.
Conversely, it allows horizontal light so that the light can easily pass through. That's why hunters, boaters, and fishermen use it mostly.
Prizm lens
In the past, we usually used to switch between lighter and darker lens. Then the contrast enhancement technologies came to us, which has also two available options having bass and treble controls.
But, now Prizm lens comes with more offerings and features. You have now an option for fine tuning between reduce glare and increase contrast for the specific sport. On the other hand, the color will be more vivid and your ball will be more trackable while playing.
Hence, you can use this lens for many types of sports and that's why it will work as multiple lenses as well. On the other hand, it is pretty much suitable for different environmental conditions.
Benefits of Prizm lens
Firstly, Prizm lens is not like a polarized lens, that's why don't worry about the increased glare and reduction of contrast. On the outside of this lens, there is a mirror coating, which helps with brightness from the sun, also doesn't sacrifice depth perception. A game friendly lens indeed!
In addition, this lens has 100% UVA protection and blocks harmful blue light successfully as well. Moreover, it normally enhances the ability to track your ball at any place.
Best Transition Lenses For Golf
Transition lenses, also known as photochromic lenses, are a type of eyewear that darken in sunlight and become clear again when you go indoors. They can be a convenient choice for golfers because they allow you to wear the same pair of glasses both on and off the course without having to switch between regular glasses and sunglasses.
There are several factors to consider when choosing transition lenses for golf, including the lens material, tint color, and UV protection.
Lens material: Transition lenses are available in a variety of materials, including plastic, polycarbonate, and glass. Plastic lenses are the most affordable option, but they may not be as durable as other materials. Polycarbonate lenses are lightweight, impact-resistant, and ideal for sports. Glass lenses are the most durable and scratch-resistant, but they are also the heaviest and most expensive option.
Tint color: Transition lenses are available in a range of tints, from light to dark. For golf, a medium or dark tint may be the most suitable, as it will provide the most glare reduction and eye protection.
UV protection: Make sure to choose transition lenses that offer 100% UV protection to protect your eyes from harmful UV rays.
Some popular brands of transition lenses for golf include Transitions, SunSync, and Eyezen. It's a good idea to try on a few different brands and styles to find the ones that work best for you.
Best Polarized Lens Color For Golf
The best polarized lens color for golf is a matter of personal preference, as different lens colors can have different effects on the way you see the course. Some popular lens colors for golf include:
Grey: Grey lenses are a popular choice for golf because they reduce glare and provide good overall visibility. They do not distort the colors of the course, so you can see the grass and other features accurately.
Brown: Brown lenses can help enhance contrast, making it easier to see the ball against the grass. They are also good for reducing glare and providing good overall visibility.
Green: Green lenses can help to improve contrast, making it easier to see the ball against the grass. They also help to reduce eyestrain, which can be helpful if you are playing a long round of golf.
Frequently Asked Questions
Do progressive lenses affect golf swing?
Progressive lenses, also known as multifocal lenses, can potentially affect a golf swing because they have multiple prescriptions in one lens, with a gradual transition from one prescription to another. This can create a visual distortion, especially when looking through the bottom portion of the lens, which can be used for reading.
If you wear progressive lenses and are having difficulty with your golf swing, you may want to consider using single vision lenses or contacts specifically for golf. Single vision lenses have the same prescription throughout the lens, which can help reduce visual distortion and improve your overall vision on the course.
Alternatively, you may want to consult with your optometrist or eye care professional to see if there are any adjustments that can be made to your progressive lenses to reduce the visual distortion and improve your vision on the course.
Why should you not wear polarized sunglasses to play golf?
Polarized sunglasses can be useful for certain activities, but they may not be the best choice for playing golf. Here are a few reasons why:
Polarized lenses reduce glare, which can be helpful in certain situations. However, they can also make it more difficult to see the contours of the green and read the breaks on the putting surface. This can be especially problematic for golfers who rely on subtle changes in the terrain to gauge their shots.
Polarized lenses may also affect the way colors appear. This can make it more difficult to accurately gauge the distance to a flagstick or hazard.
Some golfers find that polarized lenses can make it more difficult to see their ball in flight, especially against a bright sky or on a sunny day.
What is better Prizm or Prizm polarized?
Prizm and Prizm Polarized are lens technologies developed by Oakley. Both are designed to enhance specific colors and improve visual clarity in different environments.
Prizm lenses are designed to enhance contrast and detail, making them well-suited for activities like cycling, snow sports, and golf. They are made with a special pigment that filters out certain wavelengths of light, allowing specific colors to stand out more vividly. This can help make it easier to see obstacles, terrain features, and other important visual cues.
Prizm Polarized lenses are similar to Prizm lenses, but they also have a polarized filter that reduces glare. This can be helpful for activities like fishing, water sports, and driving, where glare can be a problem. However, as mentioned earlier, polarized lenses can also make it more difficult to see the contours of the green and read the breaks on the putting surface when playing golf.
Ultimately, whether Prizm or Prizm Polarized lenses are better for you will depend on your personal preferences and the specific activity you are participating in.
Wrapping Up
Here we discussed a few types of lenses but still, it's up to you to choose the best lens color for golf. The best thing would be to buy a few pair of lenses as we've already said it before. Here we discussed a few lenses and each and every lens has pros and cons. So, use our guideline wisely.
Who knows? The appropriate lens for you may help to improve your gaming. But one thing is for sure, that your eyes will remain safe. Try to use the lens you are comfortable with. Besides, your sunglass should be typically round shape as well for good eye protection. Finally, when all these key factors come together then you can improve your gaming skill.
See Also:
Amazon and the Amazon logo are trademarks of Amazon.com, Inc, or its affiliates.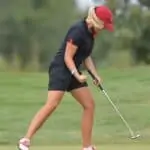 Daisy is the Founder and Editor in Chief of Golfs Hub. She is associated with Golf for more than 20 years. She got the inspiration from her father. She is a very private person & doesn't like to be photographed. She's worked in nearly every job in the golf industry from club fitting to instruction to writing and speaking. Now she is enjoying her retirement from day job... but not from Golf! Daisy lives in southeasternmost part of New York state with her family.