As an Amazon Associate, I earn from qualifying purchases. There is no extra cost to you. Thank you if you use our links; we appreciate it! Learn More.
Summer is the time when people like to relax by the river edges, read books, go fishing or swimming. And when the bright sunlight seems to please most of the sportsmen, it's us golfers who find it a bit annoying.
It's no wonder how the glare of the bright sun-rays distracts the golfers as they are really disrupting for their vision. This disruption becomes more evident when it comes down to sighting the ball flying into an open distance into the green or towards the fairway. This is why most of the golfers prefer wearing sunglasses to get their eyes protected by reducing the sun glare.
A perfect pair of sunglasses help them ease in every aspect of midday golfing under the bright sunlight. In this Tifosi jet wrap sunglasses review, we'll look into the various features of Tifosi Jet Sunglasses, one of the top contenders in the market, and talk about the goodness they bring along.
If you don't like it… don't worry I have suggested a similar & alternative option for you in the end.
Why should you consider it?
Tifosi, the Italian word refers to fan or enthusiast. The brand brought up the concept to produce quality eyewear for the masses in principle. Tifosi Jet optics have been in the industry since 2003. During this time span, they had been busy designing and producing high-tech, value-oriented, advanced sunglasses for sports fanatics. Be it's running, cycling, golfing, or fishing, Tifosi is there for you with a wide range of technologically advanced lens as well as sleek and lightweight frame options.
Our Tifosi jet sunglasses review will have covered the 0010100154 model in particular, which is specially designed for the golfers. The polycarbonate material implemented lenses is always there to offer you full protection from UVA/UVB.
Tifosi Jet Wrap Sunglasses Review

The aggressive, sporty design of the Tifosi Wrap sunglasses features:
The fully integrated hinges of the Jet ensures long, durable usage as well as long-lasting comfort. Its super lightweight and seamless design along with exceptional functionality add to the peace of mind while golfing under the sun.
The nose pieces of these Tifosi optics Jet sunglasses are softened with supple hydrophilic rubber materials to provide the wearer with absolute comfort. Combined with the astutely assembled design, they deliver exceptional grip even when you sweat.
The frames are superbly constructed with Grilamid TR-90 nylon, which is incredibly light in weight while also amazingly durable. The build is strong enough to hold off UV and chemical damages. The beat the heat Tifosi frames provide infallible comfort through all day long golfing activity.
Are Tifosi Jet Sunglasses any Good?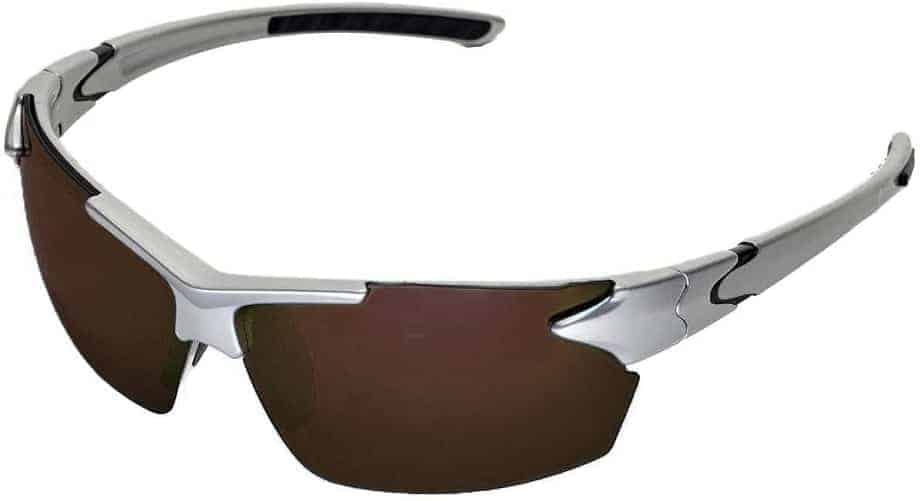 Combining a sleek, hawkish design with full protection coverage from the sunlight, this Tifosi Jet polarized sunglasses have been developed to surpass the expectations of both professional and amateur golfers. The virtually indestructible Grilamid TR-90-made frame, doubled up with decentered polycarbonate lenses help provide excellent optical clarity through a variety of activities.
Tifosi's proprietary "Glare Guard" coating for lenses help prevent annoying, unwanted glare to reduce the levels of eyestrain or fatigue. The inclusion of hydrophilic rubber in the nose and ear pads enforces great adjustability giving a closer, anti-slip fitting while also ensuring total comfort and perfection.
Now, let's have a look at some awesome facts about these cool glasses we liked.
Putting It On, Hitting the Course
Honestly, having tried a pair of these Tifosi Jet Wrap sunglasses, I must say that this version of golf sunglasses has the most extreme wrapping capability for sure. If you invest in these unique sunglasses, I can assure you of a guaranteed no-slip fit. I particularly liked its semi-rimless sporty build that boasts super soft, anti-slip temple pads, nose pads, and ear pads.
When I took to the golf course putting them on under a hot, sizzling sun, I found them unnaturally moisture repelling. Moreover, I seemed to me like the grip becomes more firm as you sweat. And it surprised me the most when I found it did not cloud the lens at all when I was sweating inside. I felt the boost in my vision clarity to spot the ball near and far while there was hardly a notion of slippage as well.
The high contrast lenses with full eye coverage and high light reduction, make them the ideal choice for using in both low light and bright sun. These traits, along with the aggressive, sporty look, are competent enough to match the demands of runners, cyclists, and sailors as well. However, I wouldn't like to have them on during leisures.
At 29 grams, it's easily forgettable having them on. Having spent more than nine hours in the course putting them on, I felt no strain on my eyes at all. For the price, they are too lightweight. To be precise, the goodness of the famous Oakley glasses comes at one-fourth the price within these Tifosi Jet sunglasses, offering a great value for money. In my opinion, this is the real deal if you want to avail of a pair of long-lasting quality golf sunglasses with the ultimate comfort without spending big.

Tifosi jet has interchangeable lenses. They are:
How to Change Tifosi Lenses?
Liked this Tifosi but it rather should be polarized…???
Don't worry… We can suggest a similar item that will solve this problem.
Tifosi Intense Sunglasses are quite similar to Jet wrap sunglasses. This golf sunglass also made from Grilamid TR-90 Nylon. Ear & nose pads are made of rubber so that they will not slip. These are also Reinforced polycarbonate lenses which reduce distortion and improve peripheral vision. Its Hydrophilic layer keeps away sweat and water. It provides 100% UVA & UVB Protection. You will get a microfiber cleaning bag with these glasses. It provides a lifetime warranty against manufacturer defects.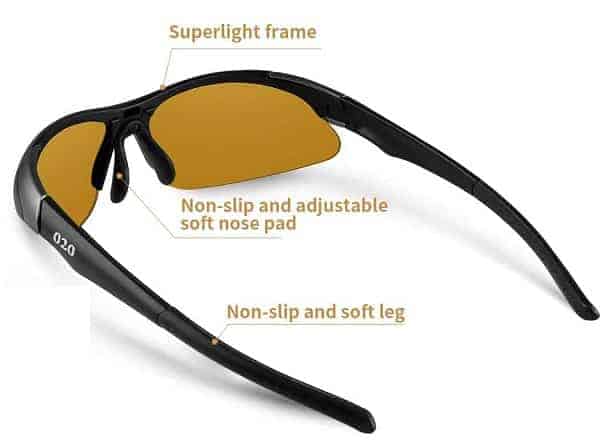 Didn't like it…? Want a different one?? Well, you can check out our "Best Golf Sunglasses Review" Post for that. We have reviewed 15 best sunglasses there.
Or, you can read below… for one alternative option…
One of the most trending golf sunglasses of this year is O2O Polarized Golf Sunglasses. It provides 100& UV Ray Protection. The lenses are comfortable, durable, stylish, glare-proof & unbreakable. It is impact & scratch resistant. It circulates enough air so that no fog or sweat can put a bad effect on your vision. It has many options to choose from.
Whether you are a professional golfer or you prefer golfing on occasions for recreational purposes, investing in a decent pair of golf sunglasses is crucial to get the better of your sporting experience.
By now, through our Tifosi jet wrap sunglasses review, you must be considering the excellence of its strong yet lightweight, soft rubberized, firmly wraparound frame, and high-tech uncompromising eye-protector lenses. So, what are you waiting for? Go grab your pair and favor your eyes with the visual clarity and protection they deserve in the golf course.
Amazon and the Amazon logo are trademarks of Amazon.com, Inc, or its affiliates.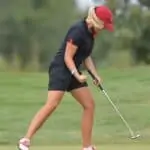 Daisy is the Founder and Editor in Chief of Golfs Hub. She is associated with Golf for more than 20 years. She got the inspiration from her father. She is a very private person & doesn't like to be photographed. She's worked in nearly every job in the golf industry from club fitting to instruction to writing and speaking. Now she is enjoying her retirement from day job... but not from Golf! Daisy lives in southeasternmost part of New York state with her family.