As an Amazon Associate, I earn from qualifying purchases. There is no extra cost to you. Thank you if you use our links; we appreciate it! Learn More.
Hello, Dear Golfers!
I hope you all are doing great…!
While playing, your perfect shot could be useless due to the reflection of the sun. That's why it is very important to use the right sunglass. Moreover, If you have diminished vision, then it is more important to use a fine prescription sunglass.
Today I am going to present you with an in-depth review of one of the best prescription sunglasses for golf ever. When it comes to prescription sunglasses, there is no one more reliable than Oakley.
Finding the right sunglass for the right environment is not an easy task. There are so many options in the market; each one has diverse features according to our different expectation. Oakley is the most demanding sports brand for a professional player. About 30 years they provide best quality sunglasses. If you are a sports lover then you know most of the athletes have won many contest and trophy with Oakley sunglasses. The tradition continues with Oakley Radar ev Path sunglasses, a milestone in case of their performance.
When we decide to buy some products from online it is very hard to find out either it is quality full or not. Different questions arise in our mind for that product. Moreover, the site where you want to buy it is reliable or not.
It is natural to want to spend your hard earned money on something investment-worthy. Which is why you have come to the right place? Especially when buying online it is hard to rule out whether or not the product is of good build quality and would fit for the job you have in mind. In this Oakley radar ev path review, I will try to describe all necessary feature it has.
One of the best features of any Oakley glass is that it offers inter-changeable lens. So, if you acquire some lens according to your need then you are all set for any condition with just one sunglass. In the end, I will suggest some lens too.
Oakley Radar EV Path Reviews
The remarkable frame is completed from a material that Oakley call O Matter. Let's be frank, the material is a type of plastic substance. Besides this, it is light in weight and long-lasting.
Oakley Radar ev Path prescription Sunglasses have an amazing bending capacity that you cannot find in any ordinary sunglass. You can bend it with a comfort zone. It is crucial because sometimes we do some stupid activity like suddenly we sit on it or often it will be fall from your hand. That is so embarrassing. And it is very easy to expect that you will break your sunglass. I told you because it happens to me several times. So, obviously, it could have happened to you.
This best golf sunglass has a spongy, soft non-breakable nose grip it helps to hold the glass very strongly that helps to hold your glass in right place even you heavily sweating. It also protects your glass from dropping down.
The Oakley Radar EV Path Lenses Quality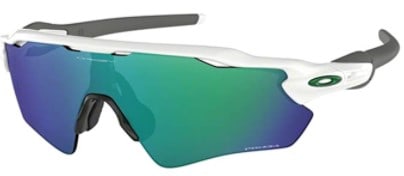 The lens is finished of an everlasting hydrophobic material. It protects the glass from fog, rain, and sweat. It means the glass is protecting from any kind of water grownup. The Oakley Radar Path lenses are always remaining clean with its repelling technology. It keeps away skin dirt and other pollution. It even gets rid of motionless electricity, so dust and pollution particles cannot stick on the glass surface.
If you want to stay from the Sunlight while you are practicing any kind of sports like golf, cycling, etc then this Oakley Radar Path prescription sunglasses are a perfect choice for you. It is specially prescribed sunglass for golf. It includes a different color lens. You can use it by changing lenses during different sports environment.
There are two small cutaways on each side of the glass lens and it made the glass different from others. I think if you use other glasses then you find the difference between both of them. This glass will not make your vision unclear or foggy. When you purchase this best prescription sunglass for golf, in the packet you will find two types of lenses with it. One is appropriate for bright daylight and the other for dull weather. The bright glossy orange color glass is perfect for the heavy sunlight. On the other hand, the faded orange is appropriate for the dull weather. There is no obvious deformation of light in spite of the extremely bent lens outside.
The Features Of the Oakley Radar EV Path Frames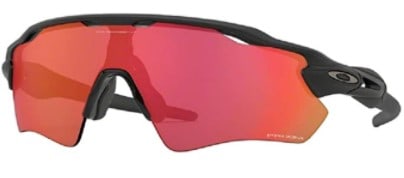 It recommends two types of customizable frame with nosepiece. Two sizes are available with each frame. You choose the right one from it. To get the best quality of vision you can pick this glass for its super quality lens. The Oakley frame is made with a special geometrical structure that helps to make the glass cool when it is heavy sunlight. It is able to make some air flow for cooling of the frame. It is also UV light protection technology called plutonic lens materials. The frame is kind of half rimless design. It means there is no frame in the lower portion of the less.
The glass lens is the additional part of a set and it locks with the frame very safely. It gives truly excellent coverage broaden well under and moreover at either side of the eyes. Almost there is no possibility of getting any pest, pieces of stone or any other harmful element. It also protects you from rainwater and heavy breeze.
You actually love the feature that there is no framework at the sides or lower part of the lens to disrupt your visualization. You also love it because of when you driving or riding some vehicle it could not make any disturbance to see the backside of your car or bicycle. This is very much important feature.
The Technology of Oakley Radar EV Path Sunglasses
For clean, sharp, and more precise images it includes HDO combination radar technology and original innovation. HDO practically eradicates the deformation of ordinary sunglasses. Radar's Platonize cleans out fully from all damaging substances up to 400nm. It is recommended highly because the lenses are going through tremendous conditions for testing that either it could protect the eyes from different critical conditions. That provides you the security from those adverse conditions.
Their producers make sure that this glass gives you more comfort with its stylish design and high-quality performance. It is the best prescription sunglasses for golf because it includes Polarization technology. It includes a liquid mixture procedure to bond the polarizing strain at the molecular level to get rid of the fog and deformation found in conventional technologies and provides the best-polarized optics.
You can use this sunglass in different circumstances like in your golf time, in your training session and even when you are in a non-formal program. The lenses have protection from getting any kind of scratching. If you found some time it will happen after a long time use.
If you regularly use this branded sunglass before, then you must obvious about the quality of this product. Moreover, If you buy this product then you feel your choice is not bad after all!
Little contacts like the better-etched elastic on the arms and a more prominent inclusion focal point truly make the somewhat more expensive rate label worth the cash. Whenever kept in the provided convey case and drawstring pack, you shouldn't have excessively of an issue.
Though there are many other models previously having lenses with a lock system, it is an important feature for all sports sunglasses. This new model has a feature of a little hold on the within of the left handle that loosens the frame and permits the lens to be swiftly detached and put back. The lenses are cut from the bend of a solo lens screen, and then build up in the frame to preserve the unique, stable curve. This lens includes hydrophobic, a stable coating that avoids rainwater and sweat from developing on the lens.
Other Uses of this Sunglass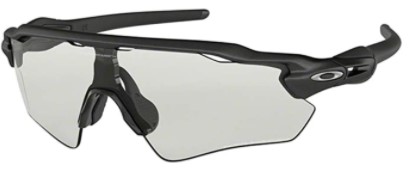 You can use this sunglass in different circumstances like in your racing time, in your training session, and even when you are in a non-formal program. You also love it because when you driving or riding some vehicle it could not make any disturbance to see the backside of your car or bicycle. This glass will not make your vision unclear or foggy.
Target Users
If you always buy sunglasses for sports, then you know that Oakley is one of the most demandable choices for sportsman. It's because of its quality, lens clarity and vision.
Key Features at a Glance
Durability and throughout the day comfort of lightweight, stress-safe O Matter frame material.
Coordinated overflow ports to channel cooling breeze current.
Streamlined fringe view and side inclusion of Polaric Ellipsoid focal point geometry.
Relief and completing of Three-Point Fit that holds focal points in a strict optical arrangement.
Metal sign highlights.
Optical precision and execution that fulfills ANSI Z87.1 procedure.
Effect opposition that fulfills ANSI Z87.1 procedure for high-mass and high-speed swing.
UV insurance of Plutonite focal point that sifts through 100% of UVA/UVB/UVC and negative blue light up to 400nm.
Glare reduces and tuned light diffusion of Iridium focal point covering.
Well-matched focal points to improve execution in any state.
A variety of compatible Unobtainium nose cushion choices for a secure fit.
Self-protective Oakley Soft Vault case built-in with a limit with regards to an extra focal point.
Presented with Oakley Prescription Lenses (+2.00 to-5.00 with cylinder up to -2.00)
Pros & Cons of Oakley Radar Path EV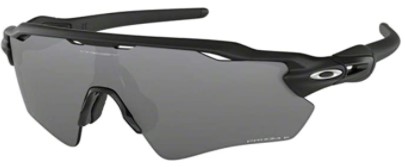 WHAT WE LIKE!
It provides two types of lenses.
The frame is made with a special geometrical structure.
The less is completed of an everlasting hydrophobic material.
The lens is always remaining clean.
It provides UV light protection.
The lens has iridium coating protection
Not slipping down even in your sweating condition.
It is a prescribed sunglass for especially for the golf players.
WHAT WE DON'T LIKE!
Some of the reviewers said that the glass is not polarized as it described in its description.
Some consumers talked about having troubles with a high price.
The glass lenses are too much dark.
It does not fit with all sizes of head.
FAQs
Will these fit a large head?
Yes.
Do the sunglasses come in a case?
Yes, both a hard case and a soft case.
Do these have the prism lenses?
Yes.
Do these have a warranty?
Oakley come with a 2-year manufacturer's warranty.
Does it get darker with sunlight?
No, these are just clear lenses, you can buy additional lenses for other activities.
Do these fit women?
This sunglass is also suitable for women.
Are Oakley Radar EV polarized?
No.
Do they provide good sun protection?
Yes, it provides 100% UV protection.
Do they stay in place?
Oakley included Three-Point-Fit System on the frames, that ensures a safe stay of these glasses in place.
Do they break easily?
No, it is very durable.
Are they attractive?
Look for yourself! If this not attractive, I don't know which one is!!
Are they comfortable to wear?
Yes, they ensure comfortability.
Are all Oakley Radar lenses interchangeable?
Yes, they are.
How much do Oakley prescription sunglasses cost?
It varies of course. But the one we featured- you will get this one under $200-230.
Oakley Radar EV Path Vs Pitch
The corner of the lens is the main difference between them. Close to the cheek the ev path curves up and thus make it smaller than the pitch.
Since, the Path is smaller than pitch, the pitch is more suitable for the big headed golfers.
Pitch's frame is made of acetate, while the ev path frame is Plastic.
Oakley EV Radar Path Replacement Lenses
One of the many possibilities of Oakley sunglasses is that you can change the lenses as you please. This famous & best seller company of sports sunglass makes sunglasses for any light conditions. So, if you own some sets of lenses according to your use of the eyewear, you are all set for any kind of condition to play or whatever you need to do.
On that term, you may worry about the changing situation of the lens. How will you change lens if you don't have any experience with this sort of things?
Well, don't worry, It's super easy.
At first, cautiously squeeze the nose bridge tabs inward with your fingers. Then you have to press on the nose bridge towards the peak of the sunglasses until the lens discharges from the top. Then, you can draw the lens downward and out.
And now is the turn to install the new ones. It's simple, don't worry. Now place in the tab on the right side so it's completely seated. Curve the lens outward a little to slot in the left lens tab. Now drag the top of the edge over the top of the lens while approaching the lens inward with both thumbs. Whilst the frame is entirely over the top of the lens, press on the nose bridge onward so it snaps into position. Simple, right?
These lenses are large enough to shield the eyes while being little enough so it doesn't scorch the head and shut the eyes off from the world. And too big glasses fog up too straightforwardly.
There are different options to choose from:
The Clear Lens:
It's best for night riding, during the downpour, or other dim-and-dismal situation.
The Clear Black Iridium Photochromic Activated Lens:
It's the best option for the spring & summertime.
The Blue Iridium lens:
This can transmit 15% of the existing light. It uses a VR28 lens tint whose intention is to further tune contrast and decrease glare in comparison to Black Iridium.
The G40 lens:
It can transmit up to 40% of obtainable light. That's why its best for days of changeable light.
The VR28 Black Iridium lens:
It is a glare-cutting surprise. This is ideal for medium-to-bright daylight. It gives just a tad more diffusion than the Blue Iridium.
Persimmon:
This is the best alternative for flat-to-low light, especially in fall and wintertime.
Slate Vented:
This lens is prescription-ready.
Prizm Trail:
This lens is polarized. But it can result in the cause of cancer or birth defects or any other reproductive harm. Cause this lens can irradiate you to some harmful chemicals.
Prizm Shallow Water Polarized:
Its the most suitable lens for watersports.
Prizm Golf:
This lens is fine-tuned to increase textures, colors and light conditions which are perfect in a Golf Course.
Ice:
Its best for bright light. It eradicates 90% of ambient light and obstructs 100% of UVA, UVB, and UVC light. You can use it for Golf, Running or in everyday life.
Fire:
This lens is prescription-ready.
Main Features
Composite frame
Plutonite lens that supplies impact protection.
100% UV Protection outside layer
Lens width: 70 mm
Lens height: 45 mm
Nose Bridge: 20 mm
Height: 2″
Width: 3″
Engineered with an exchangeable lens design
Crystal clear Vision from every angle.
Spacious range of accessory lens sets including vented designs that present cooling airflow.
An everlasting smudge-resistant outside layer that wards off water, oils, and dirt.
Better-quality impact protection and filters out 100% of all UV rays
Preview
Title
Oakley Radar Path Replacement Sunglass Lenses, Black, 67 mm
Oakley AOO9051LS Radar Path Sport Replacement Sunglass Lenses, Black Clear Iridium Photochromic, 33 mm
Oakley AOO9151LS Radar Path Replacement Sunglass Lenses, Fire Iridium, 67 mm
Oakley unisex adult Aoo9051ls Radar Path Replacement Sunglass Lenses, Prizm Daily Iridium Polarized, 33 mm US
Preview
Title
Oakley Radar Path Replacement Sunglass Lenses, Black, 67 mm
Preview
Title
Oakley AOO9051LS Radar Path Sport Replacement Sunglass Lenses, Black Clear Iridium Photochromic, 33 mm
Preview
Title
Oakley AOO9151LS Radar Path Replacement Sunglass Lenses, Fire Iridium, 67 mm
Preview
Title
Oakley unisex adult Aoo9051ls Radar Path Replacement Sunglass Lenses, Prizm Daily Iridium Polarized, 33 mm US
PROS
It is a military approves product. It is z87 ballistic.
Perfect Fit.
CONS
Very few complains that it is bad in Fog.
FAQ
Will lens fit any Oakley radar frame?
No, you Have to know what Oakley Radar you have: path, pitch or range etc.
Is this lens produce a lighten lens?
No, clear lens. No shading.
Does this lens fits the Oakley M2 frame model?
No.
Is this genuine Oakley made?
Yes.
Final words…
The quality, finishing, and style are for the most fantastic part of this best Oakley Radar ev Path Sunglasses. I think when you will use it you feel that this sunglass are really different from the other best glasses.
The most recent Oakley has been introducing the extraordinary look sunglass. It would be a good experience for you if you buy this effectively incredible Oakley Sunglasses. It will give you great service during your golf time or other practicing sessions.
The most amazing part of this sunglass is that it has a plutonite lens that can filters 100% UV light. For golf, it is very common that you have to play under scorching sunlight. But for this kind of feature, this Oakley EV Radar Path Sunglasses are prescribed or recommended for the golf players. So, now time to make decisions! If you are a golf lover then without any hesitation I think you can buy this best Radar Path Sunglasses. Hope this Oakley radar ev path review is helpful for you.
Read More
Amazon and the Amazon logo are trademarks of Amazon.com, Inc, or its affiliates.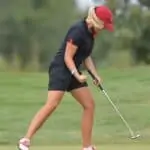 Daisy is the Founder and Editor in Chief of Golfs Hub. She is associated with Golf for more than 20 years. She got the inspiration from her father. She is a very private person & doesn't like to be photographed. She's worked in nearly every job in the golf industry from club fitting to instruction to writing and speaking. Now she is enjoying her retirement from day job... but not from Golf! Daisy lives in southeasternmost part of New York state with her family.